Military engineers gather to build bridges in Chilliwack
22214 Nils French
***
Air and Space Power Operations Course breaks down "stovepipes"
25902 Nigel Mahon
***
Meet Brigadier-General 17312 Jennie Carignan, one of the highest-ranking women in the CAF
***
Canadian Rangers awarded by Ontario Provincial Police for contributions to search and rescue / Les Rangers canadiens reçoivent un prix de la Police provinciale de l'Ontario en reconnaissance de leurs contributions en matière de recherche et sauvetage
G5141 Matthew Richardson –   RMC Master of Public Administration (MPA) – 2012 – 2015
***
WestJet passengers fuming after being 'abandoned' in Mexico
8276 Marc Garneau
New rules for drones: Pilot certificates, avoiding airports — and no drunk droning
***
Installing Canadian software on Australian F-18s first order of business when aircraft arrive, says defence official
14240 Pat Finn
***
Texas training
26313 Tim Boettcher
***
Disappointment emerges as Canada's Mali mission nears halfway mark
Walter Dorn – RMC Prof
***
Le lieutenant-colonel Sauvé prend les commandes du Groupement tactique de présence avancée renforcée
21525 Philippe Sauvé /

***
Interview de fin d'année avec le major-général Peter Dawe, commandant des Forces spéciales canadiennes
G3281 Peter Dawe Jr
Article – english video (near end of french article)

***
The Norman case casts a long shadow over Scott Brison's retirement
Mark Norman
Christie Blatchford: What Scott Brison didn't mention in his resignation letter
***
Anatomy of a blunder: How Veterans Affairs quietly buried a $165M accounting error
19894 Erin O'Toole / G1415 Walter Semianiw
***
Is it time for Canada's military to unionize?
E1367 Robert Smol
***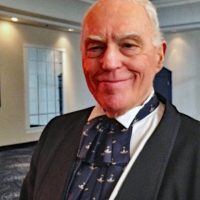 7000 David Haas (Royal Roads, RMC 1966) expanded his theatrical horizons over 2018 with five appearances in short videos. Most recently he played in Barcarrole – written, produced and directed by Edmonton filmmaker Nauzanin A. Knight of 1844 Studios, and featuring Toronto opera singer Maryam Toumrai, who chose Jacques Offenbach's famous barcarrole "Belle nuit, ô nuit d'amour" from his opéra fantastique The Tales of Hoffmann, singing both the soprano and mezzo-soprano voices in what is set as a duet. Andy Knight took the photos of Nauzanin giving instructions to the eclectically attired cast while a camera guy checks the lighting, and of David wearing the Old Brigade jabot that skilled Edmonton theatrical costumer Cherie Howard had run up for him earlier using material from the club kitshop, to go with Highland attire at a Burns Dinner. With the tuxedo worn here he is wearing a matching kitshop cummerbund.
***

'Tip of the hat' to those supporting the Club
A tip of the hat to the following members who just recently updated their Club membership status – Chapeau aux membres suivant qui ont tout récemment mis à jour leur adhésion au Club:

5708 Tory Payne; 6380 Marc Jetté; 6404 John Dodd; 8237 Pierre Brassard – Life Membership; 11280 John Logan; 16542 Philip Garbutt; 17516 James Strickland – Life Membership; 23451 Mathieu Giroux; 26294 Hyun Kim;
If your membership is due to expire soon, please contact us ASAP with your renewal.
Please Remember:
The RMC Club relies on its members. Contact us to renew or to take out an annual or life membership.
1 – 888 386 – 3762
Souvenez vous que:
Le Club des CMR compte sur ses membres. Afin de renouveler ou de vous procurer une adhésion annuelle ou à vie, veuillez communiquer avec nous.
1- 888 386 – 3762
Thank you in advance for your kind cooperation.
For those who have let their membership lapse during 2018 & before – we miss you. Please update soon.
À ceux qui ont laissé leur adhésion prendre fin en 2018 ou plus tôt, vous nous manquez. Veuillez renouveler bientôt.