Quebec pushing for more federal shipbuilding work – wants second naval supply ship from Davie to be delivered
8276 Marc Garneau
***
Communication established with North Pole thanks to 37th Operation RADIO SANTA
21398 Evelyn Kotzer
***
Military friends of paralysed tank commander seek to put him on road again
10455 Jacques Michaud / 9961 Greg Hug
***
Proposed law could treat serious offenders lightly
Christian Leuprecht, RMC Prof
***
Seamus O'Regan draws scorn for comparing his career arc to veterans' struggles
15696 Jonathan Vance / 19894 Erin O'Toole
***
ON TARGET: NO QUESTION ABOUT IT: WE LOST THE WAR IN AFGHANISTAN
14596 Dean Milner
***
Military, Veterans Affairs won't pay for Air Force officer's prosthetic leg, leaving her with $34,000 bill
G1415 Walter Semianiw / 19894 Erin O'Toole / Kimberly Fawcett, Former RMC Staff Officer

***
Warships heading home for the holidays
21847 Blair Saltel
Article (page 5)
Canadian warship witnesses possible violations of North Korea sanctions
21847 Blair Saltel
***
Sea King lifts and thrusts into retirement
16888 Al Meinzinger / 16885 Art McDonald

Article (page 10)
Postponement of Exercise Maple Flag
16888 Al Meinzinger
***
RCAF opportunities ahead: Huddleston
19166 Iain Huddleston
Article (page 4)
***
Naval Warfare Officers come together for annual Symposium
25406 Jordan Hope / 20604 Andrew Hingston
***
My unforgettable experience with the CLaS program
21502 Nancy Setchell
***
2018 CAF Imagery Contest winners celebrated in Ottawa
15706 Paul Wynnyk
***
Military Training and Cooperation Program – Testimonials from this year's graduating class
23070 Keaven Lozier
***
Exercice BOMBARDE BORDÉE : l'artillerie à son meilleur
24599 Gyslain Clément
***
Des nouvelles des membres du 5 GBMC en Ukraine
23350 Simon Mailloux
***
Appointment of Chairperson of the Civilian Review and Complaints Commission for the RCMP / Nomination de la présidente de la Commission civile d'examen et de traitement des plaintes relatives à la GRC
18178 Michelaine Lahaie
***
Paws fur Thought: Watching your dreams turn into reality
Article Courtesy of Paws fur Thought
On Wednesday, Dec 11, 2018, the Nova Scotia NU Command of the Royal Canadian Legion presented Paws Fur Thought with a cheque for a Quarter of a Million Dollars. Paws Chairman 12546 Mike Gingell, Kim Gingell & Co founders 13855 Medric and Jocelyn Cousineau were on hand with Jay Toffelmire, Valerie & 9885 David Bathhurst for this historic announcement.
Almost 6 years ago Medric and Jocelyn started with a Dream and Vision. They had no idea how they were going to pull the size of miracle we needed out of the hat. But Mary Kate MacEachern, Dennis Manuge, & Rollie Lawless inspired Medric
We cannot tell you in words what today means and represents. You see, the Paws Steering Committee has a plan, a structure and the resources to execute. This by no means precludes our need for continued funding, but as Poppa Dawg Emeritus I can stand down and rest easier.
Bravo Zulu to all who have made this journey the success it has become. Your faith and support means we have been and will continue to support our disabled veterans. However, It is hard to imagine how far we have come. How far did we get? Further Than Yesterday, That's All that Counts.
***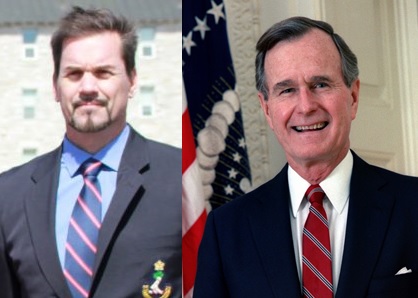 17160 Stephen Kalyta Reflects on the Passing of George H.W. Bush
Article by 17160 Stephen Kalyta
The media's rare handling of the passing of George H.W. Bush achieved one of his primary life objectives. Media stories highlighted the former President's unwavering commitment to the principle that a difference of opinion should not be used as an excuse for conflict. One final lesson to share with humanity.
As one term President who lost a second term to his political rival, Bill Clinton, he accepted defeat with grace and years later developed an enduring friendship with the Clintons. Rising to the highest political office in the world is no small task. Distinguishing yourself with humility in a room of giants is worthy of further reflection. The sacrifice of the perceived moral high ground in favor of consensus acknowledges the inherent right for all of us to be heard and respected. I may not agree with you or your interpretation of the facts, but I can accept your belief that you are speaking your truth.
I cannot find any example in a half-century of experience that more readily demonstrates our ability to find common ground than music. Despite attending more than 50 concerts across a broad range of musical styles, I am perpetually impressed at how people with diverse interests come together as a community to enjoy a series of notes. Whether ordinary or extraordinary, poor, rich, somehow we develop an instantaneous kinship with other fans through the songs that touch our lives. The impact is so pervasive, one must pause for a moment and reflect how it can be so universally impactful against the backdrop of individual expression.
Perhaps Bush looked at life as a sheet of music. The individual notes jointly represent self-expression and diversity, whereas the entire musical score is a gestalt of our cumulative experience. Lending an ear to the anthems of our lives may be the secret ingredient that personifies "Peacemaker" instead of "Piece Maker."
***

'Tip of the hat' to those supporting the Club
A tip of the hat to the following members who just recently updated their Club membership status – Chapeau aux membres suivant qui ont tout récemment mis à jour leur adhésion au Club:

3035 Jerrold Donahue; 5998 Robert Reid; 6326 Walter Yankowich; 6460 Kirk Miller; 6589 Thomas Bailey; 6817 Allan Borrowman; 7598 Gary Gagnon – Life Membership; 9844 James Simpson; 13224 James Henry – Life Membership
If your membership is due to expire soon, please contact us ASAP with your renewal.
Please Remember:
The RMC Club relies on its members. Contact us to renew or to take out an annual or life membership.
1 – 888 386 – 3762
Souvenez vous que:
Le Club des CMR compte sur ses membres. Afin de renouveler ou de vous procurer une adhésion annuelle ou à vie, veuillez communiquer avec nous.
1- 888 386 – 3762
Thank you in advance for your kind cooperation.
For those who have let their membership lapse during 2018 & before – we miss you. Please update soon.
À ceux qui ont laissé leur adhésion prendre fin en 2018 ou plus tôt, vous nous manquez. Veuillez renouveler bientôt.