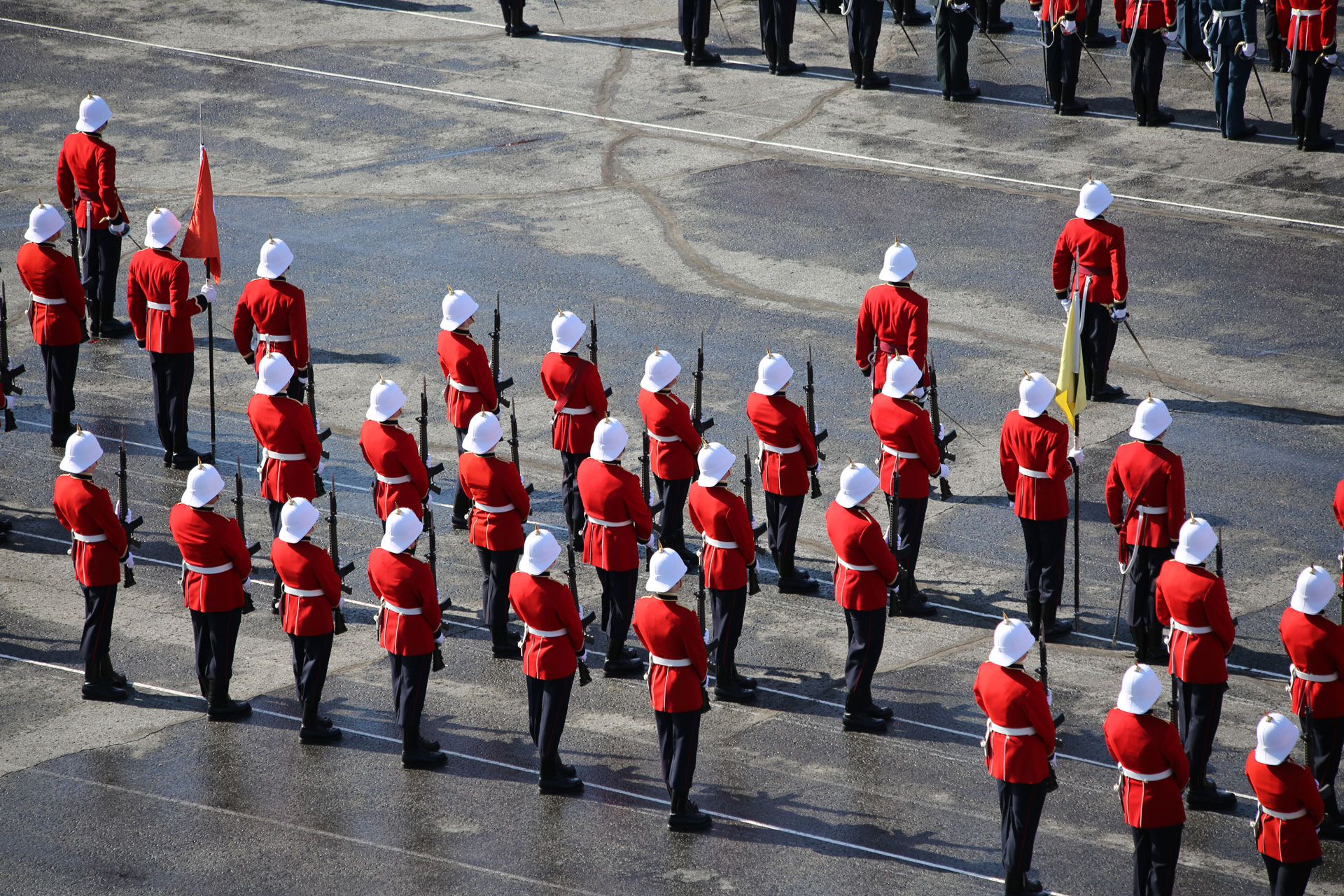 Governor General presents 45 military decorations
Recipients include at least 13  Ex Cadets
His Excellency the Right Honourable David Johnston, Governor General and Commander-in-Chief of Canada, presented seven Military Valour Decorations and 38 Meritorious Service Decorations (Military Division) to members of the Canadian and allied forces on June 10, 2011 at Rideau Hall in Ottawa. Among them were several Ex Cadets from RMC, CMR & RRMC.
The Governor General presented two Stars of Military Valour and six Medals of Military Valour to members of the Canadian Forces who have displayed gallantry and devotion to duty in combat, as well as four Meritorious Service Crosses (Military Division) and 33 Meritorious Service Medals (Military Division) to individuals whose specific achievements have brought honour to the Canadian Forces and to Canada.
(The information below reflects the rank of the recipient at the time of the event for which they are being recognized.)
23577 Lieutenant Gabriel Chassé-Jean, S.M.V.
Alma, Quebec
Star of Military Valour
From June 8 to 29, 2009, Lieutenant Chassé-Jean demonstrated valiant service under fire while leading his platoon to defeat the enemy in Afghanistan. Over an extended period, and amidst the chaos and confusion of combat, his fearless conduct in the engagement of a determined enemy, as well as his ability to keep his soldiers composed, were critical to multiple victories in a difficult theatre of operation. Whether leading a frontal assault, controlling the situation while trapped in dangerous positions, or directing supporting gunfire, he showed courage and inspirational leadership, which were key to the success of multiple engagements.
21016 Major Timothy Maurice Arsenault, M.S.C., C.D.
Sudbury, Ontario
Meritorious Service Cross (Military Division)
As company commander from March to October 2009, Major Arsenault's front line leadership, tactical acumen and unwavering determination greatly contributed to enhancing security in Kandahar province, Afghanistan. Operating with Afghan and coalition forces during numerous combat operations, he demonstrated courage under fire that inspired those around him and enabled them to consistently defeat the enemy. Major Arsenault's remarkable efforts were critical to the success of Joint Task Force Afghanistan and brought great credit to the Canadian Forces.
14681 Lieutenant-Colonel Marc Joseph André Bigaouette, M.S.C., C.D.
Québec, Quebec
Meritorious Service Cross (Military Division)
As commanding officer of Canadian Helicopter Force Afghanistan from April to November 2009, Lieutenant-Colonel Bigaouette demonstrated leadership, professionalism and unwavering dedication which contributed to the success of his unit's operations. Orchestrating and executing all missions with precision, he ensured exceptional support was provided to Canadian and allied ground forces, whether supporting combat and sustainment operations or transporting dignitaries. Lieutenant-Colonel Bigaouette's command of his unit reinforced the first-class reputation of Canadian aviation forces among Canada's international allies in Afghanistan.
12324 Rear-Admiral Tyrone Herbert William Pile, C.M.M., M.S.C., C.D.

(See Where are they now?)
12389 Colonel Anthony Joseph Mark Hilaire Ashfield, M.S.M., C.D.
Montréal, Quebec
Meritorious Service Medal (Military Division)
As the deputy chief of Staff Support for Canada Command, Colonel Ashfield provided exceptional leadership in the planning and execution of Operation Podium, one of the Canadian Forces' most complex domestic missions to date: military support of the 2010 Winter Olympic and Paralympic Games in Vancouver. Colonel Ashfield's professionalism and dedication ensured the efficient training, deployment and operational support of over 4 000 people. Of particular note were his efforts to establish and enhance cross-border relations with his counterparts at NORAD and the United States Northern Command, in the common security requirements of western North America at that time. His steady hand and personal involvement were instrumental in Operation Podium's success.
14851 Colonel Gregory Dawson Burt, O.M.M., M.S.M., C.D.
Corner Brook, Newfoundland and Labrador
Meritorious Service Medal (Military Division)
Colonel Burt was the commanding officer of the Operational Mentor and Liaison Team, in Kandahar, from March to October 2009. His command presence and mentorship empowered the 1st Brigade, 205th Corps of the Afghan National Army to successfully conduct increasingly complex operations, disrupting enemy objectives and strengthening the Afghan government's authority within the province. His leadership inspired his soldiers to persevere as they faced peril on a daily basis, all while mentoring soldiers at remote locations throughout the area of operations. Colonel Burt's understanding of Afghanistan's political situation ensured his unit's success and reinforced Canada's international reputation.
Major Trevor John Cadieu, M.S.M., C.D.
Vernon, British Columbia
Meritorious Service Medal (Military Division)
From October 2006 to February 2007, Major Cadieu commanded B Squadron of Lord Strathcona's Horse (Royal Canadians), in Afghanistan. Leading the first tank squadron in combat in almost 60 years, Major Cadieu immediately forged a cohesive combat team that excelled during two major offensives and numerous other engagements. His leadership played a decisive role in battling insurgents, and contributed to the battle group's domination of the Arghandab River area. Major Cadieu's courage and performance contributed significantly to his squadron's operational success.
16656 Lieutenant-Colonel Scott Norman Clancy, M.S.M., C.D.
Ottawa, Ontario
Meritorious Service Medal (Military Division)
From spring 2008 until summer 2009, Lieutenant-Colonel Clancy played a crucial role in the coordination, preparation and training of the initial deployments of Canadian Forces helicopters into Afghanistan. He oversaw the development of essential new aviation tactics and procedures, implemented standards for the newly acquired Chinook helicopters, and integrated aviation training with deploying land forces. His actions directly contributed to the success of Canada's deployed aviation forces and reflected highly upon the Canadian Forces.
This is the second Meritorious Service Medal for Lieutenant-Colonel Clancy
10095 Lieutenant-Colonel Roland Grant Delaney, M.S.M., C.D.
Kingston, Ontario
Meritorious Service Medal (Military Division)
Lieutenant-Colonel Delaney was instrumental in planning and coordinating the training requirements and personnel preparation for the Chinook helicopter program. His in-depth contract management skills allowed him to overcome complex and conflicting challenges, ensuring all tactical level requirements were properly integrated. This resulted in a new critical capability being made available in-theatre in record time, proving beneficial to Canadian and allied troops.
17680 Major J.R. Mario Ferland, M.S.M., C.D.
Baie St-Paul and Québec, Quebec
Meritorious Service Medal (Military Division)
As deputy commander of the Royal 22e Régiment Battle Group from April to October 2009, Major Ferland significantly contributed to the success of the international counter-insurgency campaign in Afghanistan. His effective oversight of the planning, execution and coordination of major combat operations enabled the battle group to achieve significant gains against insurgents and contributed to strengthening the Afghan government's authority within Kandahar province. Major Ferland's leadership, planning capabilities and operational focus were key elements of the battle group's success.
14442 Commander Christopher John Hargreaves, O.M.M., M.S.M., C.D.
Victoria, British Columbia
Meritorious Service Medal (Military Division)
Since his appointment in 2008 as commanding officer of Canadian Forces Fleet School Esquimalt, Commander Hargreaves' inspirational leadership, detailed analytical skills, dedication and infectious motivation have been the driving force behind initiatives to improve naval courses. His actions were instrumental in enhancing the sailors' quality of life and reducing time away from home and units. His commitment and professionalism have had a significant impact on the individual training requirements for naval force employment, generation and development.
22237 Captain Francis Joseph Michel Mallet, M.S.M., C.D.
LaSalle, Quebec
Meritorious Service Medal (Military Division)
In 2008 and 2009, Captain Mallet demonstrated exemplary leadership and dedication, which contributed to the 430 Tactical Helicopter Squadron achieving a high state of readiness for its deployment to Afghanistan. He developed a training plan for the unit that became the cornerstone for individual training, and which transformed a group of inexperienced individuals into an effective team. His initiative, as well as his exceptional ability to analyze and prioritize, allowed the unit to deliver an important operational capability in Afghanistan.
20875 Major Russell Neal Washburn, M.S.M., C.D.
St. George, New Brunswick
Meritorious Service Medal (Military Division)
From September 2008 to April 2009, Major Washburn's outstanding mentorship of and excellent rapport with the commanding officers of two Afghan National Army infantry brigades enabled him to significantly progress their professional leadership qualities. With the brigades dispersed across Zhari district, he developed ingenious methods to ensure the optimal placement of his mentoring resources. Major Washburn's diplomatic and leadership skills enhanced the officers' capacities and abilities to effectively lead their soldiers, which earned him their respect as a combat leader and trusted advisor.
Note: If we missed anyone let us know…Source
____________________________
No reason why injured vets can't serve: Former ombudsman
"I could walk down the halls of NDHQ and show you people with no medals on their chest who are not deployable, either because they're overweight or because they've got family problems or whatever and no one challenges them,"
12723  Pat Stogran      Article
In defence of soldiers
Gen. Walt Natynczyk Letter
____________________________
Canada's top soldier in running for highest NATO job: source
"That puts us in a front seat at NATO," he said. "Natynczyk is very popular amongst his colleagues and Canada has been very supportive of NATO missions, so that should help his case."
6349 Alain Pellerin Article
____________________________
Keep Algonquin College's values at heart, Gen. Natynczyk tells new graduates
"My message to you is, to ensure Canada remains the great, prosperous, free and safe land that it is today, that you adhere to your college's values in both your professional and your personal life,"
12320 Walter Natynczyk Article
____________________________
Living the dream
"I flew two tours with the Snowbirds, the Starfighter, and had a great 23-year career in the military,"
10223 Dan Dempsey
"they are as bright, motivated, proud, patriotic and ready to carry the mantle as any of us that have gone before. Being in a position to help inspire and enable some of them is one of life's greatest rewards and it is why I give talks alongside Hawk One."
13738 Chris Hadfield  Article
____________________________
Canadian Forces cancel Afghan mission tribute
"When it was brought up to the CDS's attention, he said, 'No, we're not going that route'," Blanchette explained. "It would be very awkward, not only for Canadians, but also for our allies. What would we be commemorating when you have some of our allies (still) being killed in Afghanistan?"
"It pisses me off," he said. "They're talking about this as public affairs. The chain of command should look at this as part of the healing process.
"There's a reason why militaries have historically done (ceremonies), because it is a way to try to heal some of the wounds,"
12723  Pat Stogran – Article

____________________________