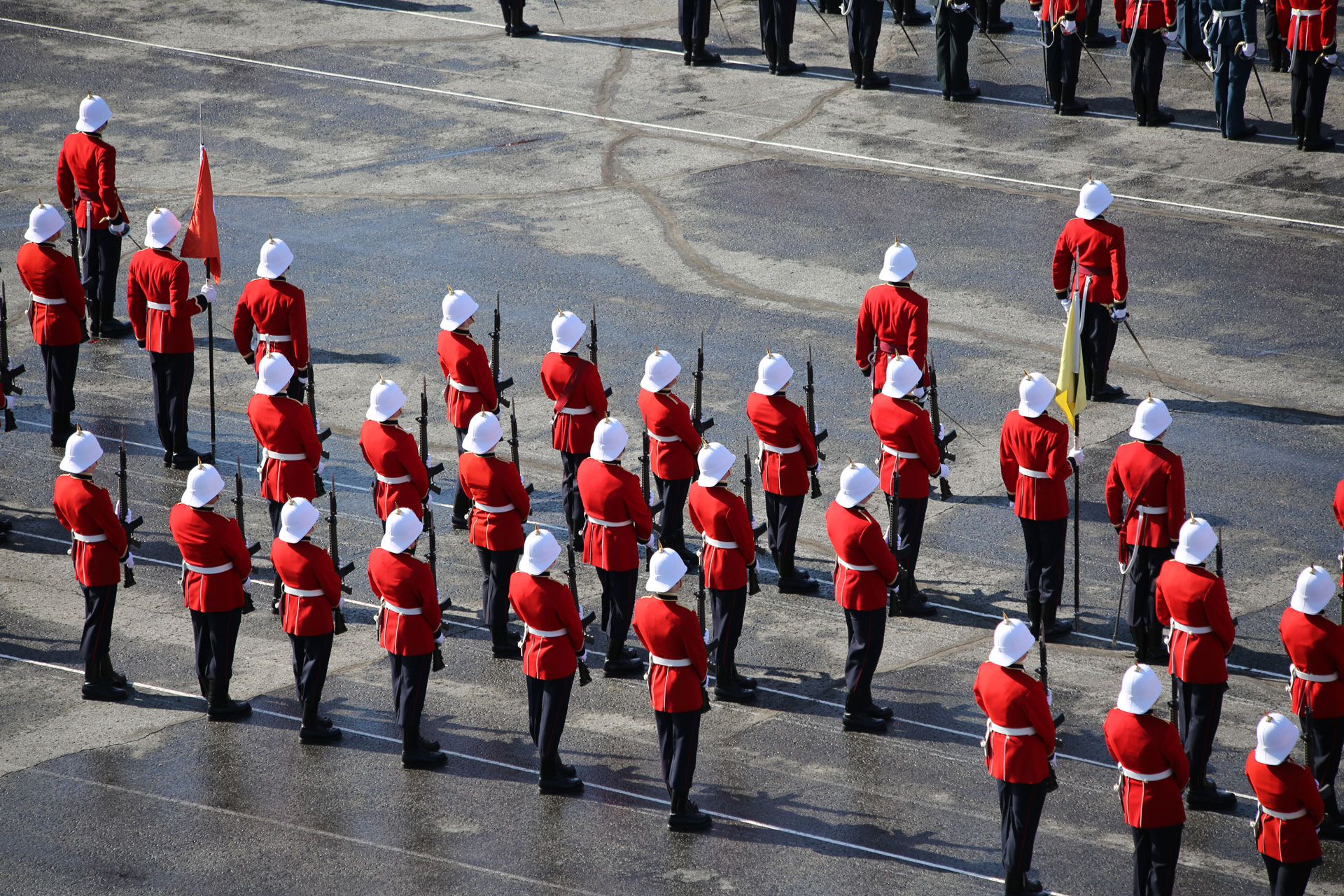 Two Ex cadets mentioned in dispatches
His Excellency the Right Honourable David Johnston, Governor General and Commander-in-Chief of Canada, announced today the names of 35 individuals mentioned in dispatches for specific achievements that have brought honour to the Canadian Forces and to Canada. A ceremony will take place at a later date and will be announced by the Department of National Defence.
Mentions in Dispatches are a national honour created to recognize valiant conduct, devotion to duty or other distinguished service. It is given to members of the Canadian Forces on active service or to other individuals working with, or in conjunction with, the Canadian Forces. Recipients are entitled to wear a bronze oak leaf on the appropriate campaign or service medal ribbon.
23626 Captain David Lacombe (RMC 2007)
23815 Captain Manuel Pelletier-Bédard (RMC 2007)
http://www.gg.ca/document.aspx?id=14099
__________________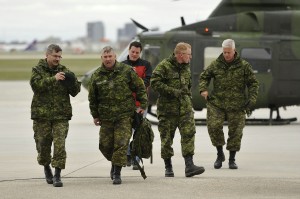 Flood relief efforts in the Province of Manitoba
(L-R) 15706 Brigadier-General Paul Wynnyk, Commander of Land Force Western Area and Joint Task Force West Commander, Chief Warrant Officer Gord Morrison, Master Warrant Officer Shawn Mercer and 14274 Major-General Alan Howard, Assistant Chief of the Land Staff, arrived at 17 Wing Winnipeg on a 408 Squadron Griffon on May 11 during Op Lustre.
Photo Credit: Sgt Bill McLeod.
______________________________
Canadian troops on guard against rogue Afghan soldiers
"If anybody knows the importance of bridging that cultural divide, this crew does," Dawe said of his handpicked unit, which includes about 400 infantry and a large number of officers and senior NCOs on their third and fourth Afghan tours. "We are here to advise and not to patronize. We are not here to insult anybody. It is all about enabling Afghans."
G3281 Col. Peter Dawe
______________________________
How Canada's armed forces should be used
Peacekeeping nowadays is not a matter of slapping a blue beret on a Canadian soldier and patrolling a ceasefire line to stop people from killing each other.
5105 J.L. Granatstein is a Senior Research Fellow of the Canadian Defence and Foreign Affairs Institute.
______________________________
Soldiers at work on flood-mitigation efforts along Assiniboine
One hundred soldiers, most of them from CFB Shilo, are helping to raise a dike along the Assiniboine near Poplar Point, east of Portage la Prairie, while another 30 to 50 are working in Brandon, said Lieutenant Colonel Shane Schreiber of the Princess Patricia's Canadian Light Infantry.
16591 Shane Schreiber
______________________________
Government Of Canada And The Canadian Forces Assist Those Affected By Flooding In The Province Of Manitoba.
"Folks should understand that the Canadian Forces will be acting at the direction of the Government of Manitoba," added Brigadier-General Wynnyk. "The Government of Manitoba are the experts at dealing with flooding in Manitoba"
15706 Paul Wynnyk
______________________________
Grits set interim-leader criteria
Marc Garneau is one name being whispered because he's bilingual and has national appeal as the first Canadian in space.
8276 Marc Garneau
______________________________
CFB Kingston will not change dome location
"It was asked again today: can they move the dome? They said no. They don't have to report to us civilians."
Group wants auditor general to nix dome
______________________________
Canadian Forces completes participation in NATO-Iceland Air Policing Program
"I am proud of the flexibility and agility of Canada's Air Force to quickly deploy and integrate into the NATO- Iceland Air Policing Program while simultaneously supporting air combat operations over Libya,"
11275 Lieutenant-General Marc Lessard, Commander, Canadian Expeditionary Force Command
______________________________
Two-per-cent tax hike irks rural residents
"Most rural taxpayers see this as the thin edge of the wedge, ruining what we thought was a well understood arrangement, fair to all,"
5877 Ted Davie