Above: State of Connecticut Arsenal and Armory in Hartford, Connecticut. An historic icon of service for Connecticut People
Article by A170 Tom Rozman

Reflecting on the influence of family elders on following generations toward military service, it is an interesting observation on such influence that I am able to make from personal experience with a very large known family sample.   On my father's side the impulses derived from people that immigrated from old Mazovia before the Russian war with Japan and who among other governments had been subjects of the King of Prussia after the third Polish partition in the 1790s.
My mother's people had come into New France's Quebec and Acadian provinces in the early 17th Century with branches remaining in today's Canada but other branches relocating primarily into the now United States' New England and Louisiana as well as other regions with many appearing on the roles of such as the Carignan Salieres Regiment, other military detachments and New France militia musters (including two captains of militia).
Yet, I remember no overt or direct communication from family encouraging service in the armed forces (which included my father).  Still, there was an almost unspoken orientation toward service from my father and preceding generations.  There was an unstated expectation of service that was I thought palpable, the earlier generation having led in that direction by example.
Certainly some of this orientation was defined by the historical circumstances of the World War I, World War II and Korean War developments. One example set was that everyone met the call to service whether as a volunteer or as a drafted soldier, sailor, marine or airman.  Most were not career military people, but citizens who served and then returned to civil life.  But as I've learned across the extended family the military service footprint is extensive and there are a significant number of professionals who were career military serving in all grades from private to general officer.  As noted on the French side, the relationship to military service has apparently been an ancient one not only with 17th Century service in New France but service in among other formations the King's Musketeer Regiment.
In the ancient North American case the service as noted appears to be significant but also has more ancient precedent according to some sources.  Shortly after the Canadian Prime Minister Justin Trudeau assumed his office I came across two different articles in Canadian media claiming the Prime Minister's connection to the Plantagenets and more strikingly to one William I.  The cited ancestors of Monsieur Trudeau that created this connection were 17th Century pioneers in then French Acadia, Mathieu Amiot and his wife Anne Convent who had traveled to Port Royal from Normandie. The names and circumstances seemed familiar for some reason and on checking they were in fact common ancestors on my mother's Boucher side.
Hundreds of years later from the time of William I, thirteen soldiers and an officer of a royal French regiment would come to New France.  They were ancestors  who served in the Carignan Salieres Regiment sent by Louis the XIVth to New France in 1663. The officer, Jean Vincent d'Abbadie de St. Castin, 3rd Baron of St. Castin, had family who served as officers in the Royal Musketeer Regiment.  Even Marshal of France Bernadotte apparently was a relation to that family.  From one source, the Baron's aunt, a Bearn Bonasse, was married to the actual person the musketeer Athos was based upon in Dumas' work The Three Musketeers.  The Baron would hold French Army commissions for much of his service on the Southern Acadian Frontier as would two of his sons.
Another, Major Germaine Doucet, the major commanding at Port Royal in a 17th century capitulation to English forces, was  an ancestor.   The Royal Armorer at Port Royal in this early period, Abraham Dugas, was another ancestor.
There would also be a 17th Century Habitant ancestor of the new France militia who was mobilized for several months of military service to augment the force of which the Carignan Salieres Regiment was a core in the operations against the Iroquois. And as mentioned earlier there would be two New France militia captains in the 18th Century.
Relations on my Grandfather Charles Boucher's side that were expelled from what had been French Acadia by the British Government in 1755 made their way to Louisiana.  Descendants in the related Hébert line of old Port Royal started entering the U. S. Military Academy from the State of Louisiana in the 1830s. One, Paul Octave Hébert, served as the lieutenant colonel of the 14th Infantry Regiment in operations around Mexico City and later as an ante bellum Governor of the State of Louisiana and a Confederate Army colonel and Brigadier General during the Civil War.
Louis Hébert, cousin of General Paul Octave Hébert and fellow West Point graduate would also serve as a Confederate Brigadier General. Prior to the war he had been a member of the Louisiana state senate, state engineer and a state militia officer.
Eight Confederate soldiers from Louisiana with family names from this family diaspora that developed after the Acadian expulsions of 1755, Hébert, Dugas and Landry, were still with the Army of Northern Virginia at Appomattox, Virginia and would be paroled after the capitulation of that army.  There had been others of these families who had been killed, died from other causes or had otherwise left the Confederate States Army before the events at Appomattox.  To note, the War was not overly popular with many Acadians in Louisiana an many did avoid service with the Confederacy .
I would spend three years in a cadet company at the Military Academy with a distant cousin and descendant of these men, Ron Hébert from Louisiana.  We both descend from two 17th Century Héberts who immigrated from Normandie to then Port Royal, Acadie now Annapolis Royal, Nova Scotia.
Ironically, in the opposing Army would be two family on my grandmother's Gagné side Augustin Gagné and his stepson Fortunat Bolduc, both men from Québéc, serving in 4th Maine Light Artillery Battery in the Army of the Potomac.  Both men had Bolduc antecedents several times back to Louis Bolduc, a soldier of the Carignan Salieres Regiment, later an official of the Royal French government in Québéc City before his recall to Paris.  Two Bolduc cousins would graduate from West Pont, Lucien Senior in 1925 and Lucien Junior in 1950.   The former would retire as a colonel of infantry after World War II and the latter as a major general in the 1980s.  Donald Bolduc, a third Bolduc cousin, recently retired from the Army as a brigadier general.
World War I would see three great uncles from the closer family in service. One, a brother of my grandmother, Corporal Aimé Gagné of the 23rd Infantry Regiment, 2nd Division would be killed in action on 6 June 1918 at Belleau Wood, France.  His younger brother Arthur would also serve but the war would end before he deployed to France.  My father's uncle, Walter Duma, who immigrated to the United States from Prussia, would also serve in the Army in France.  Other more extended family would serve from the United States and Canada.
But the immediate family of the World War II and Korean War Eras presented a much more emphatic statement of service than any past period.  My father, his six brothers and one of his sisters and his other would serve.  My mother's four brothers would serve. Twelve of my mother's and father's brothers-in-law would serve.
Specifically, my father, his brothers Henry, George, Carl, Richard, Walter and Earl and his sister Elizabeth would serve in the Army and Navy as well as brothers-in-law William Chorazy, Edwin Smiley, Richard Hood, Nelson Cheverier, and Thomas Jansen also serving in the Army and navy. My mother's brothers Fernand, Roger, Wildy and Lucien Boucher and brothers-in-law Napolean Berubé, Isadore Couture, Joseph Couture, Ralph Barnard, Clifford Jones, Lewis Griffing, and Leo Manter would also serve in the Army, Army Air Force and Navy.  The one brother-in-law of my mother who did not serve, Muzzy Orifice, saw both of his sons serve as Navy Aviation officers, Gary retiring as a Navy Reserve commander and Peter as a Navy lieutenant commander the latter then serving a long career as an airline pilot.
From the previous generation, three of Corporal Gagné's brothers would serve in the Army during World War II, Alphonse, Joseph, and Romeo.  Joseph would be promoted to sergeant and wounded in the South Pacific.  Alphonse, as an Army musician would be promoted to Technician 5th Grade serving in England, France and Germany.
Including my mother's oldest nephew, Ronald Berubé, twenty-eight family entered the service during the World War II-Korean War period.   Nineteen would serve overseas.   One would retire from the Army as a lieutenant colonel and three would retire as Air National Guard senior non-commissioned officers.
As well, all six of my great Aunt Aurora Gagné Cantin's sons served. One served in the Navy in World War II and the other four in the Army and the Marines during Korea and Viet Nam.   Her daughter Eileen would serve as an officer in the Army.
In the event, I was born into two large Catholic families that had a footprint of military service that extended well into the past.  As noted, one family was of Polish origin and one traced it roots to 17th Century French Canada, the old Québéc and Acadian regions.  Interestingly, my Polish grandfather walked out of Poland to avoid service in an Imperial Russian Army regiment as war clouds built with Japan in 1904.  It was one thing to die for Poland but quite another for a Pole to die for the Czar in Manchuria fighting the Japanese.  But he was proud of his grandfather, a soldier of the insurrection of 1863.  He came from a region, the Kurpie, noted for its support of that and previous insurrections against Russian control and for being a fierce resister to Swedish invading forces in an earlier Polish-Swedish war.
As I recall, hardly any of this larger story was conveyed to us younger people at the time except in an old story or two told sparingly when with a grandparent and occasionally an uncle or aunt—but somehow the stories of the past transmitted.  I remember as a small boy my father telling me of the legendary Polish Husaria—the famed winged horseman of Poland who almost always fought out numbered yet often prevailed in battle.  And I was certainly made aware of the Civil War great grandparent on my mother's side and the story surrounding the death of the great uncle in World War I.  These stories did have an effect.
But I think the most telling influence on me and the thirteen of my fifty-four first cousins who chose to serve was the understated matter of fact aspect of all of our uncles and aunt having served or being in service and off in some exotic place of duty that excited the imagination.  In my case, the experience was further reinforced by my father's service in the active army the entire time I was in the family before I enlisted.
In the above context, the idea of serving seemed almost reflexive.  Certainly, many of these family members being combat veterans, the idea of there being anything glorious or romantic about being in combat was dismissed.  They weren't into glorifying the business. What stories they told they didn't brag or glorify their service, they just told the stories in all their reality. And they usually had to be prompted to tell any story.  Yet, the sense was that service was honorable and an expected pursuit—not rhetorical but by example.  Service was to be sought.
The conduct of these family members and what was known of earlier family in military service led in my generation by several cousins two being siblings Thomas and Robert Rozman, serving in the Army and retiring from the Regular Army as officers as their father had. One, David Rozman, served in the Marines Corps as a sergeant. Another, Nelson Cheverier served in the Navy as a petty officer and retired from the Air National Guard as a Chief Master Sergeant.  One, Dale Boucher, would retire as an Air Force officer. Seven, Ronald Berubé (the first of the cousins to enter service did so during the Korean War), Richard and James Boucher, Donald and Gregory Couture, and Gayle-Anne Jones Gray would all serve in the Air Force and Air National Guard as senior non-commissioned officers, five retiring from service.  Two, as earlier mentioned in the Navy, Gary and Peter Orifice would retire as commissioned aviation officers.   One, Earl Rozman, would serve as a career Connecticut State Trooper retiring after a long career then being called out of retirement for several more years to work in incident response.  Thirteen cousins would serve and most for long periods.
In the following generation nine second cousins and three of their spouses served or are serving.  Patrick Kenney and Bryan Rozman would serve as Army officers in the grade of major.  Melissa Rozman Hogan would serve as an Air Force captain.  Her husband, Joseph Migliuri, is a serving Air Force officer recently promoted to major. Amanda Couture Wells serves as an Air Force major and her husband as an Air Force lieutenant colonel. Kenneth Viot and his wife Tara served in the Air Force.  Gary Ludden served in the Marines as a non-commissioned officer.  Nicholas and Ryan Cheverier would serve in the Navy as petty officers.   Jason Gray served as an Air Force pilot and retired as a major and now flies as an airline pilot.
The next generation would see Raquel Rozman Gutierrez and her husband Jose serve as Navy petty officers. Three generations after the World War II-Korean War Era the family group has followed with thirteen in the immediate following generation, twelve in the next generation and two in the next for twenty-seven family who have sought service.
In my wife's family the service orientation has been significant as well. Over 30 Cashins, Hogans and Turners have served in the Royal Newfoundland Regiment, Royal Navy and Newfoundland Forestry Service in World Wars I and II  and uncles have served in the U.S. Army and Air Force.  Her father was a British junior Merchant Marine officer for a time.
Her mother's cousin Joseph Babiarsz served in Polish II Corps in World War II.  Cousin Walter Marciniac  graduated from West Point in 1948 and retired as a Corps of Engineers colonel in 1970.  His brother served in the Army during World War II. One of his sons attended West Point and another son served as an Army engineer captain.
Another cousin, James Tanski, graduated from West Point in 1968 serving as an Army armor captain. His brother William graduated from the U. S. Merchant Marine Academy serving in the Navy as a Navy lieutenant and pilot and later an airline pilot.  Her cousin, Janice McGuire Dayton's daughter Caroline Dayton Kearney, a U. S. Coast Guard Academy graduate, serves as a Coast Guard lieutenant commander and pilot.  Her husband, also a Coast Guard Academy graduate, serves as a lieutenant commander and pilot as well.  Janice's father John McGuire served in the Navy during World War II and her mother Nathalie Kasek McGuire served in the Army as a non-commissioned officer during World War II.
The service ethic has clearly been significant generation after generation in these lines of family.  The common force that seems to apply is the collective example of the preceding generations, most significantly during World War II, though there is presence in World War I, the Civil War and further back in time.
Certainly circumstances like the various wars and national service obligation was a factor in the subsequent generations seeking service.  But volunteers remained significant throughout.  Even during the 1920s-30s, a non-war period, four family served.   The common force at work to cause following generations to serve seems to have been the example of the earlier generations.   Their collective leadership in honoring their service and setting the example, appears to have inspired and influenced in some way a tendency by the following generation to emulate the earlier generation and seek service.
Of course other factors were at play and the orientation and willingness to serve was influenced by these other factors as well.   But the presence of so many veterans and family members in service in the family as examples of how to act and with a good perspective on the services, clearly affected the later generational embracing of service.   In retrospect it was a form of individual and collective leadership by example.
Following is a pictorial selection of generations of extended family who have served in the armed forces.
Some Who Served in the Civil War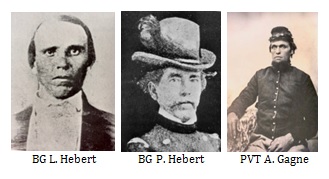 A Generation that Served Through WWI, WWII, Korea into the Cold War
Note: The photo of the Connecticut State Arsenal and Armory, an iconic Classical Revival military structure adjacent to the Connecticut capital building built in 1906, represents a significant influence on many Central Connecticut residents.  The imposing but tasteful building certainly affected my thinking about the military service, perceiving that service as honorable and respected.   My father once had his office in the lower right corner of the building as a captain.