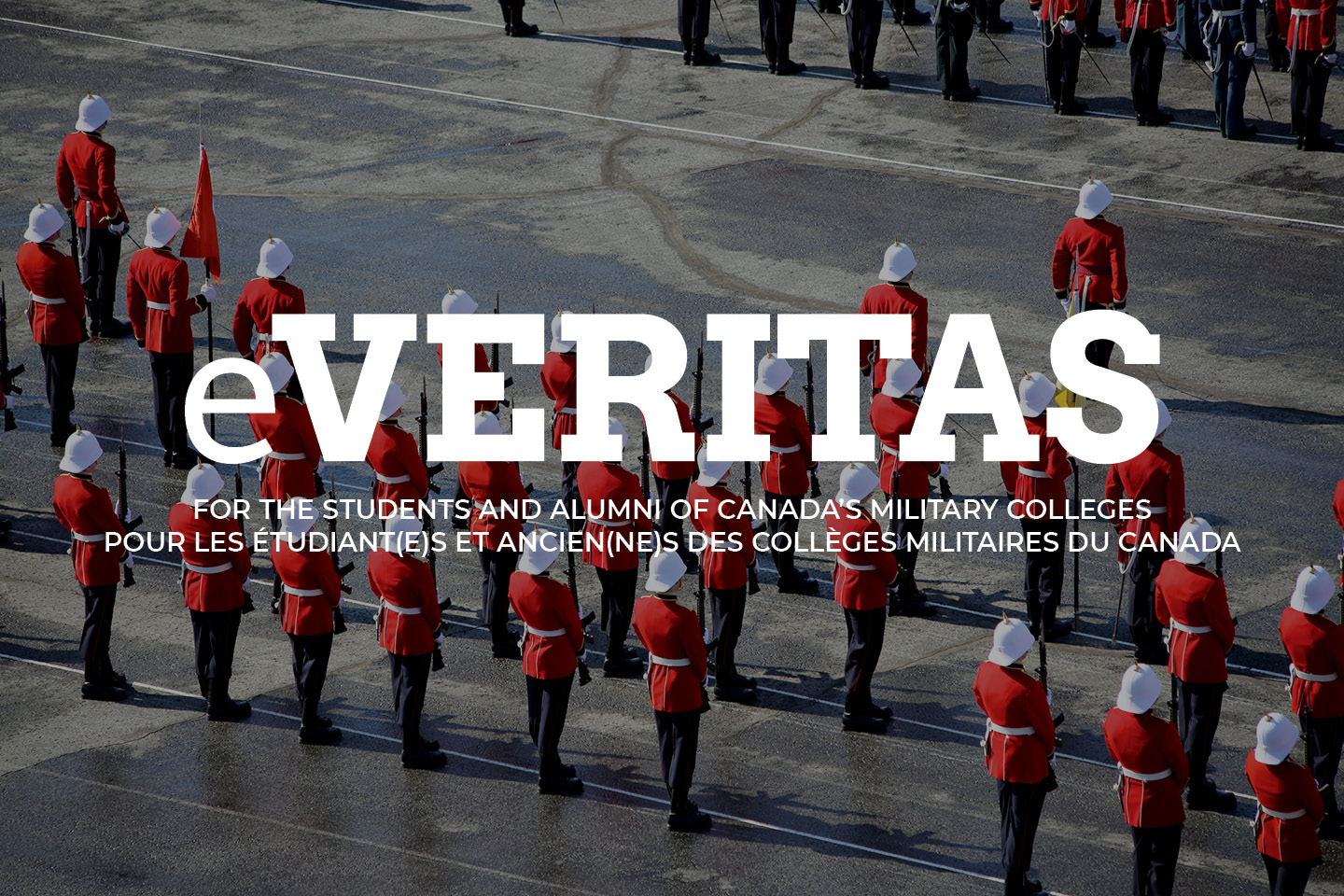 Margaret Atwood Honoured at Fall Convocation
Article by Dr. Michael Hurley, RMCC English Department
Photos by 25366 Mike Shewfelt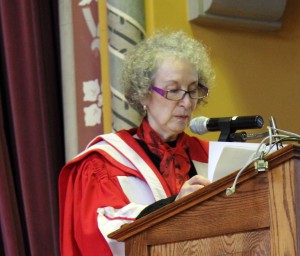 Okay, class – pop quiz time. Who's Canada's best bet to receive the Nobel Prize for Literature? Who's a lyricist for both rock bands and opera, a cartoonist and gifted public speaker with a flair for stand-up, passionate defender of human rights celebrated around the planet, Arctic adventurer just returned from checkin' out Greenland, photographer plus radio and TV script writer? Who's been a tireless champion of Canadian culture, art and values abroad and at home long before we knew we had any? Who's recognized everywhere as a wonderfully articulate, undaunted and inspiring speaker of truth to power – the author of the "The Handmaid's Tale," the movie of which East Berliners demanded to see the moment The Wall came tumbling down?
Who's an environmental activist, organic gardener and proponent of food self-sufficiency, a birder, inventor, mentor, and past Chair of the Writer's Union and Vice President of P.E.N. International, dedicated to freeing those imprisoned for their writing? Who's a generous donator of time and money to charities and causes from Amnesty International and Artists Against Racism to the local food movement? Who led 1200 Kingstonians on one of the largest – and merriest – civil disobedience marches in Canadian history to protest the inexplicable closing of our prison farms by the Harper government? Oh yeah – did I mention award-winning poet, novelist, short story writer, creator of children's tales, literary critic, essayist, reviewer, editor, book  cover-designer, watercolourist, and cultural commentator with a talent for predicting everything from recessions to epidemics, unchecked state surveillance and the institutionalizing of torture?
Clue: Incredibly, it's the same person, one who wears more hats than even Maj Michael Boire. The same person whom RMCC just conferred an honorary degree on – someone who's become something of a fixture here since I first started introducing her to Cadets and faculty back in 1993. A woman with such good taste in men that, some 40 years ago, she selected as her spouse a former CMR Cadet, a man who received his commission in the Army, trained as a sniper, and is the son of  Canada's youngest General during the Second World War: Graeme Gibson, soldier turned novelist – one of my favourite kinds. If you answered Margaret Atwood to all of the above, give yourself a mark of 100. Better still, give yourself a treat and start reading any of her stories, because they're our stories.
If you're interested in Kingston's weird and wonderful past, may I suggest "Alias Grace." If you're interested in our future, "Oryx and Crake" will give you a sneak preview – like it or not. And Ms. Atwood's novel "The Robber Bride" so dazzled military personnel when she read from it in Currie Hall back when that former Dean and military historian, Dr. Ron Haycock, marveled at her in-depth knowledge of battles, tactics and weaponry, and of what makes soldiers and history profs tick.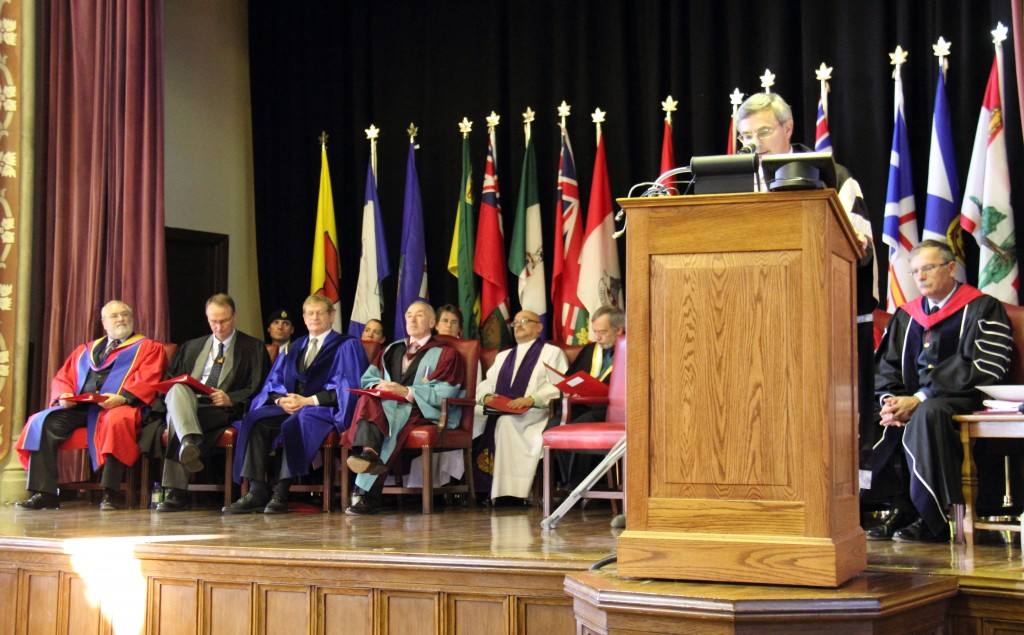 At Friday's Convocation, Principal Joel Sokolsky noted that if there's a common thread running throughout the epic list of the many hats that this well-rounded Canadian cultural leaders wears so gracefully, it is, indeed, as a vocal and valorous speaker of truth to power. A Companion of the Order of Canada, Ms. Atwood is renowned worldwide for her leadership role in many disparate realms of endeavours, not least of which is her international stature as a spokesperson for democratic freedoms who leads by example and walks the talk. Indeed, her writing so captured the imagination of one of our most accomplished and beloved Honours English students, the late Capt. Nichola Goddard – another feisty slayer of gender stereotypes – that Nichola adopted lines of Margaret's poetry as her watchwords. As Dr. Sokolsky observed, were Ms. Atwood a character in her fiction, she would doubtless be the clear-eyed, forthright child in "The Emperor's Clothes" story. The one who tells it like it is, who thinks outside the box, who speaks the obvious but inconvenient truths, though the silent and fearful shush her for saying the things you're not supposed to say. That's Atwood's strong suit. And that's her invaluable gift to us, which we honoured at Convocation at an institution where "Truth' is the first word in a motto that also recognized our duty to speak it and the valour required to do just that.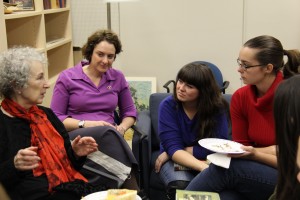 Since Ms. Atwood well remembers the days when writing fiction and "scribbling verse" were considered by the culturally-challenged to be even more fringe, ill-advised and financially ruinous then her previous toehold in normal society – Honours English student – she as a soft spot in her heart for just such long-suffering students. Fortunately, with the aid of the indefatigable Dr. Laura Robinson and the rest of the all-star line-up in the English Department, we were able to round up many of the usual suspects answering that description and chow down before Convocation – along with Commandant Tremblay and his wife, LCol Brigid Dooley-Tremblay, College Chief Warrant Officer CPO1 Keith Davidson, Principal Sokolsky, and Dean McDonough. We left with a renewed appreciation of what one student called "a wonderfully humourous, down-to-earth, warm and friendly writer," plus of what it must be like not only to walk a mile in Margaret Atwood's shoes but also fill them while remaining as graceful and lightfooted as RMCC's latest honourary degree recipient.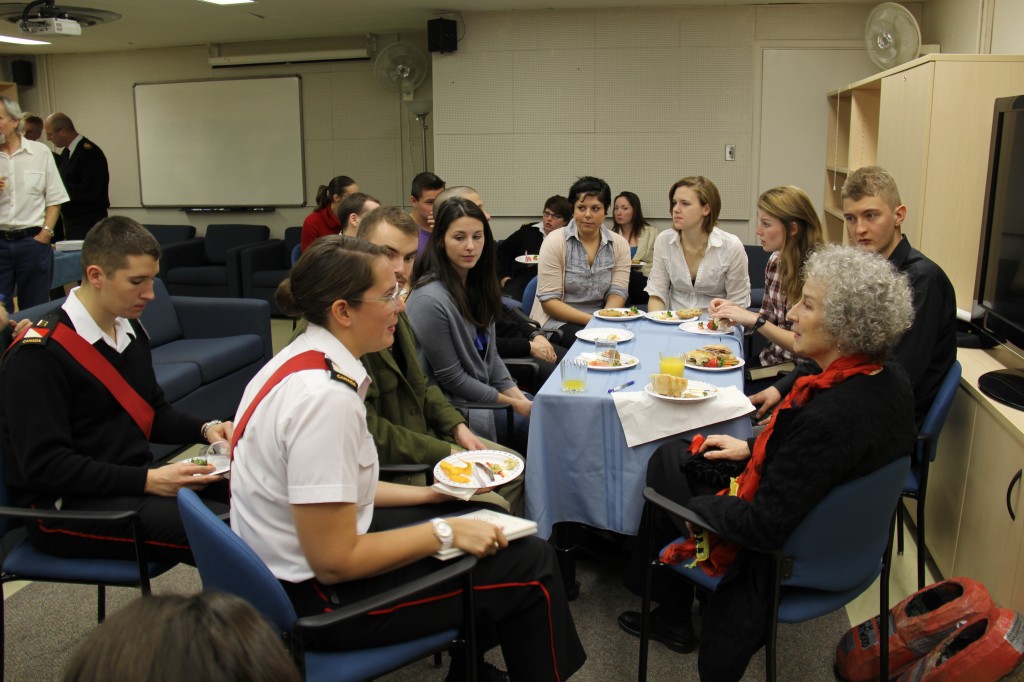 We hope to have more 2012 Fall Convocation photos & article next week in e-Veritas 46.