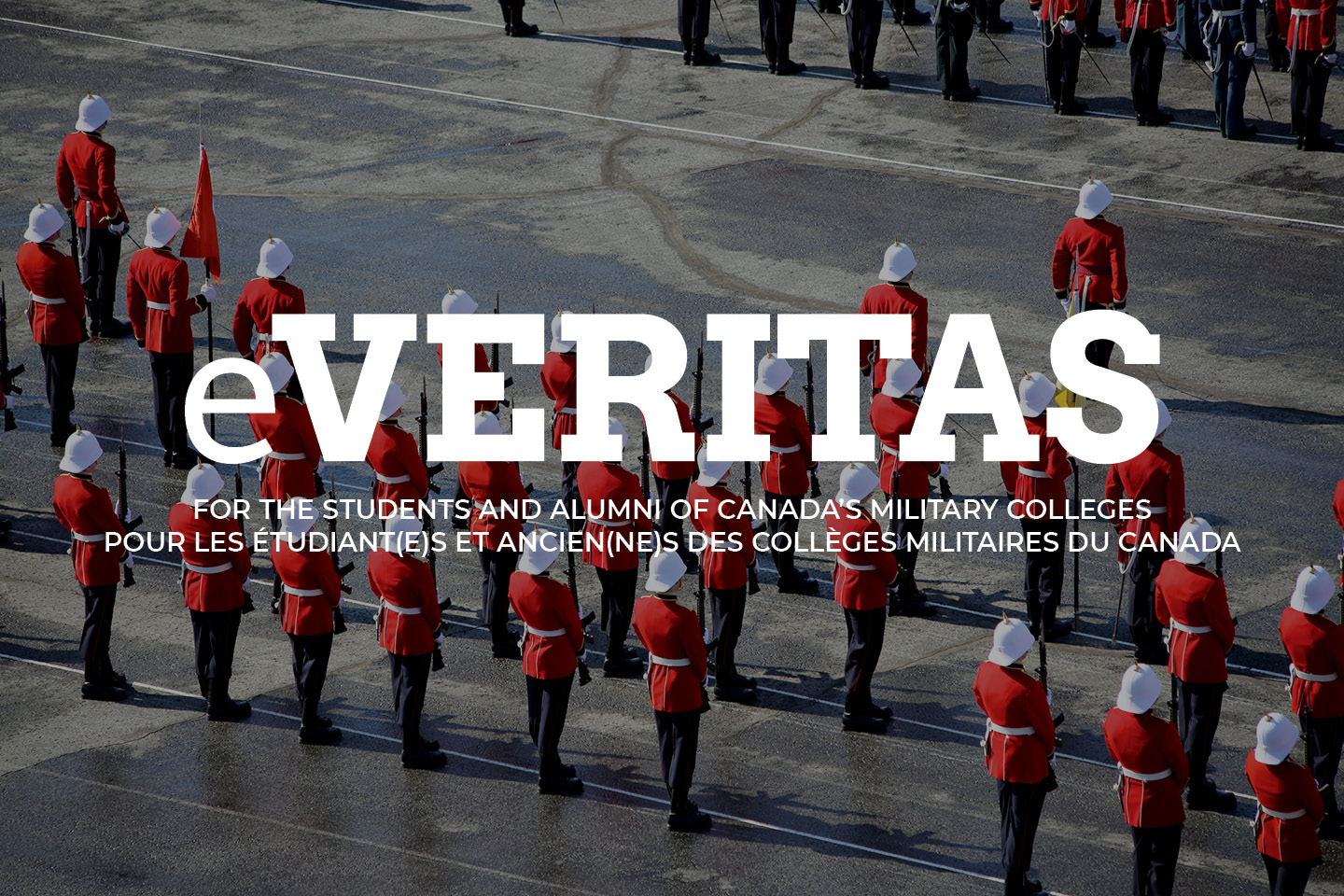 This the third in a series of article on former CMC Commandants. Like the first two – on General (ret'd) Jean Boyle and Captain (ret'd) Dave Bindernagel, the interview was carried out by E 3161 Victoria Edwards.
_______________________________________________________…………………………………………….
9098 BGen (Ret'd) Ken KC Hague (CMR RMC '72) just recently retired as Vice President, Resource Development at the United Way of the Lower Mainland in British Columbia. He attended university from 1967 to 1972 at both le College Militaire Royale de St Jean, Quebec and Royal Military College in Kingston, Ontario where he graduated with an Honours BA in Economics and Commerce. He was promoted to Brigadier General in 1995 and was appointed Director General Intelligence at National Defence Headquarters in Ottawa. In 1997, he became Commandant of the Royal Military College of Canada in Kingston, Ontario. He retired from the Canadian Forces in June 2000 and moved to Vancouver. Ken became a volunteer Loaned Representative with United Way of the Lower Mainland for 16 weeks that fall and was hired by United Way as a full-time fundraiser in April 2001. In January 2003, he was appointed Director Resource Development, and in April 2004 was appointed Vice President, Resource Development. Ken is an avid golfer and is now spending considerably more time on the links. He is married to Wendy Hague and currently lives in Abbotsford, BC on "Golf Course Drive!!"E-veritas: Your brother 6842 Edward (Ted) E.C. Hague (CMR RMC 1966) graduated from RMC the year before went to CMR. You donated the bench-behind the Currie Building in his memory. Did he give you any advice about the Colleges?
BGen Hague: No, my brother didn't give me any advice. He may have been afraid that I would change my mind about military college and a career in the Canadian Forces. Most Ex-Cadets brag that their years at military college were more difficult than their successors, and, to an extent, it is true. But more difficult does not mean better! My brother and I followed a similar career path. We both studied economics and commerce at CMR and RMC, followed by service in the artillery. We both became fluently bilingual and served together at a number of bases across Canada including Montreal, Valcartier and NDHQ.
My brother and I were not unique in making Military College a family affair. Several families have sent siblings to the military colleges over the years.
The Plaque on The Hague Bench Reads:
Presented by/ Présenté par
9090 BGen Ken Hague
Cmdt RMC-CMR Jul 97-Jun 00
In Memory of his brother/ en mémoire de son frère
6842 Ted Hague 1943-1996
Photo By: 23996 Alex Cushley (RMC '08)
Ed Note: e-Veritas will be presenting a series of articles in the future on family connections and all three military colleges.
E-veritas: What skylarks (practical jokes) do you recall?
BGen Hague: When I was a cadet at CMR, practical jokes were sometimes played on our drill staff. As is common at all the Military Colleges, at CMR we practiced drill for two weeks in preparation for the graduate parade. Some of my colleagues put birdseed on the parade square. It was priceless gazing out our dormitory windows at our normally staid and orderly drill staff chasing dozens of hungry seagulls off the square with their drill canes. As a Commandant, 30 years later, there was either less skylarking or the cadets were better at not getting caught. Likely, the skylarks continued but my staff kept me purposely out of the loop – probably a good idea. I do recall that the cadets dressed up the cadet statue, Brucie, for one reason or another, every year.
E-Veritas: What do you recall driving cadets crazy on campus?
BGen Hague: As cadets at CMR in 1967, we did not have the luxury of having our pay deposited directly to our bank accounts. Instead, we had to line up for pay parade in the drill hall. Lining up for what seemed like hours was not that big a deal. The problem was our fearless Cadet Officers just waiting for us to screw up, like breathing. If we did anything wrong – talking was the worst – we received punishment, mostly circles. While we were at pay parade, they also inspected our rooms. It was not abnormal to return from pay parade with 8 – 10 circles (at CMR we ran them at 5:30 in the morning, four at a time). I'm sure many Cadets felt like I did. For the miserly $35 we received, I felt like telling them to take my pay and stuff it.
As Commandant, I was seriously concerned with a then new phenomenon among the student population at RMC – binge drinking. I was disappointed and concerned that cadets would endanger themselves by drinking so much so quickly. We took a number of measures to discourage the practice, but mostly they did not succeed.
E-veritas: What skill did you learn to do as a cadet that you still do well?
BGen Hague: Most Ex-Cadets will laugh, but I still arrange my clothes in my drawers like we did at the College, particularly the socks, a habit that I never lost.
One thing I really enjoyed at the Colleges was getting an opportunity to play all different kinds of sports. Most people know my favourite is golf, and I did play on the RMC Rep Golf Team. Although my game currently sucks, I did manage to make a hole-in-one shortly before the interview – my second in 50 years of golfing.
E-veritas: Who was your roommate in first year?
BGen Hague: 9031 Mr Michel Bonamie (CMR 1972), a Francophone from rural Quebec, was my first roommate. At the time, I didn't speak much French and he didn't speak any English, but we did manage to communicate. One day a few weeks after we arrived at CMR, I noticed that there were "strings" dangling out the window in our room next to his bed. I went to take a look and saw that he had tied his wet grey socks to the string and had them drying in the sun. When I asked him why, he told me he did not want to spend money on the cleaning, so he did them in our sink, then hung them out to dry. He had no idea that in our cadet days, all clothes cleaning was free of charge. We both had a good laugh when I told him. Unfortunately, Michel left CMR on the very first day of eligibility. My last memory of Michel was taking his picture in every one of the Cadet uniforms, even "borrowed" scarlets.
I had the opportunity to forge strong connections with my class mates over the years, particularly during my three years as Commandant, and since arriving in BC. Since 2001, I meet with Bob Sloat and Eric Turcotte regularly for lunches and skiing at Whistler.
E-veritas: Where did you live?
BGen Hague: In my first year at RMC, I lived in Fort Haldimand, a.k.a. the worst insulated building ever built by modern man. Although totally renovated in the last few years, in my time it was one huge echo chamber. Built circa 1950, it originally contained sports stores, swimming pool, admin offices, locker rooms, medical facilities and dormitories For the officer-cadets living there pre-renovation, there were no secrets between us, at least verbal ones. The walls were paper thin. You knew every time someone next door even moved a coat hanger! The hallway floors added to the noise level since they were made of stone and anyone wearing steel clickers on their shoes or boots could be heard throughout the entire building. Snorers were not appreciated!!
In my second year at RMC, I lived at Fort LaSalle, a dormitory built in 1913 housing 2 (LaSalle) and 3 (Pontiac) Squadrons. Fort LaSalle was known for static charges and shocks. I walked across the rug, reached for the doorknob or other metal conductors and ………ZAP!!! The static problems were worse in the winter since the air was much drier, which increases the frequency and severity of shocks. I came inside from the cold, pulled off my wool hat and the static electricity would make my hair stand on end (yes, even I had hair in my younger days!!).
E-veritas: How were cadets punished?
BGen Hague: As cadets, we tried to escape the continual scrutiny and haranguing by senior cadets. Although there was a mandatory church parade to the two churches located on college grounds, we were not required to go in to the church – we were marched there and given a choice. The first time, I decided to attend as an opportunity to escape the continual badgering of the Cadet Officers. How wrong I was. I immediately fell asleep. When I woke up, one of the Cadet Officers also in attendance was showing me "three fingers" – translated in Cadet language to "three circles". No there was no escape. Or was there?
One other favourite trick to try and disappear under the radar for awhile was hiding in the stalls in the bathrooms. I would lock the door, put my feet up and out of sight, and enjoy reading a book for a few minutes. I actually never got caught – sorry Serge!!
E-veritas: Describe your recruit orientation.
BGen Hague: The recruit orientation was tough when I was a cadet (yes, that is what every class says). I arrived at CMR in mid-August 1967 and did not leave the College grounds until end November. By mid October, the cadets were all stir crazy. We were always watched, and the hazing was getting a little hard to take. But relief was just around the corner. One day a notice was posted on the bulletin board in Cartier Squadron asking for volunteers for the "bowling team". Most of us, including me, were up for any opportunity to escape to the real world, so I signed up, along with dozens of my buddies. We met in the hallway one night at 7 pm to go "bowling". Well, their concept of bowling and ours was substantially different. … Their "bowling" was marching us one at a time into the washroom, having us do a handstand on the toilet, lowering our heads into the bowl, and a Cadet Officer flushing the toilet. In retrospect, we laughed a lot at gags like this one, but I truly feel the Cadet Officers had too much power in our Cadet days, and often abused it.
When I returned as Commandant to RMC, I found RMC to be a kindler and gentler place for cadets. I recognized that the recruit orientation were still very tough, but they were fair. All activities were more oriented to practical military skill – development, rather than intimidation and hazing. We have progressed considerably to what I believe the original intent for the College was.
The biggest, and best, change for me was having Lady Cadets at the College. During my three years as Commandant, I believe they had become the driving force at RMC. It was wonderful to see the women excel in leadership, athletics, academics and common sense. Having men and women working together, learning from each other, and developing lifelong relationship has turned RMC into an exceptional training ground for our future generation of officers.
E-veritas: Do you have any ghost stories from the military college?
BGen Hague: None.
E-veritas: When you were a cadet, your commandant was 2530 BGen (Ret) William Kirby Lye MBE CD (RMC '36) 1970-1973. What do you recall about former commandants?
BGen Hague: As Commandant at RMC, former commandants such as, 3572 BGen (Ret) Frank J. Norman CD (RRMC RMC '56); 2816 BGen (Ret) William W. Turner CD (RMC '42) and 4459 Commodore Ed Murray (RRMC RMC '59) were frequent visitors to my office and the College and I greatly appreciated their counsel. However, for new Commandants, particularly ex Cadets, the traditions of college and the "perceptions" of former Commandants about those traditions, can be daunting in the first few months of command. I was always leery about changing the policies and practices, and was quite intimidated by the history and traditions of the College. I will illustrate with a pretty "off the wall" example.
When I moved into the Commandant's office, they had just renovated it. My secretary asked me where I wanted to put the photos of the former Commandants as tradition had them located in the office. To tell you the truth, I did not want these very distinguished gentlemen watching my every move in the office, plus I wanted the current cadet population to see their photos (you know the only cadets who would see them in the Commandant's office!!). So I had them hung in the hallway between Curry and McKenzie buildings. I was waiting for the flack I expected to receive following the first Ex-Cadet Weekend, but low and behold, I never received even one negative comment. So they either agreed with my decision, or were too polite to comment!
While the experience of being an ex-cadet confers advantages in serving as a Commandant at a military college, I also see advantages in having a different perspective. E1607 Brigadier-General Jocelyn Lacroix (RMC 1999) CD, for example, was an exceptional choice of Commandant (2005-2007) since he had a unique experience from earning a Bachelor of Military Arts and Science degree at RMC as a mature student, and serving as Director of Cadets. I admire the way he viewed the college and implemented ambitious changes such as initiating the 'live out project' which saw 4th year cadets move off campus in order to gain more life experience before heading to their first unit. It takes courage and determination to make changes in historical institutions like RMC.
E-veritas: Did you play on a Military College team/were you a fan of any sport teams?
BGen Hague: As a cadet, I was only 5'5 and 125 pounds. I really enjoy sports, and the Colleges gave me tremendous opportunities to compete and participate in such a wide variety of sports that I would not have had at a regular university. Imagine someone my size being able to play intramural football, hockey and lacrosse. In addition, I played on the Rep European handball team at CMR and on the Rep golf team at RMC. My experience playing all the different sports and learning how to officiate them was a huge advantage later as an officer when we had to organize sports and physical fitness training for our soldiers.
E-veritas: Did you participate in a Military College club or hobby/were you a fan of any non-athletic teams?
BGen Hague: As a cadet, I participated in the drama club at RMC. As a cadet and Commandant I was a fan of the Band. The ability to field a band of such high calibre, stage first class performances, and cut two CDs were truly exceptional, particularly given a Cadet population of only 1000. Looking at the big picture, I was even more amazed as Commandant, that with this same number of students, we fielded almost as many rep teams as Queens. Hats off to the CF recruiters for finding such amazing talent across Canada year after year.
E-veritas: What do you recall about social aspects of cadet life?
BGen Hague: At the end of the recruit period at CMR, a huge dance was held for the Prep Year Cadets. The Cadet Officers managed to rope enough girls in from around St Jean to have a date for each of us. But apart from this dance, I found that unless you already had a girlfriend from your hometown, or had an opportunity to meet someone in downtown Montreal, there was no social life at CMR. Socially, I found Kingston to be a welcome change, since the cadets had many more opportunities to meet and date students from Queens and the nurse's school at KGH.
E-veritas: Please comment on big changes at RMC?
BGen Hague: Many things impressed me as I got to understand the College as Commandant in 1997, but two aspects of today's College really struck home. The first is the Four Pillar structure of Officer Cadet training – academics, military, athletics, and bilingualism. RMC is unique in that it is not enough to be just solid academically to graduate. We insist that cadets are well rounded in their preparation for a future career. It is this requirement that makes our graduates such exceptional officers and citizens.
Secondly is the Continuing Studies Program. When I arrived as Commandant in 1997, I felt that RMC was under a continual dark cloud. There were always proponents for closing the College at NDHQ, and their voices were getting louder as pressure mounted to cut the DND budget. In 1998, H3948 Dr John Plant (RMC 1957) and I were under tremendous pressure to substantially slash the College budget. What saved the College and our budget at that time, and I believe is the single biggest milestone in the College's history, is the creation and continual expansion of the Continuing Studies Program.
We have always been known and recognized for graduating Officer Cadets. But who could ever imagine a corporal at the convocation ceremony receiving a degree from RMC. What a huge leap forward in our thinking. I really take my hat off and salute the foresight and selfless determination of Doctor John Plant and vice principal 5992 Doctor Jim Barrett CD (CMR/RMC 1964) for getting the program launched, and to H24263 Doctor John Cowan for continuing its growth. I truly feel that by 2000, the dark cloud over RMC was dissipating quickly as a result of the College becoming relevant to all members of the CF and their families.
E-veritas: Do you have any practical tips to share? Some cadets, for example, put masking tape on their pillbox hats so they don't fall off on parade.
BGen Hague: No, I was not known for my "practical" suggestions. But your example reminds me of the annual joke that the cadets at CMR played on the drill staff. We took every means to keep our pill boxes securely in place during the excruciating long, and boring, drill sessions during the two week prior to grad. But near the end of the two weeks, without prior arrangement, the CWC would purposely knock his pill box off, then the rest of the cadets would follow suit. Of course, the drill staff had apoplexy, or at least pretended to. It was sure neat to see the parade square littered with 400 pill boxes!!
E-veritas: What was your favourite special event?
BGen Hague: I have always enjoyed ex-cadet weekends. Homecoming provided the opportunity for Officer Cadets to see and feel the history of the college up close and personal. It was always emotional for me to see the Old Brigade marching by.
E-veritas: As a cadet, what did you do with the cadet wing instruction manual you were issued containing college rules and regulations.
BGen Hague: The year I became Commandant, changes to the Queen's Regulations and Orders (QR&O) forced RMC to completely re-write CADWINS and virtually take out all matters dealing with internal punishments. Cadets were treated the same way as the remainder of the CF with respect to disciplinary matters. Although some people worried that doing away with circles and unit punishments for cadets meant the end of discipline, I did not agree. Instead, the changes challenged us to ensure that any actions taken to modify behaviour were fair and related clearly and directly to the infraction. As it turned out, there were only a few cases where cadets were tried for more serious infractions under the military justice system.