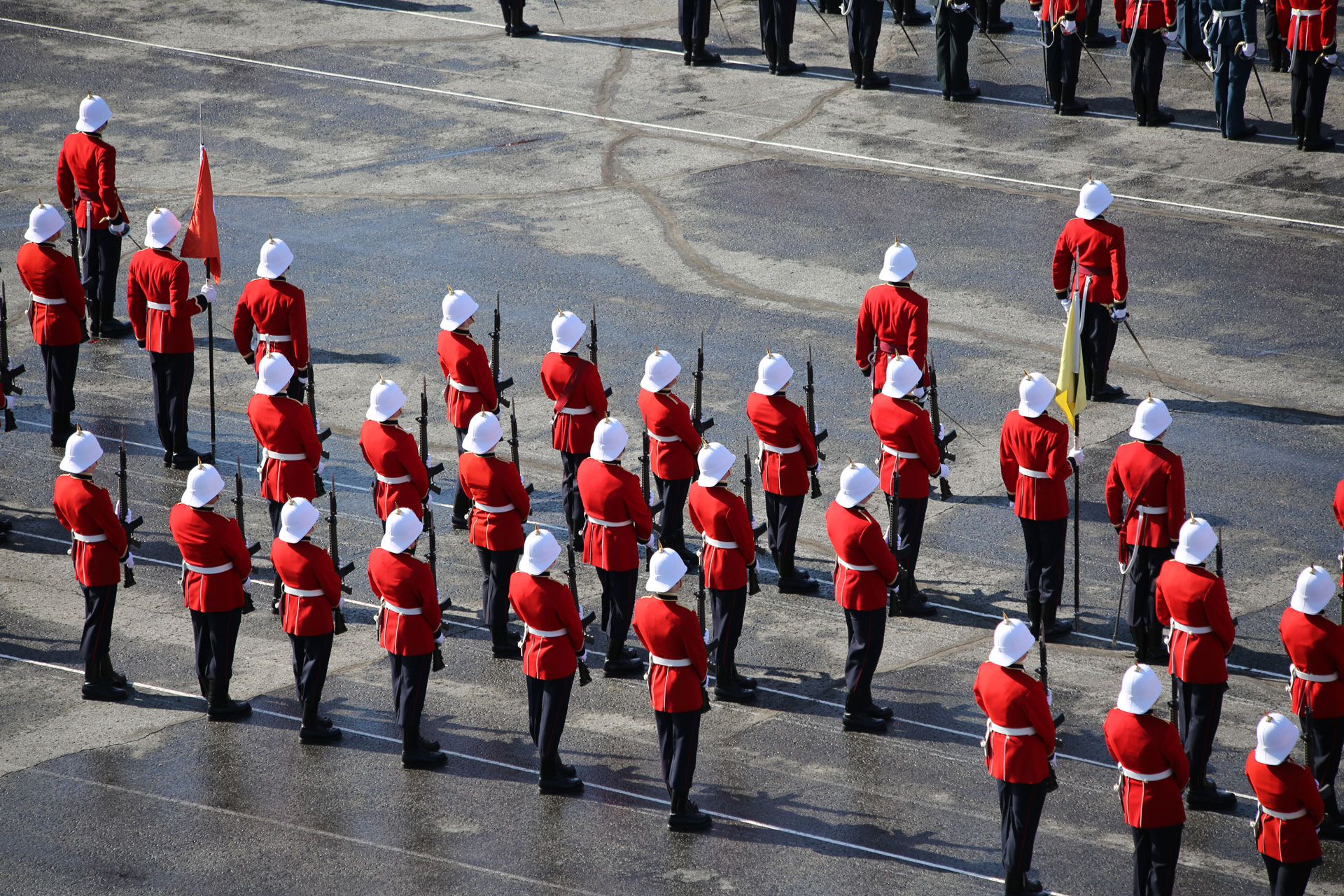 All the way from the former RRMC to RMC – (4,500 km) to celebrate his 40th. Now that's a feat!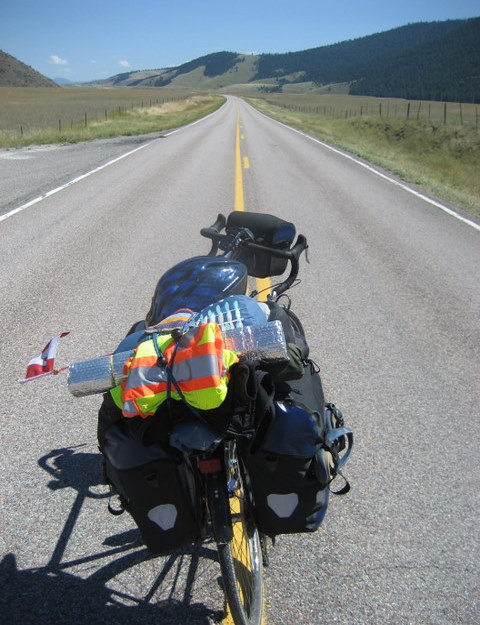 From Sea to RMC
By Noelani Shore

While it may seem like a daunting task to most, John Hills took cycling from Victoria, British Columbia to Kingston, Ontario in stride.
In an attempt to cycle from what was formerly Royal Roads Military College to the Royal Military College in time for his 40th reunion weekend, Hills planned out a trip of 43 cycling days at an average of 104 kilometres per day.
"The mountains laid waste to my schedule, but I factored in 10 or so flex days, so I was able to arrive for the reunion," he said.
Hills planned to cycle to the reunion over a year ago. After much research, he did not encounter any real surprises in his trip.
"Jumping on and pedalling the bike under load for the first time was definitely a shock, especially considering that I was already under way and committed at the time. Happily, that settled down within a few minutes, and even more as my load diminished," Hills explained.
Most of Hills' research took place online. According to him, he spent "an inordinate amount of time researching gear and then routes and essentially no time preparing my body. I had good intentions in that regard but, alas, they never materialized." Nevertheless, Hills managed the trip in the allotted time, and had a blast doing it.
The initial plan to bike from RRMC to RMC goes back a long way.
"Forty years ago, Mike Newson and I and about 200 other classmates who became lifelong friends graduated from our very special university – Royal Military College, Kingston. Four years earlier, before I had even met Mike, I entered the 'sister college', Royal Roads Military College (RRMC), here in Victoria. Two years later, according to design, those of us left from the original 200 who enrolled in RRMC moved to Kingston to finish our studies which we managed two years after that," Hills said in his blog. "We reunite in five year cycles so on this, our 40th anniversary of graduation, we planned on once again gathering together in Kingston on the first weekend in October to do what we all do at school reunions. However, this time around, Mike threw out the notion of cycling from his home in Calgary to our college in Kingston. Because he could, because it would look good, because it's cheaper than flying… I don't know."
While Newson didn't undertake the 4,500 km self-supported journey, Hills decided to "give full credit or blame to Mike." Given the rousing success of this undertaking, Newson will likely get the credit.
The first leg of Hills' journey was greeting by a crowd of family and friends, "whose love and support allowed me to take this on and keep me going," he said.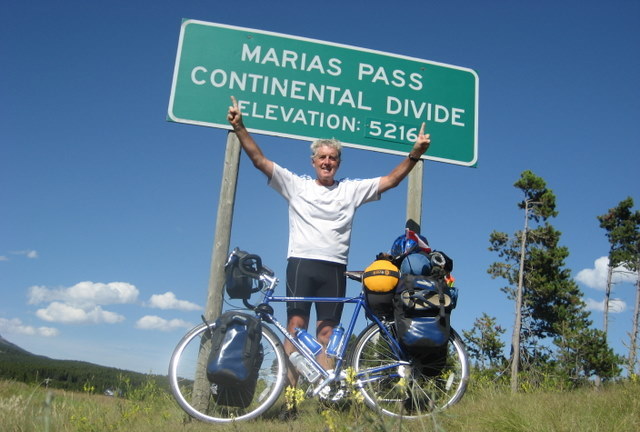 Hills came across many challenges throughout his journey – many of them having to do with weather, wind, and the layout of the grounds in terms of mountains and road conditions. One particularly tough lesson came when he learned how much the wind could be his enemy or his friend.
"I learned that, until today, the wind had either been non-existent, on my beam, or behind me; and that, with the wind in your face, everything changes. It wasn't much, maybe five or 10 mph, and only until 3 p.m. or so, but it was no fun at all having to relentlessly grind for every pedal stroke."
xxx
xxxx
In the end, Hills made it to Kingston, and RMC Club President, Gord Clarke (photo right below) had Hills accept a trophy on behalf of the Ex cadets.
xxxx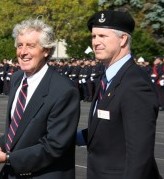 "I would like to call upon an ex-cadet who has just completed a 4,500 km solo, self supported, bicycle journey from RRMC to RMC to coincide with his class's 40th anniversary from graduation."
Pictured below – 8522 John Hills completing a 4,500 km solo, self supported, bicycle journey from the former RRMC to RMC to coincide with his class's 40th anniversary from graduation. With limited cycling experience and a brand new bike, John left RRMC (which is now called RRU) on August 6th with about 50 lbs of gear. He arrived in Kingston on Thursday, 30 September.
Photo above – And there to greet him at the Memorial Arch were 12 of his Class of 1970 classmates…Truly a remarkable accomplishment.  Well done, John Hills!
Two photos of the RMC Kingston arrival by: Cheryl Alexander