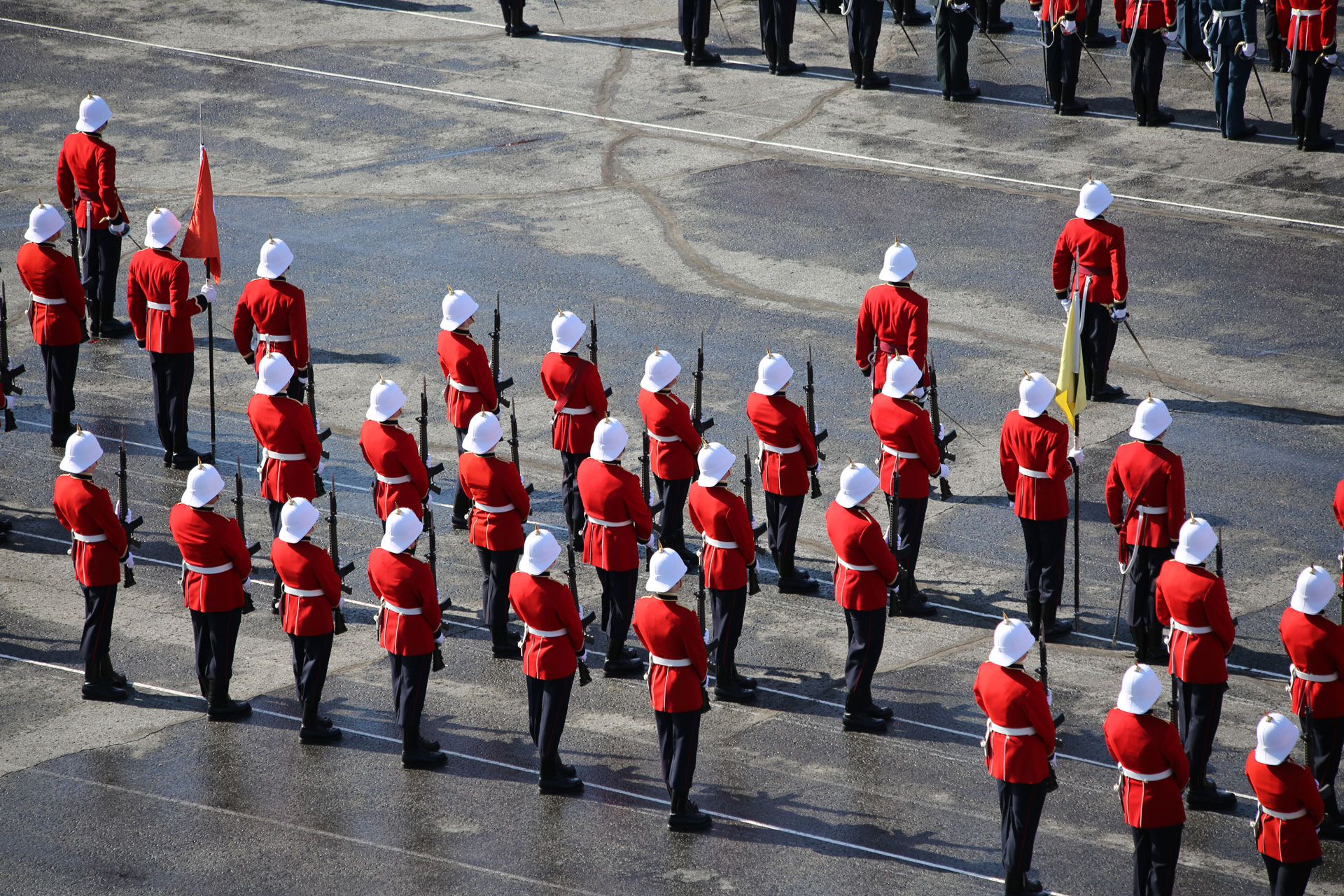 Her Excellency the Right Honourable Michaëlle Jean, Governor General and Commander-in-Chief of Canada, recently announced the awarding of Meritorious Service Decorations (Military Division), to individuals whose specific achievements have brought honour to the Canadian Forces and to Canada.
The RMC connection included:
* 16247 Colonel Nicolas N Eldaoud MSC CD (CMR RMC 1988) was awarded a Meritorious Service Cross (Military Division). `Colonel Eldaoud, then Lieutenant-Colonel, deployed as the commanding officer of the National Support Element, in Afghanistan, from July 2007 to February 2008. An inspirational leader, he trained a cohesive combat-ready team. Despite persistent enemy attacks throughout the Afghan landscape, his personal example and dedication ensured the continuous and timely logistics support of the Task Force and was key to the success of the mission.` Colonel Eldaoud has a bachelor's degree in mechanical engineering, a master's degree in defence studies and is currently studying part-time towards a master's degree in defence policies and management. He also completed the Canadian Land Force and Canadian Forces Command and Staff Courses. In July 2007, Colonel Eldaoud left 5 Canadian Service Battalion and took part in Joint Task Force Afghanistan as Commanding Officer of the National Support Element, which was deployed from August 2007 to March 2008. On his return from Afghanistan in March 2008, Colonel Eldaoud was promoted to his present rank and was appointed Commanding Officer of 202 Workshop Depot Montreal.
* G1415 MGen Walter Semianiw (RMC 1980) OMM, MSC, CD was awarded a Meritorious Service Cross (Military Division). `As commander of Task Force Kabul from February to August 2005, Major-General Semianiw, then Colonel, led Canada's military efforts on land throughout South-West Asia. Identifying that supporting and developing Afghan self-government was critical to the rebuilding process, he established a framework to set the conditions for the successful deployment of the Strategic Advisory Team to Kabul and Canada's first Provincial Reconstruction Team to Kandahar province. A dynamic leader, he demonstrated exceptional operational initiative during the seamless transfer of operations from Kabul to Kandahar.` Major General Semianiw assumed his current appointment as the Chief of Military Personnel in July 2007. Major General Semianiw is a graduate of the Canadian Forces College, the Canadian Forces Command and Staff Course, the Advanced Military Studies Course and the National Security Studies Course. He has also completed the Joint Warfighter Component of the U.S. Military General/Flag Officer Capstone Programme and the NATO General Officer's Course. He holds a Master of Arts in Military Studies, and a Master in Defence Studies from RMC. He was appointed to the Order of Military Merit in 2005.
* S146 General (ret`d) Ray R Henault C.M.M., M.S.C., C.D. was awarded a Meritorious Service Cross (Military Division). General Henault served as the chair of the North Atlantic Treaty Organization's Military Committee from June 2005 to June 2008. During a period of unparalleled challenges and threats, he contributed to ensuring security within the Alliance's areas of operation. General Henault's outstanding military achievements, combined with his diligent and expert guidance while at NATO, have brought great credit to Canada. In 2005, he was awarded an Honorary Doctorate of Philosophy (Military Science) from the Royal Military College of Canada.  Hi is also an Honorary member of the Royal Military College of Canada.

* E1427 LCol Jean-Pierre J Bergeron MSM, CD. (RMC 1999) was awarded a Meritorious Service Medal (Military Division). `Lieutenant-Colonel Bergeron is commended for his continued support of the Canadian Forces during the Israel-Hezbollah conflict in 2006. While carrying out daily liaison and co-ordination activities with the Lebanese military, he ensured the unimpeded air, ground and sea movement of personnel in the conflict zone, and the safe evacuation of 15 000 Canadian citizens from war-torn Lebanon.` He earned a Bachelor of Military Arts and Sciences from RMC. He is a student at the Canadian Forces Language School in Ottawa-Hull.
* 18842 Major Pierre JP Huet (CMR RMC 1995) was awarded a Meritorious Service Medal (Military Division). `Major Huet displayed leadership while commanding Reconnaissance Squadron, 3rd Battalion, Royal 22e Régiment Battle Group, in Afghanistan, from July 2007 to March 2008. His guidance was instrumental in the creation of the first Joint District Coordination Centre, and significantly advanced the establishment of legitimate border security.` He is a Recce Team Leader at the Canadian Manoeuvre Training Centre, Land Force Detachment in Wainwright Alberta.
* 23048 Lieutenant Marc-Antoine Sigouin M.S.M.(RMC 2005) was awarded a Meritorious Service Medal (Military Division). `Lieutenant Sigouin's leadership and tactical acumen were an inspiration to his soldiers, during two combat operations in Afghanistan, between August and October 2007. With soldiers withdrawing from combat due to exhaustion and heatstroke, Lieutenant Sigouin kept the remainder of his troops focused on the mission, and effectively led additional troops through intense enemy engagements. His determination greatly contributed to the platoon's operational efficiency and success.`