Cool mid-May weather looses out to Class of 2017
The day started out with questionable weather for the morning. Rain was definitely a possibility.
However, the weather gods were on the side of the 224 commissioning Officer Cadets. (212 were graduating from the Regular Officer Training Plan; 7  graduated from the Reserve Entry Training Plan, and 5 graduated from the University Training Plan for Non-Commissioned Members).
5 squadron (B Division) winning the commandant's challenge at the end of the academic year held the honoured 'right of line'.
The reviewing officer was the Chief of Defence Staff, General Johnathan Vance.  Other out-of-town senior officers included: the commander of the Royal Canadian Navy, Vice-Admiral Lloyd, the commander of the Canadian Army Lieutentant General Wynnyk, the  commander of the Royal Canadian Air Force Lieutenant General Hood, and the commandant of Military Personnel Command Lieutenant General Lamarre.
Marching off the Parade Square were also two honourary graduates; they are people who hold a special place in the hearts of the graduating class of 2017.
The two honorary graduates received a certificate from the graduating class and earned the privilege to march off the parade square with them.
The 2017 honorary graduates are Mr. Roopesh Sookhoo, more commonly known as Roop the Barber, and RMC's First Lady, the Commandant's wife, Mrs. Anne-Lucie Bouchard.
Other articles from the Grad parade follows
***
'Keep finding in yourself new heights' – Whig Standard article
***
Commissioing Parade held at Royal Military College
Kingston, ON, Canada / CKWS TV – short video
MORE PHOTOS from the parade here & March through the Arch here
***
Excerpt from the speech given by the Commandant, BGen Sean Friday – 2017 Commissioning Parade
"Ours is not a trifling profession.  Your commitment to upholding our Canadian values must be absolute, and so must your commitment to those you will lead and their families.  You've been given the first volley of the knowledge you need to launch your careers as junior officers.  Now you will add experience to that knowledge.  You will become mentor to many, but you will also be mentored by many, including the exceptional NCOs with whom you will have the privilege to serve.
There will be challenges to be sure, but you are ready to confront them, with a resilient and relentless optimism that recognizes that how you acquit yourself is at least as important as what you and your teams will achieve."
1SQN
3 SQN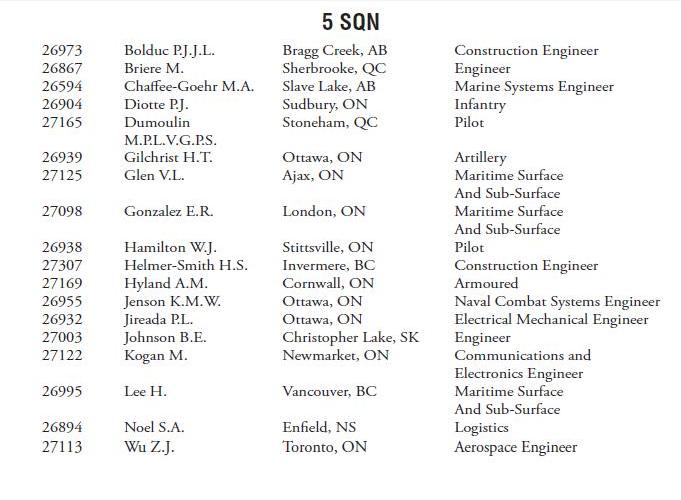 11 SQN
PRIZES AND AWARDS
Le prix d'excellence du ministère de la Défense Nationale est présenté par le commandant de l'Aviation Royale Canadienne, le LGen Micheal Hood à :
Élof Samuel Claveau
Le sabre d'honneur Generalissimo Jose-Maria Morelos est présentée par l'Attaché de l'air et attaché de défense adjoint du Mexique, Colonel Miguel Antonio Sanchez à:
Élof Samuel Claveau
The Victor Van Der Smissen-Ridout Memorial Award is presented by Richard Osler to:
OCdt Jeremy Billard
The MacArthur leadership award is presented by the commander of the Canadian Army, LGen Paul Wynnyck to
OCdt Simon Ewing
The Royal Canadian Artillery Assosciation prize  is presented by the Commander  Canadian Special Operations Forces Command – MGen Michael Rouleau and CWO Legault to:
OCdt Matthew Weeks

Le prix de la Ligue Navale du Canada est présenté par Mr. Earle Corn, le président national de la Ligue Navale du Canada à
Aspm Alek Robaczewski
Le prix du leadership Capitaine de frégate Arturo Prat sera présenté par l'attaché de la Défense de l'ambassade Chilienne, le Capt(N) Fernando Borcoski à :
Aspm Alek Robaczewski
The Air Cadet League Of Canada Award Of Merit is presented by Sarah Matresky, Executive Director of the Air Cadet League of Canada, to:
OCdt Jonathan Chan

The UTPNCM award of merit is presented by Capt (N) (Ret'd) Peter Avis, to:
OCdt Owen Kolasky
The Utpncm Drill And Physical Education Prize is presented by Capt (N) (Ret'd) Peter Avis, to:
OCdt James Ryan
The Canadian Armed Forces engineering prize is presented by the commander of the Royal Canadian Navy, Vice Admiral Ron Lloyd to:
NCdt Kai Imai
The military support award of merit is presented by the commander of the Military Personnel Command, LGen Charles Lamarre to:
OCdt Chelsea-Rose St-Amand
La récompense en profession des armes de l'académie canadienne de la défense pour l'excellence en professionnalisme militaire est présenté par le commandant adjoint de la Génération du personnel militaire, BGen Virginia Tattersall et au Premier maître de 1ere classe Dallaire à:
Élof Cassandra Wuerth
The Leinster shield is presented by the commandant of RMC, Brigadier General Sean Friday to this years winning squadron:
5 squadron,
receiving the award on behalf of the squadron are OCdts Adam Hyland and Shaun Noel
The J. Douglas Young sword of excellence is presented by the commandant of RMC, Brigadier General Sean Friday to:
OCdt Adam Hyland and OCdt Shaun Noel
La bourse commémorative Duncan Sayre Macinnes est présenté par le commandant du CMR, le Brigadier Général Friday a :
Élof Jordan Tremblay-Soucy
The Major General John Arthur Stewart trophy is presented by Col (Ret'd) Richard Dixon, Vice-President of the Canadian Military Engineer Association and BGen Jennie Carignan, Chief of Staff, Army Operations:

OCdt Philippe Bolduc
The Harris-Bigelow Trophy is presented by the Principal of RMC, BGen retired Dr. Harry Kowal to:
NCdt Thomas Song
Le prix du Club du RMC, Direction de Toronto est présenté par le Capt (Ret'd) William Griffis (President of RMC Club Toronto Branch) et le Capt (Ret'd) Stephen Kalyta (Vice-President) à:
Élof Alexis Levert-Beaulieu
La coupe Panet est présenté par le commandant adjoint du CMR, Col Stephen Hall a :
Elof Antoine Boulé
The padre W.A. Ferguson shield of duty is presented by the Deputy Commandant of RMC, Colonel Stephen Hall to:
NCdt Ann Lee

The Robert Bradshaw award is presented by the Deputy Commandant of RMC, Colonel Stephen Hall to:
OCdt David Chadwick

The class of 78 – dr. Walter s. Avis utpncm honour shield is presented by The Director of Cadets, LCol Chris Renahan to:
OCdt Michael Stilwell

The jack c. Sargant memorial scholarship is presented by Mr. William B. Sargant to:
OCdt Mitchell Hewson