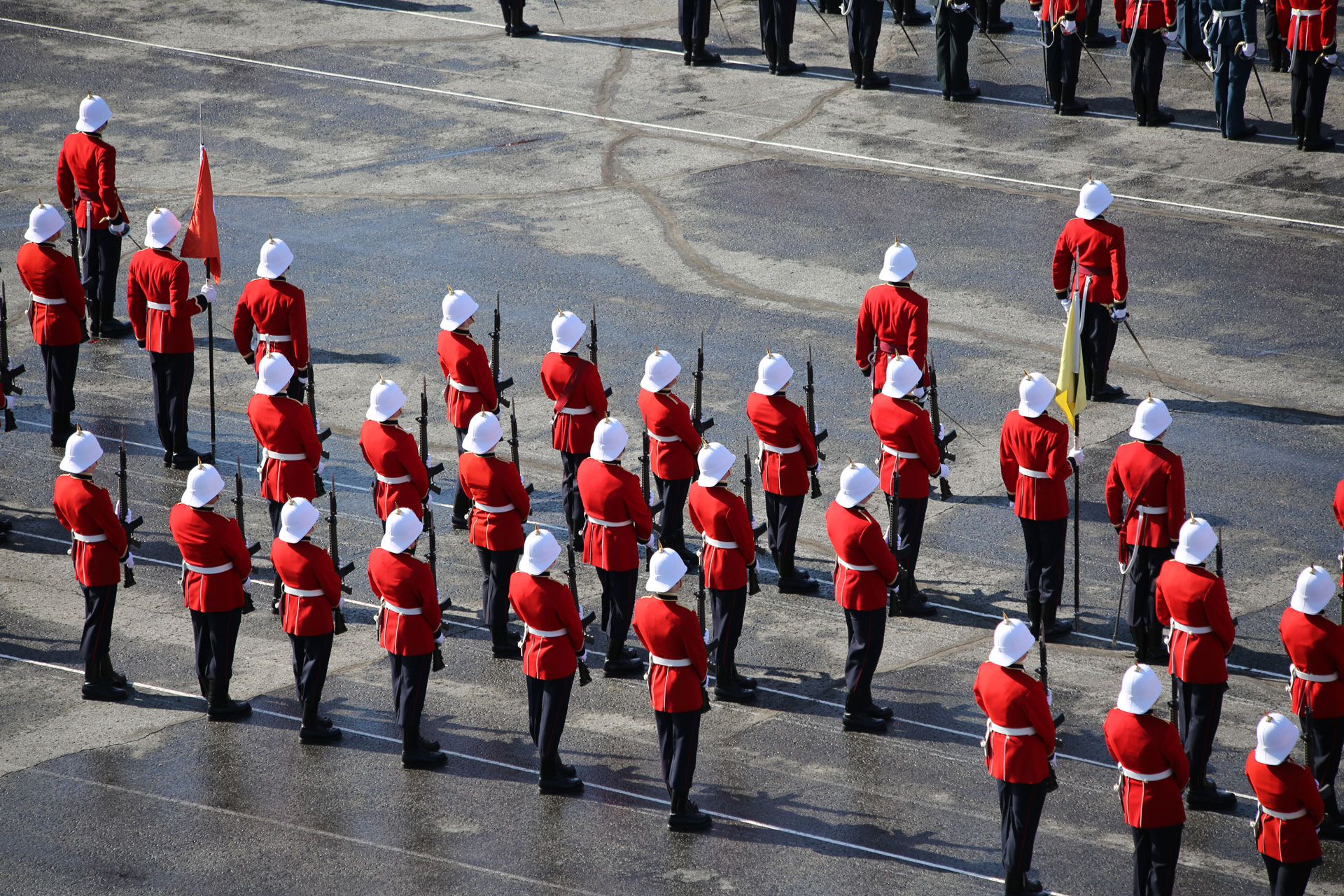 Half of the New Command Team in Place
A/SLt 24498 Noelani Shore (RMC 2009)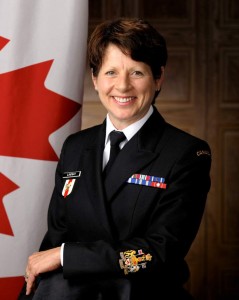 As of July 14, the Royal Military College will have a new command team in place. Chief Petty Officer 1st Class Elizabeth Lindsay took over as the College Chief on June 23, and Brigadier General Eric Tremblay will be joining her in a change of command ceremony on July 14.
Born and raised in Cape Breton, when CPO1 Lindsay saw recruiters come in from Sydney, she knew that she wanted to be in the military by the time she was 14 years old. Thirty years later, her expectations have been met and exceeded. She was the first member of her family to join the military, but her family couldn't be more proud of her.
"My father was probably more proud than anyone because he was a sailor, but not in the military. So when I joined and ended up in the Navy on a ship, you couldn't wipe the smile off his face," she said.
A Supply Tech by trade, CPO1 Lindsay has been on a number of deployments that have prepared her for her role at the College.
"Everything I've done in the past 30 years will help me in this position. No matter what you do, you take the good, the bad, the ugly, and you learn from it and move forward."
Even though this is the first time being posted to Kingston, CPO1 Lindsay has spent time here training to go overseas. Her most recent deployment was OP ENDEAVOR, on HMCS TORONTO.
"We circumvented Africa, which was quite the experience. I've also been to Kosovo, and I was there for three months when we closed out of there. I have been to Bosnia a number of times, and I did a six-month tour in Golan. I was posted there for a year as well; however, that turned into nine months because the Canadians pulled out, so I did the close out of that as well," she explained.
Being on deployment has taught her a lot about the stresses of military life, but "work is work no matter where you go, so the hardest part is being away from your family," she said.
There are challenges during deployments, but there are also rewarding opportunities.
"When I was in Cambodia for a short time, I had the opportunity to work with Doctors Without Borders, and that was very rewarding. It was heartbreaking to see some of the children; however, when you see that they are being looked after and cared for, I found it gratifying to be able to help. The humanitarian side of things was very worthwhile for me."
CPO1 Lindsay has been a mentor in the past, although not in this capacity. As she rose in rank, she became a mentor to everyone within her organization, but the size of RMC will open up new occasions to foster leadership.
"On my last tour at sea on HMCS TORONTO, I did have a naval cadet who I took under my wing and mentored. That was a great experience because at the end of it he thanked me, and told me that he realized and appreciated where NCMs come from."
It was a proud moment, but not as proud as being promoted to Chief Petty Officer 1st Class in 2010.
"That is the pinnacle of anyone's career. When I first joined 30 years ago, I aimed for sergeant, and thought that was going to be 'the' rank to be. Then I just kept going," she said.
Of course, it is not always about the rank on your shoulder. The advice CPO1 Lindsay has for the new officer cadets is that not everybody will become a general.
"However, it's important to work hard, respect each other, and realize that things aren't handed to you on a silver platter; then you'll make it. We all know individuals that remain a corporal by choice, because that's where they're happiest," she explained. "It's the same with the officers; once some hit the lieutenant or captain level, that's it, they're happy to be there. So it's not always about the rank, it's about what's inside that matters, how you see yourself, and how you want others to see you."
Personal accomplishments go a long way in self-fulfillment, and 40 was a big year for CPO1 Lindsay.
"I went back to school when I was 40 to get my Grade 12. I dropped out of high school to join the military at the age of 17. I was in my Grade 12, and I quit. But when I turned 40, I decided to go back, and I achieved that. It was difficult. I was the oldest person in the class, and the most difficult part was that the younger kids had very little respect for the teacher, and I found myself often, being the military member, telling them, 'enough.' It was not my responsibility, but it was hard because respect is a very important thing for me. And I find a lot of the younger people today just don't have it. And yes, math was difficult," she laughed.
The other accomplishment CPO1 Lindsay is proud of is completing her first marathon when she was 40.
"Now that I'm at RMC, I feel very privileged, actually. It's going to be a great experience, dealing with the young officer cadets, and being a part of their grooming. It is my first week, so I'm still manoeuvring my way around, but so far everyone that I've encountered is very focused. Everything is about RMC, which is great because they believe in this institution. Some of the civilian staff that I met have been here for a number of years, and they are a wealth of information. The history here is a little overwhelming as well. Every time I see a new picture with a plaque, I mark that down so that I can look into it more later when I have time," she said.
CPO1 Lindsay is looking forward to this new position, and being amongst the younger generation.
"I'm happy to be given the chance to see them enter the College and grow in the time they're here, and to see them leave. I don't mean that in a negative way," she laughed. "I mean that by leaving here, the cadets will have accomplished what they set out to accomplish here. To be a part of that is going to be very emotional, and also very challenging along the way."
_____________________________________
RMCC Change of Command to Take Place Thursday 14 July
A Change of Command Ceremony will be held to mark the formal handover of command of RMCC from Cmdre W.S. Truelove to B Gen J.G.E. Tremblay this Thursday at 1030. Spectators are welcome and are requested to be seated by 1015.
The Reviewing Officer will be the Commander of the Canadian Defence Academy, MGen P.J. Forgues. The ceremony will consist of a guard of honour and a signing ceremony.
The ceremony is scheduled to take place on the Parade Square. In the event of inclement weather, the ceremony will be held in the New Gym (Yeo Hall).