Commandant's Christmas Social: "Thank you for all that you do"
Article by 25366 Anna-Michelle Shewfelt
This past Thursday, December 13, staff and faculty of RMC packed the Senior Staff Mess for the Commandant's Christmas Social. They mingled, enjoyed a few Christmas goodies, and were able to relax.
18777 BGen Sebastien Bouchard, Commandant of RMC, took the time to address those present. "I'm probably going to miss 90% of it," he joked as he reviewed all that the College had done in 2018, "but we have accomplished a lot." He then ran down a list which included everything from the construction which seems to have taken over the College to implementing the recommendations from the Special Staff Assistance Visit to reviewing the core curriculum and the Four Pillars such that all graduating Cadets had actually met the standard in all Four Pillars (a first in the last fifteen years). As he reminded everyone, "There's still a long way to go. We still have much to do."
"Enjoy the break, take the time to be with your families and relax and de-stress (if that's possible," he went on, "because there's much more that we're going to be doing in the new year. And bringing about change here at RMC isn't about policies and rules. It's about each and every one of you and the little things you do each day to make this a better place. So thank you for all that you do and enjoy the holidays!"
For more photos from the event please click here.
***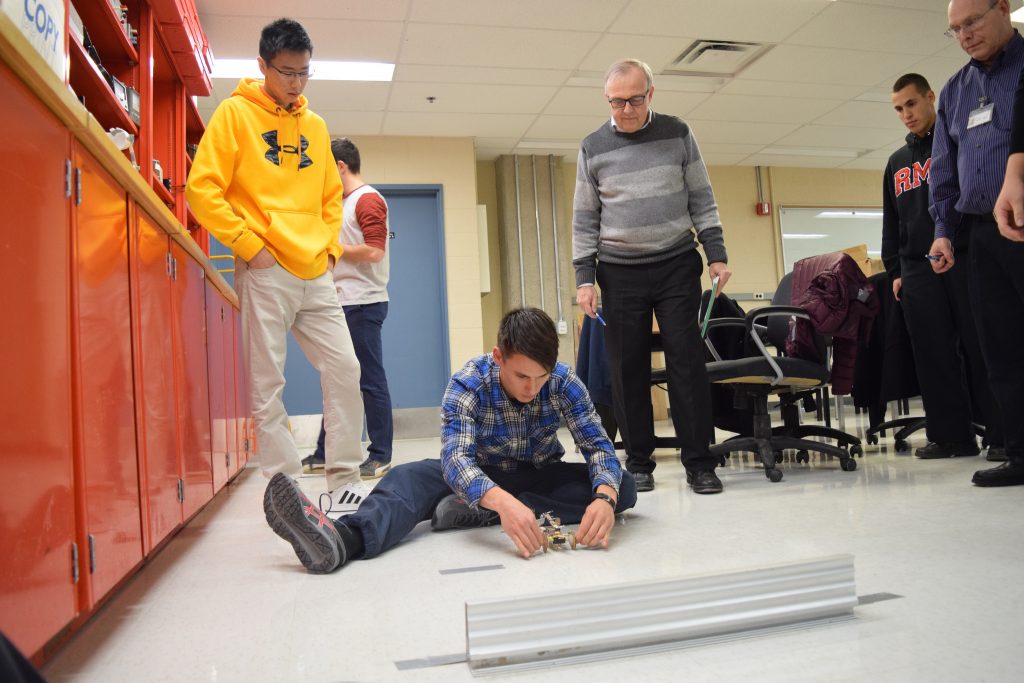 Engineering Competition – A collaboration across all 4 years of engineering at RMC to build purpose-built machines in an allotted time period.
More photos HERE
***
Fall IMs and Barslate Parade
More photos HERE
***

Above: The Senior Barslate for the 2019 Winter Semester
FRONT ROW (L-R): CWO Rob Keating (Training Wing Chief Warrant Officer), NCdt Chris Leung (Cadet Wing Sports Officer), NCdt Cameron Moors (Cadet Wing Administration Officer), OCdt Rees Van Den Hoeven (Deputy Cadet Wing Commander), OCdt Zoe Price (Cadet Wing Commander), OCdt Élisabeth Desgagné (Cadet Wing Operations Officer), OCdt Sean Stevens (Cadet Wing Training Officer), Col Chris Ayotte (RMC Director of Cadets)
BACK ROW (between DCWC and CWC): OCdt Aiden Kroell (Cadet Wing Band Officer)
New Barslate Set to Take Over in January
The leadership of the Cadet Wing for the 2019 Winter Semester was announced at the Fall IMs and Barslate Wing Parade on December 5. Incoming CWC 27673 OCdt (IV) Zoe Price and her team will conduct a handover process with outgoing CWC 27543 OCdt (IV) Colin de Grandpré and his team before officially taking the reigns in the new year.  For a list of the entire barslate please see below.
For photos from the parade please see here.
Position
Bars/

barrettes

College #/
№ de Collège
Name/nom
Sqn/
esc
CWC / COMA (senior)
5
27673
(IV) Price
10
Position
Bars/

barrettes

College #/
№ de Collège
Name/nom
Sqn/
esc
DCWC / A/COMA (senior)
4
27449
(IV) Van Den Hoeven
4
Position
Bars/

barrettes

College #/
№ de Collège
Name/nom
Sqn/
esc
CWOpsO (senior)
4
27277
(IV) Desgagné
4
D/CWOpsO (senior)
3
27901
(III) Seo
7
Position
Bars/

Barrettes

College #/
№ de Collège
Name/nom
Sqn/
esc
CW Safety and Secur O / (senior)
0
27767
(IV) Lee
10
CW Security IC / (junior)
0
28026
(III) Jaweed
6
Position
Bars/

Barrettes

College #/
№ de Collège
Name/nom
Sqn/
esc
CW Yearbook Officer (CWYO)  (Senior)
0
28143
(III) Vaters
6
Deputy CWYO (Junior)
0
28150
(III) Lee
4
Position
Bars/

Barrettes

College #/
№ de Collège
Name/nom
Sqn/
esc
CWPMC /PMCA (senior)
3
27595
(IV) Ridley
2
CWVPMC / VPMCA (junior)
2
28220
(III) Canning
11
Position
Bars/

Barrettes

College #/
№ de Collège
Name/nom
Sqn/
esc
CWPIO / OSIA (secondary)
0
27832
(IV) Cardona
12
CW Information Officer – Internal/ (secondary)
0
27467
(IV) Zhao
5
Position
Bars/

Barrettes

College #/
№ de Collège
Name/nom
Sqn/
esc
ADC 1 / Male (junior)
3
27718
(III) Boudreau-Carrier
10
ADC 2 / Male (junior)
3
27941
(III) Fleming
12
Position
Bars/

Barrettes

College #/
№ de Collège
Name/nom
Sqn/
esc
IV Class Snr / IV CPROMd
1
27821
(IV) Mackin
11
IV DSnr / IV ACPROM
1
27772
(IV) Ewing
6
III Class Snr / III CPROM
1
28099
(III) Hui
8
III DSnr / III ACPROM
1
28139
(III) Rook
7
II Class Snr / II CPROM
1
28598
(II) Tremblay
5
II DSnr / II ACPROM
1
28346
(II) Melville
1
I Class Snr / I CPROM
1
29004
(I) Gilbart
1
I DSnr / I ACPROM
1
28982
(I) Wootten
8
Position
Bars/

Barrettes

College #/
№ de Collège
Name/nom
Sqn/
esc
CWTO / INSTRA (senior)
4
27574
(IV) Stevens
11
DCWTO / A/INSTRA (senior)
2
27908
(III) Pecora
7
CWCPC / (junior)
0
28122
(III) Wong
4
Position
Bars/

Barrettes

College #/
№ de Collège
Name/nom
Sqn/
esc
CWAd&StdsO / ADA (senior)
4
27830
(IV) Moors (CW ADO)
5
DCWAd&StdsO / A/ADA (senior)
3
28237
(III) Duff
4
CWAO / SCOLA (senior)
3
27674
(III) Hidalgo-Gonzalas
2
CWITO / OITA (secondary)
0
27537
IV Cote
2
Band O / O Musique
Position
Bars/

Barrettes

College #/
№ de Collège
Name/nom
Sqn/
esc
CWBO / DIMU (senior)
4
27853
(IV) Kroell
5
DCWBO / A/DIMU (senior)
3
27588
(IV) Perry
12
CWBOps O / OOPSMU (junior)
3
28461
(II) St-Martin
10
CWLD / DIT (junior)
2
27836
(III) Audet
3
CWPM / DICOR (junior)
3
28057
(III) Bond
6
CWCM / DICHORA (junior)
2
28004
(II) Molzan
8
CWHDL / MDEA (junior)
2
27657
(III) Marcoux
3
CWBRM / DIHAR (junior)
3
28160
III Morneau
2
CWBQM
2
27752
(IV) Murray

 

4
D Ath / D Sports
Position
Bars/

Barrettes

College #/
№ de Collège
Name/nom
Sqn/
esc
CWSRO / SPORA (senior)
4
27342
(IV) Leung
9
DCWSRO /  (junior)
3
28109
(III) Michie
3
CWIMSO / SPORIM (junior)
3
27885
(III) Villeneuve
7
Divisional Command Teams / Commandments de division
Position
Bars/

Barrettes

College #/
№ de Collège
Name/nom
Sqn/
esc
CDL / OEM Div A (senior)
4
27717
IV Pittman
1
DCDL Div A (senior)
3
27721
IV Chua
2
CDTO Div A (senior)
3
27829
IV Ortega
1
CDAd&StdsO Div A (senior)
3
27257
IV Chen
1
CDOpsO Div A (senior)
3
27846
IV Maas
2
Position
Bars/

Barrettes

College #/
№ de Collège
Name/nom
Sqn/
esc
CDL / OEM Div B (senior)
4
27777
(IV) Oleksin-Iqbal
6
DCDL Div B (senior)
3
28195
(III) Leblanc
5
CDTO Div B (senior)
3
27772
(IV) Ewing
6
CDAd&StdsO Div B (senior)
3
27811
(IV) Horeczy
4
CDOpsO Div B (senior)
3
27584
(IV) Gentles
6
Position
Bars/

Barrettes

College #/
№ de Collège
Name/nom
Sqn/
esc
CDL / OEM Div C (senior)
4
27774
(IV) Rossell
9
DCDL Div C (senior)
3
27807
(IV) Hermann
8
CDTO Div C (senior)
3
27319
(IV) Khimjee
7
CDAd&StdsO Div C (senior)
3
28098
(III) Hollander
9
CDOpsO Div C (senior)
3
27923
(III) Turnbull
9
Position
Bars/

Barrettes

College #/
№ de Collège
Name/nom
Sqn/
esc
CDL / OEM Div D (senior)
4
27828
(IV) OCdt Curran
12
DCDL Div D (senior)
3
27742
(IV) OCdt Uppal
11
CDTO Div D (senior)
3
27559
(IV) OCdt Dawe
10
CDAd&StdsO Div D (senior)
3
27549
(IV) NCdt Miller
12
CDOpsO Div D (senior)
3
27245
(IV) OCdt Buck
10
ALOY Flight Staff / État-major d'escadrille PILA
Position
Bars/

barrettes

College #/
№ de Collège
Name/nom
Sqn/
esc
CFL / COMI (senior)
3
27570
(IV) Plante-Signal
12
DCFL (senior A/L)
2
27544
(IV) Johnston
10
        CSC / COMSEC (junior)
2
28050
(III) Abbas
1
        CSC / COMSEC (junior)
2
27615
(III) Bouchard
9
        CSC / COMSEC (junior)
2
27892
(III) Cancino
8
Squadron Staff / État-major des escadrons
Position
Bars/

barrettes

College #/
№ de Collège
Name/nom
Sqn/
esc
CSL / COMO (senior)
4
27560
IV Denney
1
DCSL / A/COMO (senior)
3
27552
IV Russell
1
CSTO / INSTRO (senior)
3
27599
IV Bernier
1
CSOpsO (junior)
2
27599
III Di Candia
1
CSAd&StdsO / ADO  (senior)
3
27918
III Whitford
1
CSSO / SPORO (junior)
2
27237
III Boucher
1
CFL (FYOP) / COMI (POPA) (senior) (1st Yr Flight)
3
27543
IV de Grandpre
1
DCFL (FYOP)  / (senior)
2
28133
III Ridley
1
        CSC (FYOP) / COMSEC (POPA) (junior)
2
27910
III Sanders
1
        CSC (FYOP) / COMSEC (POPA) (junior)
2
27880
IV Brassington
1
        CSC (FYOP) / COMSEC (POPA) (junior)
2
27964
III Allain
1
CFL / COMI (senior) (2nd Yr Flight)           
3
27874
III Au
1
       CSC / COMSEC (junior)
2
28346
II Melville
1
        CSC / COMSEC (junior)
2
28378
II Carter
1
        CSC / COMSEC (junior)
2
27927
III Kim B.
1
CFL / COMI (senior) (3rd & 4th Yr Flight)
3
27905
III Choi
1
        CSC / COMSEC (junior)
2
27917
III Sturrock
1
        CSC / COMSEC (junior)
2
28203
III Gibbons
1
        CSC / COMSEC (junior)
2
27546
IV Koivu
1
Position
Bars/

barrettes

College #/
№ de Collège
Name/nom
Sqn/
esc
CSL / COMO (senior)
4
27619
IV Carneiro
2
DCSL / A/COMO (senior)
3
27843
IV Leclair- Albert
2
CSTO / INSTRO (senior)
3
27377
IV Morissette-Leclair
2
CSOpsO (junior)
2
28092
III Douglas
2
CSAd&StdsO / ADO  (senior)
3
27895
III O'Reilly
2
CSSO / SPORO (junior)
2
28148
III Thomson
2
CFL (FYOP) / COMI (POPA) (senior) (1st Yr Flight)
3
28149
III Bedard
2
DCFL (FYOP)  / (senior)
2
28200
III Choudhuri
2
        CSC (FYOP) / COMSEC (POPA) (junior)
2
27867
III Lee
2
        CSC (FYOP) / COMSEC (POPA) (junior)
2
28076
III Heilman
2
        CSC (FYOP) / COMSEC (POPA) (junior)
2
28132
III Muller
2
CFL / COMI (senior) (2nd Yr Flight)           
3
28191
III Flood
2
       CSC / COMSEC (junior)
2
27916
III Stafford
2
        CSC / COMSEC (junior)
2
27960
III El-Korazati
2
        CSC / COMSEC (junior)
2
28192
III Vickers
2
CFL / COMI (senior) (3rd & 4th Yr Flight)
3
27635
III Jung
2
        CSC / COMSEC (junior)
2
28102
III Leclerc
2
        CSC / COMSEC (junior)
2
27934
III Courtis
2
        CSC / COMSEC (junior)
2
27764
III MacGregor
2
Position
Bars/

barrettes

College #/
№ de Collège
Name/nom
Sqn/
esc
CSL / COMO (senior)
4
27582
IV Buckley
3
DCSL / A/COMO (senior)
3
28181
III McDermot
3
CSTO / INSTRO (senior)
3
28116
III Seed
3
CSOpsO (junior)
2
28185
III Waterman
3
CSAd&StdsO / ADO  (senior)
3
28162
III Stanzel
3
CSSO / SPORO (junior)
2
28110
III Montgomery
3
CFL (FYOP) / COMI (POPA) (senior) (1st Yr Flight)
3
27813
IV Cormier
3
DCFL (FYOP)  / (senior)
2
28120
III Walters
3
        CSC (FYOP) / COMSEC (POPA) (junior)
2
28241
III Robinson
3
        CSC (FYOP) / COMSEC (POPA) (junior)
2
28005
III Almquist
3
        CSC (FYOP) / COMSEC (POPA) (junior)
2
27930
III Burnett
3
CFL / COMI (senior) (2nd Yr Flight)           
3
27558
IV Chan
3
       CSC / COMSEC (junior)
2
27639
IV Tremblay
3
        CSC / COMSEC (junior)
2
28061
III Carson
3
        CSC / COMSEC (junior)
2
28103
III Kim, J.
3
CFL / COMI (senior) (3rd & 4th Yr Flight)
3
28179
III Legere
3
       CSC / COMSEC (junior)
2
27667
IV Smith
3
        CSC / COMSEC (junior)
2
28031
III Watson
3
        CSC / COMSEC (junior)
2
28204
III Hannaford
3
Position
Bars/

barrettes

College #/
№ de Collège
Name/nom
Sqn/
esc
CSL / COMO (senior)
4
27577
(IV) Sale
4
DCSL / A/COMO (senior)
3
27596
(IV) Colpitts
4
CSTO / INSTRO (senior)
3
27462
(IV) Wu
4
CSOpsO (junior)
2
27321
(IV) Kim
4
CSAd&StdsO / ADO  (senior)
3
27617
(III) Cousineau
4
CSSO / SPORO (junior)
2
27622
(III) Alexuta
4
CFL (FYOP) / COMI (POPA) (senior) (1st Yr Flight)
3
27719
(IV) Campbell
4
DCFL (FYOP)  / (senior)
2
27242
(IV) Brisbois-Voulingny
4
        CSC (FYOP) / COMSEC (POPA) (junior)
2
28087
(III) Blok
4
        CSC (FYOP) / COMSEC (POPA) (junior)
2
28407
(III) Gagnon
4
        CSC (FYOP) / COMSEC (POPA) (junior)
2
27850
(IV) Mou
4
CFL / COMI (senior) (2nd Yr Flight)           
3
28115
(III) Roots
4
       CSC / COMSEC (junior)
2
27965
(III) An
4
        CSC / COMSEC (junior)
2
28013
(III) Fortier
4
        CSC / COMSEC (junior)
2
28105
(III) Lee
4
CFL / COMI (senior) (3rd & 4th Yr Flight)
3
27722
(IV) Cote
4
        CSC / COMSEC (junior)
2
27818
(IV) Sirghe
4
       CSC / COMSEC (junior)
2
27632
(IV) Frank
4
        CSC / COMSEC (junior)
2
28071
(III) Gauthier
4
Position
Bars/

barrettes

College #/
№ de Collège
Name/nom
Sqn/
esc
CSL / COMO (senior)
4
27794
(IV) Kenney
5
DCSL / A/COMO (senior)
3
27852
(IV) Adebayo
5
CSTO / INSTRO (senior)
3
28125
(III) Wells
5
CSOpsO (junior)
2
27925
(III) Cameron
5
CSAd&StdsO / ADO  (senior)
3
27929
(III) Zhurov
5
CSSO / SPORO (junior)
2
28598
(II) Tremblay
5
CFL (FYOP) / COMI (PAPA) (senior) (1st Yr Flight)
3
27555
(IV) Stephan
5
DCFL (FYOP)  / (senior)
2
28078
(III) Jane
5
        CSC (FYOP) / COMSEC (PAPA) (junior)
2
28217
(III) Harvey-Moreau
5
        CSC (FYOP) / COMSEC (PAPA) (junior)
2
28094
(III) Emerslund
5
        CSC (FYOP) / COMSEC (PAPA) (junior)
2
28161
(III) Thompson 
5
CFL / COMI (senior) (2nd Yr Flight)           
3
27274
(IV) de Montigny
5
       CSC / COMSEC (junior)
2
28251
(III) Wilkinson
5
        CSC / COMSEC (junior)
2
27762
(III) Blier
5
        CSC / COMSEC (junior)
2
27896
(III) Pei
5
CFL / COMI (senior) (3rd & 4th Yr Flight)
3
27745
(IV) Bell
5
        CSC / COMSEC (junior)
2
27995
(III) Vanderbellen
5
        CSC / COMSEC (junior)
2
27720
(III) Chauhan
5
        CSC / COMSEC (junior)
2
28128
(III) Ariss
5
Position
Bars/

barrettes

College #/
№ de Collège
Name/nom
Sqn/
esc
CSL / COMO (senior)
4
27651
(IV) Seong
6
DCSL / A/COMO (senior)
3
28252
(III) Wight
6
CSTO / INSTRO (senior)
3
27891
(III) Evans
6
CSOpsO (junior)
2
27672
(IV) McLean
6
CSAd&StdsO / ADO  (senior)
3
28232
(III) Brinkschulte
6
CSSO / SPORO (junior)
2
28524
(II) Bindas
6
CFL (FYOP) / COMI (POPA) (senior) (1st Yr Flight)
3
27469
(IV) Abdelhamed
6
DCFL (FYOP)  / (senior)
2
27945
(III) Lee
6
        CSC (FYOP) / COMSEC (POPA) (junior)
2
28138
(III) Weir
6
        CSC (FYOP) / COMSEC (POPA) (junior)
2
28056
(III) Blair
6
        CSC (FYOP) / COMSEC (POPA) (junior)
2
27894
(III) Ahola
6
CFL / COMI (senior) (2nd Yr Flight)           
3
27645
(IV) Mujtaba
6
       CSC / COMSEC (junior)
2
28242
(III) Park, Sang
6
        CSC / COMSEC (junior)
2
28039
(III) McKenzie
6
        CSC / COMSEC (junior)
2
28097
(III) Ham
6
CFL / COMI (senior) (3rd & 4th Yr Flight)
2
27789
(IV) Vaugeois
6
        CSC / COMSEC (junior)
3
28011
(III) Munn
6
        CSC / COMSEC (junior)
2
37654
(III) Yeung
6
        CSC / COMSEC (junior)
2
27856
(III) Dion
6
Position
Bars/

barrettes

College #/
№ de Collège
Name/nom
Sqn/
esc
CSL / COMO (senior)
4
27863
(IV) Carlisle
7
DCSL / A/COMO (senior)
3
27703
(IV) Pageau
7
CSTO / INSTRO (senior)
3
27728
(IV) Janjic
7
CSOpsO (junior)
2
27384
(IV) Nguyen
7
CSAd&StdsO / ADO  (senior)
3
27771
(IV) Boucher
7
CSSO / SPORO (junior)
2
27958
(III) Rusu
7
CFL (FYOP) / COMI (POPA) (senior) (1st Yr Flight)
3
27707
(IV) Spinney
7
DCFL (FYOP)  / (senior)
2
28139
 (III) Rook
7
        CSC (FYOP) / COMSEC (POPA) (junior)
2
28068
(III) Fritz-Nemeth
7
        CSC (FYOP) / COMSEC (POPA) (junior)
2
28027
(III) McBride
7
        CSC (FYOP) / COMSEC (POPA) (junior)
2
28083
(III) Levesque
7
CFL / COMI (senior) (2nd Yr Flight)           
3
27671
(IV) Gobeil
7
       CSC / COMSEC (junior)
2
28052
(III) Backs-McClatchie
7
        CSC / COMSEC (junior)
2
27904
(III) Lumley
7
        CSC / COMSEC (junior)
2
27715
(III) Carter
7
        CSC / COMSEC (junior)
2
27587
(IV) Park
7
CFL / COMI (senior) (3rd & 4th Yr Flight)
3
27778
(IV) Radley
7
        CSC / COMSEC (junior)
2
27649
(IV) Tsui
7
        CSC / COMSEC (junior)
2
28183
(III) McRae
7
Position
Bars/

barrettes

College #/
№ de Collège
Name/nom
Sqn/
esc
CSL / COMO (senior)
4
27286
(IV) Duschene
8
DCSL / A/COMO (senior)
3
27768
(IV) Giguere
8
CSTO / INSTRO (senior)
3
27956
(III) Maxwell
8
CSOpsO (junior)
2
28131
(III) Gorman
8
CSAd&StdsO / ADO  (senior)
3
28099
(III) Hui
8
CSSO / SPORO (junior)
2
28009
(III) Hand
8
CFL (FYOP) / COMI (POPA) (senior) (1st Yr Flight)
3
27590
(IV) Villegas
8
DCFL (FYOP)  / (senior)
2
28229
(III) Grenier
8
        CSC (FYOP) / COMSEC (POPA) (junior)
2
27178
(III) Kemp
8
        CSC (FYOP) / COMSEC (POPA) (junior)
2
27450
(III) Bertrand
8
        CSC (FYOP) / COMSEC (POPA) (junior)
2
28080
(III) Roose
8
CFL / COMI (senior) (2nd Yr Flight)           
3
27817
(III) Fung
8
       CSC / COMSEC (junior)
2
27709
(III) Perron
8
        CSC / COMSEC (junior)
2
27630
(III) Ahn
8
        CSC / COMSEC (junior)
2
28226
(III) Gilbert
8
        CSC / COMSEC (junior)
2
28016
(III) Dunbar
8
CFL / COMI (senior) (3rd & 4th Yr Flight)
3
27796
(IV) Kovacs Salazar
8
        CSC / COMSEC (junior)
2
28218
(IV) Vacher
8
        CSC / COMSEC (junior)
2
27928
(III) Patel
8
Position
Bars/

barrettes

College #/
№ de Collège
Name/nom
Sqn/
esc
CSL / COMO (senior)
4
27732
(IV) Larouche
9
DCSL / A/COMO (senior)
3
28043
(III) Halvorsen
9
CSTO / INSTRO (senior)
3
27865
(III) Lefrancois
9
CSOpsO (junior)
2
27569
(IV) McMullen
9
CSAd&StdsO / ADO  (senior)
3
27788
(IV) Cheng
9
CSSO / SPORO (junior)
2
27576
(IV) Welsh
9
CFL (FYOP) / COMI (POPA) (senior) (1st Yr Flight)
3
27746
(IV) Bomers
9
DCFL (FYOP)  / (senior)
2
27505
(IV) Tam
 
        CSC (FYOP) / COMSEC (POPA) (junior)
2
27900
(III) Schwarz
9
        CSC (FYOP) / COMSEC (POPA) (junior)
2
27607
(III) Duplessis
9
        CSC (FYOP) / COMSEC (POPA) (junior)
2
27950
(III) Weissenborn
9
CFL / COMI (senior) (2nd Yr Flight)           
3
28243
(III) Hamilton
9
       CSC / COMSEC (junior)
2
27531
(IV) Leblanc
9
        CSC / COMSEC (junior)
2
27870
(III) Hanna
9
        CSC / COMSEC (junior)
2
28254
(III) Lockie
9
        CSC / COMSEC (junior)
2
27241
(IV) Brassignton
9
CFL / COMI (senior) (3rd & 4th Yr Flight)
3
27755
(IV) Choi
9
        CSC / COMSEC (junior)
2
28112
(III) Oh
9
        CSC / COMSEC (junior)
2
27642
(III) Khalyplenko
9
Position
Bars/

barrettes

College #/
№ de Collège
Name/nom
Sqn/
esc
CSL / COMO (senior)
4
27553
(IV) OCdt Savery
10
DCSL / A/COMO (senior)
3
27585
(IV) OCdt Hammond
10
CSTO / INSTRO (senior)
3
27533
(IV) OCdt Gauvreau
10
CSOpsO (junior)
2
27614
(III) OCdt Bédard
10
CSAd&StdsO / ADO  (senior)
3
28255
(III) OCdt Kuchmij
10
CSSO / SPORO (junior)
2
28579
(II) OCdt Oyetoran
10
CFL (FYOP) / COMI (POPA) (senior) (1st Yr Flight)
3
27754
(IV) OCdt Sim
10
DCFL (FYOP)  / (senior)
2
27914
(III) OCdt Casey
10
        CSC (FYOP) / COMSEC (POPA) (junior)
2
28245
(III) OCdt Dixon
10
        CSC (FYOP) / COMSEC (POPA) (junior)
2
28221
(III) OCdt Haché
10
        CSC (FYOP) / COMSEC (POPA) (junior)
2
28168
(III) OCdt  Sansom
10
CFL / COMI (senior) (2nd Yr Flight)           
3
28123
(IV) OCdt Yoo
10
        CSC / COMSEC (junior)
2
28228
(III) NCdt Barry
10
        CSC / COMSEC (junior)
2
28073
(III) OCdt Guerrero
10
        CSC / COMSEC (junior)
2
28667
(II) OCdt Gibson
10
        CSC / COMSEC (junior)
2
28010
(III) OCdt Jung
10
CFL / COMI (senior) (3rd & 4th Yr Flight)
3
27692
(IV) OCdt Kinahan
10
        CSC / COMSEC (junior)
2
28045
(III) OCdt Bickel
10
        CSC / COMSEC (junior)
2
28106
(III) OCdt Lemke
10
        CSC / COMSEC (junior)
2
28262
(III) OCdt Trudell
10
Position
Bars/

barrettes

College #/
№ de Collège
Name/nom
Sqn/
esc
CSL / COMO (senior)
4
27636
(IV) OCdt Ramsperger
11
DCSL / A/COMO (senior)
3
27848
(IV) OCdt Shum
11
CSTO / INSTRO (senior)
3
27931
(IV) OCdt Charette
11
CSOpsO (junior)
2
27920
(III) OCdt Hussey
11
CSAd&StdsO / ADO  (senior)
3
28176
(III) OCdt Normand
11
CSSO / SPORO (junior)
2
27951
(III) OCdt Misner
11
CFL (FYOP) / COMI (POPA) (senior) (1st Yr Flight)
3
28225
(III) OCdt Banks
11
DCFL (FYOP)  / (senior)
2
27354
(IV) OCdt Maalouf
11
        CSC (FYOP) / COMSEC (POPA) (junior)
2
27600
(III) OCdt Charland
11
        CSC (FYOP) / COMSEC (POPA) (junior)
2
28067
(III) OCdt Fournier
11
        CSC (FYOP) / COMSEC (POPA) (junior)
2
28074
(III) OCdt Haddow
11
CFL / COMI (senior) (2nd Yr Flight)           
3
28126
(III) OCdt French
11
        CSC / COMSEC (junior)
2
27815
(III) OCdt Denney
11
        CSC / COMSEC (junior)
2
27750
(IV) OCdt Luo
11
        CSC / COMSEC (junior)
2
27871
(III) OCdt Terriff
11
CFL / COMI (senior) (3rd & 4th Yr Flight)
3
27700
(IV) OCdt Grouette
11
        CSC / COMSEC (junior)
2
27907
(III) OCdt Nettie
11
        CSC / COMSEC (junior)
2
27815
(III) OCdt Stride
11
        CSC / COMSEC (junior)
2
27903
(III) OCdt Yoon
11
Position
Bars/

barrettes

College #/
№ de Collège
Name/nom
Sqn/
esc
CSL / COMO (senior)
4
27496
(IV) OCdt Poulin
12
DCSL / A/COMO (senior)
3
28042
(III) OCdt Midgley
12
CSTO / INSTRO (senior)
3
27744
(III) OCdt Ardell
12
CSOpsO (junior)
2
28236
(III) OCdt Kim
12
CSAd&StdsO / ADO  (senior)
3
27633
(III) NCdt Van Den Bosch
12
CSSO / SPORO (junior)
2
28104
(III) OCdt Lechner-Ling
12
CFL (FYOP) / COMI (POPA) (senior) (1st Yr Flight)
3
27877
(III) OCdt Purchase
12
DCFL (FYOP)  / (senior)
2
27670
(IV) OCdt Sippola
12
        CSC (FYOP) / COMSEC (POPA) (junior)
2
27598
(III) OCdt Côté
12
        CSC (FYOP) / COMSEC (POPA) (junior)
2
27912
(III) OCdt Deguara
12
        CSC (FYOP) / COMSEC (POPA) (junior)
2
28222
(III) OCdt Naismith
12
CFL / COMI (senior) (2nd Yr Flight)           
3
28101
(III) OCdt Jo
12
        CSC / COMSEC (junior)
2
28239
(III) OCdt Byers
12
        CSC / COMSEC (junior)
2
28095
(III) OCdt Goh
12
        CSC / COMSEC (junior)
2
28261
(III) OCdt Kim
12
        CSC / COMSEC (junior)
2
27999
(III) OCdt Théoret
12
CFL / COMI (senior) (3rd Yr Flight)
3
27650
(III) OCdt Shim
12
        CSC / COMSEC (junior)
2
28234
(III) OCdt Poirier
12
        CSC / COMSEC (junior)
2
27898
(III) NCdt Son
12
CFL / COMI (senior) (3rd Yr Flight)
3
27669
(IV) OCdt Loucks
12
        CSC / COMSEC (junior)
2
27484
(IV) OCdt Laperrière
12
        CSC / COMSEC (junior)
2
27946
(III) OCdt MacDiarmid
12
More photos HERE