It's that time of year again. Exams have begun! Wishing the Cadets all the best.
***
F86 Sabre – Grounded, for now
Article and Photos by RMC PAO Blake Patterson 
After nearly 50 years, the F86 Sabre jet that has stood sentinel beside the roadway into the Royal Military College (RMC) was grounded this week to start a journey of renewal.
As the first step of a restoration project, the jet was removed from its concrete pedestal, dismantled and loaded onto a flatbed truck for transport to CFB Trenton, where it will be refurbished to the colours and insignia it proudly displayed in the 1950s.
The jet was one of the 1,815 aircraft manufactured by Canadair in Montreal for use by the RCAF and other air forces worldwide. The F86 Sabres remained in service for Canada in Europe until replaced by the CF-104 in 1962.
Originally a gift to RMC by the graduating Class of '68, the jet's exterior paint and internal support structure has deteriorated over the years, as has its concrete pedestal. Now, thanks to the kind support of the Class of '68 and the expertise and labour of the Aerospace and Telecommunications Engineering Support Squadron (ATESS) in Trenton, the jet will soon look as it did when it was part of Canada's contribution to NATO during the Korean and cold wars.
ATESS will undertake the restoration project as a training opportunity — making any needed repairs to the airframe, restoring the paint, and ensuring the F86 Sabre returns safely to where it belongs — its perch overlooking the Cataraqui River at RMC. Meanwhile, RMC's Civ Eng students will put their  expertise to use assessing the state of the support pedestal.
She will lead the life of a hangar queen for the next year or so, but soon enough, the F86 will be cleared for take-off to once again slip the surly bonds.
F86 Saber – Mise à la terre, pour l'instant
Après près de 50 ans, l'avion de chasse F86 Sabre, qui se tenait sentinelle au bord de la route menant au Collège militaire royal (CMR), s'est faite mettre à la terre cette semaine pour entamer un voyage de renouvellement.
En tant que première étape d'un projet de restauration, l'avion de chasse a été retiré de son socle en béton, démonté et chargé sur un camion à plate-forme pour être transporté à la BFC Trenton, où il sera remis à neuf aux couleurs et aux insignes qu'il arborait fièrement dans les années 1950.
L'avion à réaction était l'un des 1 815 appareils fabriqués par Canadair à Montréal et destinés à l'ARC et à d'autres forces aériennes du monde entier. Les F86 Sabres sont restés en service pour le Canada en Europe jusqu'au remplacement du CF-104 en 1962.
C'était à l'origine un cadeau offert au CMR par la promotion sortante de 68, la peinture extérieure et la structure de soutien interne de l'appareil s'est détériorée au fil des ans, tout comme son socle en béton. Maintenant, grâce au généreux soutien de la promotion de 68 et à l'expertise et au travail de l'Escadron de soutien technique des télécommunications et des moyens aérospatiaux (ESTTMA) à Trenton, l'avion à réaction ressemblera bientôt à ce qu'il faisait lorsqu'il faisait partie de la contribution du Canada à l'OTAN pendant les guerres coréennes et froides.
L'ESTTMA entreprendra le projet de restauration sous la forme d'une occasion de formation: effectuer les réparations nécessaires sur la cellule, restaurer la peinture et veiller à ce que le F86 Sabre retourne en toute sécurité là où il se doit – son perchoir surplombant la rivière Cataraqui au CMR. Pendant ce temps, les étudiants en génie civil du CMR mettront leur expertise à profit pour évaluer l'état du socle de support.
Elle mènera la vie d'une hangar-reine pendant environ un an, mais la F86 sera bientôt prête à décoller pour laisser échapper une nouvelle fois les liens malsains.
***

It was with great pleasure that the Commandant, his wife, Karine Chayer, Micheline Lemay, Nathalie Filion-Poitras and Mario Boulianne hosted Terry Henderson, RMC's Mailman, for lunch in the Commandant's Dining Room at the Senior Staff Mess, on Wednesday, 5 December 2018.
Terry, in picture with BGen Bouchard, was adorned the right way with the new cap & sweater the group offered him for the occasion.
A fine time was had by all.
***
For December 6, the National Day of Remembrance and Action on Violence Against Women, all flags on campus are flown at half-mast from sunrise to sunset in order to commemorate the 14 women who lost their lives in 1989 at the École Polytechnique. RMC took donations of blouses and other women's shirts that are placed at display tables signifying the absence of these women. All the clothing items will be donated to a local women's shelter.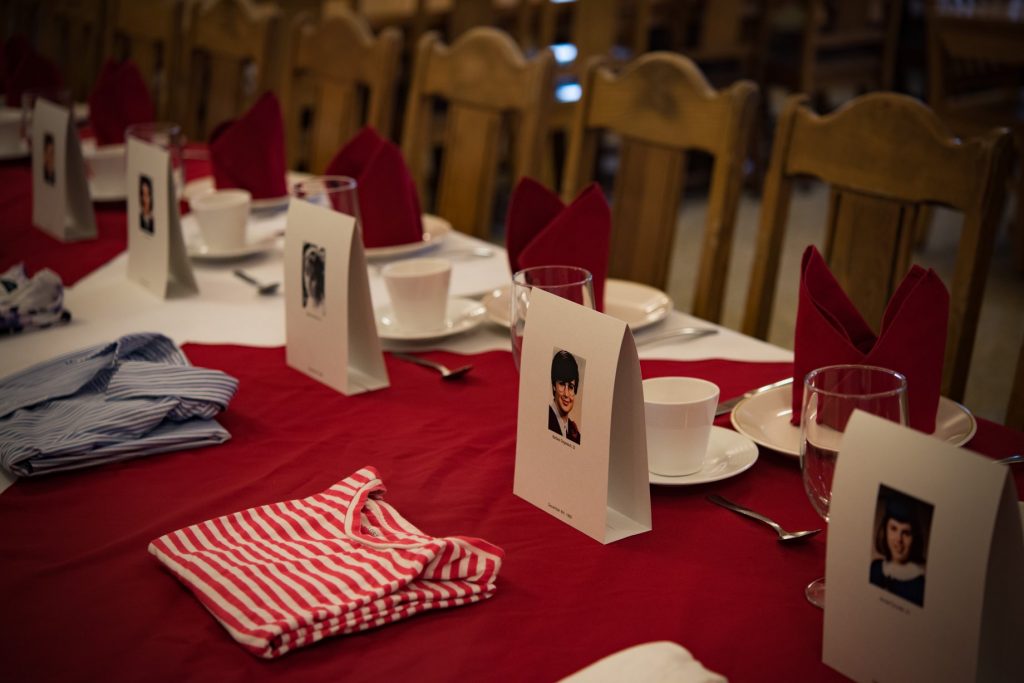 Pour le 6 decembre, la Journée nationale de commémoration et d'action contre la violence faite aux femmes, tous les drapeaux sur le campus sont mis en berne du lever jusqu'au coucher du soleil pour commémorer les 14 femmes qui ont perdu leur vie en 1989 à l'École Polytechnique. Le CMR a pris des dons de blouses et d'autres chemises pour femmes et les ont placés à des tables pour signaler l'absence de ces femmes. Tous les vêtements seront donnés à un refuge pour femmes local.
Article and photos courtesy of RMC PAO Blake Patterson
More on this special occasion HERE
***
A delegation from the South Korea Military Academy (KMA) visited RMC on Friday, November 30, 2018. The delegation, who regard RMC as a global leader within the military academy community,  included KMA Superintendent, Lieutenant General Jin-Kyung Chung. One topic of discussion was the possibility of a student exchange program with either RMC or RMC Saint Jean.  Subsequently, and at the request of the Koreans, RMC staff presented our best practices for fitness and language training. All in all, it was a very productive afternoon of discussions and information sharing, with follow-on talks to occur in 2019.
//
Une délégation de l'Académie militaire de Corée du Sud (KMA) a rendu visite au CMR le vendredi 30 novembre 2018. La délégation, qui considère le CMR comme un leader mondial au sein de l'académie militaire, comprenait le surintendant de l'académie, le lieutenant général Jin-Kyung Chung. L'un des sujets de discussion était la possibilité d'un programme d'échange d'étudiants avec le CMR ou le CMR Saint Jean. Par la suite, et à la demande des Coréens, le personnel du CMR a présenté nos meilleures pratiques en matière d'entraînement physique et linguistique. Dans l'ensemble, c'était un après-midi très productif de discussions et d'échange d'informations, avec des entretiens ultérieurs prévus pour 2019.
Article and photos courtesy of RMC PAO Blake Patterson
***
Butler and Andrews make Rugby Canada rosters
Article by Peter Reimer, RMC Athletics
A pair of RMC Paladins rugby players will don the red and white of team Canada over the winter break.
OUA All-Star and RMC rookie Glenn Butler is headed to Shawnigan Lake, BC to take part in the U20 fifteens team training camp over the break, while second-year standout Josh Andrews is off to Auckland, NZ for the World School 7s competition.
"Representing Canada is a huge honour," Butler said. "Having the opportunity to wear the maple leaf is something special, and not many people have that chance. It feels amazing to be recognized as a top player in the county."
The training camp marks one of the early steps as the team works toward the ultimate goal: the World Rugby U20 Trophy in Brazil this July. Next, the team will go on a European Tour to play Portugal, France, and Spain over the spring break, followed by the World Cup Qualifier back in Shawnigan Lake in May.
With so much at stake as training gets underway, Butler expects tough competition in BC.
"Everyone there is a great player and will be fighting to show the coaches why they deserve the starting jersey," he said. "I think the intensity of the training and games will be higher than anything I have ever played in."
Crediting RMC head coach Sean McDonaugh, Butler mentioned his experience thus far with the Paladins as a building block that has helped him earn a spot among Canada's best U20 players.
"Being a rookie in the OUA put things into perspective," he said. "The physicality and pace of the game was faster than what I am used to and I think playing in the OUA this season has helped prepare me for playing at the next level."
In New Zealand, Andrews will play with Rugby Canada's U18 sevens team against the best talent from countries from around the world.
***
Familiar face returns to RMC running
Article by Wayne Bulak, Coach of RMC Running
Four athletes from the RMC running club took part in their first track meet of 2018-19 season. The Saints Relay Holiday Meet was hosted by St. Lawrence University in Canton, NY and saw athletes from St. Lawrence joined by RMC, University of Ottawa, Carleton, Ottawa Lions Track Club, Potsdam and Plattsburgh. The Meet provided a good introduction to indoor track for the RMC athletes. As the indoor Track at RMC has been re-surfaced as part of the renovation work taking place at the Field House, the track has not yet been available for practices due to the field house renovations, the running club has had to improvise using the plastic tiled sport courts in the Dome as a practice area. That meant that the SLU Meet became the first opportunity for members of the running team to get onto an indoor track this year.
Leading the way for RMC was Felix-Olivier Cordeau who is back at RMC in his first year in the OTSAP Program leading towards a Master's Degree. SLU was Felix' first meet since his initial graduation from RMC five years ago. He opened by placing 1st in his heat of the 60M with a time of 7.41 and followed up with a 5th overall placing in the 60M Final with a slightly faster 7.40 time. Felix came back in the 300M event with a 2nd overall placing with a time of 36.94 seconds.
In the women's 60M, Klaudia Konieczny ran 10.04 seconds in her first ever Track competition.
Two first year Officer Cadets represented RMC in the mile event. In the women's race, Fiona Miklas kept a steady pace throughout to finish 5th with her time of 6:36.48. A similar steady pace effort for Jonathon Degois took him to a 10th place finish in the men's race with his time of 5:21.07.
The next planned meet on the team's schedule will be the U of Ottawa Winter National Competition on January 19.
***
Win a Brand New RMC Hockey Jersey!
Article by Peter Reimer, RMC Athletics
The Paladins are hosting a jersey design contest for the hockey team's third jerseys, to be used as alternates for special events (e.g. Military Appreciation, Remembrance Day, West Point, Carr-Harris). After a winning design is chosen, the creator will be awarded one of the brand new jerseys.
WHAT: RMC Hockey Jersey Design Contest
DEADLINE: Sunday, 6 January 2019 at 11:59 PM
HOW: Enter online – https://rmcathletics.wufoo.com/forms/x6ko9yw1el30rx/
The contest is open now and designs may be submitted until just before students return to class: the end of the day on Sunday, 6 January 2019.
Designs are welcome from all RMC students, staff, and ex-cadets, plus fans, friends, and family. You are welcome to submit more than one jersey design through the online form.