'Extra Issue' 37 A:
Nichola Goddard Bridge Dedication – Thursday, Oct 5th –
Cobourg, ON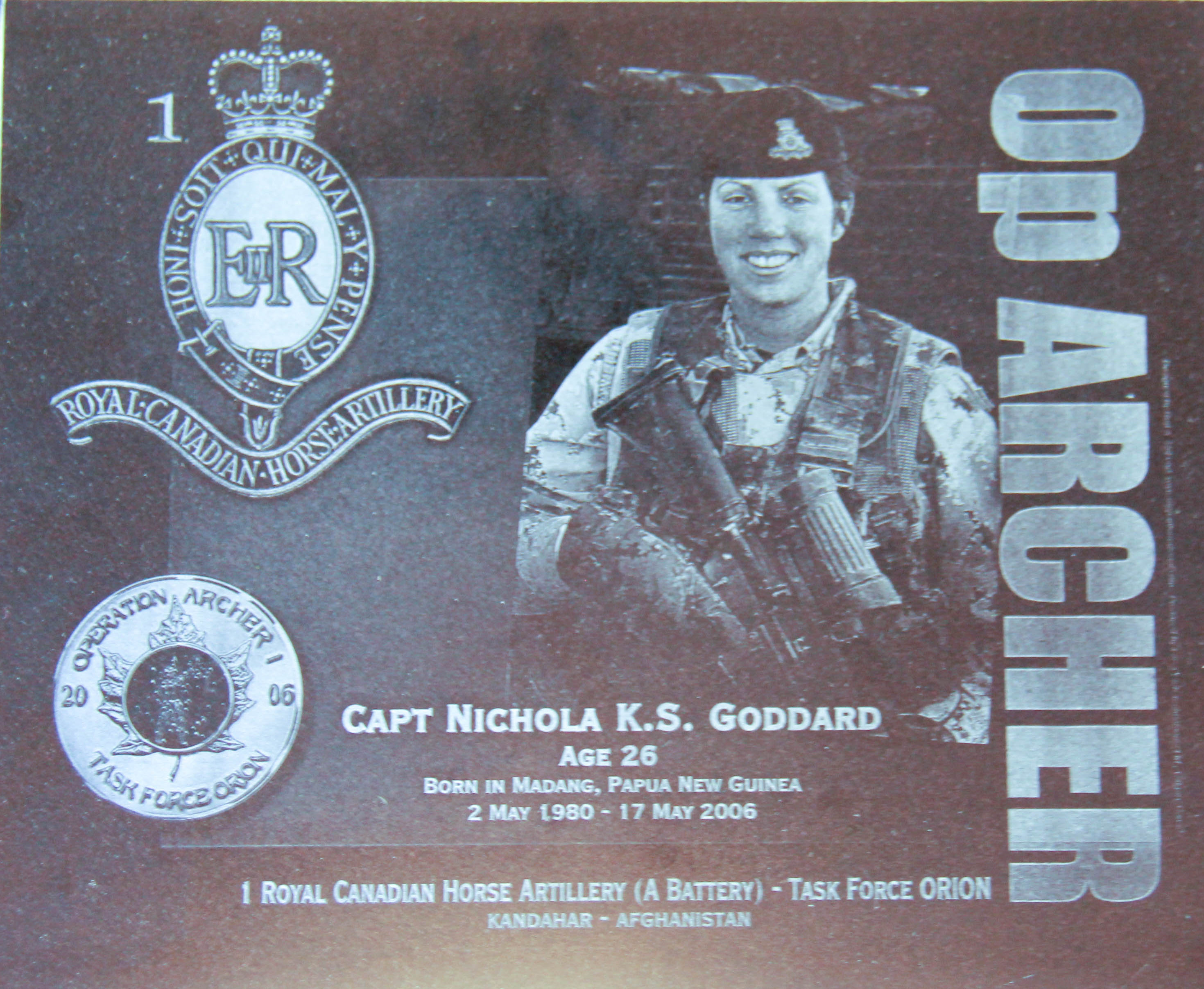 Ex Cadets and former friends are invited to attend.
Agenda below re Oct 5th.
9:30-10:00 – arrive at Mill Restaurant (990 Ontario Street, Cobourg). Plenty of parking should be available. 10 min walk to the bridge.
10:00- 10:10 – all to gather at the bridge.
10:15 – cadet guard to march up
10:15 – 10:30 – dedication of plaque – Bronwyn Evans (TPL), Goddard family to say a few words.
10:30 – all to make way to Mill Restaurant
11:00-2:00 – reception and lunch (prime rib buffet).
Canso Investment Counsel was granted a bridge naming opportunity as part of thei True Patriot Love sponsorship and they asked that it be dedicated to Nichola.
Her family will be there along with a Colour Party from RMC. All members of the RMC family are invited too!
***
In This Issue 37 – Table of Contents:
20th Annual Legacy Dinner: An eye opener for many first-timers
Loved Ones & Chris Hadfield Cheer on Class of 2021 Cadets as They Complete Time-Honoured Obstacle Race…
FIRST YEAR BADGING PARADE / PARADE DE REMISE DES INSIGNES AUX ÉLÈVES-OFFICIERS DE PREMIÈRE ANNÉE
PRIZES AND AWARDS / PRIX ET RÉCOMPENSES
Len Lee & Britt Smith added to the WoH: Big time event! / MUR D'HONNEUR DU CMR
Memorial Arch Ceremony & Heartfelt view from a cadet
RWE 2017: Through the eyes of a IV Year
Ex-Cadets and more in the news
Hillary Griffis' fictional skylark series – One: What happens When the Memorial Arch and a Sail Boat Meet Up?
"SPORTS AT RMC IN THE POST-WAR ERA" #2 – The Value in Sports, Team Building, Football
Sports: Red & White challenge results; Run up Fort Henry; Fencing update; varsity scores & more
Tom Rozman: Avoiding Catastrophe
***
CAREER OPPORTUNITIES – Nos offres d'emploi
ENCORE:
The Story of 20154, LCol Scott Gillingham, CD, and the Making of 77 Line Regiment
ATHLETICS WALL OF DISTINCTION: Honouring our Athletes, Teams & Builders / MUR DE LA RENOMMÉE SPORTIVE: Honorer nos Sportif/ Équipe / Bâtisseur