SLT barslate thinking smart outside the box
Article by: 27476 OCdt Danielle Fielding
After the Chinese invented black powder during the 9th century, these inventions were spread throughout the world and the way wars were fought changed forever: firearms.
Armed Forces have been training with firearms ever since.
The Canadian military trains on an assortment of firearms in all levels of training, from basic training to more advanced courses.
During the school year, it is rare that an RMC cadet has the opportunity to often perfect their skills on a firearm. As training is mostly done during the summer it can be a long while for a cadet to have the chance to practice.
Over the summer at RMC, cadets are training in the second language, one of the four pillars at the military college. Another pillar at the college is the military pillar. In this pillar, it focuses on building leadership; however, a basic soldiering skill is how to shoot a firearm.
As part of an initiative to have cadets practice marksmanship principles, the SLT barslate came up with a plan for the cadets to practice on the SAT ranges (Small Arms Trainer) at RMC.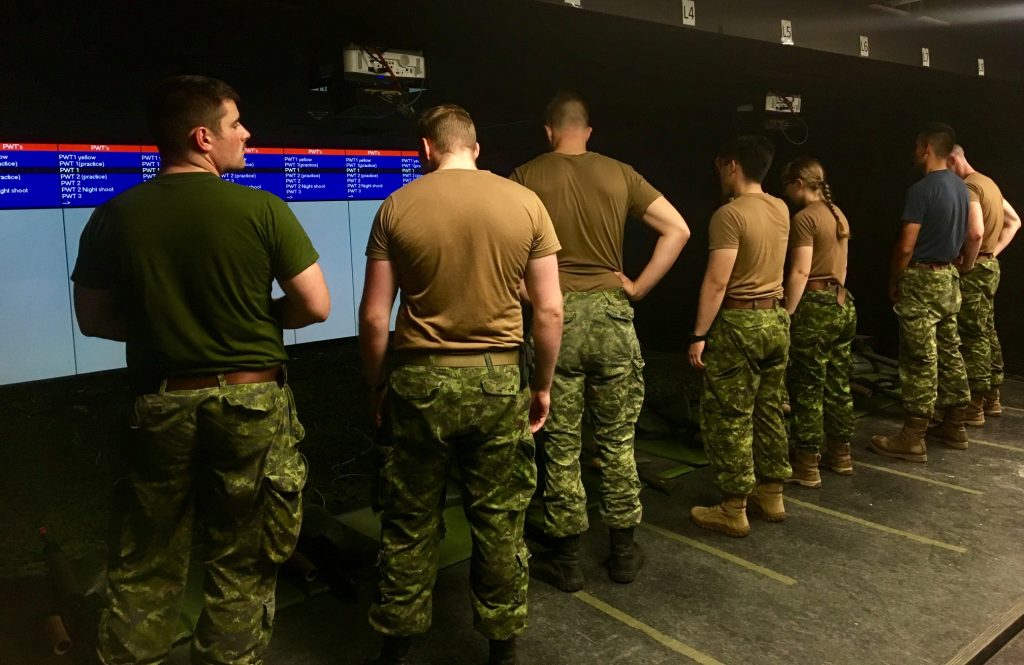 The marksmanship principles practiced in the CAF include being comfortable in the various shooting positions, how to hold and aim the rifle, and how to release and follow through without undue disturbance to the position after firing a shot. How to properly breathe while firing becomes an art that must be practiced.
OCdt Patrick Turnbull participated in the SAT range as part of an endeavour from the SLT barslate to provide hands on opportunities to the cadets to work with weapons.
He stated "The SAT range provides an excellent opportunity to hone our shooting skills without actually going to the range. It's perfect to practice weapons handling and your marksmanship principles when you're not on course. A lot of cadets don't get the opportunity to fire live rounds as much as they'd want to, so the SAT range does a good job of bridging that gap."
Now, the cadets who are staying at RMC to study, over the summer, have the opportunity to sharpen their marksmanship and continue to improve their skills with a firearm.