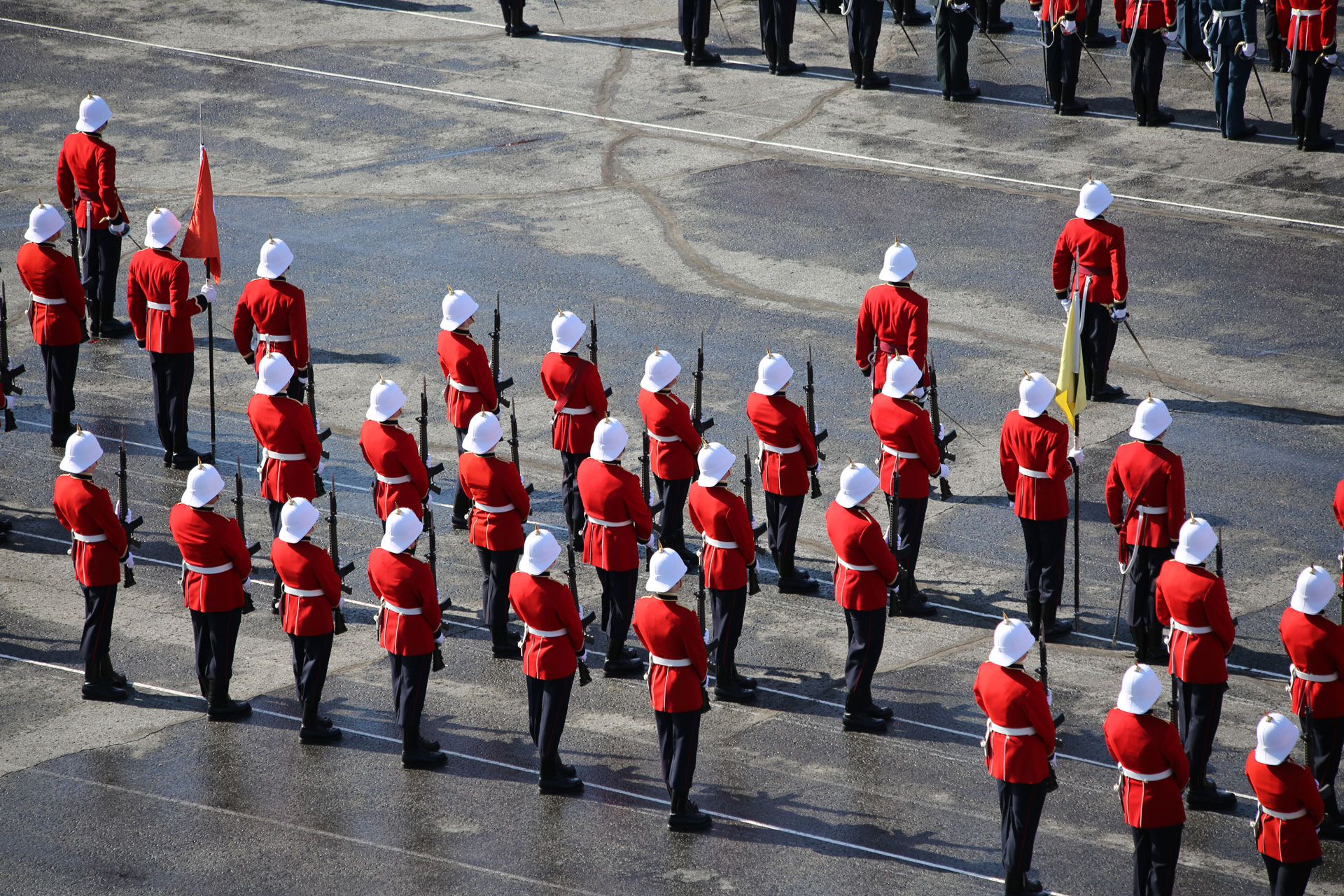 Jack Lansing
"I admired the resilience and ambition of the cadets. The cadets were working 16-18 hours days. They became experts at organizing their time to survive the academic workload."
Born 16 Jul 1949, Jack Lansing graduated McMaster University 1974 – BA & BPE. He joined the CAF on 11 Sep 1972 and retired 31 Mar 1997 in the rank of Major. During that period he served as BPERO at CFBs Ottawa, Toronto, Summerside and Montreal, Assistant Athletic Officer and Physical Education Officer at RMC, Chief Instructor at CFSPER, Athletic Director at CMR, CPERO at MARCOM Halifax, Regional Sports Director for the Atlantic Region, 1992 to 2003 and CISM Sailing Team Manager 1992 to 2001. Jack is currently the Formation Fitness and Sports Director 1997 to present at CFB Halifax.  E3161 Victoria Edwards (RMC '03) recently caught up with Jack and crried out this interview.
Pictured during his very first posting is Jack Lansing (R) at CFB Ottawa. Carol Inrig (L) the ever caring Secretary at CFB Ottawa during a good part of the 1970s and Jim (Maxie) McCLELLAND who had previously served at RMC and later became the Career Manager for PERIs.
e-veritas: How did you end up as a PERO?
Jack Lansing: I studied engineering at the University of Waterloo for two years, then transferred to McMaster University where I earned a combined arts and physical education degree in 1974. As an athlete, I competed in individual sports such as badminton, squash, golf and running. I joined the Canadian Forces in 1974 as a Physical Education and Recreation Officer. Up to that point, most of the PEROs were commissioned from the ranks and didn't have a degree in physical education. I served at CFB Ottawa from 74-75, CFB Toronto from 75-78; CFB Summerside 78-80; then CFB Montreal 80-83. I was posted to RMC as a Captain from 1983-87. After RMC, I went to the CF School of Physical Education in Borden 1987-89. After being promoted to Major, I served at CMR as the Athletic Director from 1989-92. From 1992 until the occupation closed in 1997 I was the Navy Command PERO. At the time, Maritime Command Headquarters was in Halifax, although it later moved to Ottawa. I left the military when the Canadian Forces Personnel Support Agency stood up. I competed for the civilian job as Formation Fitness and Sports Director at Canadian Forces Base Halifax where I have worked ever since.
e-veritas: At which military college(s) did you serve?
Jack Lansing: I served at RMC from 1983-87 and I was at CMR Saint-Jean from 1989-92. At the military colleges, we lived in the Private Married Quarters at CFB Kingston and in town.
e-veritas: What were your primary duties?
Jack Lansing: I started as the Athletic Administrative Officer (AAO) at RMC from 1983-84. As AAO, I was responsible for the varsity team program at RMC, which involved regular liaison with administration at the College and with the team coaches. Duties included making travel and accommodation arrangement to enable the varsity teams to travel and compete, monitoring team performance and training, and other administrative and logistical arrangements.
I then became the Physical Education Officer (PEO) at RMC from 1984-87. As PEO, I was responsible for floor instruction and the intramural program, which was delivered by instructor Sergeants (PERIs). I managed a budget of around half a million dollars, in support of fitness training equipment, intramural and varsity sports equipment, and varsity team uniforms and travel. At the time, RMC had around 650 – 680 cadets. The many recreation clubs, such as windsurfing, debating, outdoor climbing, jogging club, war games, martial arts, etc., also fell under me. The positions of PEO and AAO required weekly communication with my Cadet counterparts, 3 and 4-barmen, within the Cadet Wing, a parallel organization within cadet cadre. My key contacts were the cadet intramural sports officer and the cadet varsity sports officer.
As Athletic Director at CMR, I was responsible for the overall fitness and sports instruction, training, intramurals sports, varsity teams, equipment and facilities. The PEO was responsible for the athletic facilities. I managed a budget of a half a million dollars, which was spent on sports equipment and the varsity teams. At the time, CMR had approximately 380 to 400 students.
e-veritas: I understand that you were a Certified Fitness Appraiser.
Jack Lansing: Yes, the CFA Program was administered under the Canadian Society for Exercise Physiology. The RFA, Registered Fitness Appraiser and the CFA were the precursors to today's Certified Fitness Trainer certification which all Fitness and Sports Instructors at bases require. As a CFA, I was qualified to evaluate a person's fitness level using procedures that often involved more sophisticated equipment such as heart rate monitors, treadmills or bicycle ergometers. A CFA required advanced training in exercise science and completed formal apprenticeship in fitness appraisals under CSEP. I was also a RFA course conductor and conducted several courses in the 1980's. In addition, certified fitness appraisers must pass a strict written and practical examination.
e-veritas: Did you also coach?
Jack Lansing: No, but I was the manager of the RMC women's varsity tennis team and I traveled with the team.
e-veritas: I understand you taught the National Coaching Certification Program.
Jack Lansing: Yes. I taught National Coaching Certification Program (NCCP) introductory Theory course which was an academic course at RMC for the cadets. At the time, successful completion of the course provided the cadet with their NCCP level I Theory certification. They then required one year's actual coaching to achieve their complete Level I. The new NCCP model has changed considerably and is made up of three streams (community sport, competition and instruction) and a total of eight contexts, each with its own coaching requirements.
Community Sport stream Competition stream Instruction stream
Initiation Introduction Beginners
Ongoing participation Development Intermediate Performers
High Performance Advanced Performers


e-veritas: Were you involved in international sport e.g. through Conseil International du Sport Militaire (CISM)?
Jack Lansing: Yes, but not while I was serving at the Military Colleges. From 1992-2001, while Command PERO and later as the Formation Fitness and Sports Director at CFB Halifax, I was team manager of the CF CISM Sailing team. I had the opportunity to travel to many countries around the world. I also introduced the first fitness standard for the Sailing team in the mid 1990's which only a couple other CISM teams had at the time. Two highlights for me during the CISM experience were serving as part of the Canadian contingent supporting our athletes and teams at the 1995 CISM World Games in Rome, Italy and later participating in the hosting the CISM World Sailing championships in Esquimalt in 2001. Those years in the 1990's were very busy for me as I was the CPERO, the CISM Sailing team manager, and the Atlantic Region Sports Director, in addition to managing my son's minor hockey team for 4 years.
e-veritas: What was the highlight of your serving at the Military Colleges?
Jack Lansing: The whole thing was great. My postings at RMC and CMR were the best postings of my career. I admired the resilience and ambition of the cadets. The cadets were working 16-18 hours days. They became experts at organizing their time to survive the academic workload. Participation in intramural or varsity sports was mandatory. The cadets also organized some major events, such as the Initiation week, the Christmas and Graduation balls, to name just a few. I was always amazed by the cadets` dedication and logistics skills. They were truly inspirational. The system quickly weeded out those lacking the potential to succeed.
One additional highlight was the women themselves. I arrived in 1983 and the first females to be allowed entry in the Military College system started in 1980. They faced great challenges, and since the military colleges had been a male bastion up to 1980, there was some resistance to their integration, primarily within the Cadet Wing. Those that survived those first few years were a truly exceptional group and led the way for other women to follow in their footsteps. I considered myself fortunate to have worked with many of those pioneers.
e-veritas: Did you have a role when cadets ran into difficulties?
Jack Lansing: Yes. The cadets had to succeed in all four pillars, one of which was athletics. I could intercede, for example, when a cadet's academic difficulty undermined his or her ability to travel with the varsity teams. I might liaise with the professors to ensure that the papers that were due were met. I could offer motivation, tutelage or advice to the cadets, if required. When cadets had problems meeting their fitness targets, it was important to make that known to the cadet early, and provide a program of remedial physical training. Early in each year, the athletic staff liaised with the academic staff to identify problems.
e-veritas: What challenges did you face at the Military Colleges?
Jack Lansing: It was difficult keeping up with the cadets. Although the cadets were already working 16 hours a day, they were always coming up with ideas new activities, a new woman's sports, a new junior varsity team, or club. I was blown away by the cadet's energy and enthusiasm.
e-veritas: What strategies did you employ to remain competitive at the Varsity level?
Jack Lansing: RMC had several standout athletes in individual varsity sports such as tennis, hockey and squash. RMC was extremely competitive in some of the peripheral sports such as fencing. We came up with various strategies to remain competitive in popular sports such as hockey, volleyball, soccer and rugby. It could be difficult maintaining high morale amongst some of the popular varsity teams, if they were on a losing streak. In the mid 80's, RMC with a small population of about 650 students, competed against universities drawing on much larger student pool. The University of Toronto for instance had over 40,000 students. Dr Kirk, who I believe was the Dean of Engineering at that time, began to scout for the RMC varsity hockey team. As the head coach he attended high school tournaments looking for suitable candidates and talked to coaches and students about what RMC had to offer. RMC also created a junior varsity team as a feeder team which helped the performance of the hockey team.
e-veritas: What are your memories of 3543 BGen (Ret) Walter Niemy CD, ADC(RMC 1956), who was the Commandant of RMC 1985-7?
Jack Lansing: In my experience, Commandants took a shine to various sports. BGen (Ret) Walter Niemy was an ardent rugby enthusiast who never missed a game. He often took in their games as well if they were playing in Ottawa and he was there on business.
e-veritas: Do any of the staff of the military colleges stand out in your memory?
Jack Lansing: When I was a Captain at RMC, 12320 Capt (now General) Walter J Natynczyk (RRMC CMR 1979) was a squadron commander. You could see his potential as an officer even then. I recall a Christmas party hosted by the Director of Cadets for the RMC staff. There were four babies all born within weeks of each other and my wife, Walt's wife Debbie and the wives of two other staff members arranged for a photo of the four babies, all propped up on a couch. It was a humorous moment.
e-veritas: Was it challenging at the College to balance work and home life?
Jack Lansing: Yes. For the cadets, the military colleges was like a 7 day a week, 16 hour a day treadmill; they got on in Aug and got off at graduation in May. As a PERO, I often worked 10-12 hour days since intramurals or varsity sports ended at 7pm. The PERIs worked similar hours, instructing during the day, and most coached one or more varsity teams or were involved with intramurals. The PERI /PERO coaches travelled with the varsity athletes to competitions usually on the weekends, but occasionally during the week. So as you can see the time commitment was intense from Aug to May. During the summer, there were opportunities for summer training and time to relax with the family. The life could be hard on families of military members of the PERI/PERO trade, especially when the children were very young. Although some PERO/PERI might occasionally bring their families to the gym if we were hosting, I tried to maintain a separate work and family life when I served at the Colleges. Although my wife would drop by the gym sometimes to pick me up, the children were too young to `hang out` and watch the game. Since our daughter was born in 1983 and our son was born in 1985, my wife was frequently home alone with a couple babies or very young children while I travelled with the team. During that period, I reduced my participation as a competitive athlete. I kept up my fitness through running.
e-veritas: Do you have a short story to share with our readers?
Jack Lansing: When the baby was about 6 or 7 months old, the cadets on the Women's tennis team dropped by the house. They encouraged Sandy and I to go out shopping together, and they offered to play with the kids. We were very touched by the thoughtful gesture.
e-veritas: Were you involved in research at the College?
Jack Lansing: Yes. I was involved in research into two major projects. At the time, the Sir Archie Macdonell Athletic (SAM) Centre was a relatively modern facility but they were looking at ways to expand already in order to accommodate greater numbers. I researched several options in my final year at the College (1986-87) into upgrading of the SAM centre. Locally LCol 'Harky' Smith, DAdmin, referred to this project as the `White Paper on SAM centre renovations`. Some of the recommendations were ultimately implemented.
Another research project dealt with chin ups for lady cadets at RMC. We found that whereas for the men there was a normal bell curve distribution for performing the chin ups, for women there was a bi polar distribution; they could either do it or they could not. Unfortunately, many women cannot perform a single chin up due to a combination of factors including the lack of upper body strength. In addition, some women tend to hyper-extend their arms past 180 degrees which can result in 'lock-out'. You can vary the way you do the chin up so as to emphasize different muscle groups including the lats, rhomboids, biceps and shoulders. We therefore looked at adapting the training program for women to get the sensation of chin ups without overextending their elbows. We had them perform the chin up, for example, while lying on their back, with their heels on the ground. This simulated the chin-up movement but at greatly reduced weight loads which allowed them to increase their arm strength while still performing the exercise. They would then move on to performing the chin up in the normal manner. The results of the study were forwarded to Major Wayne Lee in DPERA (Directorate of Physical Education, Recreation and Amenities). I left the College shortly after that and so I don't recall what became of the study.
e-veritas: You spent 20 years or more as a PERO in uniform. You have been with PSP for about 12 years. What, if any, are the major differences in the current delivery of PE&R programs to CF personnel and their families compared to those first 20 years?
Jack Lansing: I was in the military for 25 years before hanging up the uniform in 1997 and continued within PSP. Life seems normal now but those first few weeks and months required a great deal of adaptability. The military also had not adjusted yet to the new organization. When you answered the phone as Jack or Mr Lansing, there was an immediate loss of credibility, since they assumed they were dealing with a civilian with no military background. Similarly it took a bit of adjustment when an NCM would call you by your first name. Over time we have re-established our credibility and for me that was, I think, easier when they knew I was ex-military. At this point in time, I think the greatest difference is that the civilians were are now engaging do not have the corporate knowledge, both military and within Fitness and Sports. Now that can be both a pro and a con since they do not arrive with baggage but on the other hand there is often no concept of chain of command or the policies and regulations in existence. That is slowly changing now as many of the civilians who started back in 1997 have their own corporate knowledge and it is serving them, PSP and the military well. I think the transition over the next few years as the remaining ex-military retire will be a smooth one.