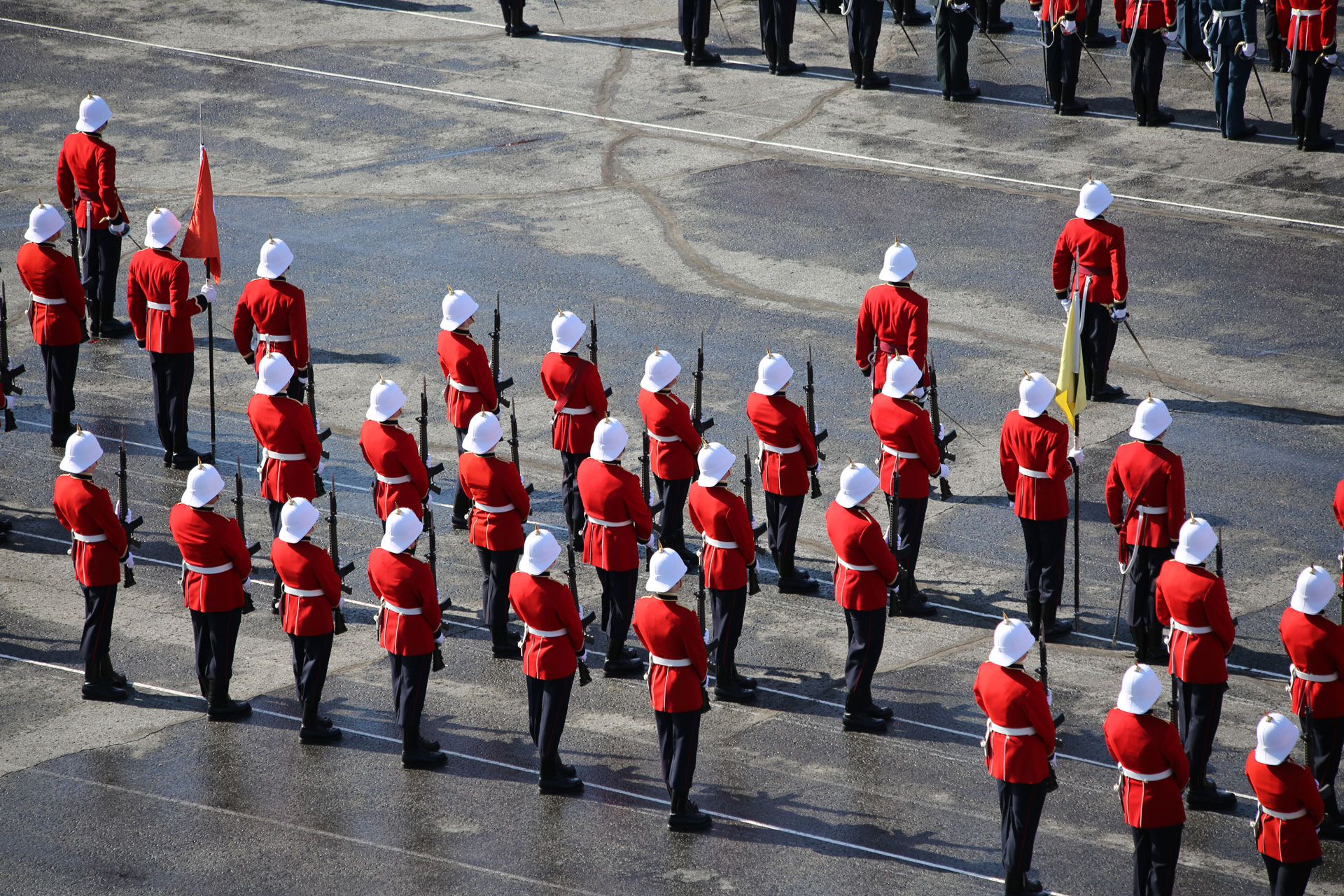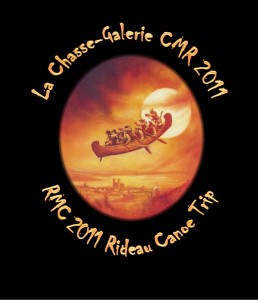 "Logo courtesy of Sleeman/Unibroue"
E3161 Victoria Edwards (RMC 2003) interviewed 22461 Maj Claire Bramma, one of fifteen Ex-Cadets who will raise money for the Danny McLeod Athletic Endowment Fund by paddling a voyageur canoe from Ottawa to Kingston this September, 2011. You can make a pledge or donation at www.rmcclubfoundation.ca.

Victoria Edwards: This will be your 1st fund-raising canoe trip down the Rideau. What gave you the idea?
Maj Claire Bramma: In 2006 I was in Kingston for the Ex-Cadet volleyball match and it was during that weekend that I heard about this fundraising initiative. At the time I thought it was a great idea and earlier this year I was fortunate to have been invited by 8788 Geoff Bennett to join the team.
Victoria Edwards: Do you have any canoeing experience? Any lessons learned?
Maj Claire Bramma: I am not an experienced paddler, however I have really enjoyed a handful experiences being out on the water either in a canoe or kayak. I took the canoeing elective for PT in third year at RMC, where Personnel Support Programs  (PSP) staff member Brendan Bennett (former RMC Paladins Women's Volleyball coach) taught us the basics (and the fun!) of paddling. Since then, two memorable paddling experiences come to mind:
1) In 2003 I canoed solo down the North Saskatchewan River in Edmonton as one of the 4 stages of the Mountain Man race. It was then that I learned how to keep the canoe more-or-less straight and how to avoid getting stuck in eddies!
2) In 2009 I enjoyed a long-weekend holiday to the Bay of Fundy, and I spent one of the days sea-kayaking with an eco-tourism group where I had the chance to see up-close a wide variety of marine life (seals, gulls, and whales). I really appreciated how paddling gets you in-touch with the elements and wildlife.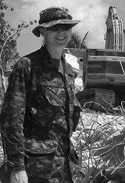 Victoria Edwards: Why was it important to you to support the Athletic Endowment Fund? I understand that you won the 17333 Kelly Gawne Memorial (Best all-round Lady Ocdt in athletics) three of the four years you attended RMC.
Maj Claire Bramma: Looking back at my years at RMC ('98-'02), I can really appreciate the opportunity I had to train and compete in my favourite sport. Because of the RMC varsity volleyball program, I was able to develop as an athlete and go-on to participate in several Conseil International du Sport Militaire (CISM) tournaments. In addition, the friendships I have made through volleyball have been extremely important to me personally and professionally. Therefore, I feel that it is important to support the Danny McLeod Athletic Endowment Fund so that RMC cadets can have similar positive experiences through varsity sports.
Victoria Edwards: You represented the VCDS (Vice Chief of Defence Staff) group as the female athlete of 2009, and were nominated for multi-sports (volleyball, ice hockey and running) at the 21st Annual CF Sports Awards Ceremony.
Maj Claire Bramma: Since graduating from RMC, I have been fortunate to play a variety of sports at the regimental and base level. Besides continuing to play volleyball, I have particularly enjoyed playing ice-hockey and running middle-distance races (10km). Since sport is an excellent way to build cohesion, morale, and fitness, it is no wonder it forms a part of the regimental routine in the Army.  While at RMC, cadets are able to build a foundation in athletics which proves beneficial later in their career. For example, I think that the Wing Harrier races and all the runs up and down Fort Henry helped prepare me for all the running I have done since RMC!
Victoria Edwards: In your role as "medic", what are your recommendations for this canoe trip?
Maj Claire Bramma: I am going to be the "medic", so I will be preparing a first-aid kit in order to deal with any minor injuries or illness that could arise. I will also do my best to keep the crew healthy by offering some sports nutrition advice.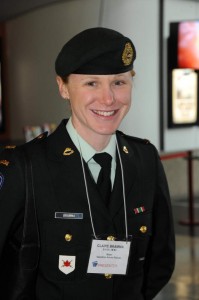 Victoria Edwards: What did you study at RMC? Outline your career progression since leaving the College. Any highlights?
Maj Claire Bramma: I received a Civil Engineering degree from RMC in 2002. From there I completed my combat engineer training and was posted to 1 CER Edmonton where I deployed to Kabul between 2004-05.  In 2007 I received a Masters of Science Degree in Defence Geographic Information from Cranfield University, U.K and then worked in Ottawa for 2 years at Mapping and Charting Establishment. I was posted to 5eRGC Valcartier in 2009 as a Squadron Commander, and in January 2010 I deployed to Haiti. This disaster relief mission involved water purification, debris removal, and shelter construction.  I am currently based in Valcartier, Québec as the Officer Commanding of 55 Engineer Support Squadron.
Victoria Edwards: Any lessons learned from Op HESTIA, the disaster relief mission in Haiti?
Maj Claire Bramma: This deployment was the most challenging of my career. While in Haiti, I learned the importance of cooperating with others as well as being able to solve problems quickly. These are two crucial skills that leaders should be good at, whether in humanitarian or combat operations.  During Op HESTIA, I was surrounded by an outstanding group of Sappers and I was impressed by their work ethic and ingenuity.

Victoria Edwards: During National Engineering Month you were a speaker at the Engineering Innovations Forum, which is raising public awareness of engineering innovations and their impact on our quality of life. Any highlights from this conference?
Maj Claire Bramma: During this forum I had the opportunity to share my experience in Haiti, as well as meet professional engineers who were involved in disaster relief in Chile and Pakistan. It reinforced that engineers have the technical and management expertise to relieve human suffering and rebuild sustainable infrastructure for the future.
*http://www.ospe.on.ca/EIF/SPEAKERS_Bramma.html
Our aim at e-Veritas is to conduct one-on-one interviews with all 15 participants (in no particular order) over the next few months of e-Veritas editions.
Class of 1960 4815 Mike Jackson
Class of 1960 H4860 John de Chastelain
Class of 1963 5893 Tom Gee
Class of 1968 H7543 Joe Day
Class of 1971 8725 Fergus McLaughlin
Class of 1971 8788 Geoff Bennett
Class of 1971 8816 Marius Grinius
Class of 1971 8833 John Leggat
Class of 1971 8926 Ray Hook
Class of 1972 9143 Bruce McAlpine
Class of 1983 M0288 Roxanne Rees
Class of 1986 15414 Catherine Paquet-Rivard
Class of 1997 20800 Cindy McAlpine
Class of 2002 22461 Claire Bramma