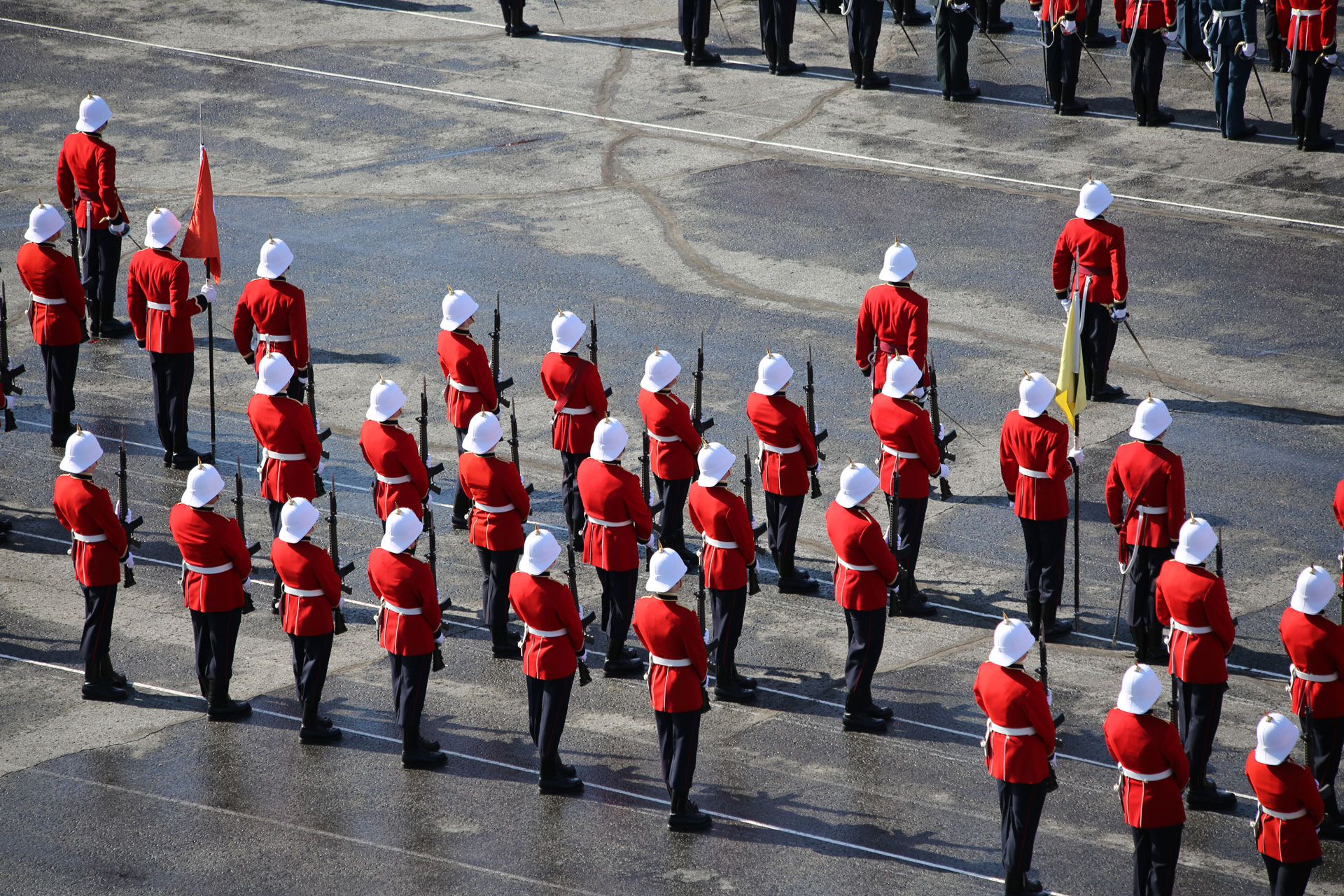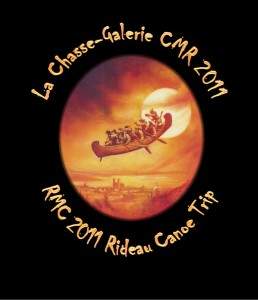 "Logo courtesy of Sleeman/Unibroue"
E3161 Victoria Edwards (RMC 2003) interviewed 8725 Mr Fergus McLaughlin (CMR RMC 1971), one of fifteen Ex-Cadets who will raise money for the Danny McLeod Athletic Endowment Fund by paddling a voyageur canoe from Ottawa to Kingston this September, 2011. You can make a pledge or donation at www.rmcclubfoundation.ca.
Victoria Edwards: This is your second ex-cadet fund-raising canoe trip down the Rideau. What gave you the idea?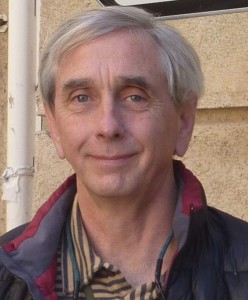 Fergus McLaughlin: Yes. I was a member of the last team that canoed the Rideau in 2006 from Ottawa to Kingston.  My role was of trip photographer. It took me several months to put together a 1.5 hour video diary `La Chasse Galerie 2006`, each paddlers received a copy for Christmas 2006. My favourite parts of the video were musical: H4860 General (Ret'd) John de Chastelain (RMC 1960) played the bagpipes and the son of 8788 Geoff Bennett (RMC 1971) played the violin.
Victoria Edwards: In your videographer role for the fundraiser canoe trip, what is your vision for the video diary?
Fergus McLaughlin: I am preparing to send an email to the paddlers outlining my vision of the video. I envision an hour long video history of the canal covering the construction of the locks back in 1826-1832.  It will also include a brief voice over biography of each paddler as if the paddler is thinking aloud. My equipment consists of two digital cameras, which are capable of video and photographs.
Victoria Edwards: Your brother 6011 Mr Patrick McLaughlin (CMR 1964) is an ex-cadet.
Fergus McLaughlin: Yes and I tried to recruit him for the 2006 canoe trip. Our father, James Robert McLaughlin born in Gananoque and raised in Kingston would have loved to go to RMC. After he returned from service overseas in England, Sicily, Italy, France with the 1st Canadian army tank brigade, he was posted in Halifax. That's where I was born, the third of four children. Needless to say we moved around a lot. My brother Patrick went to military college in the 196Os, he was in the same class as 6097 LGen (Ret'd) Paul Addy (CMR 1964). Patrick retired from Statistics Canada, seven years ago. He keeps busy playing golf. I asked Patrick if he wanted to participate in the 2011 canoe trip. Maybe next time.
Victoria Edwards:  You have previous paddling experience.
Fergus McLaughlin: As a teenager and active member of the Ottawa YMCA Judo club I was interested in their wilderness canoe trips to the Algonquin Park.  I took beginner, intermediate and advanced paddling courses led by YMCA members (Paddle Canada Certified Instructors).  I recall clinics which taught us how to roll a swamped canoe while treading water. Although these lessons learned came in handy over years of evening paddles, day and weekend trips on tributaries and lakes of the Ottawa River system, I doubt the fifteen ex-cadets could flip our flat-water voyageur canoe in the unlikely event we capsize.  My wife, Nadine Delbeke, and I have three canoes at our cottage on McGreggor Lake; we prefer paddling and windsurfing over motor boats. We have four adult children, two are married with children, they all love canoeing.
Victoria Edwards: What did you study at RMC? Outline your career after military college. Any highlights?
Fergus McLaughlin: I completed the third year of civil engineering at RMC. I transferred to Queens, where I actually studied Geological Engineering as opposed to Civil Engineering. I picked up extra credits in Paleontology; at that age, I wanted to do so many things. I had collected minerals as a child and was fascinated by mineralogy and palaeontology. A career highlight with the Museums of Canada involved the design and welding of the metal structure used to assemble the Daspletosaurus dinosaur display, a cousin of the T-Rex, at the Ottawa museum of nature on Metcalfe Street.
Victoria Edwards: I wonder if the tyrannosaur housed in the Canadian Museum of Nature was packed by 89 Lawrence Morris Lambe (RMC 1880-1883) who served as the GSC's vertebrate palaeontologist from 1885-1919. The dinosaur named in his honour is Lambeosaurus lambei. ?p=29554]
Fergus McLaughlin: Actually, C.M. Sternberg removed the plaster-encased Daspletosaurus torosus from a remote location in Alberta where he found it in 1921. It was a thrill to unpack bones that had been packed up carefully by the Sternberg brothers long before. It took us 10 months in 1973, under the supervision of Palaeontologist Dale A. Russell to mount the Daspletosaurus, a genus of tyrannosaurid theropod dinosaur that lived in western North America between 74 and 77 million years ago. Since I was responsible for the structural engineering, I designed a metal frame to support the specimen, which was initially mounted for exhibition in the Museum of Nature in a striding posture.  The posture was altered slightly in 2006 to raise the head and tail for exhibition in the Museum of Nature's Talisman Energy Fossil Gallery. A few bones are replicas since part of the legs were missing from the specimen. The skull is too precious and heavy to put on display so we made a cast and used very light fill for the display. That's probably why the head was raised in 2006 to keep the kids from snapping off the teeth. You can imagine a kid's disappointment when they realize the teeth are actually styrofoam.
Victoria Edwards: You completed fieldwork at the Geological Survey of Canada.

Fergus McLaughlin: In the 1970s I worked at the Geological Survey of Canada for seven years with the late Palaeontologist George W. Jeletzky.  In the Canadian Arctic, we collected and mapped fossil ammonites and other Cephalopods of the mid to upper Cretaceous Age.
Victoria Edwards: While completing sedimentary surveys, your motor boat nearly sank. Any lessons learned?
Fergus McLaughlin: Yes. Have a backup plan. In the late 1970s a system's approach was adopted towards hydrographic surveying, we needed to collect process and analyze large amounts data quickly in a moving boat. The survey system we developed had four sub-systems: positioning, depth-sounding, survey control, data processing and display. Positioning in the dynamic mode was achieved using a MRD-1 Tellurometer system. Two remotes are placed on shore in a configuration for surveying. The master remains in the vessel and monitors the distance to the remotes. These units have accuracy, in the dynamic mode, of one metre over a maximum range of 100 km, assuming reasonable line-of-sight. Water depth was measured by means of a Krupp-Atlas Deso 10 depth sounder accurate to within 5 cm. The survey control is responsible for the data logging and display of position and depth on board the boat, the system was capable of collecting every second under normal operating conditions. The system was housed on a 10 metre, shallow-draft (0.3 m) water jet driven vessel with two Ford in-board engines.
We were surveying Lesser Slave Lake located in central Alberta, Canada, northwest of Edmonton. It is the second largest lake entirely within Alberta boundaries, covering 1160 square km and measuring over 100 km long and 15 km at its widest point. We were generating data for a 3D bathymetric map of the reservoir. The weather was great until 4PM, a dark cloud moved in and within minutes we were blind and in rough water. The boat was crashing into waves spilling water into the forward compartment. The bilge pump could not keep up; we noticed the bow sinking lower and lower. Fortunately we could see our progress every second on the plotter. The 6 km trek to shore was very stressful; we made it to the dock with the bow barely out of water.
Victoria Edwards: You retired from the Ottawa River Regulation Planning Board.
Fergus McLaughlin: I retired in 2008 as the Executive Engineer of the Ottawa River Regulation Planning Board after 24 years as a Regulation Engineer. The Board was established in 1983 by the governments of Canada, Quebec, and Ontario to ensure integrated management of the principal reservoirs of the Ottawa River Basin. The goal of this integrated management is to provide protection against flooding along the Ottawa River and its tributaries, particularly in the Montreal Region, and at the same time maintain the interests of the various users particularly in hydro-electric energy production. Since retiring, I have worked part time (2 days a week) to help with the transition and training of new employees and to make some mathematical models more user-friendly.
Victoria Edwards: Why is it important to you to support RMC`s Athletic Endowment Fund, which was named in honour of S109 Major Danny McLeod?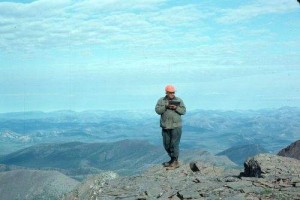 Fergus McLaughlin: I have been an active judoka since the age of 12 when I joined the YMCA.  It has become important for me to support a fund for sport and I will tell you why. Everybody will agree that intellectual excellence is a noble objective, but to also strive for physical excellence is very difficult and impossible if you do not get help. At CMR I had the privilege of holding the position of team captain in 1968-1969. On weekends we would bus to Montreal for a quality lesson at the Hakudokan with Sensei Raymond Damblant, which would keep us busy the rest of the week. I wonder today how that was possible; who paid for these excursions? I hope to give today's cadet the same kind of help. I appreciate the team work and training in judo from my days at the college, since it has allowed me to stay fit all these years. I am a little slower now and I protect my knees and ears. I like them healthy and normal looking, no cauliflower ears if you know what I mean. I am still doing judo at 62 years of age; they call me the old fox at the Jean Bosco club in Gatineau, because of all those sneaky manoeuvres I pull out of my bag of tricks.
Victoria Edwards: You enjoy hiking in the Mountains. Any lessons learned?
Fergus McLaughlin: It's interesting how as a young student I was attracted to engineering, it suits me well. I realize that I am not answering you question just yet, but I will get there. I can spend hours and even days planning the finer details of a renovation or building project before even touching a tool. My wife says I need to get out more and socialize; she knows what she is talking about, she is a psychologist…
Nadine has always taken care of that aspect of our life. That explains why our hiking in far away places is most often in the company of psychologists. Being the only engineer comes in handy for the group during our expeditions and is very uplifting for me. Our hiking expeditions have taken us and three other couples with two guides to 5000 meters in the Aconcagua Mountains. Aconcagua is the highest mountain range on the American continents located in the mid-west of the Republic of Argentina, Province of Mendoza. We reached the top of Franke Mountain on New Year's Day 2009. The mountaineering challenges were not only of extreme altitude; there were also high winds, scree, snow slopes, and penetentes. We were fit and ready to go higher, according to our guides, but we left it for another time. In 2010 the same group travelled to Europe where we completed a twenty-two day hike at 2-3000 meters in Monte Viso, a mountain in the Cottian Alps in Italy close to the French border. We hiked ten hours a day carrying medium packs of tents, food, bedding and clothes. Unlike Aconcagua we didn't need to adjust to the lower oxygen environment found at high altitude and there was no danger of altitude-related illnesses. Monte Viso 3841 m (12,600 ft.), isn't as high as the Aconcagua Mountains 6,959 m (22,834 ft.). We would like the next mountaineering challenge to be Mount Kilimanjaro, Africa's highest mountain in Tanzania. Depending on the route, you can hike all the way to the summit 19,335.6 ft (5,895 m). The accommodation is in huts and tents and the scenery is spectacular.
Victoria Edwards: You are a member of a group training for the Saint-Jacques-de-Compostelle pilgrims' route in Spain and France.
Fergus McLaughlin: With its 1600kms, Le Puy en Velay's Road is the road of a Christian pilgrimage past numerous holy places (churches, sanctuaries). Pilgrims have been taking the route since the 10th century. The group I train with meets in the summer in Jacques Cartier Park in Gatineau. We start walking flat paths of 8 km along the canal and build to 20 km and more up into the Gatineau hills.
Our aim at e-Veritas is to conduct one-on-one interviews with all 15 participants (in no particular order) over the next few months of e-Veritas editions.
Class of 1960 4815 Mike Jackson
Class of 1960 H4860 John de Chastelain
Class of 1963 5893 Tom Gee
Class of 1971 8725 Fergus McLaughlin
Class of 1971 8788 Geoff Bennett
Class of 1971 8816 Marius Grinius
Class of 1971 8833 John Leggat
Class of 1971 8926 Ray Hook
Class of 1972 9143 Bruce McAlpine
Class of 1983 M0288 Roxanne Rees
Class of 1986 15414 Catherine Paquet-Rivard
Class of 1997 20800 Cindy McAlpine