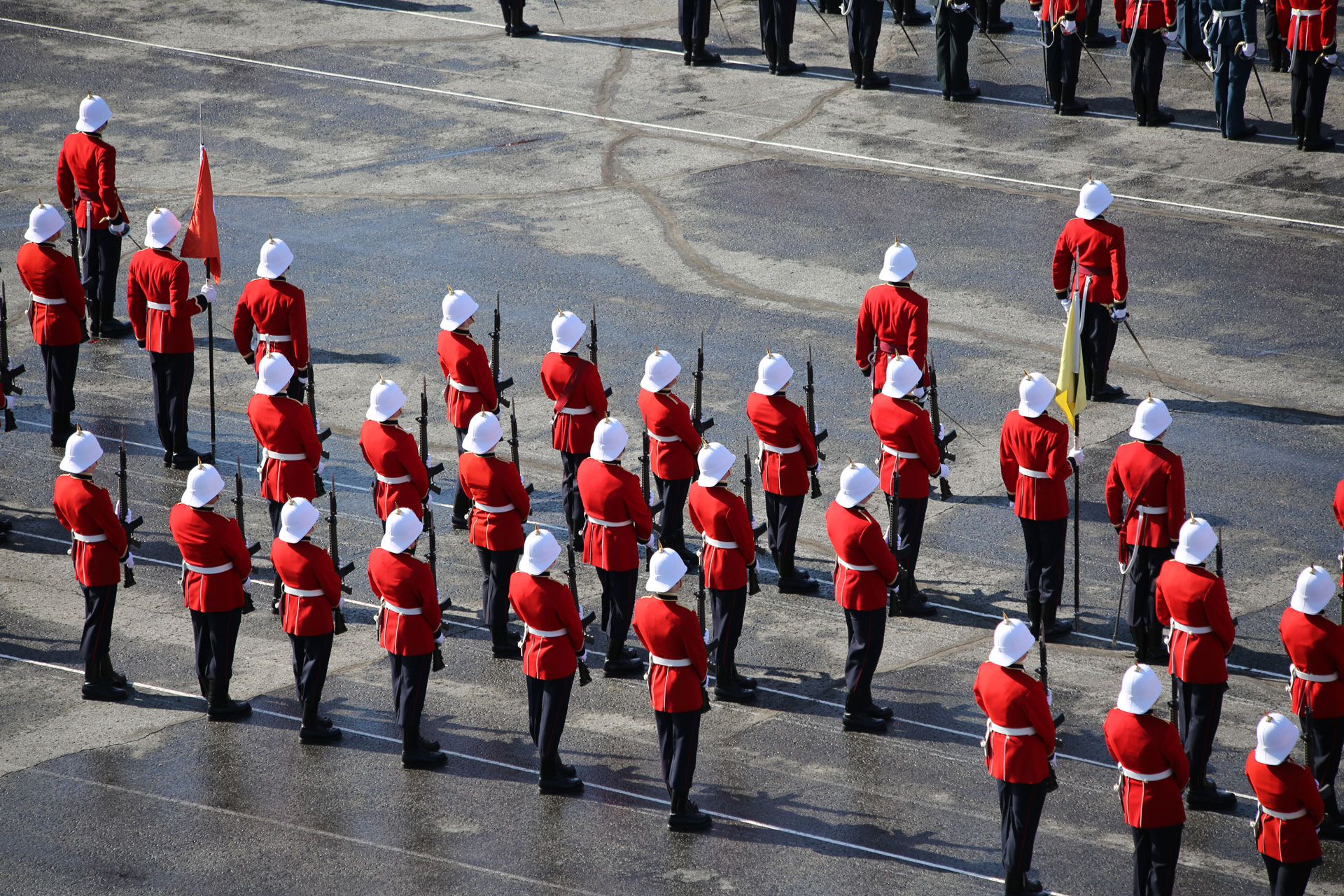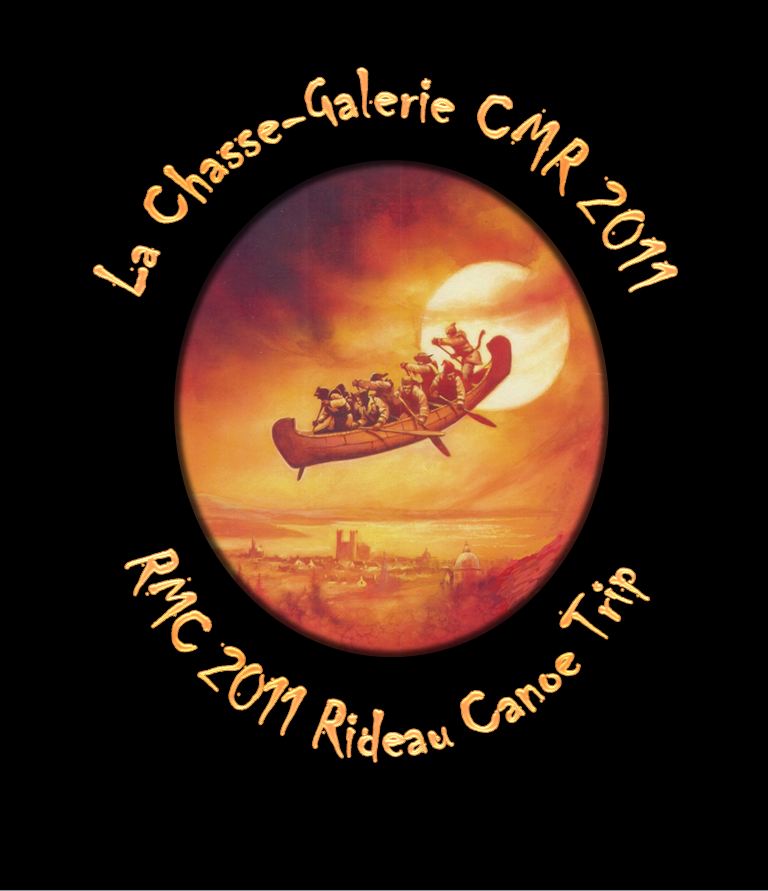 This September, fifteen Ex-Cadets will raise money for the Danny McLeod Athletic Endowment Fund by paddling a voyageur canoe from Ottawa to Kingston. You can make a pledge or donation at www.rmcclubfoundation.ca. In a few days the website will feature more about the adventure, including photos of the crew. Over the next few months Bill Oliver a.k.a. WJO of e-Veritas and his volunteer staff will be interviewing each paddler, beginning with the bourgeois, 8788 Geoff Bennett. You may remember reading an article about Geoff in e-Veritas 6 Dec 2009.
WJO: This will be your fourth fund-raising canoe trip down the Rideau. What gave you the idea?
GB: I grew up in canoes. When I was a young teenager, I paddled the Rideau several times. I remember landing behind the Stone Frigate once and meeting the formidable Chief Pitt. A few years later he taught me how to fling my quivering body over the high box. After grad in '71, John Leggat and I celebrated by paddling from Algonquin to Ottawa along the Madawaska. But for many years I lived and worked outside Canada. RMC was very far away. After we moved back to Victoria in 1999 I began to feel nostalgic. I'd lost my father, 2435 Bob Bennett, a few years earlier. He'd been the Old Brigade Adjutant and was a great booster of the college, so I thought I'd pay my respects by attending an Ex-Cadet Weekend. However, I wanted an adventure. Instead of driving to RMC, I decided to paddle a small canoe from Ottawa to Kingston. My eldest son Richard joined me as far as Smiths Falls, and then I soloed the rest of the way. I was already thinking of the future because I recce'd all the inns and pubs on the canal. In Merrickville I stopped to admire a 34' canoe on the beach. A year later, in 2000, fifteen of us paddled that same canoe in the inaugural Chasse-Galerie.
WJO:  Tell us a bit about La Chasse-Galerie.
GB: It translates loosely as "the witch canoe." It's a very old and cool French-Canadian legend about a bunch of lumbermen who make a deal with the devil. He flies them in a canoe on New Year's Eve to see their loved ones on the Saint Lawrence. It all goes terribly wrong for one of them but the rest survive. I was in a beer store one day, as sometimes happens, and a flying canoe caught my eye. It was a superb piece of artwork on a six-pack of Maudite. So I wrote the Unibroue people and got permission to use it. Sleeman continues to support us – in many ways!
WJO: Is that why you call yourselves "les maudites?"
GB: Yes! It sounds rude, but it's good fun, and it goes with the legend.
WJO: What about the sports angle?
GB: Well, paddling a voyageur canoe down the Rideau is an adventure in itself but we needed a worthy objective. In 2000 my classmates were debating what sort of legacy to leave the college. The discussion went round and round but eventually we settled on athletics. The academic and military "pillars" quite rightly get a lot of support, but the varsity sports program needs more funding than the government is willing to provide. And obviously, sports are important in the training of young officers. I proposed that we use the canoe trip to motivate people to donate money. Not just the Class of '71 – but the whole RMC/CMR/Royal Roads family. It's important to me that we include everyone.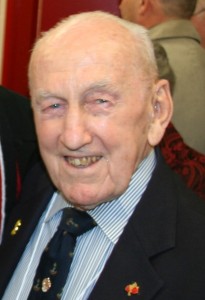 WJO: When did Major Danny McLeod enter the picture?
GB: The "Maj," of course, has been one of the more well-known and colourful personalities at the College for decades. In 2005 Ray Hook, our class secretary, suggested that we name an Athletic Endowment Fund in his honour. I thought it was a great idea. It was challenging too – endowments are what make universities great, but only if you can raise enough money. Danny gave us permission to use his name, the Foundation signed an agreement… and off we went.
WJO: How much money have you raised over the years?
GB: Thanks to the generosity of Ex-Cadets and their families – more than $200,000 so far – mainly from canoe trips in 2000, 2001 and 2006. The fund is designed to disburse money every year to varsity sports at both colleges. I believe it's the only fund that supports the entire range of athletics at RMC. I'd like to get the capital up to half a million before I fall overboard. And before that happens I hope to pass the paddle to one of the younger classes.
WJO: Who pays for the canoe trip?
GB: The paddlers pay all the costs. Plus we buy seats at the Legacy Dinner and many of us donate additional money to the Foundation. We also make a substantial donation to Friends of the Rideau in Merrickville.
WJO: Back to the trip itself… give us a feeling for a typical day on the water.
GB: No portages, no pemmican! We've all learned to survive in the wilderness but this is a five-star trip. OK, that's a bit of an exaggeration. But it's more comfortable than, say, the Nahanni. We get up early and breakfast together in a restaurant, or more often in homes and lodges. On the water by 8 or 9. John de Chastelain stands in the stern and plays the pipes – to warn the lockmaster and to boost morale. This will be his second trip. It's a memorable scene, especially for the guy sitting beside him!

We take turns steering the canoe – this year with a west coast paddle carved in a military motif by Kwagiulth artist Jason Hunt.
The pace is fairly relaxed, with a coffee break mid-morning, lunch at a lock station and a rum break on the water mid-afternoon. We sing a bit, especially after the rum, but mostly we just chat to each other and enjoy the fall scenery…. unless the wind is blowing hard in our faces, which it often does. Maybe it rains a bit too. The big lakes can whip up a storm and sometimes we have to be brave. But then we get to rest and dry out at the best accommodation along the canal. Happy Hour can be a bit hilarious, especially when we practice our paddle drill. Then a fine dinner together and early to bed.
WJO: Sounds great. What's your best memory of the three trips?
GB: I think we'd all agree that the best moment is the salute by the Arch. The anticipation builds up each day as we get closer and closer. Then finally we see the Arch looming above us and a long line of cadets on the shore. My uncle's name is on the Arch – he was only 22. The pipers reply to each other across the water and everybody's cheering. You get a lump in your throat. But that's just one moment. For me the best part is the camaraderie. We're a mix of young and "young at heart", classes and colleges, men and women, French and English, but we all come together. The canoe is a potent Canadian symbol too, connecting the First Nations from coast to coast, the history of Canada and its founding peoples. And then you have the Rideau as your constant companion – a wonder of military engineering, a UNESCO World Heritage Site, and so beautiful in the fall.
WJO: One last question… In your other life, are you still working in Singapore – hunting for "buried treasure?"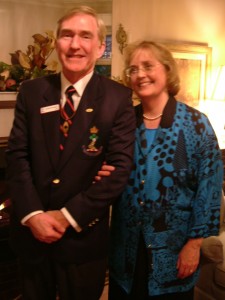 GB: Absolutely! OK, some people might call it oil and gas exploration but where's the romance in that? Wendy holds the fort in Victoria for one or two months while I fly off to Asian seas and jungles. I've been working with a few good friends in a Singapore office for the last eight years. I love it. It's just another adventure.
Our aim at e-Veritas is to conduct one-on-one interviews over the next 14 e-Veritas editions with each of the other team members:
Class of 1960 4815 Mike Jackson
Class of 1960 H4860 John de Chastelain
Class of 1963 5893 Tom Gee
Class of 1968 H7543 Joe Day
Class of 1971 8684 Peter Holt
Class of 1971 8725 Fergus McLaughlin
Class of 1971 8788 Geoff Bennett
Class of 1971 8816 Marius Grinius
Class of 1971 8833 John Leggat
Class of 1971 8926 Ray Hook
Class of 1972 9143 Bruce McAlpine
Class of 1983 M0288 Roxanne Rees
Class of 1986 15414 Catherine Paquet-Rivard
Class of 1997 20800 Cindy McAlpine
Class of 2002 22461 Claire Bramma