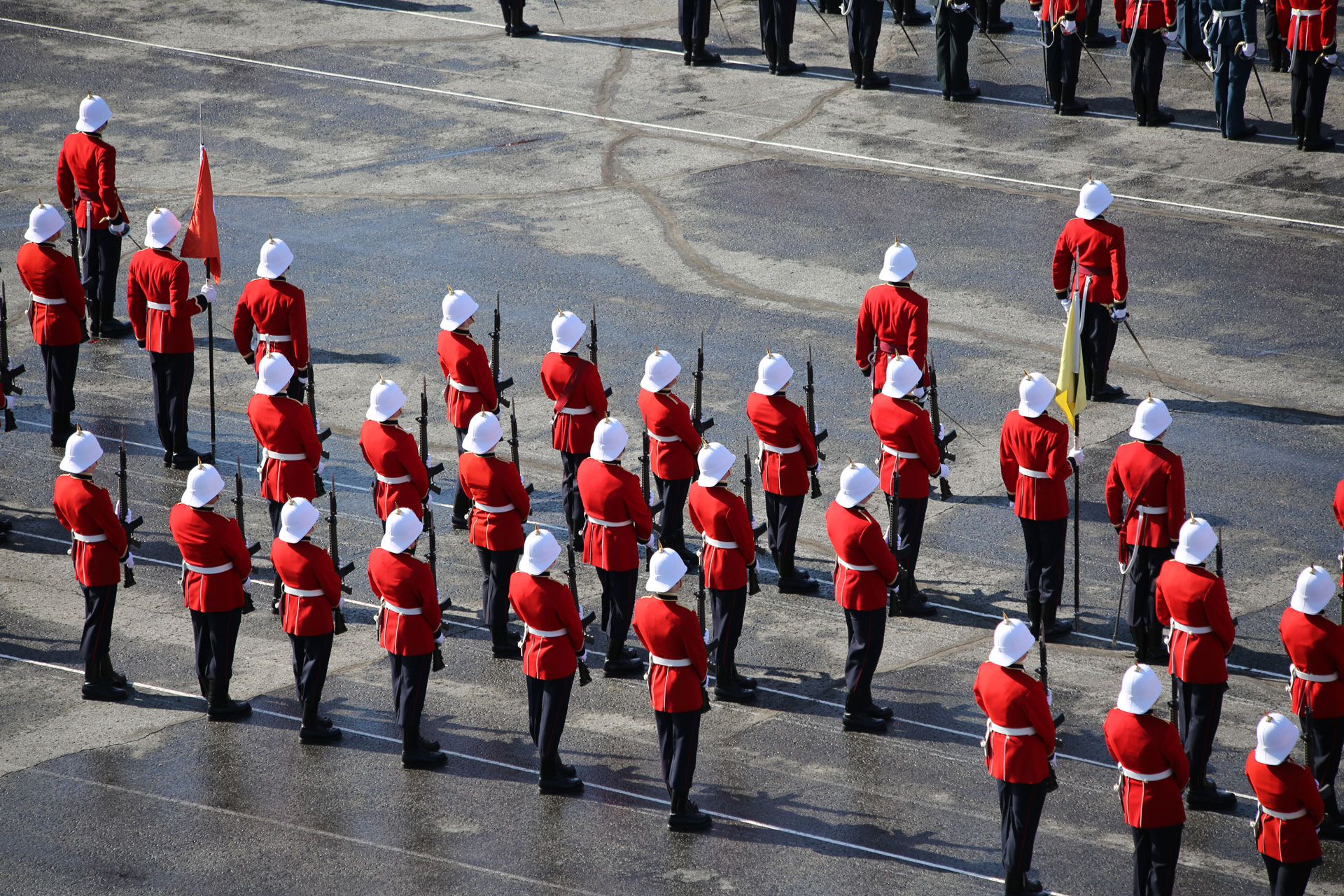 The annual RMC/West Point exchange weekend was a complete success. The RMC contingent, including the Commandant, RSM, Principal and CWC, traveled to West Point to support the RMC teams along with the Pipes/Drums and Highland Dancers.
Once again the cadets from RMC and West Point enjoyed an incredible experience while getting to know each other and learning about each others College/Academy. The relationship between RMC and West Point is strong and continues to grow.
Of note was the strong commitment made throughout the weekend by the senior leadership from both institutions to see the annual RMC/West Point Hockey Game renewed in 2012. The coaches are now working with their respective leagues to find a date with the first game likely to take place at West Point.
_____________________
Trip to West Point with I-81 Exchange
Article: -Derek L. Vanstone
Our trip to West Point started a week prior with an address from the Director of Cadets. She asked us what the commander's intent was for the weekend. There were different answers but the main idea was that we were to go to the United States Military Academy (USMA) to participate in a tradition that had been running for 88 years and conduct ourselves in a way that will create positive relations between the two schools. This was not a difficult task to accomplish.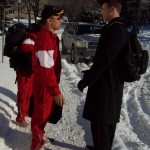 The following Thursday we got on the bus at 1000h to go West Point. The time on the bus was passed by watching movies, chatting, reading books, doing homework, and sleeping. When we arrived at the USMA we were greeted by our hosts, and made our way to our rooms which would be our quarters for the rest of the weekend. We were not necessarily paired with people in our year. Some of the fourth years were even paired with first years which are called pleebs. The second years are called yuks, third years are cows and fourth years are firsties. The fourth years are called firsties because they are first class. The third years are second class, second years third class and pleebs are fourth class. I realized very quickly that I would have to adapt to calling all the different students by one of the many names they have. There are three sets of names which to me seemed excessive; fourth class to first class, freshman to senior, and pleeb to firstie.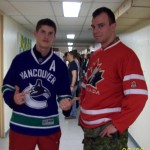 My host was a yuk from Indiana. He and his roommate made sure that I felt at home. While some of the other RMC students were not even sure where they would be sleeping that night, I was lucky enough to have a room with an extra bed which meant I would not be sleeping on a cot. Since every Thursday night at West Point is a "spirit dinner" anyone who had a sports jersey, particularly for hockey, was obliged to wear it.
When we got to the cadet dining hall, I found out that it was about 5 or six times the size of ours at RMC. It had stain glass windows, a huge mural, and many flags hanging from poles on the wall. In the dining hall, I was surprised when I saw cadets wearing hats, but apparently as long as it had to do with the spirit dinner, it was ok. I even saw Green Bay Packers fans with "cheese heads" to get psyched up for the upcoming Super Bowl.
We all stood and let the chaplain say a prayer for the food, then all sat down together. Our food was brought to us by servers and all the condiments and drinks were already at our tables. When we were finished the servers took the food and dishes away as well. Everyone seemed eager to eat quickly and leave. The firsties were eager to go to their "post night." Unlike at RMC, these cadets were going to pick their first posting that night. They got to choose their posting in order of their ranking within their branch. It was very exciting for all the cadets. Some cadets even got postings in Italy, Germany, and Hawaii.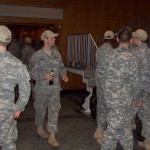 Following the post night, all the firsties ended up at the firstie club, which is exclusive for firsties except on weekends. At RMC we have Bill and Alphies which is our drinking mess and all years are allowed in but at West Point they have the cow club and the firstie club. I'm not sure that they pay mess dues, but it seems to me that their mess does not give as much opportunity for unit cohesion as ours at RMC. Similar to our mess, theirs has pretty cheap drinks. A pitcher of beer could be purchased for as cheap as eight dollars.
xxxxx
The next day everyone had a form-up at 0630h and then ate breakfast. That is how every weekday starts. My host was going to be in statistics and probability class and doing a physics lab. I am an artsman so I felt it would be easier for me to compare classes if I went to some that were more similar to the ones that I take at RMC.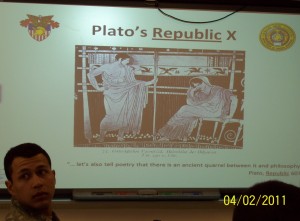 My host was able to set me up with one of his friends who was going to a politics class in first period. The topic was critiquing Plato's Republic. I unfortunately had not read the text but the class was still interesting. It was much different from the political philosophy classes that I had taken in second year. Mine were more lecture classes and this was more of a discussion class, although the professor did most of the talking. From that class I met a firstie named Kayla who was able to take me to two of her classes which were "Military Leadership Psychology" and a politics class called "Winning the Peace."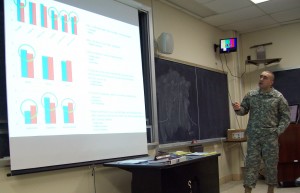 In the psychology class, the students had beforehand taken a survey which determined their leadership abilities, style, and method of learning. The results showed their results next to the class average. It measured things like courage, integrity, ability, desire, and if their learning method preferred was instruction, experience or role modelling. The class seemed a lot like the "Organizational Behaviour" psychology class that is mandatory for all students at RMC.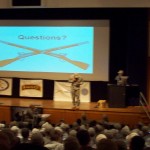 The "Winning the Peace" class was very interesting and eye-opening. I realized that the American military is not as dissimilar to the CF as I thought. The fact that they are a super power and Canada is a middle power does obviously create huge differences, but the topic of the seminar was military and media relations. Considering I am the Cadet Wing Public Information Officer, this was right up my alley. What I realized is that the Americans military views the media basically the same as we do in Canada. The seminar was led by Col. Jacobs retired who had been an officer in the Vietnam War and had continued in his career to eventually become a military advisor. He was an excellent speaker and made a good point that the media does not pay as much attention to the military today because the missions do not affect people directly. There is no draft, but a volunteer army, just like us in Canada. The media will make an assumption about what the mission and carry on because they do not feel it matters either way. Col. Jacobs also pointed out that it is hard for media not to be bias. Even if they are embedded and being shot at, they create a new bias which will create a different image of the enemy in their mind. He said, "Reality is what they see – it's not what is." The most important thing I took away from the seminar was that, as officers, it does not matter what you say to the media, what you tell them is the plan, or why you will succeed; in the end it is all about what you do. If you do not accomplish the ends, it does not matter what you said you would do.
After class we all formed up and then went to lunch. This way everyone eats at the same time so it is good that all the food is brought to the tables otherwise if it was cafeteria style, the line for food would be a couple miles long. I really prefer our style of lunch and meals in general at RMC because we have more than 20 minutes between classes and we get to choose what we want to eat. We have a chance to relax and socialize. At West Point, they sit at the same table for every meal, and there are about two or three students from each year at each table.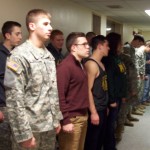 For the afternoon I did not have any more classes to go to so I went to their six level library and did homework which I had brought along. From what I heard from other students classes ranged from calculus to boxing, to languages like Russian, Mandarin, Portuguese and several others. Apparently in the boxing classes students get pretty intense. They even draw blood.
For supper we had the opening ceremonies for the weekend and all the RMC cadets, hosts, and staff helping with the weekend attended. We exchanged pins with our hosts, the CWC the and West Point equivalent exchanged plaques, and the commandants exchanged gifts as well as made speeches.
Afterwards I was once again invited to the firstie club but when I got there I found out that an author and his manager were promoting his book called "How to Fail: The Self-Hurt Guide." It is satirical humour poking fun at all the self-help books that are so prevalent in books stores. After talking with them for a couple hours, they enjoyed my company so much that they decided they want to do a Canadian Tour and possibly even come visit RMC. I do not know how that will work out, but I would be interested to see if the book catches on in the Great White North.
The next day was very full as all the clubs were doing workshops and competing. We started at 0900h with the Tae Kwon Do competition. There were some really good bouts and the RMC team won three fights out of four. Next we went and watched some of the Judo workshop. It was a combination of their coach explaining technique and pairs practicing the techniques. After Judo we watched the RMC water polo club face off against the West Point Water Polo club. The thing about the West Point club is, they used to be a varsity team, and even though their status was revoked, they are still able to recruit the same as other varsity teams. That said, it was not entirely surprising that West Point won 17-4. They showed a lot of coordination, hustle, and speed. I think that the RMC team has a lot to learn from the West Point team. After lunch we went and watched the show round between the RMC and West Point debate teams. The RMC team was the government and West Point was the opposition. The government proposed that a capitalist economy was not possible without a democratic government. It was an excellent, and although at the end of the debate I was sure the government had won, the opposition came out on top.
Next were the closing ceremonies. There was a demonstration done by the pipes and drums of RMC and West Point, and the highland dancers from RMC. There were coins given by the commandants to the captains of all the teams and speeches made by the commandants. After that, we were free to do whatever we wanted as long as we were formed up at 0900 the next day.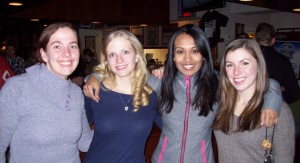 Overall the weekend went very well and there were not too many snags. I feel like I learned a lot about the American culture and I hope that the American students who had the privilege of spending the weekend at RMC did too. I agree with what the DCadets had said to us at our first briefing when she said that it is important to keep good relations with our neighbours to the south. They are our allies and we will be working with them for years to come. I'm glad that we are given this opportunity to experience the viewpoint of the Americans and for them to see ours.