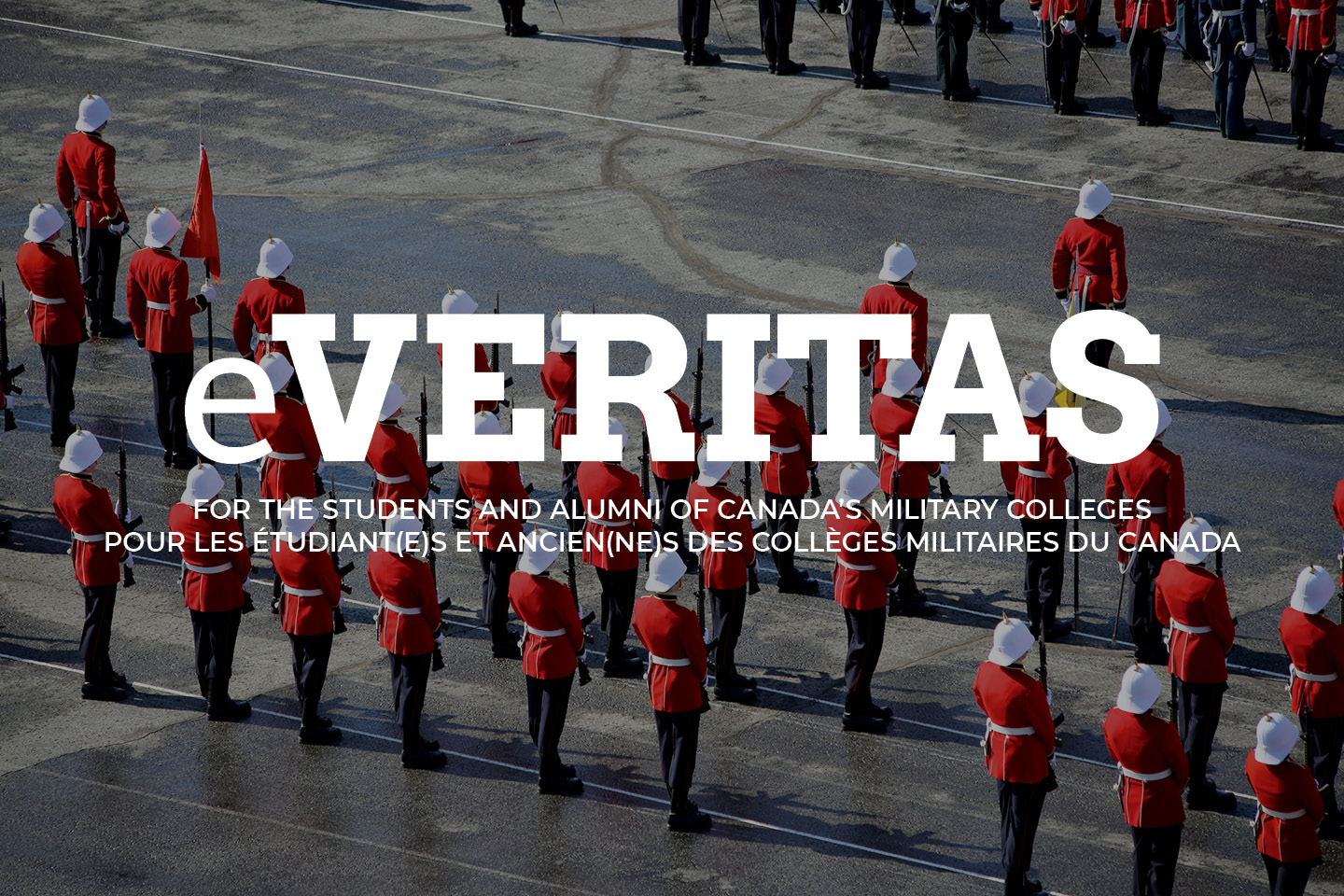 Legacy Dinner Straight From Outer Space
By: WJO
We were around Panet House some years ago when the idea of a Legacy Dinner came up. My recollection is that then Executive Director of both the Club and Foundation, 5851 Barry Winfield deserves the credit and recognition for getting it all started. In those first few years, like for most events there were a lot of growing pains associated with pulling it off.  Different venues were used including having the main dinner downstairs in the Cadet Dining Hall. Some years ago because of a public service strike which involved workers at RMC, it was moved to the Jr. Ranks Mess at CFB Kingston.
An annual challenge  was to come up with an appropriate theme. Most of the college "pillars" were used: academic, military leadership, athletics (I don't recall a second language theme but it may have happened). In 2003, we honoured our hockey past – 330 people bought a ticket.
Stealing a title from the 1978 country music top seller by Loretta Lynn – We've Come a Long Way Baby!
The 16th Annual Legacy Dinner had an added element this year as it incorporated the Air Commodore Leonard Birchall Leadership Award.  The last time this happened was in 2010 when Christopher Alexander was the recipient.
Well over 200 people attended including Ex Cadets, cadets, military and civilian members of the college staff. Michael Boire, Professor, Lecturer from the RMCC Arts Division was Master of Ceremony for the evening.
A special guest for the very impressive organized event was 13738 Colonel (ret) Chris Hadfield who requires no words of introduction in this article.
Among the 62 OCdts in attendance were two exchange Cadets, one each from Annapolis and the United States Air Force Academy, Cadet First Class Nolan A Baderfrom (USAFA) who happens to be pursuing a Degree in Astronautical Engineering had an opportunity to spend some one-on-one time with the living Canadian icon.
Three groups presented cheques during the reception:
7812 Reg Shortt representing the Class of '68 on their entry into the Old Brigade  for $74,000.00;
4595 Jarrott Holtzhauer representing the RMC Club of Canada (Ottawa Branch) for $14,000.00;
7278 Peter Fosbery President of the RMC Club of Canada (Toronto Branch)  for$10,000.00; and
4610 Gus Nelson made a presentation of a Kilt Pin to the RMC Piper 26228 OCdt John Attwells to commemorate the 60th Anniversary of the RMCC Pipes & Drums.
As previously mentioned, Guest of Honour for the evening was 13738 Chris Hadfield.
Classmate 13766 Konrad Mech gave a stirring introduction which covered all the bases from their time together at Royal Roads Military College entering in 1978; including their time at Royal Military College where they both graduated in 1982.
Following is an excerpt from the introduction:
Why is he here at RMC, with YOU, when he is in such high demand and actually gets paid when he speaks to other audiences?
Chris is here for three reasons, and they are the same reasons for every single person in this room. Chris is here for his classmates, for the College, and for you. To explain this further, I'm going to refer to The Wall on the Recruit Obstacle Course as a metaphor.
Every person here has faced The Wall. 12 feet high. Impossible to pass unassisted. The point to surmounting The Wall is teamwork. But there is more to the wall than just getting yourself over the top. 4 years ago we watched our son Anders with Hunter Flight, 12 Squadron, as the rest of his flight stood on his cupped hands, his shoulders, on his head, and booted him in the face as they kicked and scrambled up that wall. That's the deal when you're 2 metres tall. And then, after he helped them up, they got him up. It was beautiful to see, and the first time in 12 Squadron's history that Hunter Flight cleared that wall.
The take-away from The Wall as you graduate from The Royal Military College of Canada is this. When you step off into your careers, you are standing on the ground as freshly commissioned 2nd Lieutenants, looking up at The Wall that is your professional and personal future. Succeeding professionally and personally is really tough. You must realize, that as you aspire to climb – to succeed – you NEED a lot of support. You have your buddies for support. But you will also have people above you, already on that Wall, who will turn around and reach down to give you a hand and haul you up. They are here tonight. These are your mentors, and your supporters. They are supporting this Legacy Dinner, lending their professional expertise, their moral support, and their hard-earned personal cash – for you. We're all here because we share that deep, common bond. We've been over that wall and we did it together.
Chris comes back here again and again because he knows that each human is a product of both nature and nurture. While he is truly gifted by nature, this institution nurtured him, thereby giving him a huge leg-up. One specific example is after graduation, when Dr. Moffatt from Mechanical Engineering wangled Chris post-graduate work via an NSERC scholarship in Low Pressure Fluid Flow at the University of Waterloo before Chris started his Phase 4 Pilot training. That just doesn't happen elsewhere. So Chris gives back to RMC in a huge way.
Your challenge is this. As you climb up your life wall, remember your classmates who helped you. Thank those who reached down to help you. And remember when you're on top of that wall, it's your turn to reach down and haul up not one, not two, but as many people as you can before you move on. (turn to Chris). Like this man here. Aspire to be like him. Chris is an amazing example to us all.
My last observation to share about Chris is that he has every right to be boastful of his achievements. But he is not vain and boastful. Nothing could be further from the truth. Last week my wife Kim was at a conference at the Banff Springs Hotel for Celero, and Chris was the guest speaker. When he saw Kim, he gave her a big hug. Later one of Kim's work colleagues said "Chris seems like a really nice guy. Is he always like that?" And Kim replied; Absolutely.
Incoming Foundation President 6604 Jim Carruthers called up an unsuspecting outgoing President 9660 Cameron Diggon for a surprise presentation which was widely applauded by all in attendance.
10080 Bob Booth spoke eloquently and concisely on the history and purpose of the Air Commodore Leonard Birchall Leadership Award. Cameron Diggon followed with the introduction of the 2013 recipient – H7543  Senator Joe Day
This writer caught up with the Senator (Saint John-Kennebecasis) shortly following the presentation. "I am extremely humbled and proud to have been recognized by my peers for the Birchall Award for Leadership."
The 68 year old native of Hampton, NB added. "One of the greatest opportunities of my life was to have attended RMC and the attributes of leadership that I may have acquired come from my years as a cadet."
Senator Day entered military college at CMR and graduated from RMC in 1968, "It is particularly gratifying to receive this award named after Air Commodore Birchall who was Commandant when I was here at the college." A/C Birchall was Commandant at RMC from 1963-67.
The evening was a winner all round. Barry Winfield who was in attendance celebrating his 50 years since graduation deserves to be proud on how far the Legacy Dinner has progressed since those early years.
A tip of the hat to all involved in 2013.
 The Legacy Dinner
By 26173 OCdt Emily Morgan, IV Year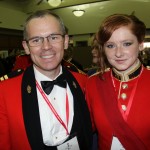 Thanks to the wonderful generosity of 15946 Jill Carleton, class of 1987, I was able to attend the 16th Annual Legacy Dinner & Birchall Leadership Awards Gala. Held on the eve of the obstacle course, the dinner brought together a cross section of ex-cadets: those entering the old brigade, those celebrating their reunion, and other ex-cadets who wanted to be a part of this great event. However the evening was not restricted to those who attended RMC before us. A large number of current cadets were also able to attend this special evening, and there were even a number of fortunate cadets, myself among them, who attended the dinner in the company of a parent who too was an ex-cadet.
It was a unique opportunity to spend time with those who marched the parade square before us, to share stories and to be on the receiving end of their wise counsel. It was fascinating to see the myriad of journeys that each of them took upon their respective graduations, as no two were alike. However despite the different paths that each of them followed the one constant that binds them all together and which brought each of them here this evening was the time they spent at RMC, CMR or RRMC. It continues to shape their lives, to fill their memories, and it is a bond that only a few Canadians are lucky enough to share.
The guest of honour was 13738 Colonel Chris Hadfield, class of 1982. After posing for endless photographs with cadets both old and new, he spoke about his time at RMC and about his life afterwards. Probably the most famous graduate of RMC, at least in the eyes of Canadians today, he encouraged all of us to strive to learn something new each and every day. He said that instead of waiting to fill our bucket lists later in life we need to live each day to its fullest as none of us know how much time we have. He spoke about the unique opportunities open to us because we are attending RMC and how much the college experience will shape our lives as we move forward into the future.
Any cadet that is able to attend one of these dinners in the future will indeed be fortunate. The opportunity to mix with those who attended RMC before us was inspirational. I look forward to the day in the future when I too can sponsor a cadet to attend one of these dinners.