Prix d'excellence en enseignement de la Promotion de 1965 pour 2018-19: Extension
On invite les étudiant(e)s (des premier, deuxième et/ou troisième cycles),  les professeurs et les ancien(ne)s étudiant(e)s à poser la candidature, pour l'année scolaire 2018-19, d'un(e) enseignant(e) pour le Prix d'excellence en enseignement de la Promotion de 1965.
Le prix a pour but de reconnaître l'excellence en enseignement et d'en promouvoir la qualité dans tout le collège.  L'enseignement  est à prendre dans son sens le plus large et inclut tout ce qu'un enseignant fait pour promouvoir l'apprentissage des étudiants. Les membres du corps professoral (temps plein, temps partiel, contractuels), militaire et civil, sont éligibles.
On peut poser une candidature par une lettre qui décrit et justifie cette candidature.  La lettre doit être soumise au signataire avant 17 h, le vendredi 22 mars 2019 et peut être envoyée soit par le courrier ou par courriel (à [email protected] avec la lettre, signée, en format PDF). Elle doit être signée et appuyée par au moins cinq membres du groupe susmentionné.
On encourage les personnes qui posent une candidature à soumettre également tout document qui appuie la candidature. Une personne ne peut poser qu'une seule candidature par année et ne peut pas poser sa propre candidature.
*************************************************************************
Class of 1965 Teaching Excellence Award for 2018-19: DEADLINE EXTENSION
Nominations are invited from students (undergraduate and graduate), academic faculty and alumni for the Class of 1965 Teaching Excellence Award for the 2018-19 academic year.
The purpose of the Award is to recognize excellence in teaching and to promote good teaching throughout the College. Teaching is to be interpreted in its broadest sense to include everything done by an instructor that intentionally promotes student learning.  Academic faculty members (full-time, part-time, sessional instructors), military and civilian are eligible.
A nomination is made by letter describing and justifying the reasons for the nomination.  It must be submitted to the undersigned before 1700, Friday, 22 March 2019, either by post or by email (to [email protected] with the signed letter as a PDF attachment). A nomination must be signed and supported by a minimum of five members from any of the above groups.
Nominators are strongly encouraged to submit supporting material with the nomination. A person can sign or support only one letter of nomination each year. Self-nomination will not be entertained.
***
Kingston Canadian Film Festival proudly supported by the Class of 1966
Article by 27980 OCdt Zhi Jian Xu Lu
The Kingston Canadian Film Festival, supported by the Class of 1966 Educational Travel Endowment, is the largest in the world dedicated to Canadian film. The festival once again showcased important independent films that brought attention to pressing social, cultural, and political concerns. The event as a whole provides its audiences with multiple perspectives and introduces Cadets to both emerging and established voices in the Canadian film industry. The students experienced multiple genres, including documentaries, psychological thrillers, comedies, and dramas.
Attendance at this event helps students to develop cultural intelligence. Students will critically interrogate creative forms of art as expressed through such visual media as movies, documentaries, exposes, shorts, and advertising. They will also gain an intellectual and artistic appreciation for visual storytelling. The films expose students to diverse perspectives on a range of themes significant to their generation and to the Canadian and global imagination.
My time at the Kingston Canadian Film Festival has exposed me to some truly great Canadian directors, producers, editors, and even fantastic Canadian stories I had never heard of before. My favorite film was "The Grizzlies", a film based on a true story about an Inuit lacrosse team. I went into the movie expecting just another cliché sports movie, but instead encountered a film filled with drama, excitement, and lots of personality, that also served to open my eyes to a wide range of issues facing the Inuit people today. The Kingston Canadian Film Festival was a great experience, and I wish to thank the RMC Foundation for enabling me to attend.
– 28180 OCdt John Marsland
***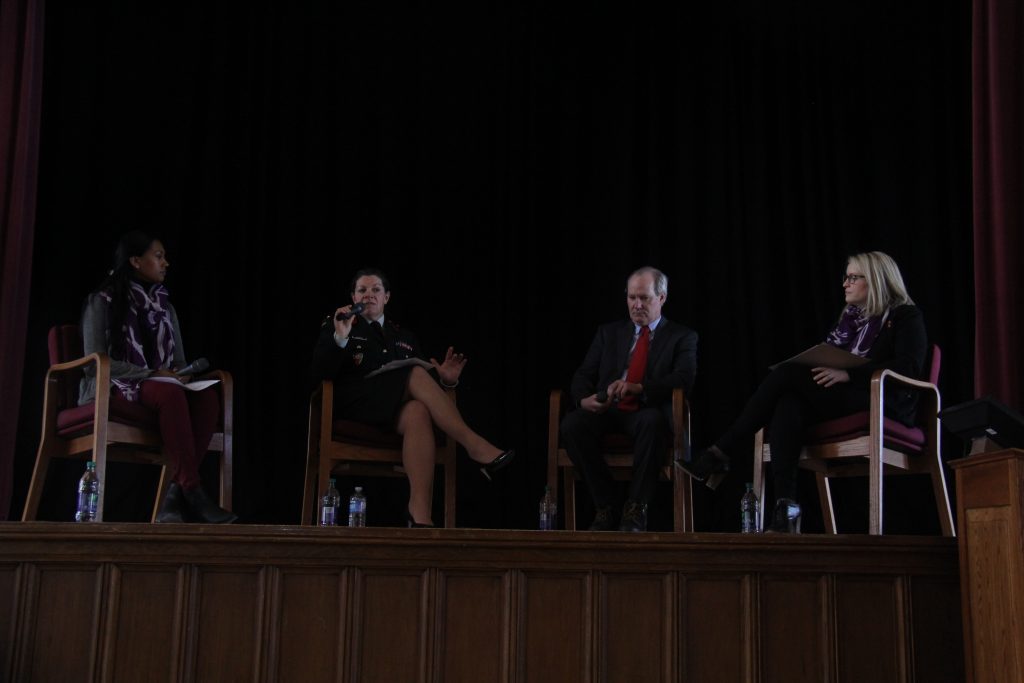 Above: 19350 Col Carla Harding responds to a question during the "Women and Innovation" Panel on International Women's Day at RMC.
Commandant's Statement on International Women's Day 2019 @ RMC
Bgén Sébastien Bouchard
Commandant, Royal Military College of Canada / Commandant, Collège militaire royal du Canada
Dear College Team,
Today is International Women's Day (IWD) and I encourage you to embrace this global celebration of the social, economic, cultural and political achievements of women.
The worldwide theme of IWD this year is #BalanceforBetter, encouraging everyone to help build a gender-balanced world. Complementary to this, the Government of Canada's theme is #InnovateForChange, encouraging Canadians to recognize women's achievements and acknowledge the challenges they continue to face in the quest for gender equality. What perfect themes and reminders for all of us who serve Canada and are expected to live by and defend such an ideal at home and on deployments worldwide. As noted on the International Women's Day website, gender balance drives a better working world — better the balance, better the world.
We are fortunate at RMC to be part of an organization that respects all our members and appreciates the value and strength gender balance brings to the Defence Team. We have more than 900 women from myriad backgrounds working on the RMC campus, including civilian employees, academics, contractors, military staff, post graduate students, and 226 lady officer cadets currently studying at RMC (20 per cent of the student population). These individuals play a vital role in helping ensure our officer cadets have role models, and we all have avenues to further develop and nurture gender, cultural and emotional intelligence.
Since women officer cadets first joined the Cadet Wing in 1980 we have been better and stronger for their presence. RMC, like the CAF and all of Canadian society has evolved in the past 40 years in terms of culture, respect and rightful intolerance for all forms of HISB, but we must not be complacent about continuing to learn from the struggles of the women who have done so much for RMC, the CAF, Canada and the world.
Do not let International Women's Day pass without taking time if possible to participate in a local International Women's Day event. On campus, I would like to highlight the International Women's Day Social in the RMC Cadet Mess tonight at 1900 hrs. This event, initiated by a group of our lady officer cadets, will provide the opportunity for them to socialize with women commissioned officers to share experiences, and start establishing relationships for mentoring and coaching in the future. Likewise we have also invited three women officers with command experience to speak at one of our professional development sessions tomorrow.
These are just a few of the ways you can participate in this important day, but the key today and always is to acknowledge the struggles and celebrate of the achievements of women worldwide and locally – military as well as civilian.  Always consider what you can do to help build a gender-balanced world. #BalanceforBetter #InnovateForChange.
Chère Équipe du Collège,
Aujourd'hui, 8 mars, Journée internationale des femmes (JIF), je vous encourage à prendre une part active à cette journée mondiale de célébration des réalisations sociales, économiques, culturelles et politiques des femmes.
Le thème de la JIF adopté dans le monde entier cette année est #BalanceforBetter (#LéquilibrePourLeMieux), un thème qui encourage chacun à faire sa part pour bâtir un monde où règne l'équilibre entre les sexes. Le thème complémentaire du gouvernement du Canada, #InnoverPourTransformer, appelle aussi les Canadiens à reconnaître les réalisations des femmes et les défis auxquels elles continuent de faire face dans leur quête de l'égalité entre les sexes. Quoi de mieux comme thèmes pour nous servir de rappels, à nous tous qui servons le Canada, qui nous devons d'incarner devant tous ces idéaux, et qui sommes appelés à les défendre aussi bien au pays que dans le cadre de nos missions à l'étranger? Comme l'affirme le site Web de la Journée internationale des femmes, l'équilibre entre les genres favorise un monde du travail meilleur : meilleur l'équilibre sera, mieux le monde se portera.
Au CMR, nous avons la chance de faire partie d'une organisation qui respecte tous ses membres et qui apprécie la valeur et la force qu'apporte l'équilibre entre les sexes à l'Équipe de la Défense. Nous avons plus de 900 employées provenant d'une myriade de milieux différents qui travaillent au campus du CMR, y compris des employées civiles, des universitaires, des entrepreneures, des membres du personnel militaire, des étudiantes des cycles supérieurs ainsi que 226 femmes élèves-officiers (20 p. 100 de la population étudiante) qui fréquentent actuellement le CMR. Ces femmes jouent un rôle essentiel en donnant l'exemple à nos élèves-officiers et en nous donnant l'occasion de développer et d'encourager notre sensibilité aux questions de genre ainsi que notre intelligence culturelle et émotionnelle.
Depuis la première fois où des femmes se sont jointes à l'Escadre des élèves-officiers, en 1980, leur présence nous a rendus meilleurs et plus forts. Le CMR, comme les FAC et l'ensemble de la société canadienne, a évolué au cours des 40 dernières années sur le plan de la culture, du respect, et du refus légitime de toutes les formes de CSDI; toutefois, nous ne devons pas nous reposer sur nos lauriers : il nous faut continuer à tirer des leçons du combat des femmes qui ont tant fait pour le CMR, les FAC, le Canada et le monde.
Je vous invite à prendre le temps de participer à une des activités de la Journée internationale des femmes organisées à Kingston. J'aimerais attirer votre attention en particulier sur une activité sociale qui aura lieu au campus, au Mess des élèves-officiers du CMR, aujourd'hui à 19 h. Cette activité, fruit de l'initiative d'un groupe de femmes élèves-officiers, sera pour toutes les femmes élèves-officiers l'occasion de s'entretenir avec des femmes officiers, afin de parler de leurs expériences et de tisser des relations de mentorat et d'encadrement pour l'avenir. Nous avons aussi invité trois femmes officiers ayant de l'expérience du commandement à venir parler à l'une de nos séances de perfectionnement professionnel demain, samedi 9 mars.
Il ne s'agit là que de quelques façons dont vous pouvez prendre part à cette importante journée, mais la clé, le 8 mars et toujours, est de reconnaître le combat des femmes – tant militaires que civiles – et de célébrer leurs réalisations ici et dans le monde entier. Interrogez-vous constamment sur ce que vous pouvez faire pour aider à bâtir un monde où règne l'équilibre entre les genres. #BalanceforBetter #LéquilibrePourLeMieux #InnoverPourTransformer
***

Ex Blizzard Nordique: 07 – 10 Feb 2019, CFB Valcartier, PQ
Article by 27869 OCdt (III) Chirag Jain
Thursday 07 Feb, 2019
It was a quiet Thursday afternoon when we embarked on our journey to Valcartier, Quebec.  The time was around 1700 when we made a pit stop at RMC Saint-Jean to rendezvous with the Cadets there. Apart from the RMC Kingston and RMC Saint-Jean Cadets there were Cadets from Norwich University, which is a private military academy in Vermont. It was interesting to see how they would adapt to the cold weather of the North. We unloaded our kit from the bus and got a brief look at RMC Saint-Jean. The mess hall at RMC Saint-Jean is quite extravagant and the food was well made. After dinner the Cadets loaded up the buses and we were off to Valcartier. It was a few hours until we arrived; the time was 2100. We set up camp in the drill hall and prepared for the two long days ahead of us. Then it was lights out.
Friday 08 Feb, 2019
The next morning we awoke at 0630 to prepare for the day. There were four squadrons in total with RMC Kingston and Norwich Cadets attached to each of the squadrons. Two of the squadrons embarked on their survival day while the other two squadrons went to build obstacles. Once we got to the range (where we were building the obstacles) it started to rain a little bit. Immediately I thought of the Cadets that were conducting their survival day, cold weather and rain is not a good combo. The obstacle day was relatively quiet and not taxing. We built snow obstacles for a few hours until 1300. The purpose of the obstacles was to see if they would survive the gunfire of the range day on Sunday. Around 1700 we had a SAR tech come in and talk to us about his trade; it was interesting to hear his stories about his job. Later on in the evening there were trade briefs from the various units at CFB Valcartier. Units such as R22R, RBC, the combat engineer regiment, and signals. A few of the RMC Cadets saw some familiar faces amongst the ranks of various units in Valcartier.
Saturday 09 Feb, 2019
The next morning, on Saturday, we woke up at 0600 to prepare for our survival day. The wind-chill that morning was brutal. We rucked from the drill hall to 5 km out. In the 5 km that we marched my canteen had frozen and the condensation on my glasses had also frozen solid. Once we got to our survival point we were given a few minutes to sort out our kit. I removed my gloves for less than 20 seconds and was already feeling the effects of the weather. It was approximately 0800 when we moved into the forest to begin setup of our camps. The two squadrons were split up into their sections and each section was to build a shelter and fire. Once we moved into the forest the wind chill became more bearable as the trees were protecting us from the worst of the elements. For the rest of the day we worked to collect firewood and build our shelter to sleep in. Each section chose a different type of shelter depending on the spot they were given as well as what they wanted to build. The section that I was with chose to build a half shelter. We dug a huge hole in the ground that was very wide. We tied our ground sheets together and hung them half a foot from the bottom of the hole. While half the section worked on the shelter the other half worked on collecting firewood. These two tasks kept us busy for much of the day. While all the sections were busy working various staff were roaming through the woods to check on progress. There was two medical staff, the RMC Saint-Jean training wing including their Commandant, as well as two SAR techs. In my opinion, the most interesting part of the exercise was when we learned how to dress and prepare a rabbit for cooking and eating. Some of the Cadets could not watch as the PO and Sgt took us through the process, while others were eager to look. Each section was then given a rabbit that was ready to be cooked, as well as two potatoes and carrots. That was our meal for the day. Once the sun went down we had completed all our preparations for the night. We had enough firewood to last through the morning, we were full with rabbit, and our shelter kept us warm. Each section member took turns doing fire picket for the night. Other than that the night went smoothly.
Sunday 10 Feb, 2019
On Sunday morning we woke up bright and early at 0500. Our first task was to tear down our site and return it to its original state. We then returned to the drill hall to rendezvous with the rest of the cadets. After that we went to the range to shoot the obstacles that we created the previous day. The aim of this was to see if our obstacles survived the gunfire. Each of us had an opportunity to shoot C6s and C9s. Once everyone had gotten a chance to shoot we inspected the results of our firing. After that we tore down the obstacles and packed up. The exercise was almost done. We departed for RMC Saint-Jean around 1300. We arrived in Saint-Jean around 1700. There was a quick parade from the DCdts of RMC Saint-Jean thanking everyone for coming out. Once the parade was done the Norwich cadets, RMC Saint-Jean cadets, and RMC Kingston Cadets all parted ways after an eventful weekend. We loaded up the bus to embark on our journey back to Kingston.
For more photos from the Exercise, please click here.
***
The Week That Was In Professional Development
With thanks to 27467 OCdt (IV) Daniel Zhao, CWIIO
Second Year – 28464 NCdt A. Pelletier
This week for professional development we looked at the oppoprtunities for us to go on an excahnge in foreign military schools. For the next fall semester some Third Year Cadets will be able to go to in military colleges in the United States, France, or Germany. This will be an excellent experience for those Cadets who go on exchange and knowing about these opportuinities is quite exceptional.