Fred and I spent 30+ years as friends. I knew of Fred when we both attended RRMC. He was a year ahead of me, but thankfully I was not in his Squadron. From other first year cadets, I did hear the stories of electronic cattle prods attached to door knobs. I did know enough to try and stay away from him on the sports field as he had a reputation for being very competitive and trying to slow you down to his speed if he couldn't keep up.
We became friends when Fred was posted to 407 Squadron after completing his first tour as a pilot instructing on the Tutor in Moose Jaw. I was a pipeline (first tour) Aircraft Commander on the Aurora and Fred was assigned to my crew as my co-pilot. Those of you who know Fred are thinking, wow that would be a challenge. You would be correct. Fred's flying skills were top notch; as good as you could get. He had spent the last three years instructing on the Tutor doing aerobatics, pulling G, flying formation, and teaching all the basics. Now he was flying the large lumbering CP140 Aurora. He of course needed to find ways to keep those skills he had learned sharp. He would fly a HI TACAN approach in a "simulated hostile environment" which meant starting at altitude, almost directly overhead the airport and then diving as steeply and as aggressively as possible so as to avoid any anti aircraft fire from the ground. These approaches were not necessarily the favorites of the crew in the back of the plane. At times he would insist on practicing his "partial panel" flying and cover up his attitude indicator to make it more difficult. Kind of like driving with the front window covered over. This was not something normally practiced on a large multi-engine aircraft, but Fred was anything but normal. He asked lots of questions and quite often left you searching for the answer and wondering why you hadn't thought of that before. Fred had a real gift of being able to sort the wheat from the chaff and get to the heart of an issue. This is a theme that you will hear over and over again from anyone who knew Fred. There are many stories from our time flying together on that tour. The bottom line is I learned a lot from Fred, and did manage to leave the Squadron without loosing my Crew Commander category, but that is another story.
When I left the military I was lucky to be able to return to live in the Comox Valley and Maj/LCol/Col Bigelow would somehow manage to wrangle a posting back here, over and over again. He loved the west coast and was constantly planning a new adventure; boating, hiking, fishing, camping, … you name it. He worked very hard and put in long hours at the base, but he always made the most of his time off. Many summers our families holidayed together, renting cabins in Desolation Sound which were boat access only. Fred and I would get up and be off in my boat in the dark, so as to arrive at the prime fishing grounds at sunrise. We were navigating our way through fairly dangerous, very remote waters. GPS was relatively new at the time. Fred would have prepared a laminated map for each of the 20+ legs, and have entered by hand every lat/long for the journey up the channels and sounds. Some mornings we couldn't see anything, but just slowed down a little and stuck to the GPS track. We would return mid day, usually with fish to clean, and then head out on an adventure somewhere with our families on the boats in the afternoon. On the way back at the end of the day, we would pull the prawn traps up from 300 feet. That was a very labour-intensive process, especially frustrating when they came up empty. Fred of course came up with a plan to make it easier. We would use his boat (the smaller one) to motor away from my boat. He would pull the line which would pull up the traps through a pulley on my boat. What could possibly go wrong? Well, the more we thought about it, the more we realized there was a lot that could go wrong. We of course worked our way through all the possible problems and came up with our emergency actions for each scenario. We transferred all the kids to his boat just in case. Thankfully we never found out if the rope had snagged the bottom whether or not it would capsize my boat. This was typical Fred, always innovating and coming up with new and sometimes unorthodox ways to do things better.
We raced the Mind Over Mountain Adventure Race (MOMAR) together as a team several times. This event was held near Comox Lake, an area we knew very well. An hour before the race, you would be handed a map with checkpoints that had to be found by navigating through the woods, much like orienteering; except this race included a kayak leg to start, then running and mountain biking the rest of the route. We ran the "short" course which meant you could expect a 3-5 hour race. The rules were quite simple, no GPS was allowed and you had to stay together. Fred, always looking for loopholes of course, had acquired a foot pod sensor with a built in accelerometer. He could use this with his step counter watch to come with a pretty accurate distance calculation. Actually he bought two and gave me one in case one failed. He had spent months calibrating his so that it worked across a broad range of conditions. "Time spent on preparation is seldom waisted." Fred always had a quote handy. When we received the map prerace, we carefully selected our route to follow and measured every leg of the race (with our calibrated string of course). Fred was very, very good with a map. When running in the woods, up and down the hills, and trying to keep track of distance travelled, this foot pod was a very handy tool. We seldom made a wrong turn. One race we found ourselves coming out of the kayak leg pretty close to the front of the pack right beside two very tall, fit lads half our age wearing UBC Triathlon T shirts. Those two must have passed us 6 times during the race, as we plodded along, occasionally slowing down to make sure they didn't see us turn on the trail they had missed. They finally passed us in a footrace to the finish line and we thought we had been beaten. As it turned out they had missed one check point, so Fred and I were the short course champs. I am sure those young gazelles covered almost twice the distance running that we did. Who would have ever thought, but "old age and treachery…" another of Fred's favourite quotes.
When I met Fred, he was a smoker. Fred could do almost anything he decided he was going to do, but he found it very tough to quit smoking. There were years he smoked outside or in the garage and Sarah and he both pretended that he had quit. There were years he only smoked when he was having a drink. Finally Fred was able to wean himself off cigarettes using a nicotine inhaler. It looked goofy, but it worked. As a non-smoker, I have a real appreciation of what a powerful addiction nicotine is, after seeing how hard Fred battled it for years. When he was diagnosed as terminally ill, he went back to cigarettes. Smoking wasn't going to kill him now.
Fred liked to have a drink or two now and then (understatement). The uninitiated joining him in a cleansing ale or a glass of chateau collapsible (boxed wine) sometimes ended up in very bad shape. He had a rather heavy hand. Your glass was always full and the stories and laughter made the hours pass quickly. When it was time to leave you would stand up (if you could) and find you had drunk way more than you realized. It happened so often there was a term for it. Bigelow'd. It happened to me more than once. Most often when away somewhere on a fishing or cycling trip, and the next morning was very painful. Fred always showed up looking fresh and ready to go. It was rather annoying. "Trained professional" he would quip.
Fred was diagnosed as terminally ill with brain cancer in November. He accepted treatment to prolong his life; he had many things he needed to get done. The chemo and radiation were remarkably easy on Fred with minor side affects. "What do you expect? I have been abusing my body training for this my whole life." He could find humour in anything, even if it was quite dark.
I am only one of Fred's many good friends. Mention Fred's name to anyone that knew him and odds are there is more than one story to tell. Quite simply, Fred is a legend. We will tell his stories for many years. I was very lucky to have had him as a friend. We all will miss him greatly.
Jay Campbell
14535
---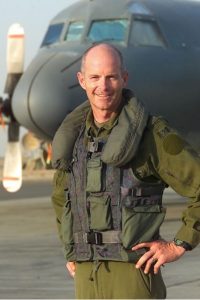 13991 Brigadier General (Ret'd) Frederick George Bigelow, ONM, CD
1961-2020
The Royal Military College Class of 1983 sadly says farewell to our class-mate Fred Bigelow, someone who touched so many through his leadership, creativity and thoughtfulness.  Upon Fred's passing, there were many, many expressions of fond memories, appreciation of support, and acknowledgments of the excellence that he brought to both his military and civilian roles as well as his community involvement.
During his early years at Royal Roads it was clear that Fred was a born leader for two reasons.  One was a personal charisma that was animated by a keen sense of humour and an aura of relaxed self-assurance.  The other was that you just never knew what he might do next to push the limits.  The result of Fred's innovation was that it fostered camaraderie.
To say he was a catalyst would do him disservice. As a practical joker few were beyond his reach and he created lasting memories in leading some remarkable 'graunches'.  There were more than a few occasions when the voices of senior cadets echoed loudly within the halls of Mackenzie Flight demanding 'Where's Bigelow'!
An example of Fred's sense of humour brings back a special memory of his 'rook' year.  The day before Grad Parade, the Cadet Wing would stage a Sunset Ceremony combining precision drill displays, a musical tattoo, the Piper's Lament, and Last Call, all culminating in the lowering of the flag.  The opening event of the whole pageant involved a pair of old, breech-loading, 12-pounder naval cannons, complete with wheeled gun carriages and ammunition limbers.  These would be dragged onto the parade square by two teams of rooks who competed to get the weapons positioned, limbers unhooked and three blank rounds fired in the quickest time possible.  Later in the ceremony, a couple of additional rounds were fired as part of the flag-lowering.
Fred manned the gun limber and so he had a good look at the ammunition and the process for loading and firing the weapon.  The blank rounds were actual 12-pounder brass cartridges primed with an explosive charge, but no projectile.  They packed a pretty good wallop; Fred's fertile mind began to whirr.
After the first couple of days of practice, Fred proposed putting an orange into one of the cartridges "to see what would happen".  With his sharp, aviator's eye, he selected a specimen at breakfast that looked to be the right calibre.  This was seated in one of the cartridges with a plan to fire it as the flag came down.
The moment came.  The lanyard was pulled.  The cannon boomed…!   Nothing happened.   Then, a fine mist of strange chaff drifted back into the expectant gunners' faces.  The orange had disintegrated!
Fred was undeterred.  An enhancement to the design was clearly required.  He had realized that the calibre of the gun was very similar to the diameter of a soda can.  The next day, he appeared at rehearsal with an empty Coke can packed with pebbles.   Again, the plan was to fire this robust new projectile as the flag came down.
The moment arrived.  The Guard Commander bellowed, "Fire!".  The cannon boomed!
Fred's improvised shell performed beyond his wildest expectations, and this raised more than a few eyebrows while drawing the particular attention of the Sergeant Major.  The cannon actually recoiled on its wheels.  From behind the gun, the rest of the team beheld a sight that would never grace the College again.  The Coke can rocketed out of the cannon's muzzle.  The rim of the can must have engaged the rifling in the barrel because Fred's projectile flew over the edge of the parade square in a gentle, helical arc, over the soccer pitch coming to rest who-knows-where.  It may have even made it to Esquimalt Lagoon. In later years, perhaps re-enacting this, Fred was known to pull out his home made potato gun and fire shots hundreds of meters out into the water from his oceanfront deck.
This is just one of so many incidents where Fred's ingenuity brought admiration and lasting memories.  He was not afraid to challenge convention if it was not well founded; it is just that he found unique ways to do this that stood out.  As a natural leader, it was easy to be swept along by his personality and his flair for producing audacious schemes.
After graduation, Fred brought his sense of ingenuity and innovation to his role as an Air Force officer.  He excelled as a pilot, moving from Moose Jaw instructor pilot in his early years to arriving in Comox to fly the Aurora with the 407 Demon Squadron that he would later command.  The Maritime Patrol community benefited greatly from his leadership by example in setting an obvious high standard as an aviator while leading improvements at every turn.  Those who worked directly with him remember him as a catalyst for innovation, which served to motivate those around him to step up their game. Whether in a flying or staff role, he always took time in his career to coach and mentor, using those teaching moments to build up those around him.  In addition to his role as Wing Commander of 19 Wing Comox, his career is also marked by his leadership of the Persian Gulf Long Range Patrol Task Force in 2003 and a year of Peacekeeping duty in the Sinai, earning the National Order of Merit from France.
Through his many successes probably one of the most remarkable is that Fred consistently found himself posted close to home on Vancouver Island.  At the end of his military career he returned to Comox for his 'dream job' as the CEO of the Comox Valley Airport.  In this role Fred was instrumental in growing the airport to the benefit of the local population and tourism industry in the Comox Valley.  He took great pride in his staff and also in the fact that he left the airport in a very good position to weather the financial difficulties that came with COVID and the resultant reduction in travel. It was also a dream location for his family who enjoyed sharing the outdoors and the many activities that the Valley offers.  In learning of Fred's passing there were many in the aviation industry across Canada that remembered Fred for his strong contribution and ability to build collaborative enterprises.
Fred has touched many lives and his presence and nurturing personality will be greatly missed.  He made those around him feel important and if he had not seen you for some time, he had a way to take up right where you had left off together, usually with one of his many stories.  He passed after a short illness with many expressing the tragedy of his loss.
The RMC Class of '83 extends their sincere condolences to his wife Sarah and children Stephanie (RMC Class of 2007) and Alan and the rest of his beloved family.