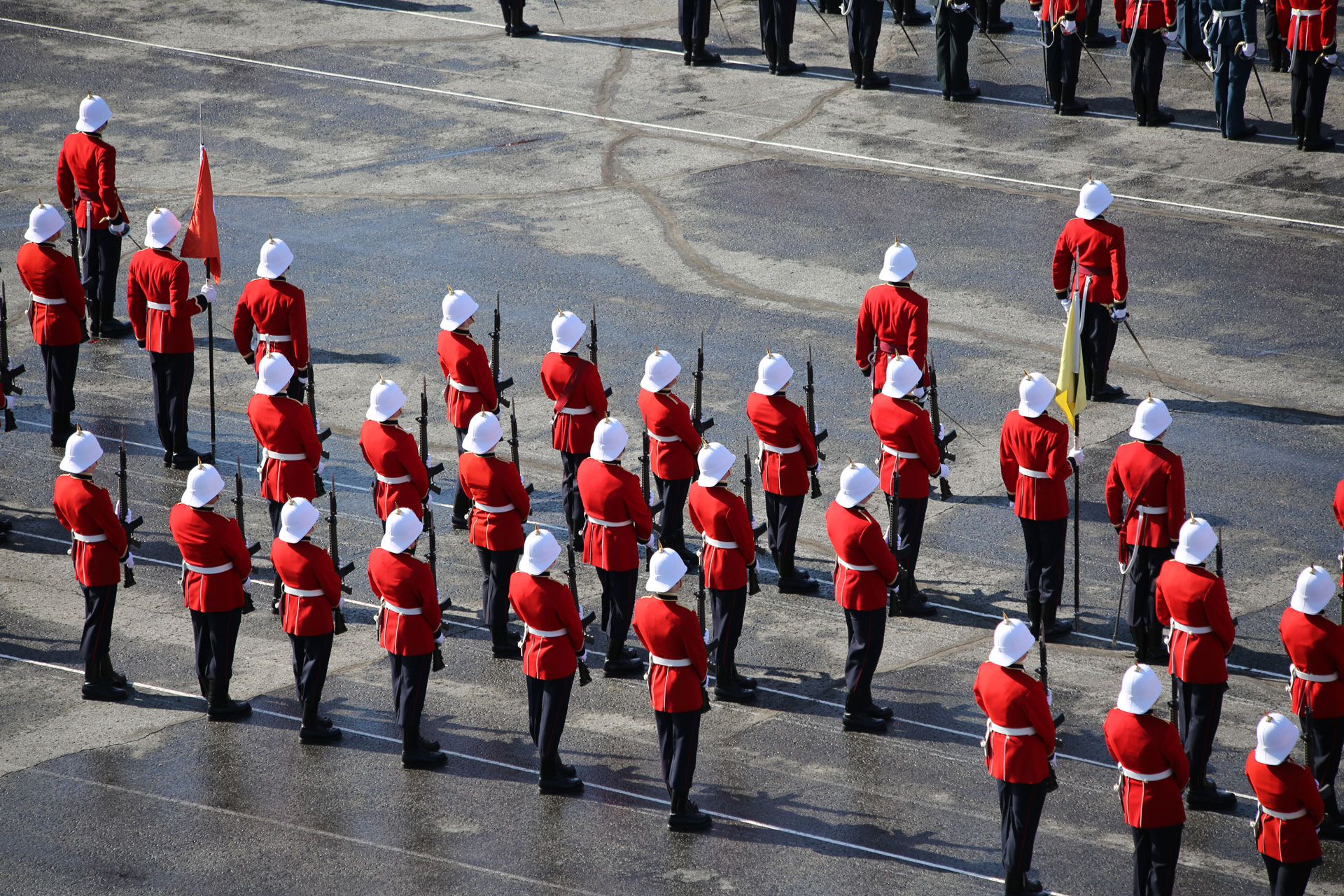 Many recent ex cadets will remember RMC's former Cadet Wing Cheif Instructor E1119 Maj Anne Reiffenstein. She and her husband, 18404 LCol John Reiffenstein (RMC 1992), have recently graduated from Canadian Forces Staff College in Toronto with Masters Degrees in Defence Studies. John has been a passionate supporter of the RMC rugby program, working with Sean McDonough as an assistant coach for men's rugby from 2003-2005. His family history at RMC is extensive with his father being in the first class after the war, 2852 John Reiffenstein (RMC 1952). Anne has written for Canadian Defence Academy publications, as has 18864 Major Deanna Manson (RMC 1993), featured below.
by M0917 Dean Fleet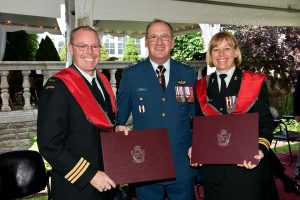 E1119 Major Reiffenstein works in Director Defence Programme Coordination with the Vice Chief of the Defence Staff in Ottawa. As the Battery Commander of A Battery, 1 Canadian Mechanized Brigade Group from 2003 – 2005, she was the first woman to command a combat arms unit in Canada. Major Reiffenstein was in army cadets and reserves in Thunder Bay. The 1989 Human Rights Tribunal ruling allowing women into combat arms inspired her to join the Canadian Forces in 1989. She was one of the first women to successfully complete artillery phase training in 1991. One of the reasons she joined was to see the world. "I wanted to have an adventure. That's really what appealed to me. I wanted to meet interesting people and work at national and international levels."
She has served overseas in Cyprus and Central Africa (Uganda, Rwanda and Former Zaire) and in domestic operations in response to floods, ice storms and fires. "I've seen and met a wide variety of people. When you get here, it's the great equalizer. You meet people from all walks of life… and have a common vision, identification and a common sense of purpose. It's the same when you work with people serving in militaries from all parts of the world," Reiffenstein says. She previously was  a division commander and Chief Instructor responsible for ops and training at RMC. "The young people are not here as a last resort. They could do anything," she says. "They believe in service to country, in community building and in something bigger than themselves. It helps keep me passionate about what I do." Her husband, 18404 LCol John Reiffenstein (RMC 1992), is a Policy Officer in ADM(Pol) in Ottawa.The couple have two young daughters, Grace and Katie. "As someone in the military, you have to have expectations of moving… It's part and parcel of life. It's part of the adventure and part of being a military family," she says. Anne authored a chapter "Gender Integration – An Asymmetric Environment" in "Women and leadership in the Canadian Forces perspectives and experience" (Winnipeg: 2007 Canadian Defence Academy Press). She was a keynote speaker at the inaugural 2005 Women Leading in Defence symposium hosted by the Canadian Forces Leadership Institute, and was also a key contributor to the 2006 symposium.
_____________________________________________________________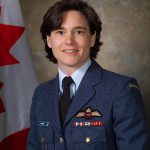 18864 Major Deanna Manson (RMC 1993) is Commanding Officer of 4 Canadian Forces Movement Control Unit. Since 4 CFMCU`s mandate is to deploy in support of virtually all movements operations that occur around the world, members are away from home in small teams for upwards of 150 days/year. This fall 4 CFMCU will deploy folks to Cyprus, Germany, the Middle East and various locations across Canada in support of Op PODIUM and the troop rotation for JTF-Afg. Notably, last fall the unit was awarded the CF Unit Commendation by the CDS for work in support of CF operations from 2003 to 2007.
Deanna grew up in Cornwall, Ontario and enrolled in the Canadian Forces in 1989. Upon her graduation from RMC with a Bachelor Degree in Honours History in 1993, she was posted to Air Command Headquarters Winnipeg where she worked as a staff officer for the Deputy Chief of Staff Logistics. In 1994 she was posted to the Wing Transportation Squadron at 14 Wing Greenwood as the Mobile Support Equipment Officer and later as the Wing Traffic Officer. During that timeframe she also worked on Socio-Tech Re-engineering initiatives and the development of Contingency Capability concepts on the Wing. Transferred back to Air Command Headquarters in January 1997, she continued to work on Contingency Capability and specifically Air Combat Service Support Squadron doctrine within the A4 Logistics Operations cell. In August 1997 she was posted to 1 Air Movements Squadron in Winnipeg where she spent one year as 2 Mobile Air Movements Officer (2 MAMSO) and three years as Deputy Commanding Officer/Operations Officer. She was involved in a number of operational assignments including Squadron Logistics Officer for the 435 Squadron Air-to-Air Refueling Detachment in Kuwait on Operation Determination and Officer-in-Charge MAMS for Operation Central in Honduras. After her tenure at 1 Air Mov Sqn, she was posted to A4 Movements at 1 Canadian Air Division Headquarters.
In 2003, she began post-graduate studies at RMC , was promoted to her current rank in 2004, and in 2005 was awarded a Master of Arts Degree in Defence Management and Policy. That summer she was posted to NDHQ Ottawa, into the Director Logistics Strategy organization, and became a member of the Logistics Force Development cell. In February 2006, she was part of the stand-up of the new Canadian Operational Support Command (CANOSCOM), and remained with the Headquarters in the J3 branch, managing the operations centre and the Command and Control information systems within the Operational Support Coordination Centre. She is an avid musician and athlete and will join L'orchestre symphonique de l`Isle and the BFC Montréal women's hockey team for the 2008-2009 season. She currently shares her home with two rambunctious Australian Shepherds and a cat named Thule. Major Manson authored a chapter in "Women and leadership in the Canadian Forces perspectives and experience" (Winnipeg: 2007 Canadian Defence Academy Press). Her chapter on CF MAMS – Women at Work in Domestic and Deployed Operations was based on an article originally written for Women in Aviation magazine. She also has a chapter in "In Harm's Way, Serving the Greater Good: Perspectives of Operational Duty" (Winnipeg: 2006 Canadian Defence Academy Press), based on her deployment to Honduras for Operation Central.