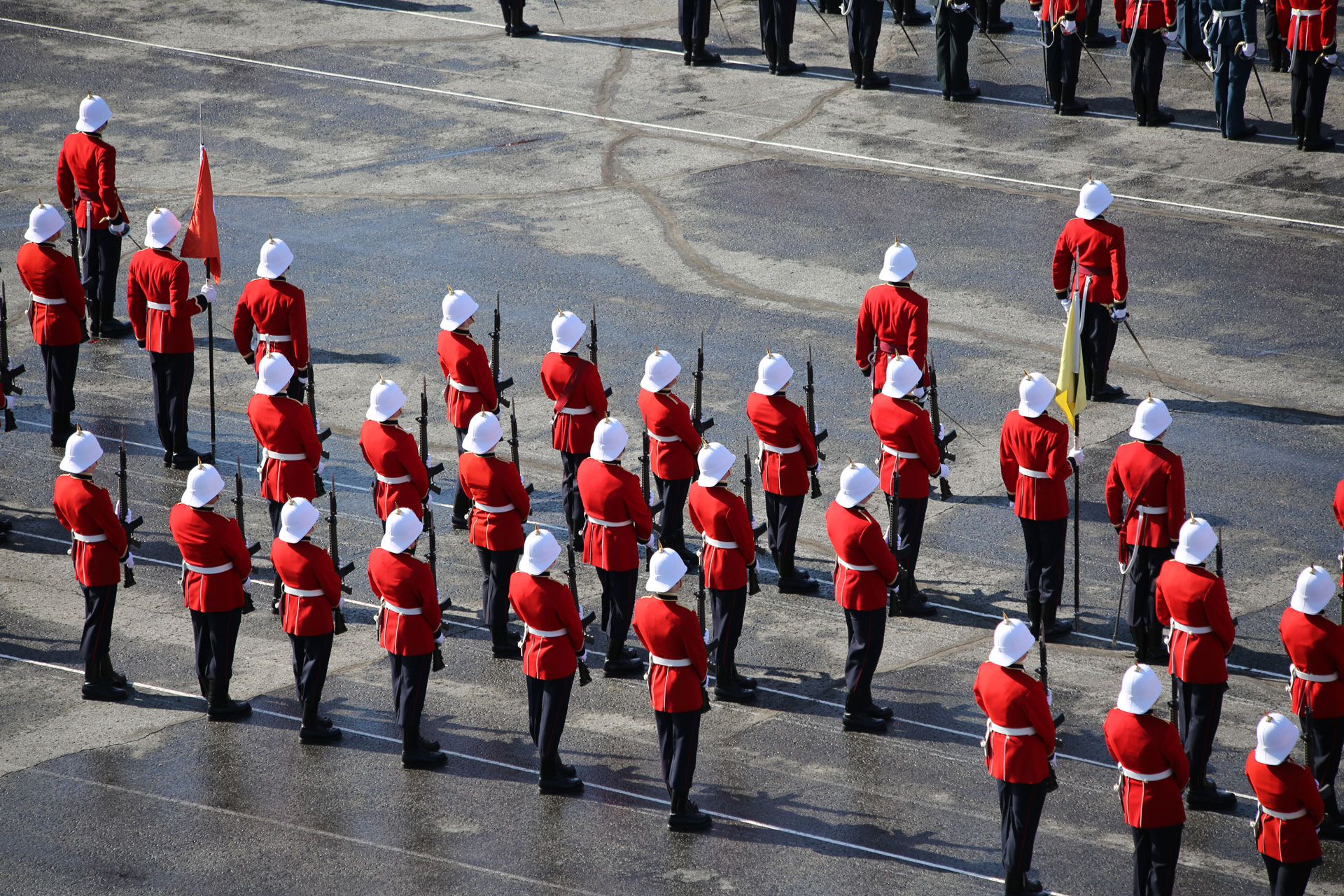 Otter Squadron Member Receives Sacrifice Medal from GG
By:   NCdt Dean Fleet M0917
Last week Governor General Michaelle Jean awarded 46 of the newly created Sacrifice Medals in a ceremony at Rideau Hall; M0955 Jesse Melnyck of Otter Sqn, a third-year Economics student, was among those honoured by this compassionate royal representative. The Sacrifice Medal was created a year ago as a lasting recognition to soldiers who have lost their lives overseas or as a result of injuries related to military service, and for those wounded by hostile action. The award is intended to cover events dating back to the start of Canada's involvement in Afghanistan in 2001.
At the time of his deployment to Afghanistan in the summer of 2006, Jesse was a Signaler with 2 Brigade with just over five years in the army. He was originally tagged as a replacement for the tour, but just as the deployment was beginning he was given two days to pack his bags before he was told that he, too, would be heading to Kandahar. Although the Rotation was with an RCR Battle Group, he was Company signaler for a A coy, 2 PPCLI, who were a part of the tour as well. The incident for which he was awarded the Sacrifice Medal occurred barely a month later, at the end of August.
Jesse's convoy was ambushed while on patrol in the Panjwai Province near Kandahar. The deadly section of the Main Supply Route upon they were travelling has since been rerouted by NATO forces so that it travels through the desert, thereby offering less cover and more visibility. As the Coy Commander's LAV was undergoing repairs, Jesse was travelling with the FOO/FAC, this time serving as one of the two air sentries keeping watch on either side of the vehicle. His vehicle was being hit with small arms fire from the side opposite Jesse, and when the soldier covering that side had to duck down to clear a jam, Jesse turned to cover those arcs and was unfortunately stuck by a bullet in the head. He fell back down the hatch and immediately could not see out of his right eye. Due to the situation facing the entire convoy, the medics could not see him for another hour and a half, but in the interim was given first aid by one of the gunners. When he was finally treated and loaded onto a helicopter, he remembers arguing with the medics on board to keep him upright as he could not be strapped down flat as he would have choked on his own blood. He was conscious when he arrived at the airfield, but passed out under examination.

After a few weeks in hospital, Jesse soon returned to his signals sqn in Petawawa for half days. His journey to Otter Sqn had actually begun prior to his deployment, as his application was almost ready to be sent out, but he opted to put it on hold in order to deploy. However, with the help of a supportive chain of command, and the early successes of the Soldier On program, Jesse was soon able to pick up where he left off and year later was starting classes at RMC. Due to his vision category, he was offered the choice of becoming either an Intelligence Officer or a Logistics Officer, and opted for the latter as he still had the desire to lead troops, and is also looking forward to "Planning convoys, not riding in them." He is grateful for having been selected to come to RMC to complete his degree, as it possessed the resources to deal with the unique challenges of his situation which could not have been addressed at a civilian university. He is grateful for the opportunity to continue serving despite being injured. He views the medal less of a recognition of personal sacrifice, but rather, as a sign of the military caring for its injured personnel; of standing behind them and "as the organization doing a good thing for people who need it."
Looking forward, not back
By ROB TRIPP Kingston Whig Standard
Article first appeared 14 November 2009
Officer cadet Jesse Melnyck is low key about his place in military history.
In an emotional ceremony in Ottawa last week, Melnyck was among the inaugural group of 46 Canadians to receive the Sacrifice Medal.
It gives lasting recognition to soldiers who have been killed or injured since October, 2001.
"I don't see it as a recognition of me," Melnyck, 28, said in an interview yesterday.
"I consider it more … the military paying attention to a group of people and being able to say, 'You came out and you had bad things happen to you and we recognize it.' "
Melnyck, now a third-year economics student at Royal Military College, was a signaller, a communications expert, on patrol in Afghanistan with an infantry company in August 2006, when a "bad thing" happened.
"We got ambushed and I got shot in the head, right between the eyes, basically," Melnyck recalled.
The bullet shattered his skull and propelled fragments into his right eye.
"Those kinds of things happen," he said. "I got hurt and lost the eye."
He now has a prosthetic eye.
That month is now a blur. He spent several weeks in hospital and eventually returned to his home unit, a signal squadron at CFB Petawawa, where he began working half days.
About six months after the injury, he was back on his feet, doing exercises with his unit.
In the meantime, a process he had started before the injury, seeking admission to RMC, paid dividends. He was accepted and shed his rank of corporal in the army for the title of officer cadet.
He arrived in Kingston in September ,2007. He is working towards an economics degree and a job as a logistics officer.
"I'll be planning convoys, not riding in them," he said.
Melnyck said last week's ceremony at Rideau Hall was moving. He was impressed by Gov. Gen. Michaelle Jean.
"She was very compassionate and she really transmitted that," he said. "I wasn't nervous at all up to the point where I was in the aisle heading down to the governor general. I got a few butterflies then."
Melnyck can't wait to get back to work.
"I definitely want to get right back into the saddle," he said.
Melnyck had been enjoying his demanding but tough assignment in Afghanistan, until he was wounded. "I was probably one of the most intense experiences of my time," he said. "It was testing my limits as a signaller. I was doing every type of job that a signaller could do."
The native of Stony Plain, Alta., a small town near Edmonton, said he's enjoying life at RMC, bonding with other Canadian military officers in training.
"I really like this institution," he said.
At last week's ceremony, Jean pinned the Sacrifice Medal to the uniforms of those who were wounded and presented them to the families of 21 soldiers who have been killed.
"You have made unimaginable sacrifices in the name of justice and freedom," she said. "Your families have done the same."
Related article on Jesse Melnyck