Proud Commandant & Proud Principal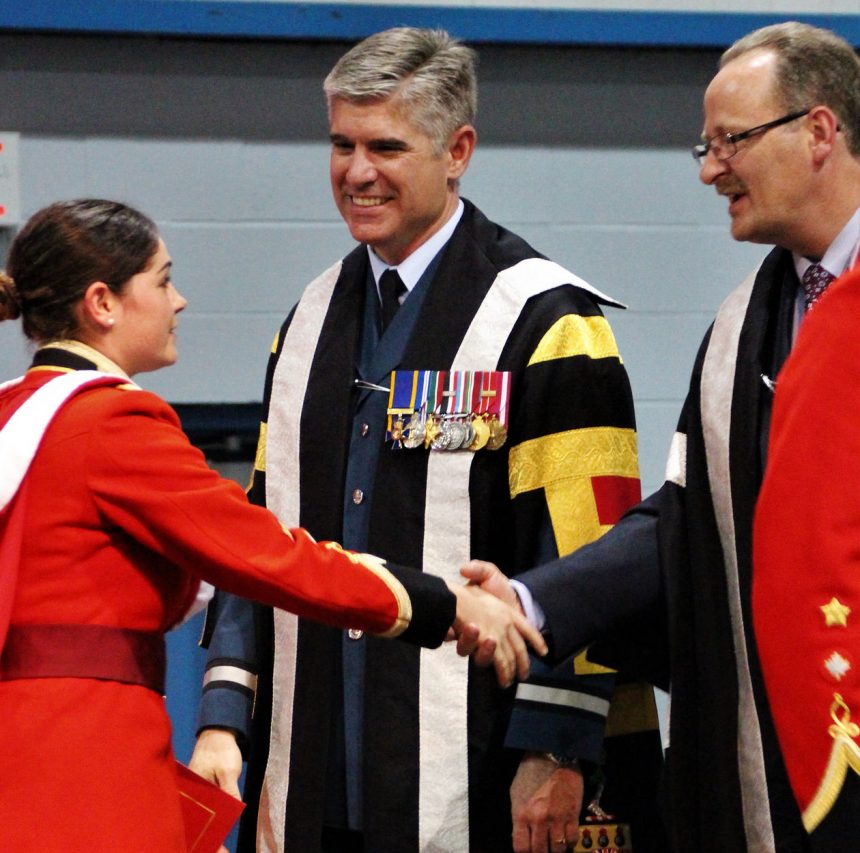 "It is uplifting to see so many achieve this significant life milestone.
It is rewarding for those who have given their all to enable the success of our graduates.
It is emotional for friends and families who look on with pride and a sense of optimism for the bright future that awaits our graduates."
**
«Aujourd'hui est une journée très spécial aussi pour les familles, les amis et les proches.  Votre appui a été un élément primordial pour le succès que nous célébrons aujourd'hui.  Vous remarquez, sans doute, que les élèves-officiers ont changé énormément durant les dernières années.  Ils et elles sont maintenant des leaders, en forme, responsables, capables, et savent comment prendre soin de tous et chacun.
Je veux également féliciter ceux qui reçoivent les doctorats et les maitrises. En recevant vos diplômes, vous avez démontrer l'excellence dans l'obtention d'une éducation très élevé d'une des meilleures institutions Canadiennes d'études universitaires. Félicitations.»
BGen | Bgén S.G. Friday, OMM, MSM, CD
Commandant
Royal Military College of Canada
Commandant
Collège militaire royal du Canada
***
Short summary: Dr H.J. Kowal Principal's Convocation Speech – 18 May
Dr. Kowal welcomed to the 108th convocation ceremony of the Royal Military College of Canada.  He recognized warmly the contributions of the families and friends, staff and faculty.  He stated how grateful RMC is to have the support of the RMC Club of Canada and the RMC Foundation.  He also took the opportunity to reflect on the recent and tragic loss of Dr. Alain Beaulieu, Associate Professor in the Department of Electrical and Computer Engineering.  He stated, "He was a cherished member of his faculty, the College and his profession.  He was a veteran, a scholar and a friend; he will be missed dearly and I asked that you keep him and his family in your hearts and prayers."
To the graduates, he offered his personal congratulations and his hopes that their RMC experience would always bring back great memories but that they remember the good times and well as the times they may have stumbled and had to learn from their mistakes.  Quoting Ben Bernanke, an economist and tenured professor at Princeton, who served two terms as Chairman of the Federal Reserve for the central bank of the United States, he said: "Nobody likes to fail but failure is an essential part of life and of learning.  If your uniform isn't dirty, you haven't been in the game." Dr. Kowal stated that from what he knows of RMC's graduates today, "there is no doubt that your accomplishments have happened because you have been in the game and I am confident that the lessons that you have learned here on the peninsula will benefit you for years to come."  In closing, Dr. Kowal offered the following, "I would also like to say that I know that there will be times when you look back on your RMC experience and you will be sad…sad because a lot of your friends, friends who have become like members of your family, are no longer just across the hall.  For my advice to you, I draw on the words of renowned author Theodore Geisel, "don't cry because it's over, smile because it happened"."
He then presented the Honourary Degree Recipients: Mr. Pierre Lavoie and Lieutenant-Colonel (Retired) Philip W. Somers, OMM, CD.
Before the end of the convocation ceremonies, Dr Kowal announced the prizes and awards for the graduating class and also announced the following two prestigious academic awards:
The winner of the 2017 Teaching Excellence Award is Dr. Jennifer Scott from the Department of Chemistry and Chemical Engineering.
The winner of the 2017 Cowan Prize for Excellence in Research is Dr. Christian Leuprecht from the Department of Political Science.
More photos from the Convocation – Here