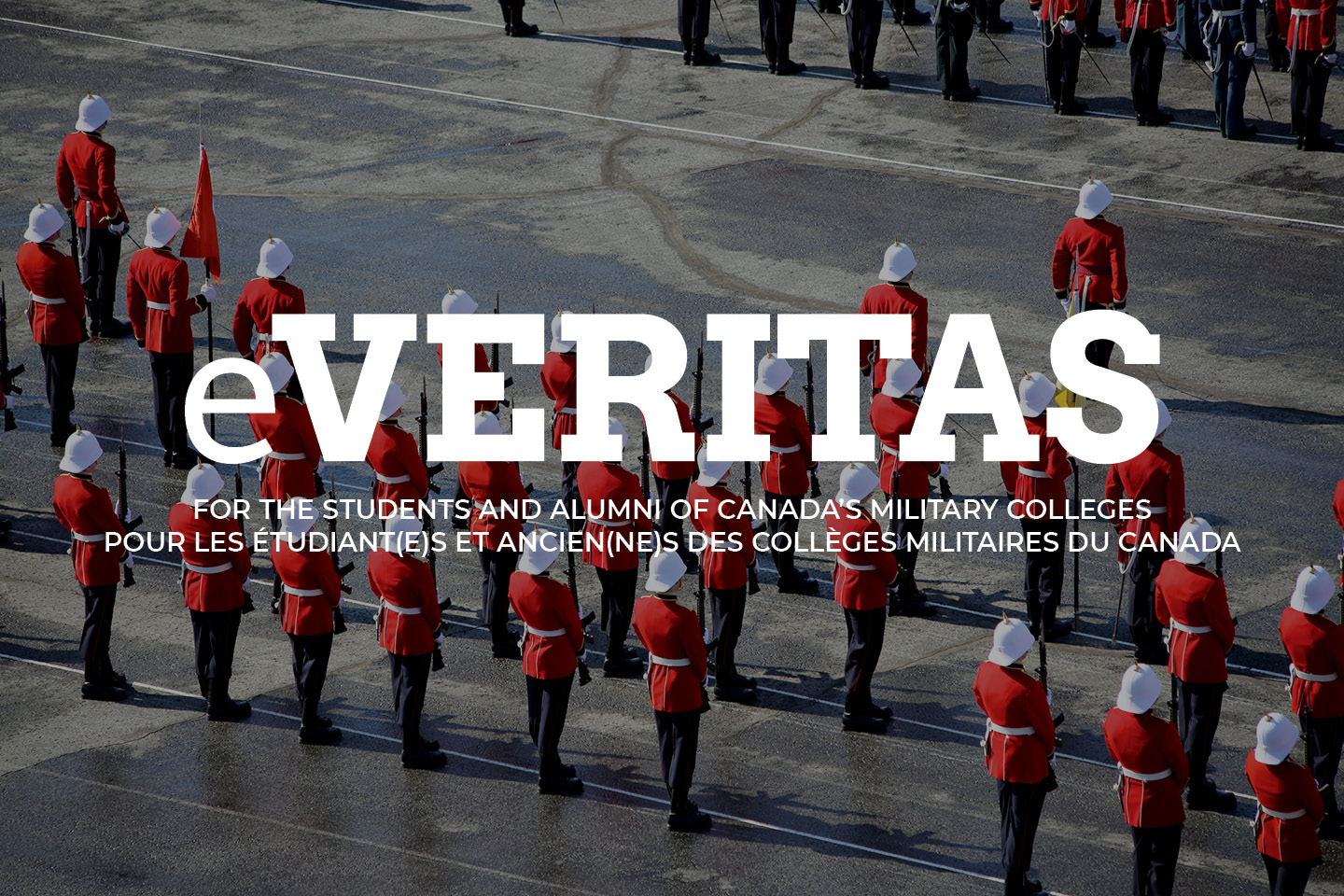 First Year / Winter Term @ RMC January / February 1950 – 3069 W.A. McColl
Jan. 29 – 1950: Yesterday morning the band paraded for the first time. While we were marching across the parade square Larry Richard fell right over backwards on some ice and his big brass drum came right down on top of him. The wing expected to get a big laugh out of us but we played fairly well; wait 'till we get more bugles. After a big pep rally at noon it was decided that we should all march into the hockey game, so we did and stopped traffic on Princess Street for quite a while. Anyway we lost to Loyal 8-4. Today the band paraded again for church parade. After the game yesterday, Andy and I went to the show. Somehow I lost my wallet plus $10; will know by Monday if it has been turned in. Today it was announced that we may have one weekend leave per term.
Jan. 30 – 1950: R.S.M. Coggins charged me today for not marching properly on Jan. 20th on Princess Street. I got 3 days S.L. (Stoppage of Leave) and 1 day of corrective drill. My wallet wasn't turned it so it's gone for good. I can't seem to do anything right.
Jan. 31 – 1950: Got a typed letter from Mother. It t snowed last night and it is quite cold out now. Col. Sawyer finished his group of lectures on war games today. He is certainly a fascinating person to listen to. I boxed with Johnny Downs tonight and he laced me with a couple of honeys. I think I got a few in on him too but he is by far the stronger. After supper I coonked out until Bob woke me up before tattoo parade. Coggin's nailed me again for having a spot of rust on the top of my scabbard. A fellow can't win around here.
Feb. 1 – 1950: Corrective drill today wasn't too bad except you work up a hell of a sweat with that greatcoat. We had a band practice today. Bob went in to see the Queens Revue and apparently it was quite a show. I guess I won't be able to go because of the damned charge for my rifle.
Feb. 2 – 1950: I got 1 day D.I. (Daily Inspection) for my rifle. There were almost 11 other guys. Lt. Shaw postponed my charge so that I could go into town. I went in and saw the Queens Revue, "Dear Susie", a 3 hour musical play written and produced by Queens students. Some of the tunes and songs were very catchy and the whole showing was very good. Bob Smith and I went back to his boarding house where we had coffee and sandwiches afterward.
Feb. 3 – 1950: Because I'm squadron runner today I had to get up even earlier than usual, so there wasn't much sleep for me last night. It amazes me how Anderson gets on parade. He was still shaving when I blew turn out but Goldie says he was like that all last year and was never late. It is fun to wake up guys like Dowsley and Goldie, they sleep like dead men.