Recent happenings in and around RMC – We were able to capture just a few of the latest happenings before the soon-to-be exams get underway.
Winners of the competition – A Div
Tough sluggin' during annual intramural military skills competition
'A' Division proves victories
Article by: WO Chuck Ansell
On Saturday, November 25th, the four Divisions at RMC, participated in the annual Intramural Military Skills Competition.
It was raining sideways when the first team showed up on the range.
They were given a safety brief and when it was complete, the competition began. For the first station, there was a table with ten objects on it. Each team had one minute to look at all the objects and try to remember everything down to the smallest detail.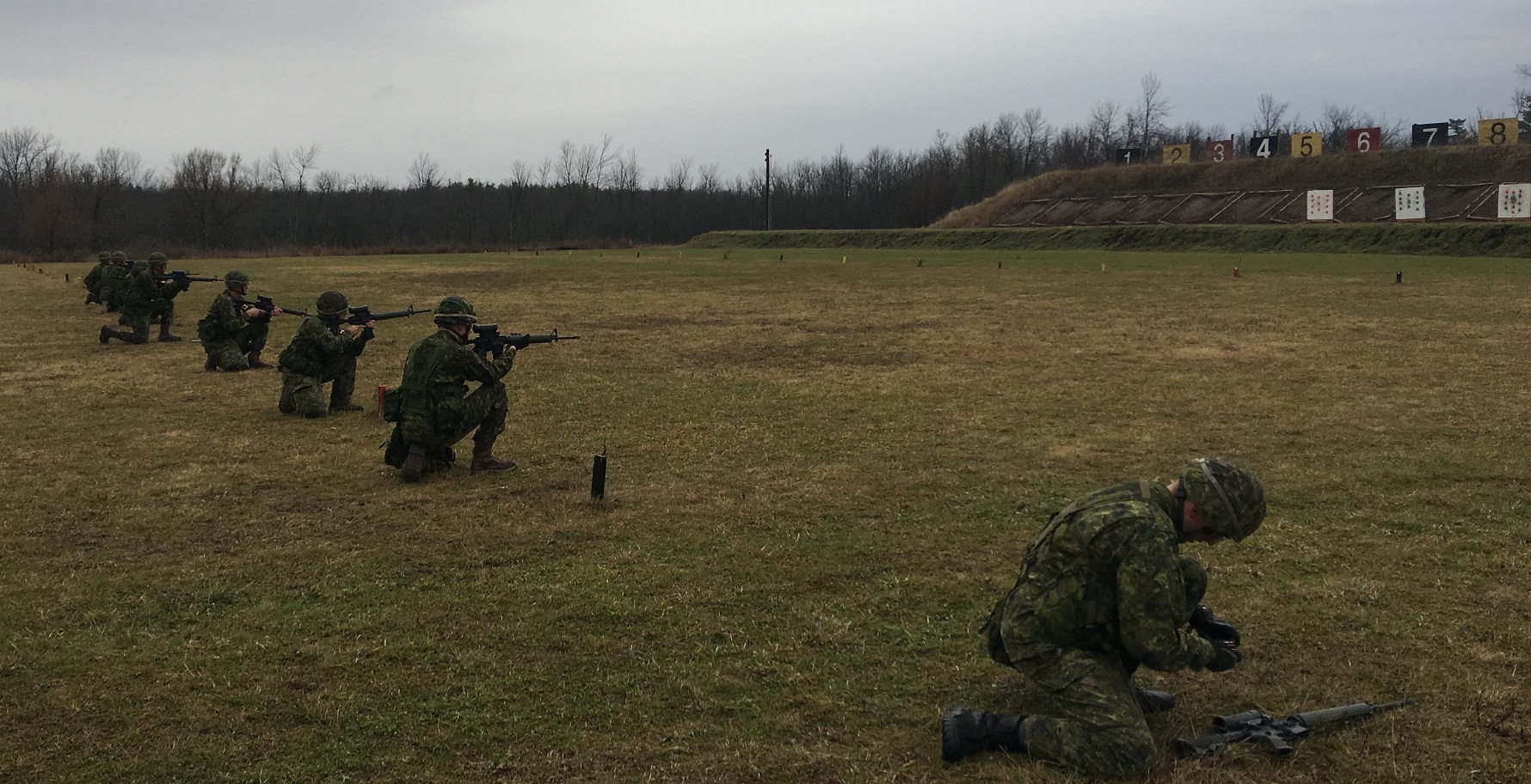 After the minute was up, the team ran 500m to the 75m marker on the range at CFB Kingston.
In front of them were three 5 round magazines. They adopted the prone position and took aim at a board peppered with clay pigeons. They engaged the pigeons, dropped the empty magazine, and moved forward 25 meters.
Once there, they reloaded and engaged the targets from the kneeling position. They dropped that mag and moved up another 25 meters and fired five more rounds, standing.
From there, the teams ran to the obstacle course where they crossed the rope bridge and moved in to the training area to complete a navigation exercise. Each team needed to navigate through five points.
Once all points were successfully navigated, they moved to Fort Henry Heights. When they arrived on the hill facing the College, each team had to perform a section attack covering 150 meters. After they had advanced on contact, the teams performed a partisan link up and had to conduct a water crossing from Fort Henry to the RMC grounds.
Once they left the shore, on the Forth Henry side, the "partisan" fell out of the boat so, the teams had to rescue and evacuate him before proceeding. Back on dry land, the teams had to scale the red wall (used during FYOP) and complete a leadership reaction challenge.
By this point, the teams were wet and tired, but they continued to push through this station. Each team had to cross an area using a rope that they had to string up between two trees. To add to the challenge, once on the other side, they had to put on their gas mask and grab two ammo containers without touching the blocked off area. When all members of the team successfully crossed, they moved onto the inner field for a beloved "gut check".
For this challenge, each team had to complete moving burpees and flip a huge tire over the width of the field. After, they shuttled ammunition, sand bags, and a team member on a stretcher across half the length of the field, towards the mast on the parade square. For the final task, the team ran to the front door of Mackenzie, where the team captain reported "all tasks complete". The response was "all but one…you have to answer these ten questions about the objects you observed at the start of the day"!
I watched the teams go through this grueling completion and it was apparent that they worked hard to get here. The teams were led by a member of the RMC Sandhurst Team who had spent countless hours coaching their members for this very day. There isn't a trophy or a prize…it's simply done to use the skills they've worked hard developing. There is also, of course, bragging rights, which A Division can enjoy until this time next year!
Bravo Zulu to Sgt Monahan (9 Sqn NCM), OCdt Haves, and OCdt Mirea for putting it all together and to all the competitors and support staff who helped make this competition a fun yet challenging event.
Indeed, impressive effort by all concerned!
More photos from the competition here.
***
Foodbank Donations
On Thursday November 16, 2017, the RMC Catholic Connections Group made their way to the Partners in Mission Food Bank of Kingston to drop off a large donation of goods. Organizing the incentive over the course of a few weeks, the cadets aggregated the monetary donations made to the group throughout the year and bought a trunk load of groceries based off of a most-needed items list found on the foodbank's website. They then drove to the foodbank a few days later and donated 247 lbs. of groceries! The group would like to thank all those who have made donations to the RMC Chapel, as well as the staff and students involved in making this all possible. Also, a big thanks to the Partners in Mission Food Bank for the great work they do!
***
Two cadets movin' on up!
We received word at press time that two officer cadets in the business program have successfully made it through to the final round of a rigorous case competition hosted by Queen's University. The competition attracted representatives from 30 universities including our nations' most highly respected business programs (e.g., Queen's, Western, WLU, etc.).
OCdt. Yoonjae Kim and OCdt. Michael Zovak have beat out most and are now in the top 6 teams in the Human Resources stream.
They'll go on to the final round in mid-January.
No further details available at this time.
***
28057 OCdt Colin Bond: Cub reporter joins e-Veritas volunteer staff
Ed: Most regular readers of e-Veritas are well aware that we mainly survive by the number of high level volunteers who step up and provide articles and photos for each Issue. OCdt (II) Colin Bond is the latest volunteer to join our team. Following is a short introduction by Colin himself. We  look forward to having him provide articles to us on a regular basis.

Hello, my name is Colin Bond, and I have recently been welcomed aboard the eVeritas team to submit articles for publication. This article in particular focuses around myself and the story that brings me here today. So, without further delay, I bring you my story.
I was born on the 21st of May 1998 at the Brockville General Hospital, which makes me 19 years old. And a lot has happened in those 19 years, but I'll start with the places I have grown up. My first real home was down in Mallorytown just 20 minutes south of Brockville. It is where my parents took care of me when I was a baby, before later moving to Brockville which is where I began pre-school. I spent part of my childhood in Brockville, attending Toniata Public School. However, in 2005 my parents made the leap from Brockville to the nation's capital, Ottawa. I spent the rest of my childhood and adolescence in Ottawa before leaving to go to Kingston to attend the Royal Military College.
I attended a few schools, when I was moving around, but most of them were in Ottawa. As mentioned before, when I was in Brockville, I attended Toniata Public School up until Grade 2 where I was then moved over to Ottawa. While in Ottawa, I attended Stittsville Public School until Grade 5 before moving onto Goulbourn Middle School for Grades 6 to 8. When I reached South Carleton High School, I was able to try many new experiences through the school.
While attending South Carleton, I played in many sports ranging from rugby to track and field, and even wrestling. Each left their own imprint on me, and allowed for skills to develop, both as a team and as an individual. I also met life long friends at high school and learned plenty from them. While in high school, I also joined a volunteer program called the Ottawa Police Venturers. As part of this volunteer group, I was also able to learn about teamwork, leadership, and followership through a police program. The program helped me focus on what I wanted, which was to join the military. High School helped me find what I wanted to do with my life it helped me figure out what I liked and allowed me to accomplish my goals.
After being accepted to RMC, I like every other first year went through the First Year Orientation Program or FYOP for short. A grueling four weeks ensued which help reinforces the ideals of the college: Truth, Duty, Valour, as well as military discipline. Once completed, it was like no other feeling of accomplishment, a feeling that remains a key part of my identity at the college and in my life, and it is an experience like none other.
Overall, my life has been an interesting one so far, with difficulties throughout, and accomplishments too. I strive towards the future with excitement for what it holds, just like the future with the eVeritas team.