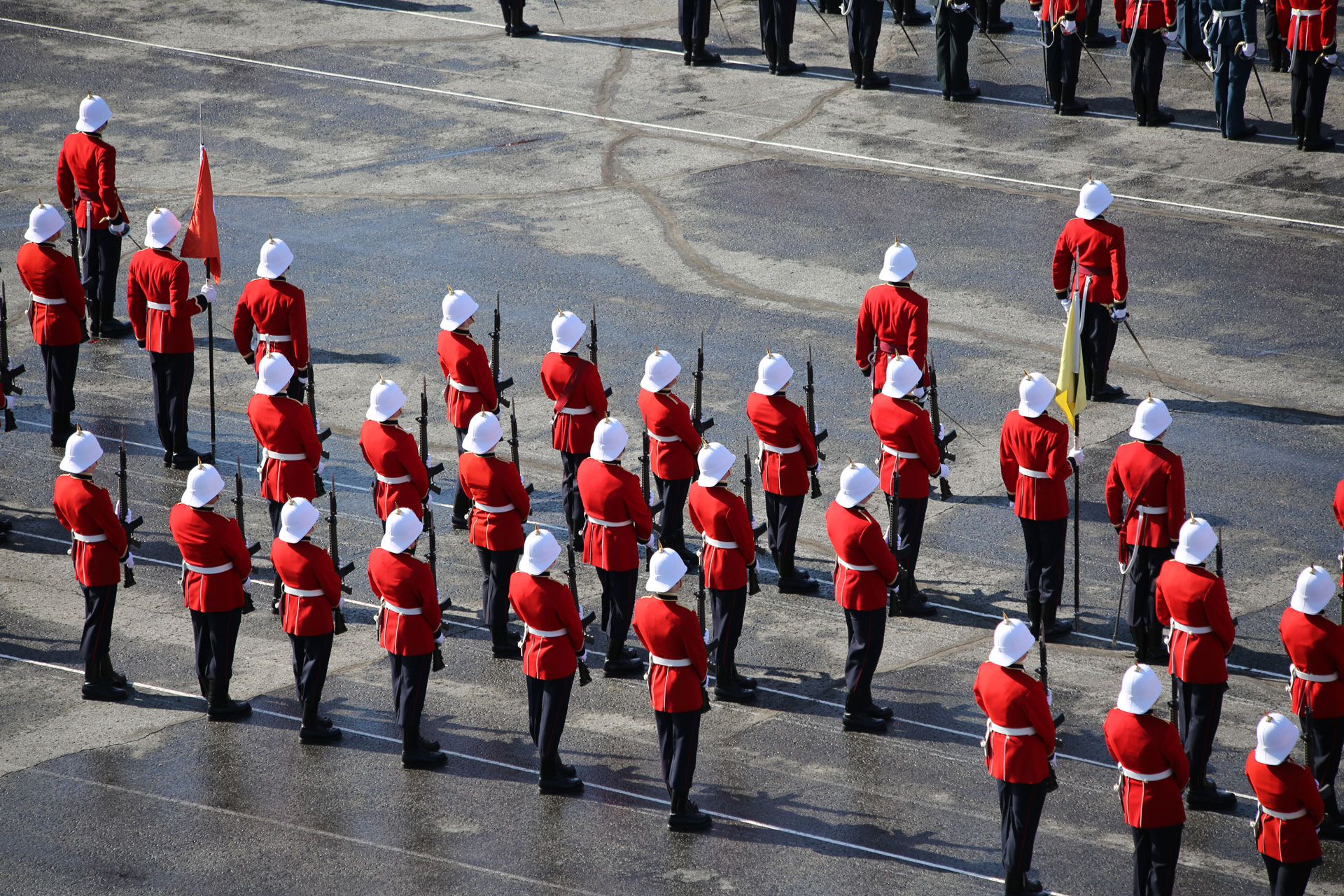 Article by 10102 Pat Ellis
One skylark I participated with at RMC (where skylarks are of course a bit of an art form) was at the end of my "Rook" (recruit) term in September 1970.  It was the Saturday night before the Ex-Cadets weekend. That Ex Cadets weekend saw the last of many tasks to accomplish before a "Rook" is accepted into the Cadet Wing on Parade, the last task being the Recruit Obstacle course.
The Recruit Obstacle race is always held on the Friday of that weekend and it is a doozy. The Second-Year class had the job of constructing it and it is a bit of a draw locally as well as by family and Ex Cadets coming for their weekend. The Second Year Class (quietly supported by the 4th Years) challenged the Rooks to illegally go AWOL into Kingston and place posters advertising the race around town.
Well, all of the other Squadrons went into town by foot but 2 Squadron had to be different. Our "Squad Boss" was LCdr Frank Hope the senior Naval Officer at RMC. So, a maritime transit was called for… We maintained OPSEC to our year squadron rooks only (or there, no doubt, would have been an intervention otherwise).
At about 0100 Sunday we all carefully found our way to the College Boathouse behind the Stone Frigate. Our goal was to use a whale boat that was tied up (think small Titanic lifeboat). Normally you use large oars but they were too secure so after a "minor" break and enter we took some canoe paddles. So far so good.
We started (somewhat clumsily) paddling around Fort Frederick and headed for Richardson Beach, Kingston. Now did I tell you our path crossed the Wolfe Islander ferry route? Well, as we were about halfway, we saw lights coming from Wolfe Island. Yes, it was the ferry. Perception of boats moving at night is difficult at the best of times but particularly when you add panic. We were all pretty convinced our military careers were about to be tragically cut short when suddenly the Wolfe Islander flashed on their gazillion megawatt searchlight exposing a score of Officer Cadets, definitely not in good order. Have been a great fan of RADAR ever since. The ferry took a wide turn avoiding us.
Minutes later we landed at Richardson Beach. A few Third Years were necking with their dates, a process interrupted by our Juno Beach style landing. ALL of my classmates skedaddled after seeing the Third Years. I was concerned about those untrustworthy Third Years taking our paddles so I hid them first (which caused some consternation by a few fellow Rooks who returned before me!).
No ferry on the return trip but as we rounded the point approaching the College Boathouse, we saw a Commissionaire on his nightly patrol walking by the other whale boats. We presumed this was it but the gaping evidence of one less whale boat tied up as he sauntered by at 0300 thankfully escaped his attention!
However, it didn't take long. Perhaps it was a call from the Wolfe Island ferry service or the Third Years ratting us out, but more likely it was discovery of the damage (slight!) that our B&E caused obtaining the canoe paddles.  There was more interest in getting true facts so it as "No names No Pack Drill" during the pretty serious interviews by our 4th Years.  I always remember the shocked look by my CFL Lawrence Sianchuk and CSL Roy Mould (future 104 drivers) when the part about the ferry encounter was described.  There was a Barrack Damage Report to pay for the B&E damage but (as I recall) no other punitive actions. As our Commandant was BGen ('Thirty Days Beta') Lye I think we got away with one. I think there was likely a desire for this to not surface in the press and thankfully the Kingston Whig Standard missed the story of the year!
---
Article de 10102 Pat Ellis
L'un des « skylark » auxquels j'ai participé au CMR (où les « skylark » sont pratiquement une forme d'art) s'est produit à la fin de mon camp de recrue en septembre 1970. Nous sommes le samedi soir précédant la Fin de semaine des retrouvailles. La course à obstacles des recrues durant cette fin de semaine constitue la dernière des nombreuses tâches à accomplir avant qu'une recrue ne soit accepté dans l'escadre des élèves-officiers lors de la parade.
La course d'obstacles a toujours lieu le vendredi de cette fin de semaine et c'est un incontournable. La classe de deuxième année a pour tâche de la construire. Il s'agit en quelque sort d'une attraction locale qui attire aussi les familles et les Ancien(ne)s qui se déplacent pour leurs retrouvailles. La classe de deuxième année (discrètement soutenue par les 4e années) défie les recrues de s'absenter sans permission pour se rendre illégalement à Kingston et de placarder des affiches annonçant la course dans toute la ville.
Alors que tous les autres escadrons se rendent en ville à pied, le 2e escadron doit faire différemment. Notre « Squad Boss » est le capc Frank Hope, l'officier supérieur de la marine au CMR. Donc, un déplacement par voie naval est de mise… Nous avons préservé l'OPSEC pour les recrues de notre escadron uniquement (sinon, l'opération aurait possiblement échouée).
Vers 1h00 le dimanche, nous nous sommes prudemment dirigés jusqu'au hangar à bateaux du Collège situé derrière la Stone Frigate. Notre but est d'utiliser une baleinière amarrée à cet endroit (pensez au petit canot de sauvetage du Titanic). Normalement, on emploie de grandes rames, mais elles sont trop bien sécurisées. Alors, après une infraction « mineure », nous prenons quelques pagaies de canoë. Jusqu'à présent, tout va bien.
Nous commençons (un peu maladroitement) à pagayer autour du Fort Frederick et nous nous dirigeons vers la plage Richardson à Kingston. Ne vous avais-je pas dit que notre chemin croiserait la route du traversier de l'île Wolfe? Eh bien, comme nous arrivons environ à mi-chemin, nous apercevons des lumières venant de l'île Wolfe. Oui, c'est bien le traversier. La perception des bateaux qui se déplacent la nuit reste difficile dans le meilleur des cas, mais encore plus si on y ajoute la panique. Nous sommes vraiment convaincus que nos carrières militaires se termineraient tragiquement, lorsque soudain, le Wolfe Islander braque son projecteur de plusieurs millions de mégawatts sur une vingtaine d'élèves-officiers complétement désordonnés. Depuis cet instant, je suis devenu un grand adepte de RADAR. Le traversier prend alors un grand virage pour nous éviter.
Peu de temps après, nous débarquons sur la plage Richardson. Notre débarquement à la Juno Beach a interrompu les ébats amoureux de quelques troisièmes années qui s'y trouvent avec leur petite amie. TOUS mes camarades de classe s'enfuient à la vue de ceux-ci. Comme je suis inquiet que ces jeunes gens indignes de confiance prennent nos pagaies, je les cache en premier (provoquant la consternation de quelques camarades de classe qui sont revenus avant moi !).
Aucun traversier n'importune le voyage de retour, mais, alors que nous contournons la pointe vers le hangar à bateaux du Collège, nous repérons un commissionnaire en patrouille nocturne qui passe à côté des autres baleinières. Nous supposons donc que nous serions découverts, mais non ! L'absence d'une des baleinières a heureusement échappé à son attention lors de sa ronde de 3h00.
Néanmoins, cela n'a pas pris beaucoup de temps. C'est peut-être un appel du service de traversier de l'île Wolfe ou un troisième année qui nous a trahis, mais il est plus probable que ce soit la découverte des dégâts (légers !) que notre infraction pour se procurer les pagaies de canoë a causés. Il y avait plus d'intérêt à obtenir des faits réels, c'est pourquoi la loi de l'Omerta régnait pendant les interrogatoires assez sérieux de nos 4e années. Je me souviens encore du regard choqué de mon COMO Lawrence Sianchuk et mon COMI Roy Mould (futurs pilotes de 104) lorsque la partie concernant la rencontre avec le traversier a été décrite. Un rapport de dommages pour payer les dégâts de l'infraction a été rédigé, mais (à mon souvenir) aucune autre mesure punitive n'a été prise. Comme notre commandant était le bgén (« Thirty Days Beta ») Lye, je crois que nous nous en sommes bien tirés pour cette fois. Selon moi, il y avait probablement un désir que cela n'apparaisse pas dans la presse. Heureusement, le Kingston Whig Standard a manqué l'histoire de l'année !