Gracieuseté des Affaires publiques du CMR Saint-Jean / Courtesy of RMC Saint-Jean Public Affairs 
Jusqu'au 13 mai nous avons le plaisir de vous présenter les élèves-officiers finissants du baccalauréat en Études internationales du Collège militaire royal de Saint-Jean. Prenez le temps de les féliciter!
Until May 13, we are pleased to present the graduating Officer Cadets of the baccalaureate in International Studies from the Royal Military College Saint-Jean. Take the time to congratulate them!
---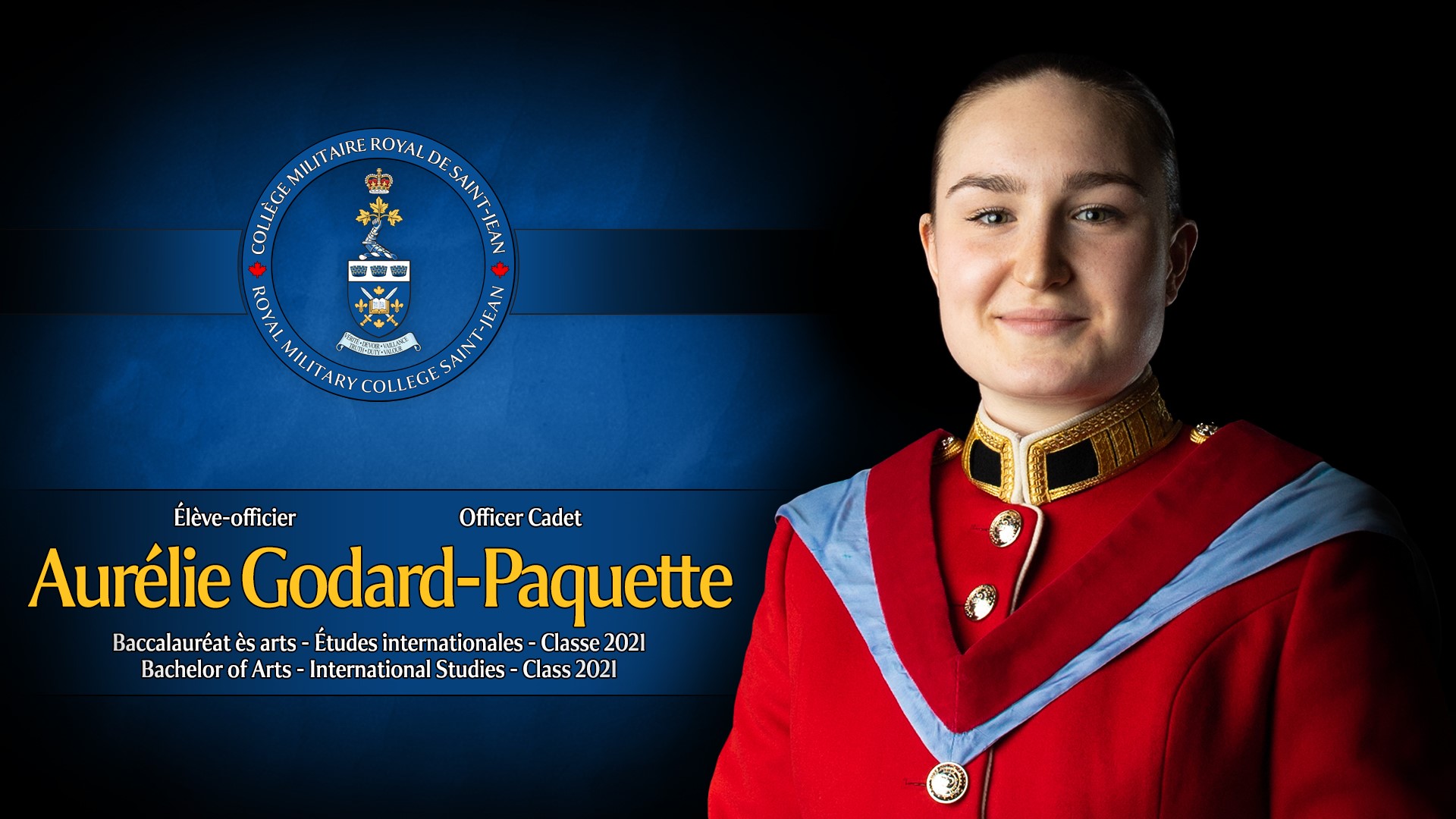 27976 Élof/Ocdt Aurélie Godard-Paquette
Je m'appelle Aurélie Godard-Paquette et j'ai 21 ans. Avant de débuter mes études au Collège militaire royal de Saint-Jean, j'ai fréquenté le Collège Laurentien tout en vivant à Saint-Hippolyte, petite ville des Laurentides. Si tout se déroule comme il le faut, je serai pilote dans quelques années. Les incertitudes de la pandémie rendent le calendrier de mes formations incertain. Je trouve que ce métier est passionnant et qu'il m'amènera à repousser mes limites.
My name is Aurélie Godard-Paquette, and I am 21 years old. Before beginning my studies at Royal Military College Saint-Jean (RMC Saint-Jean), I attended Collège Laurentien while living in Saint-Hippolyte, a small town in the Laurentians. If all goes well, I will be a pilot in a few years. The uncertainties of the pandemic have made my training schedule unclear. I find this job exciting, and it will force me to push my limits.
J'ai choisi de poursuivre mes études au CMR Saint-Jean, en Études internationales parce qu'il s'agit d'un BAC très intéressant qui offre des connaissances importantes pour tous futurs officiers dans les Forces armées canadiennes. Puisqu'il ne s'agit pas d'un BAC dans un sujet très précis, cela nous permet de trouver un élément qui nous intéresse plus et qui nous donne envie d'apprendre. Pour ma part, j'ai orienté mes différentes recherches sur la perspective féministe. Je dirais que mes plus beaux moments passés au CMR Saint-Jean sont ceux qui nous auront permis de lâcher notre fou tout en étant entouré de gens qui partagent notre réalité. Si j'avais un conseil à donner à une personne qui considère suivre le même parcours universitaire que le mien, ce serait de ne pas hésiter à s'embarquer, bien que les longues heures d'études puissent faire peur au début.
I chose to continue my education in International Studies at RMC Saint-Jean, because it is a very interesting degree program that provides important knowledge for all future officers in the Canadian Armed Forces. Since it is not a program in a very specific subject, it allows us to find something that especially interests us and makes us want to learn. I have focused my various research projects on the feminist perspective. I would say that my best moments at RMC Saint-Jean were the ones that allowed us to do some crazy things while being surrounded by people who share our reality. If I had one piece of advice to give to someone who is considering following the same academic path as mine, it would be to go for it, even though the long hours of study can be scary at first.
Enfin, comme je suis une personne qui vit plutôt le moment présent, je ne saurais vous dire où je serai dans 5 ou même 10 ans. En espérant que je sois heureuse et comblée par la vie que je mènerai.
Lastly, since I am a person who tends to live in the present, I cannot tell you where I will be in 5 or even 10 years. I just hope I will be happy and fulfilled in the life I lead.
---
28055 Élof/OCdt Alexis Bédard
Mon nom est Alexis Bédard. Je suis diplômé du Collège militaire royal de Saint-Jean (CMR Saint-Jean). Je suis fier de faire partie de la première cohorte d'élèves-officiers ayant gradué du CMR Saint-Jean, en mai 2021, dans le programme d'Études internationales.
My name is Alexis Bedard. I am a graduate of RMC Saint-Jean. I am proud to be part of the first class of officer cadets to graduate in the International Studies program at RMC Saint-Jean in May 2021.
J'ai 21 ans et je suis originaire de Gatineau, où j'ai grandi et où j'ai fréquenté le Collège Saint-Alexandre. J'ai joué au basket-ball toute mon enfance ainsi qu'au secondaire. J'ai vécu de merveilleuses expériences dans le sport et les apprentissages que j'ai tirés de celles-ci par rapport au leadership et à l'esprit d'équipe m'accompagnent depuis mon entrée au collège militaire.
I am 21 years old, and I am originally from Gatineau, where I grew up and attended Collège Saint-Alexandre. I played basketball during my childhood and in high school. I have had some wonderful experiences in sports, and what I learned from those experiences about leadership and teamwork has stayed with me since I entered military college.
En 2016 j'ai pris la décision de joindre les Forces armées canadiennes (FAC) par envie de sortir de ma zone de confort, de saisir des opportunités uniques et de devenir pilote. Je n'avais auparavant aucune expérience militaire quelconque et n'ayant jamais intégré un corps de cadets. D'ailleurs, il n'y avait aucun militaire dans ma famille proche. Ma passion pour le pilotage fut un facteur déterminant dans ma décision de m'enrôler. J'ai ce grand intérêt pour l'aviation et la profession de pilote depuis un très jeune âge et pouvoir voler dans les FAC est un rêve pour moi.
In 2016, I decided to join the Canadian Armed Forces (CAF) because I wanted to step outside my comfort zone, take advantage of unique opportunities and become a pilot. I had no previous military experience of any kind and had never been in a cadet corps. There are no CAF members in my immediate family. My passion for flying was a determining factor in my decision to enlist. I have had a burning interest in aviation and flying from a very young age, and being able to fly in the CAF is a dream for me.
J'ai complété mes études collégiales en sciences de la nature, puis j'ai ensuite décidé de changer de voie vers les sciences sociales et de joindre le nouveau programme universitaire en études internationales au CMR Saint-Jean. Les études internationales couvrent une multitude de sujets qui m'intéressent depuis longtemps, notamment la géopolitique de différentes régions du monde. Parallèlement à ce désir de poursuivre une carrière de pilote, je suis un passionné de voyages et ce baccalauréat n'a fait qu'accentuer mon fort intérêt et ma curiosité vis-à-vis l'international. Je me compte d'ailleurs très chanceux d'avoir eu la chance de faire un échange étudiant à la session d'automne 2019. J'ai passé 4 mois en Asie où j'ai étudié à l'académie de l'armée de terre de Corée du Sud. Cette immersion dans la culture coréenne m'a beaucoup appris et elle s'est avérée une des plus belles expériences de ma vie.
After completing my college studies in the natural sciences, I decided to switch to the social sciences and enter the new university-level International Studies program at RMC Saint-Jean. International Studies covers a multitude of subjects that have long interested me, including the geopolitics of different regions of the world. Along with the desire to pursue a career as a pilot, I am passionate about travelling, and this degree program has only deepened my strong interest in and curiosity about international affairs. I am very fortunate to have had the opportunity to do a student exchange in the 2019 fall term. I spent four months in Asia, where I studied at the South Korean Military Academy. That immersion in Korean culture taught me a lot and was one of the greatest experiences of my life.
Je suis très reconnaissant pour les opportunités que m'a permis de vivre le CMR Saint-Jean. Mon passage au collège m'a aidé à grandir et à développer des outils qui me serviront autant dans ma vie professionnelle que personnelle. J'ai aussi forgé des amitiés très solides qui sauront perdurer et je garde en mémoire les innombrables fous rires et souvenirs avec des amis qui ont marqué mes cinq années passées à Saint-Jean. Il va sans dire que nous avons fait un nombre considérable de « mauvais coups » et ceux-ci forment effectivement les meilleurs souvenirs… Je pense notamment aux fois où nous avons dormi à des endroits inusités sur le campus (sur le gazon de la maison du Commandant par exemple) et avons ainsi rendu le travail des agents de sécurité un peu plus ardu.
I am very grateful for the opportunities that RMC Saint-Jean has given me. My time at college has helped me grow and develop tools that will serve me in my professional and personal life. I have also forged very strong, enduring friendships, and I remember the countless laughs and good times I had with friends in during my five years in Saint-Jean. Needless to say, we got into our share of trouble, and those are indeed the best memories. In particular, there were the times when we slept in odd places on campus (on the lawn of the Commandant's house, for example), which made life a little harder for the security guards.
Je suis heureux et fier d'avoir gradué du CMR Saint-Jean. Fier de porter avec moi les expériences que j'ai vécues en tant qu'élof. Ce qui m'attend désormais est l'entraînement de pilotage et peut-être que je déciderai éventuellement de poursuivre mon parcours académique.
I am happy and proud to have graduated from RMC Saint-Jean. Proud to carry with me my experiences as an officer cadet. What awaits me now is flight training, and I may eventually decide to continue my academic career.
---
28552 Élof/Ocdt Daniel Unger
Je suis l'élève-officier Daniel Unger et j'ai 22 ans. J'ai grandi à Abbotsford, en Colombie Britannique, où j'ai fréquenté l'école secondaire M.E.I. et où j'ai fait partie de l'Escadron des cadets de l'air 861 Silverfox.
I am Officer Cadet Daniel Unger. I am 22. I grew up in Abbotsford, British Columbia, went to M.E.I. Secondary and was an Air cadet with the 861 Silverfox Squadron.
Quand j'ai décidé de me joindre aux Forces armées canadiennes (FAC), en 2017, je me suis d'abord intéressé à un groupe professionnel qui aurait été proche de mon expérience du programme des cadets, car j'avais obtenu mes licences de pilote de planeur et de pilote d'avion dans le cadre de ce programme. J'ai donc voulu au départ appartenir à un groupe professionnel des équipages aériens, mais j'ai changé d'idée, car il m'a semblé plus judicieux d'opter pour une carrière non liée à l'aviation et de conserver du côté loisirs mon intérêt pour le vol. J'ai donc opté pour une carrière d'officier de corps blindé, ce qui allait me donner un changement de cadence intéressant tout en me posant un défi, car l'instruction par phases des officiers des blindés est considérée comme l'une des plus difficiles que puissent offrir les FAC.
When deciding to join the Canadian Forces in 2017, I was initially interested in pursuing a trade which would relate more closely to my experiences in the cadet program, as I had obtained both my glider and power licenses through the program. Pursuing an aircrew trade was my initial intent, however, I decided against it as I wanted to pursue a career unrelated to aviation and keep my interest in flying solely as a hobby. Thus, I decided that a career of Armored Officer in the armor corps would be an interesting change of pace but yet also present a challenge, as the armor officer phase training is considered to be some of the most difficult training that the Canadian Armed Forces (CAF) has to offer.
J'ai décidé de rester au Collège militaire royal de Saint Jean (CMR St Jean) et de faire ma majeure en études internationales tant pour les possibilités d'ordre universitaire de ce programme que pour l'expérience que peut offrir le CMR St Jean. Être membre du premier groupe à obtenir son diplôme du CMR St Jean depuis sa réouverture me semblait constituer une occasion intéressante et unique qui allait me faire vivre différentes expériences, comme des possibilités de leadership et une chance d'étudier à l'étranger que ne me présenterait pas forcément le CMR Kingston. Bien que le fait d'être membre de ce premier groupe ait naturellement posé des difficultés et des défis, il s'est agi dans l'ensemble d'une expérience positive et je suis reconnaissant de mes quatre années d'études au CMR St Jean.
I decided to stay at the Royal Military College Saint-Jean (RMC Saint-Jean) and to complete my major in International Studies both for the academic opportunities but as well for the overall experience that RMC Saint-Jean could offer. Being a member of the first class to graduate from RMC Saint-Jean since its reopening seemed like an interesting and unique opportunity for me, which offered several experiences such as leadership opportunities and a chance to study abroad that could not necessarily be offered by RMC Kingston. Although being a part of the first class has had its inherent difficulties and challenges, the overall experience has been positive, and I am grateful for the four years that I have been able to spend as a student at RMC Saint-Jean.
Le souvenir le plus cher que je garde de mes quatre années au CMR St-Jean est sans aucun doute mon premier semestre à l'étranger, à l'Académie militaire de Corée (AMC), à Séoul, en Corée du Sud, au début de ma troisième année d'études. Moi-même et un autre stagiaire du CMR St Jean avons eu le privilège d'être les premiers élèves-officiers canadiens à participer à un échange avec l'AMC. Passer un semestre à l'AMC a peut-être été l'expérience la plus intéressante de ma vie, car l'immensité des différences entre la culture coréenne et la culture canadienne, ainsi que les différences entre la façon de chacune des armées de fonctionner, ont été fascinantes. D'un moment passé à la frontière avec la Corée du Nord à l'exploration des rues de Séoul, mon semestre en Corée a été une expérience formidable, des points de vue tant civil que militaire, et une expérience que je recommande chaudement à tout élève-officier qui envisage de rester au CMR St Jean.
My fondest memory during my four years at RMC Saint-Jean is without a doubt my semester abroad spent at the Korea Military Academy (KMA) in Seoul, South Korea during the first semester of my third year. I and one other cadet from RMC Saint-Jean had the privilege to be the first Canadian Officer Cadets to ever do an exchange at KMA. Spending a semester at KMA was perhaps the most interesting experience in my life to date as the enormity of the cultural differences both between Korean/Canadian culture as well as the differences between the way both armies are run made for a fascinating experience. From standing on the border with North Korea, to exploring the streets of Seoul my semester exchange to Korea was an amazing opportunity from both a civilian and military perspective and one that I would highly recommend to any cadets who are contemplating staying at RMC Saint-Jean.
J'encourage tout élève-officier en puissance qui songe à rester au CMR St Jean à profiter de toutes les occasions qui se présenteront à lui. Qu'il s'agisse d'échanges avec l'étranger, de postes de leadership ou de la possibilité d'améliorer sa langue seconde, le CMR St Jean propose des occasions exclusives qui n'existent pas au CMR Kingston. Bien que les deux écoles aient leurs avantages et leurs inconvénients, les avantages qu'offre le CMR St Jean sont véritablement uniques et auront un impact fort et durable pendant nombre d'années après l'obtention du diplôme.
To any potential Officer Cadets who are thinking of staying at RMC Saint-Jean I would encourage them to leverage all of the opportunities which are given to them. Weather it be foreign exchanges, leadership positions, or the opportunity to improve on a second language RMC Saint-Jean offers unique opportunities which cannot be found in the same capacity at RMC Kingston. Though both schools have their advantages and disadvantages the ones offered by RMC Saint-Jean truly are unique and will have a strong lasting impact for many years post-graduation.
Si je tourne les yeux vers mon avenir professionnel, je me vois militaire pendant au moins encore une décennie, et probablement pendant vingt-cinq ans bien comptés. Bien que je n'aie pas de but précis quant à ma carrière dans les FAC, j'ai de l'intérêt pour les déploiements à l'étranger, le travail au sein d'un état-major multinational, ainsi que le travail, finalement, à titre d'attaché militaire dans une ambassade du Canada. La prochaine étape que je compte franchir, après l'obtention de mon diplôme, sera mon retour à la Base des Forces canadiennes Gagetown, au Nouveau Brunswick, pour y terminer mon instruction par phases et devenir un officier des blindés parfaitement qualifié avant d'être affecté à mon régiment d'appartenance.
When looking at the future of my career I see myself remaining in the military for at least the next 10 years and likely staying in to complete a full 25 years. Though I do not have one specific goal related to my career in the CAF, I would be interested in deploying overseas, working in a multinational staff capacity, as well as eventually working as a military attaché in a Canadian embassy abroad. My next step in my career post-graduation will be to return to CFB Gagetown in New Brunswick and to complete my phase training to become a fully qualified Armored Officer before being posted to my home regiment.