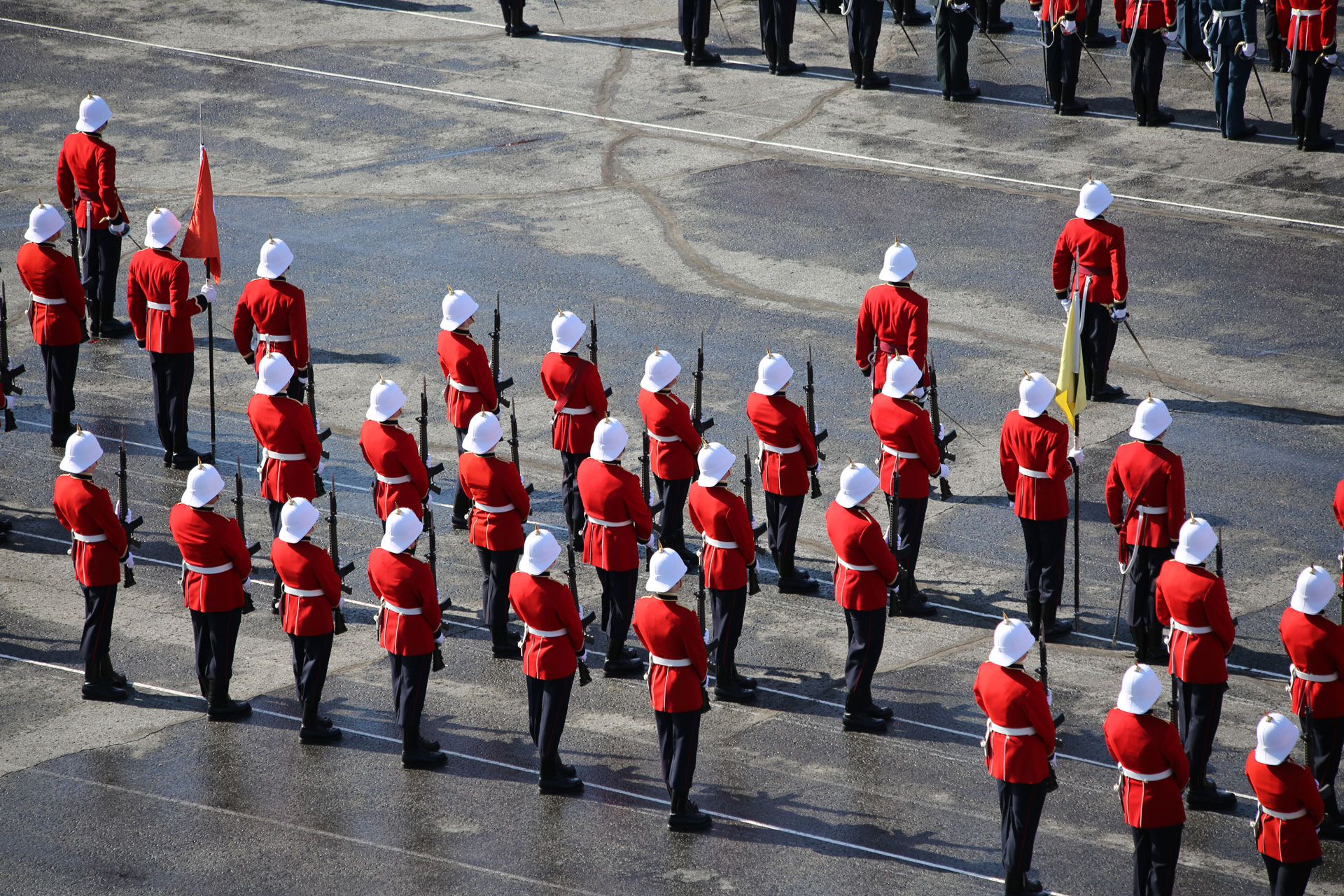 Caption: 17639 Stéphane Bilodeau traveling by Black Hawk from Massum Ghar to Camp Nathan Smith, in Kandahar city.
Rewarding career in the Infantry
A/SLt 24498 Noelani Shore (RMC 2009)
Feeling the need for adventure, and with the possibility of traveling around the world, Major 17639 Stéphane Bilodeau (1991) decided to join the Collège militaire royal (CMR) de St-Jean during his second last year at high school, in Rouyn-Noranda, QC, his hometown.
"Being part of a great team and the opportunity to have new and interesting challenges were the main reasons that led me to join the CF and the Military College," he said.
Maj Bilodeau experienced the esprit de corps of life at the college, and was part of the Broomball Rep team for two years. As a third year, he held the position of the CMR Band Drum-Major, and he also had the opportunity to lead Montcalm Squadron as the Cadet Squadron Training Officer (CSTO) and Cadet Squadron Senior (CSS) in his fourth year.
"CMR was a great and challenging experience on its own for me; a place where I could learn about myself, my strengths and my limitations, a place I could learn about the organization and its history, and also learn about my fellow buddies, how we can count on each other during good and challenging times. Also, we had great role models in the military staff, some great teachers at the académie that were able to open our minds and pass on their passion," he said.
Learning how to manage his priorities was key for Maj Bilodeau, as there were so many activities going on at once. It was also important to learn to take the time to relax and have fun even when things got busy.
"'Work hard – play hard' was certainly a motto that resonated with all of us at the time."
After graduating with a Bachelor degree in Military Studies and a minor degree in Military Psychology, Maj Bilodeau was posted to 3R22eR in Valcartier, QC, as an infantry platoon commander.
"It was a great posting to start my infantry career. I had a great team and a remarkable bunch of soldiers; we did many interesting live firing exercises and training at all levels (sub-unit to brigade level, and even at division level during RV 92)," he explained.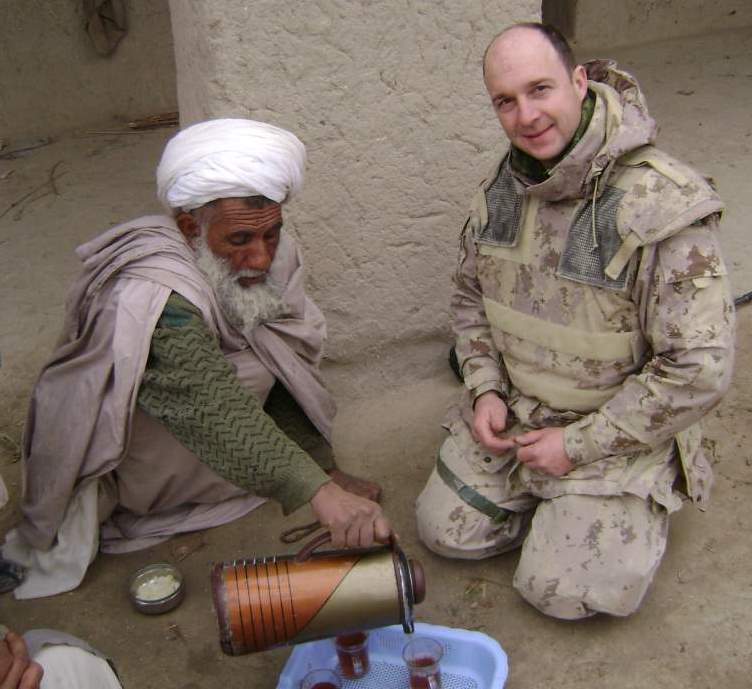 Maj Bilodeau put his training to use on a number of deployments around the world. He was a platoon commander in the Medak Pocket in Krajina from 1993-94; assisted in the 1998 OP RECUPERATION, the ice storm in Montreal and Montérégie; was the Battle Group anti-armour platoon commander on OP PALLADIUM with the Stabilization Force in Bosnia from 1999-2000; participated in OP NIJMEGEN in 2001; acted as the Liaison Officer between 3R22eR Battle Group and Kandahar Provincial Reconstruction Team with the International Security Assistance Force (ISAF) in Afghanistan from 2007-08; and was the Army Lessons Liaison Officer for the Land Component Command for the Olympics in 2010 on OP PODIUM.
"The most rewarding and valuable experiences for me in all operations were when I was either helping the Canadian population or the local population where we were deployed; the feeling of contributing and making the difference by our actions (i.e. providing security, providing human assistance and hope) was very rewarding. I'm happy to have been able to serve my country," he said.
On his tour in Afghanistan, Maj Bilodeau worked as a Civil-Military Cooperation (CIMIC) operator for almost a month outside the wire.
"I was able to accomplish some valuable liaisons and build some relationships with the civilian population in order to help them, and also to gain their trust and their cooperation to improve their conditions, so they were supportive of our efforts," he explained.

For the future, Maj Bilodeau would like to have a tour in Sinaï with the Multinational Force Operation (MFO).
"Because of the complexity of this sensitive and high profile region, the dynamics of the local populations and its rich history, this part of the world fascinates me and I would like to contribute to the peace support effort," he said.
After eight postings to four provinces, Maj Bilodeau has enjoyed the challenges from each posting. He is currently working in Kingston, ON, at the Army Lessons Learned Centre as an analyst.
"We collect, analyze, disseminate and track evolutions of key lessons identified and observations that are gathered in Land and CF Operations. Our mandate is to permit the Army to become a learning institution that is agile and able to adapt to the contemporary evolving operation environment. As you can imagine, our focus have been on OP ATHENA in Afghanistan over the past four years, but this past semester, we have also collected some lessons during OP HESTIA (Haïti – Human Assistance operation), OP CADENCE (CF support to G8 and G20) and during OP PODIUM, the CF support to the 2010 Olympics Games in Vancouver, where I had the privilege to serve," Maj Bilodeau explained.
With a 19-year career in the Army, working as an infantry officer has been an incredible opportunity.
"Time flies so quickly, so it's important to learn to live in the moment and appreciate all the dimensions and opportunities that you have. The importance to maintain balance between work and your loved ones is so critical to have a complete and a rewarding life. In the end, our most important resource in the CF remains our soldiers and people, so to the youngsters who just graduated from RMC, learn to take good care of them."