Christmas Luncheon at the Castle
Vancouver Island Ex-Cadet Club
Thursday December 6th, 75 Ex-cadets, spouses and guests gathered at the Hatley Castle for the VIECC Annual Christmas Turkey Buffet. The Royal Roads Castle was wonderfully decorated for the season and poinsettias complimented each table set in the Drawing Room. Padre Al Fowler opened the occasion reminding us of our blessings and that Canadian service men and women continue to face separation from loved ones while on duty much as we had experienced during our time. VIECC Vice-President 7454 Rick Young acted as MC as President 9318 Dave Bindernagel and his wife Pat were in Parksville on Grand-parenting duties for their newly arrived granddaughter. 11554 Jurek Romaniec provided some background on Saint Nicholas and lead the group in a jovial rendition of the "A Visit from St. Nicholas", more commonly known as "The Night Before Christmas". 6216 Willy Anderson, Club Event Co-ordinator, and Shelley Langille, Military and Strategic Sector Liaison, Royal Roads University, co-ordinated the event. Willy has a brief respite before tackling the final details for the December 27th "Host the Cadets" at the Victoria Union Club.
***
Packed Crowd for Kingston Branch December Luncheon
Article by 25366 Anna-Michelle Shewfelt
This past Wednesday, being once again the first Wednesday of the month, saw members
of the Kingston Branch at RMC's Senior Staff Mess for their monthly luncheon.
The crowd was somewhat larger than it has been in recent months (perhaps drawn by the nature of this month's presentation), but those present enjoyed the usual mingling over drinks and lunch before being treated to a multi-media presentation by 12193 BGen (ret'd) Terry Leversedge and Mr. Paul Amirault. BGen (ret'd) Leversedge is a leading authority on the Avro Arrow and Mr. Amirault is an expert in computer graphics and historical reconstruction from the National Research Council. Together they have
"resurrected" the Arrow in a series of videos (which can be found on Paul's website here). The Kingston Branch had the opportunity to view one of these videos and also learn in depth just what it was that made the Arrow such a unique accomplishment for its day.
As they explained in their informative presentation, their videos bring the Arrow into 2018. "We based them on the myth that one got away," they said. Their videos, as we also learned, are based on the technical and design drawings of the Arrow so they are not only entertaining but they accurately represent the Arrow as well.
If the size of the crowd and the questions they asked following the presentation are any indication, this is one luncheon the Kingston Branch members will remember for some time to come.
For more photos from the luncheon please click here.
***
Hamilton Ex Cadet Club – HMCS Star

Once again, the Hamilton ExCadet Club will be holding its annual meet and greet at HMCS Star in Hamilton on December 21st. The event will kick off at 1730 hrs with an informal reception until 1930 hrs. The purpose of the evening is to connect current serving local cadets with Ex Cadets to share stories and pass along news from the school. It is also a great way for prospective cadets to learn more about the institution, and to hear about what they can expect during and after their RMC experience. Family and friends of current and prospective cadets are encourage to attend. Light food will be available along with a cash bar for those over 19.
Dress:
Cadets: Scarlets
Ex Cadets: Sixes
All others: Jacket and Tie or Equivalent
Cost:
Current Cadets are welcome free of charge
All others $10 at the door.
Directions:
Please find the google map here. Enter the main gates for HMCS Star located off the Dock Service Road, and turn an immediate left after the guard shack. Follow around to the end of the building, with the entrance being on the northwest side of the building. Be wary of the one way streets on John and Wellington.
RSVP by December 14th to Bob Carr.
***
Vancouver Chapter of the RMC Club Invites Cadets to End-of-Year Reception
The Vancouver Chapter of the RMC Club would be pleased to host all Cadets currently studying at RMC and CMR to an end-of-year reception from 13:00-16:00, Thursday, 27 December. The reception will be held at the Seaforth Highlanders of Canada Officer's Mess, The Armoury, 1650 Burrard Street. Family members of cadets are also invited.
Cadets are requested to wear No. 3 dress, and club hosts to wear business suit or club blazer.
Cadets are also requested to confirm their attendance by email by Monday, 17 December, to 11465 Neil Clegg (Email: [email protected]/Mobile: 1 (604) 306-0346)
***
Le Chapitre Fort Saint-Jean(F) Newsletter (E)
***
Pour une deuxième année, le Chapitre Fort Saint-Jean organise ses retrouvailles hivernales au Manège des Fusiliers Mont-Royal le 14 décembre 2018. Nous vous proposons une rencontre amicale afin de célébrer la fin de l'année et jeter un regard sur les acticités et événements de 2019. Profitez de cette occasion pour retrouver des ancien(ne)s dans le décor luxueux du Mess des officiers du manège des Fusiliers Mont-Royal.
· 14h30 à 16h30 : L'émancipation du chapitre, thème développé avec les majors de classe;
· 16h30 à 19h00 heure heureuse.
For a second year, Fort Saint-Jean Branch organizes its winter reunion at the Armory of Fusiliers Mont-Royal December 14, 2018. We offer you a friendly meeting to celebrate the end of the year and take a look at the activities and events of 2019. Take this opportunity to find Ex cadets in the luxurious setting of the Officers' Mess at the Fusiliers Mount Royal Armory.
• 14h30 to 16h30: The emancipation of the chapter, theme developed with the class majors;
• 16:30 to 19:00 happy hour.
***
http://www.rmcclubns.ca/events
Special invite for cadets at both RMC and RMCSJ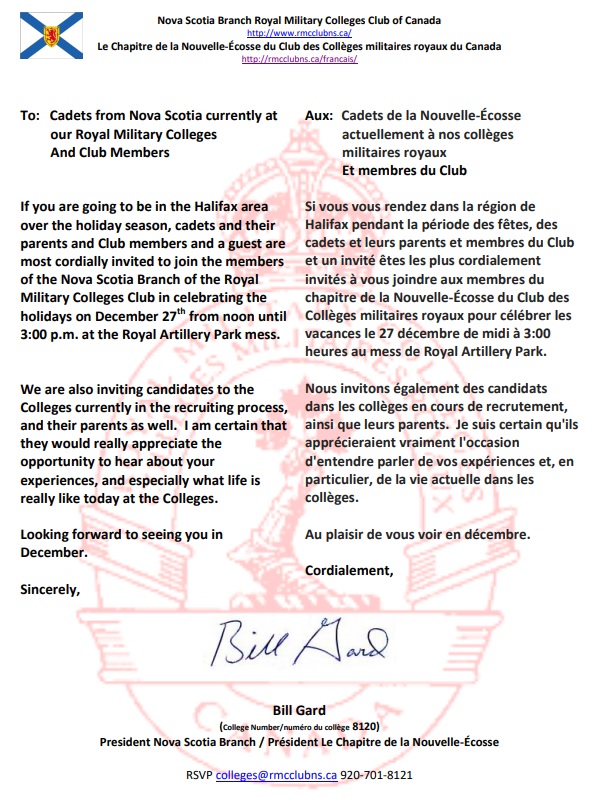 http://www.rmcclubns.ca/events
***
The Vancouver Island Branch of the Royal Military Colleges Club of Canada invites you to:
The Annual At-Home Christmas Luncheon for Ex-Cadets and Officer Cadets of the Royal Military Colleges of Canada on
Thursday, 27 December 2018

at

11:30

AM

to be held at
The Union Club of British Columbia, 805 Gordon Street, Victoria BC.
Buffet Lunch will be served
RSVP by
1200 Pacific Standard Time, Thursday, 20 December

to:
6216 LCol (Ret'd) Willy Anderson at [email protected],
+1(250-370-1590), providing the names of guests plus your telephone no. and email address. If you are unable to advise in advance, please come anyway.
Tariff: No cost for RMC Cadets with one family member or guest. Members, their guests, and any additional guests for Cadets:
$35.00 (Tax & Gratuity incl) per person

.
Refreshments: Cash Bar
Dress: Scarlets (preferred), Fours, Blazer, or Business Attire (Equivalent for ladies)