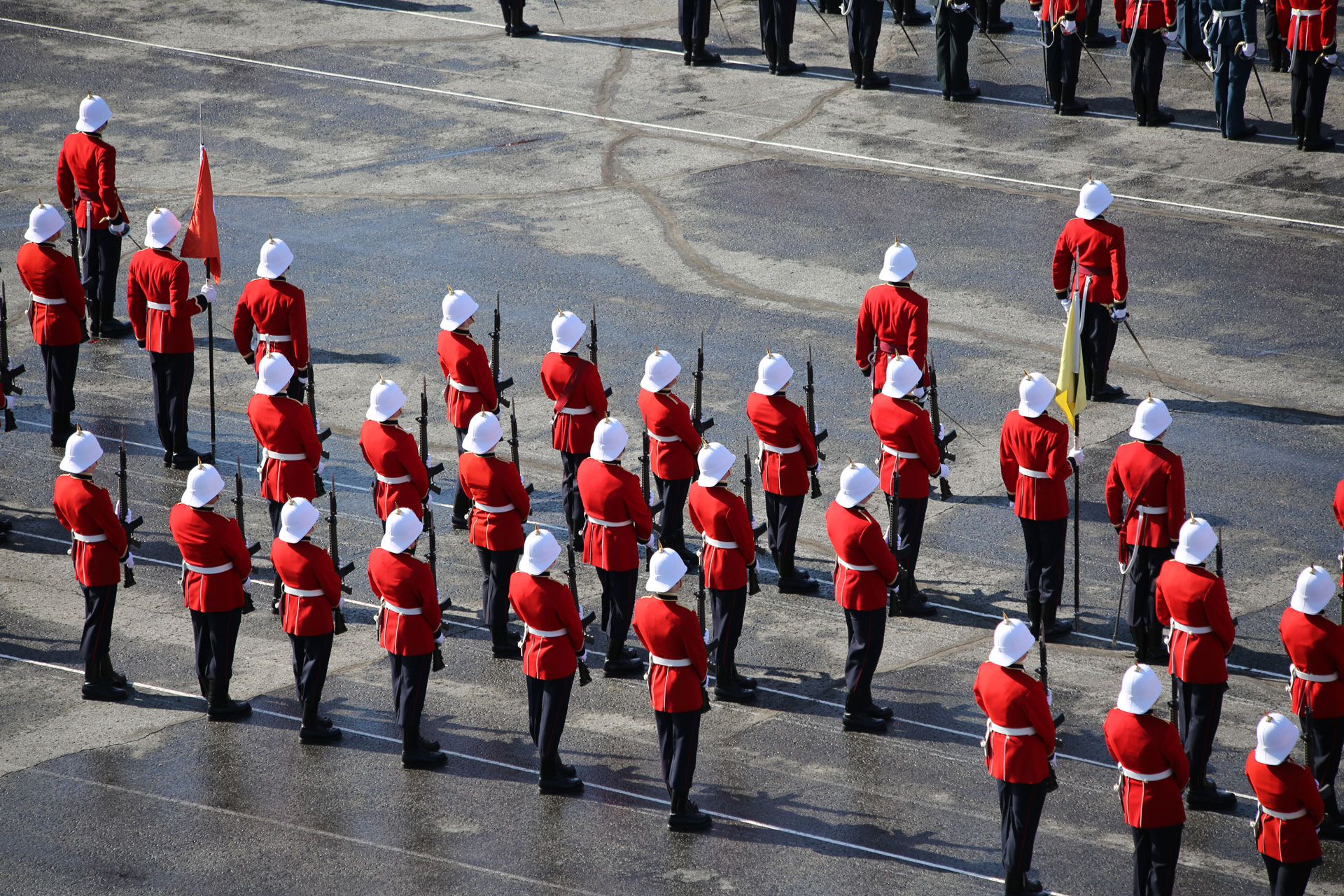 The Kingston Branch monthly luncheon for March had a different flavour this time around.
Cadet Wing & the "Y" Generation
With reports from: 6137 Wyn van der Schee & WJO
On 2 March, members of the Kingston Branch were treated to a very informative and presentation on the roles and responsibilities of an RMC squadron commander.
19426 Captain Lee Wendland – 3&4 Squadron Commander was the main Speaker and he was ably supported by 19299 LCdr Roman Antoniewicz – C Division Commander.
The two Ex Cadets enlightened the audience about the present day challenges and difficulties that Military Wing staff  face in dealing with current attitudes among cadets with respect to leadership, supervision and discipline.
Cadets may be subjected to rigid and demanding screening process, but they still reflect the attitudes and moral standards of Canadian society. They are, as Capt Wendland asserted, part of the "Y" generation, accustomed to the "Y" of situations and decisions that affect them personally, unlike the cadets of thirty or forty years ago who accepted situations and events without question. Such attitudes are not deemed insubordinate, but rather as opportunities to get cadets "on side."
Some things do not change. Both officers agreed the visibility of squadron commanders is more important than ever in both informal and formal situations, and accessibility is part of the job. While demands on the time of squadron commanders are heavy, they advanced the view that the most important function is to know and mentor cadets.
Questions indicated that the audience was not entirely comfortable with some of the responses to their questions and observations, it was generally agreed that current squadron commanders are leading and mentoring a new generation from a society that has changed radically.
Prior to the formal presentation, Officer Cadet 24766 Gabor Somogyvari, CWPMC made a surprise invitation to the well attended post lunch presentation. For April (Kingston Branch members – mark this in your calendars) the monthly luncheon will be held in the Yeo Hall Dining Room. The date is Wed April 6th.
Ex Cadets will have access to the cash "refreshment bar" which will be opened at 1130 hrs. Meal tickets will be available at the bar at a reasonable price for an "all you can eat" buffet downstairs in the main dining hall – approximately 1230.
Ex cadets are encouraged to find a spot at a table of their choice and mingle with cadets who will be coming & going during a regular lunch hour for them.
Following the lunch Branch members will retire back upstairs in the Cadet Mess Lounge area for a presentation of interest.
All Ex cadets and honouary members who happen to be in the area – April 6th – feel free to enjoy the fun!
EXTRA NOTE:
Reg Watts, Branch President REMINDS US that the RMC Museum Operations fund is up and running. The Kingston Branch is leading a nationwide fund-raising campaign  to meet the goal of $80,000.
Branches , classes and Ex cadets are encouraged to join this campaign. donations are to be made through the RMC Foundation.
___________________________________________
RMC Van Branch – Warning Order –
Gun Range Night and Pub Night Report
Event announcement follows!
Hello, all. I am pleased to report that the Pub Night at Hurricane Grill in Gas Town was well attended, with the following ex-cadets present: Ed Hare; Spencer Massie (first event in 5 years!); Warwick Reid and Lynn; Mark Duncan and Joan; Chris Haines the Younger; Kevin Webster (newbie!); Kate Armstrong; Bob Parsons; Dana Vanier (another newbie despite being a lecturing prof at UBC) and Margaret; and your humble servant with Kim.
Very important business was conducted. We have now confirmed 3 (three!) craft for our summer flotilla, with Kate Armstrong, Terry Senft, and Mark Duncan offering their sturdy and seaworthy vessels, 2 powered by sail and one powered by extinct dinosaurs. With one more, we can justify a Commodore's pennant twirling from the masthead in the summer breeze, while below the faint sound of laughter and clinking ice cubes in tumblers waft over the railings filling random civvy boaters with envious and wistful thoughts.
But I digress. On to more immediate and enticing affairs.

Gun Range!
Vancouver Gun Range Details:
Date/Time: Wednesday March 30, 2011 6:30 p.m. until we're done (closes at 10 p.m.)
Location:
DVC Indoor Shooting Centre
Unit #201-1655 Broadway Street, Port Coquitlam, BC, V3C 2M7
Program: Our group will have 5 lanes. Two will be set up with 9mm Glock (this is the standard Police side arm), one 40 cal Smith and Wesson automatic, one 45 cal ACP/GAP automatic, and a shotgun. Everyone will have the opportunity to shoot 10 rounds per lane except for the shotgun which be only 5 rounds. People who decide not to shoot a certain type of ammo can decide to change their "piece" – e.g. try the .44 Magnum revolver (don't!).
What we will do is this: 10 rounds on 9mm; then the other weapons; then the last bay will have the 2nd 9mm where we will run a competition for best shot. We will have the following categories of prizes:
1.
best ex-serviceperson shot;
2.
best non-serviceperson shot (experienced);
3.
best non-serviceperson shot (newbie).
Cost: $65 per person. This includes gun rental, ammunition, training, insurance, and prize pool. After we have shot we'll retire to a local brasserie for the debriefing and prize announcement.
We will accept all non-alum participants, so bring your spouses, offspring, or dates!
I need an interest count so I will be sending out a calendar appointment – if you are interested please advise ASAP.
Rgds, 13766 Mech KRW.