RMC Debate and International Affairs Society Takes Home Honours at Annual Model NATO Conference
During the reading week break, the RMC Debate and International Affairs Society (DIAS) attended the Carleton Model NATO conference in Ottawa. This conference works to simulate the proceedings of NATO councils and committees, while simulating debate and negotiations surrounding important topics that concern the alliance in the present day. This year the RMC delegation was tasked with acting as representatives from the United Kingdom and Slovakia, with participation in the following four  committees; North Atlantic Council, Military Committee, Civilian Intelligence Committee, and finally the European Atlantic Partnership Council.
This conference challenged our ability to engage in high level discussions of international affairs and relations.  It strengthen our ability to craft NATO level communiques, and finally helped us gain valuable communication skills we required to reach consensus.
During the conference, RMC DIAS members had the opportunity to meet with Ambassadors and Defence Attaches to Canada, the previous Ambassador from Canada to NATO, as well as the Global Affairs Canada Director General of International Security Policy. Click here to read more.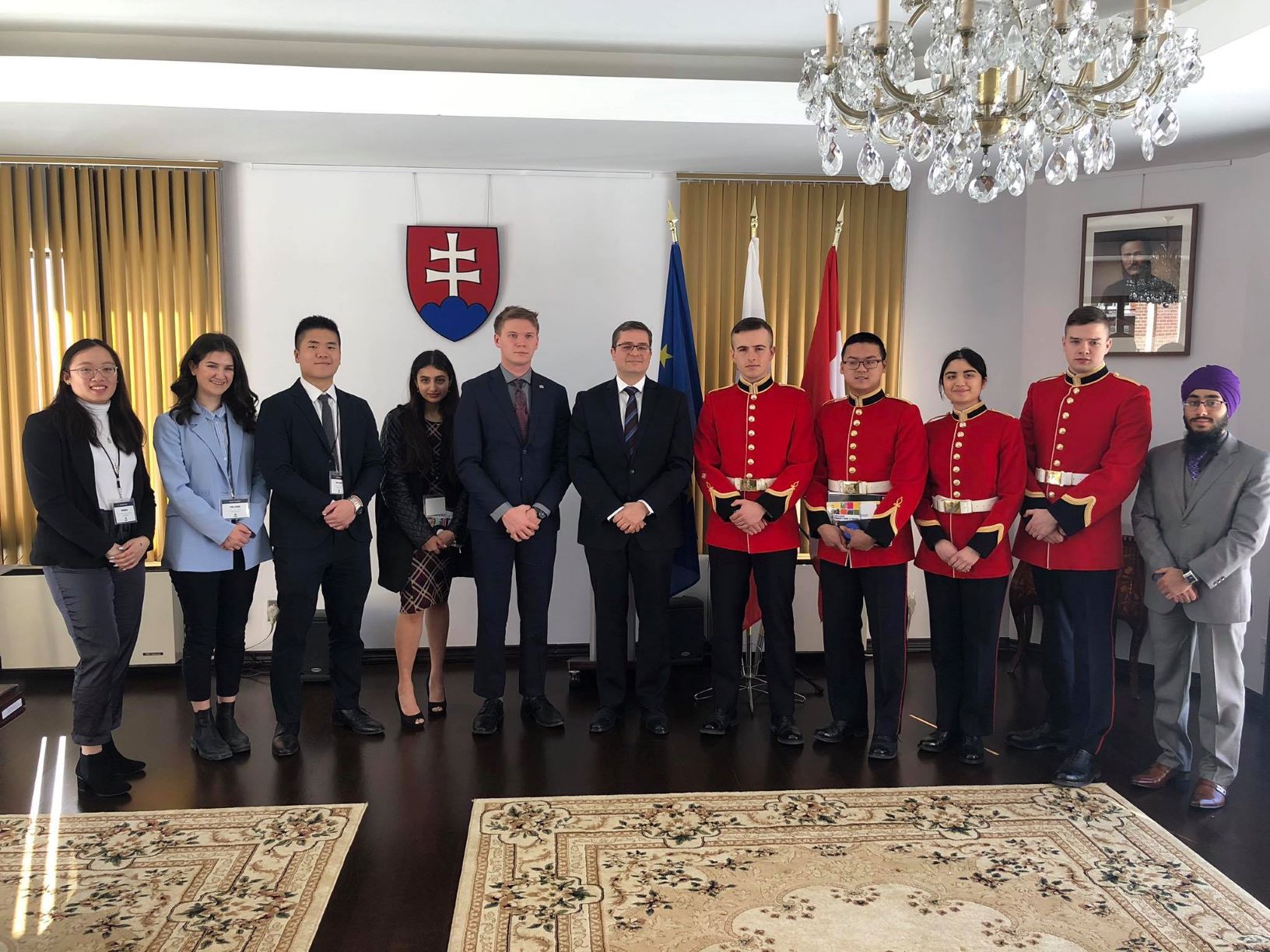 ---
Le Club de débat et d'affaires internationales du CMR remporte des prix à la simulation annuelle de réunion du Conseil de l'OTAN
Durant la semaine de lecture, le Club de débat et d'affaires internationales du CMR a participé à la simulation de réunion du Conseil de l'OTAN à l'Université Carleton. L'activité a pour but de simuler les délibérations des conseils et des comités de l'OTAN, de même que les débats et les négociations sur les questions d'intérêt pour l'alliance. Cette année, la délégation du CMR devait jouer le rôle des représentants du Royaume-Uni et de la Slovaquie dans les quatre comités suivants : le Conseil de l'Atlantique Nord, le Comité militaire, le Comité du renseignement civil et le Conseil de partenariat euro-atlantique.
La conférence a mis à l'épreuve notre capacité de prendre part à des discussions de haut niveau sur les affaires et les relations internationales. Elle a renforcé notre aptitude à rédiger des communiqués du niveau de ceux de l'OTAN et nous a enseigné des compétences en communication inestimables pour parvenir à un consensus.
Durant la conférence, les membres du Club de débat et d'affaires internationales du CMR ont eu la chance de rencontrer les ambassadeurs et les attachés militaires du Canada, l'ancien ambassadeur du Canada à l'OTAN, et le Directeur général, Politique de sécurité internationale d'Affaires mondiales Canada. Poursuivre la lecture.