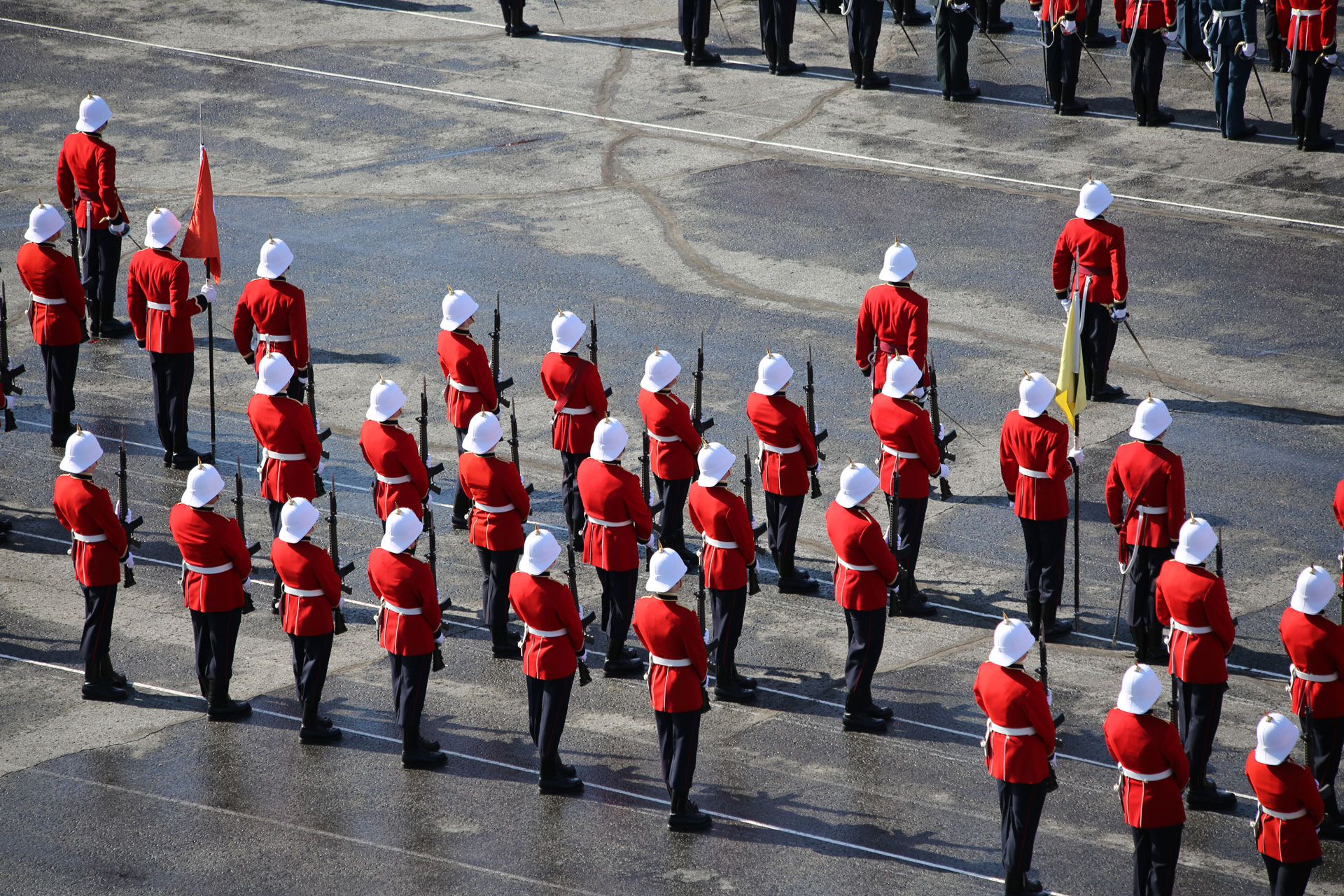 The analysis, modeling and design of military systems across the combat functional areas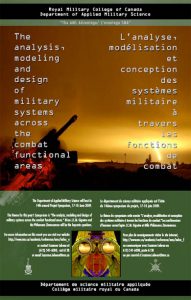 The Department of Applied Military Science will host its 14th annual Project Symposium, 17-18 June 2009.The theme for this year's Symposium is "The analysis, modeling and design of military systems across the combat functional areas." BGen J.C.M. Giguère and Ms Philomena Zimmerman will be the keynote speakers.For more information on this event contact Suzanne Lebeau at (613) 541-6000, ext 6158 or email Suzanne.Lebeau@rmc.ca
xxxxxxxxxxxxxxxxxxxxxxxxxxxxxxxxxxxxxxxx
– 12545 Camil Giguere (RMC 1980) and Philomena Zimmerman

__________________________________________________________________________________
Graduation Parade

The Aboriginal Leadership Opportunity Year
Cordially invites you
To attend the
Graduation Ceremonies
At the RMC Parade Square
At 1045 hours 17 June 2009
xxxxxxxxxxxxxxxxxxxxxxxxxxxxxxxxxxxxxxxxxxxxx
Below are two interviews carried out in May 2009 of ALOY staff conducted by E3161 Victoria Edwards (RMC 2003) .
Capt (Ret`d) Robert Thibeau (we regret, no photo available at press time) is the ALOY Squadron Commander at Royal Military College in Kingston. He is the aboriginal desk officer of the Canadian Defence Academy and also a proud member of the Eastern Woodland Metis Nation.

e-veritas: What do you tell potential candidates about the Aboriginal Leadership Opportunity?
Captain Thibeau: In August of 2008 after two years of refinement, the Aboriginal Leadership Opportunity Year (ALOY) commenced at the Royal Military College of Canada (RMC). This program allows 30 candidates to enroll the CF at RMC as officer cadets for a period of one year. Students are selected based on academic potential as well as cultural community involvement as well as other criteria. Students require a minimum of grade 12 and must pass the CF enrollment standard at the recruiting center. Students entering the program are those who do not have those marks or course required to apply and be accepted into a post secondary institution in Canada. With tailor made tutoring plans as well as military leadership training, this program is seen as a useful tool for success and opportunity. Again, culture is an important part of this program. ALOY will expand again next year as the Royal Military College in St. Jean Quebec will offer the same program as this means there is the potential for 60 students to be enrolled in this program.
What do you tell potential candidates about Aboriginal cultures and the contribution of Aboriginal peoples to the Canadian Forces?
As you can see I have mentioned a great deal about culture. There are Aboriginals who have entered some of these programs who in some cases, know very little about their Aboriginal culture. The CF recognizes this and fully supports the Aboriginal culture and it is incumbent upon all Aboriginal bands and organizations to stress the importance of culture. Aboriginal culture within this land (Kanata) Canada must be a source of pride for all Aboriginal groups an individuals. We must also never forget the many contributions made by our Aboriginal Veterans of the past, the present and the future.
I understand that you instruct in the ALOY program. Please describe the upcoming canoe and watermanship training.
The program is designed to blend military tradition and leadership skills with aspects of aboriginal culture and being close to the land. We start with dry-land training, including strengthening and stretching exercises, to increase power, speed, endurance and performance as well as practice in the canoe. In watermanship training, exercises are used to evaluate stamina and comfort in the water. Typical watermanship exercises include swimming 500 yards without stopping using a forward stroke and without using any swim aids; treading water, drown-proofing, bobbing, or floating for 15 minutes; and a snorkel swim using a dive mask, fins, snorkel, and swimsuit nonstop for 800 yards.
Alumni have noticed that the tipi is no longer in front of the Mackenzie building at RMC. Last we heard, the tipi was going to get painted e.g. in Squadron Colours.
The Tipi was removed so that it would not be weathered. Yes it will be painted in the future. The colours will be the CF Aboriginal Logo with an RMC Hat Badge & not Sqadron colours. The Tipi in fact will only be set up for special occasions or for cultural activities as outlined by the program. It will be set up for our grad ceremonies on 19 Jun but in the area where the feast will take place.
Does RMC Saint-Jean also have a tipi?
Yes. RMC Saint-Jean has their own Tipi purchased for them by Canadian Defence Academy. The tipis numbering 8 or 9 were purchased for each of our Aboriginal programs. [RMC Saint-Jean haven`t set up their tipi yet.]
How does the program help aboriginal students with the transition from high school to university?
The program offers a leg up for students who have graduated high school but feel they still need help in certain subjects before attending university. We bring them here for that one year of academic and military training, but the academics will be tutoring in specific subjects that they are weak in. Some will arrive here that will need very little tutoring.
After the one year is complete, what choices do the participants have?
After the year is complete, participants will have the choice of attending RMC, enrolling in a university, or just returning home with the skills they have obtained. Taking part in the program is not the same as joining the military, although RMC hopes to gain more aboriginal cadets through the program. So far, three have been selected for prep year at RMC Saint-Jean. Two plan to join the Canadian Forces as Non Commissioned Members and 3-4 participants plan to join the reserves.
I understand that the ALOY program is just one part of a larger plan to make RMC and the military more friendly to First Nations peoples from across Canada.
Over the past number of years there has certainly been positive steps taken by the Canadian forces (CF) Units in recognition of  aboriginals and aboriginal youth and the need to reach out to all Aboriginal groups. Approximately 20 years ago the Federation of Saskatchewan Indian nations (FSIN) approached the CF to become partners in a program for youth. The Bold Eagle program was developed and designed to offer youth the opportunity to be employed in a military basic training course which also included a strong cultural component. Bold Eagle has grown from what was a provincial opportunity for aboriginal youth to a course that now includes all of Western Canada as well as a portion of North Western Ontario. This area in the CF is known as Land Forces Area (LFWA). The success and growth of this program has been well noticed and the CF has been able to attract Aboriginal to both the Regular and Reserve force components of the service.
Approximately 5 years ago another youth program was introduced in the province of British Columbia and under managed by the Canadian Navy in Esquimalt in B.C. The Raven program is similar in nature to Bold Eagle, however 2 years ago this lost its regional face as the CF moved this program onto the national stage, As a national program recruiting included Aboriginals from all groups from across Canada. The course has changed dramatically over the past two years and now mirrors the Bold Eagle Program. The cultural component of this course has brought on a more naturalistic face which recognizes the three Aboriginal groups: First Nation, Métis and Inuit cultures. Prior to the military training portion of the course participants attend a four day culture camp led by Elders or teachers representing First Nation, Métis and Inuit. The purpose of the camp is to engage in traditional cultural ceremonies and teachings designed to build pride in all Aboriginal cultures while emphasizing respect for each other and each others unique culture. This past summer the camp included elders from both First Nation and Métis as well as teachers from First Nations and Inuit. The overall success of this camp is extremely hard to put into words, however emotion is one word that can be used to describe the pride that was felt by all three Nations. A second National Youth program which is the same as Bold Eagle and Raven is being introduced in the summer of 2009. The Black Bear program will offer the same course as Bold Eagle and Raven however the CF is now expanding these programs into the eastern part of Canada. Again both Raven and Black Bear will remain as national programs.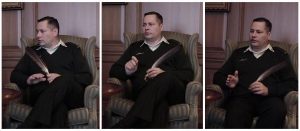 Sgt. Curtis White is a member of the program staff of ALOY. He is also the National Military Chair of the Defence Aboriginal Advisory Group (DAAG). Before joining the staff of the ALOY program, he served as a Canadian Forces recruiter.
e-Veritas: What is the purpose of the Aboriginal Leadership Opportunity Year (ALOY) program?
Sgt. White: The Aboriginal Leadership Opportunity is a Canadian Forces educational program that was offered at the Royal Military College of Canada commencing in August 2008. The Aboriginal Leadership Opportunity Year is a one year program that will be offered to Aboriginal Canadians. It will provide a highly positive, productive and preparatory educational leadership experience, including sports, field trips, leadership development and military training, as well as an academic program and cultural support activities. The young men and women in the program are expected to become role models for others in their communities.
What do you tell potential candidates about the Royal Military College of Canada?
The Royal Military College is a national university for educating and developing leaders committed to serving Canada and Canadians. A Royal Military College education is both demanding and rewarding. It consists of four key components – academics, leadership, athletics, and bilingualism – that together provide Royal Military College graduates with the knowledge and skills needed to become Canada's next generation of leaders and innovators.
What do you tell potential candidates about the contribution of Aboriginal peoples to the Canadian Forces?
Aboriginal People have served in the Canadian Forces with great honour and distinction throughout our history. Today, this proud tradition of service continues at home in Canada and around the world. The Aboriginal Leadership Opportunity Year program is a new opportunity for Aboriginal Canadians to continue this proud tradition of service while receiving first-class education and leadership training at Royal Military College.
What are the terms of the ALOY program?
Applicants must: be at least 17 years of age (with parental/guardian consent) or older; have completed at least Grade 12, Secondary 5, or the GED in the current academic year; be physically and medically fit; and be an Aboriginal Canadian. Aboriginal candidates are enrolled in the Canadian Forces for a period of one year and receive full subsidization at RMC. The candidates are paid as an Officer Cadet and receive free tuition and issue of textbooks and uniforms. Rations and Quarters are deducted from their pay.
What is the relationship between the ALOY program at the Regular Officer Training Program (ROTP) or Reserve Entry Training Plan (RETP)?
Provided they meet the academic requirements candidates will be given the opportunity to apply to continue at RMC in a degree program and will be converted to service under the terms of the Regular Officer Training Program (ROTP). Alternately, some participants may be offered the opportunity to continue at RMC under the Reserve Entry Training Plan (RETP). Some graduates may be offered the opportunity to continue a military career in another entry program. Alternatively, participants may opt to cease participation and return to their community without further obligation, either during the program or after completing Aboriginal Leadership Opportunity Year.
Based on an assessment of academic attainment, ALOY candidates are provided the opportunity to develop an individual learning plan?
Yes. Based on an assessment of academic attainment, Aboriginal Leadership Opportunity Year participants will be provided with the opportunity to develop an individual learning plan comprised of non-credit preparatory courses and/or first year university courses as listed in the Royal Military College calendar. Second Language Training may also be available. The ALOY program will include sports, field trips, leadership development, military training and cultural support activities. Cultural support activities will be offered in partnership with centres in the Kingston area that support Aboriginal post-secondary students at Queen's University. After completion of the academic year (Sep-May) there will be a Leadership practicum.
Are cultural support activities offered?
Yes. At RMC, cultural support activities are offered in partnership with centres in the Kingston, Ontario area that support Aboriginal post-secondary students at Queen's University. Weekly Men's and Women's groups led by elders to help students learn about there culture.
Where can we go for further information?
We believe that the Aboriginal Leadership Opportunity Year will be of interest to many young Aboriginals. I encourage you to go the recruiting web site www.forces.ca or contact a recruiter toll-free at 1-800-856-8488 for further information on this exciting new programme. For more information on ALOY, follow this link. http://www.rmc.ca/news_avis/0712aloy_e.html
Describe the marketing of ALOY last year in comparison to what is now happening for ALOY today.
The ALOY program was announced at the Aboriginal Contributions to the Canadian Forces Conference at RMC in 2006. Word went out about the ALOY program at relatively short notice. Many of the 22 candidates in the first year of ALOY read the blurb about the ALOY program on the CF website or heard about the program by word of mouth. Many of the candidates are athletes who have competed or volunteered with the North American Indigenous Games, which gathers the North American Aboriginal communities together to celebrate, share and teach their customs and traditions through sporting and cultural events. This year, there was more time and opportunities to get the word out to the Aboriginal media and RF recruiters, who are familiar with related CF Aboriginal programs including Bold Eagle, Raven and the CF Aboriginal Entry Program. The response from the Aboriginal community including the National Aboriginal Veteran's Association has been positive. Some applicants may have family members who served in the forces and/or they may have some prior experience with the Canadian Forces through Cadets Canada or the Junior Ranger program. We expect that candidates may hear about the ALOY program from various sources including CF recruiters, RMC liaison officers, members of the Defence Aboriginal Advisory Group and alumni. The ALOY staff are available to answer questions.
Do you have any practical tips to share?
Sgt. White: Recruiting involves educating and making people aware the Canadian Forces have opportunities where Aboriginal people might fit. Increasing Aboriginal recruitment and retention and aid in integration are challenges, but it's necessary to make the Canadian Forces representative of the communities we serve. Advertise opportunities in the Aboriginal Media e.g. Windspeaker (newspaper), Aboriginal Voices Radio, and Aboriginal Peoples' Television Network (APTN).
Since you have been a staff for the ALOY program, what have been your favourite special events?
During the Silver Lake Powwow, we introduced the 22 candidates by name and nation to the Algonquin people. I also enjoyed giving a presentation on the ALOY program at a RMC club luncheon in Kingston.