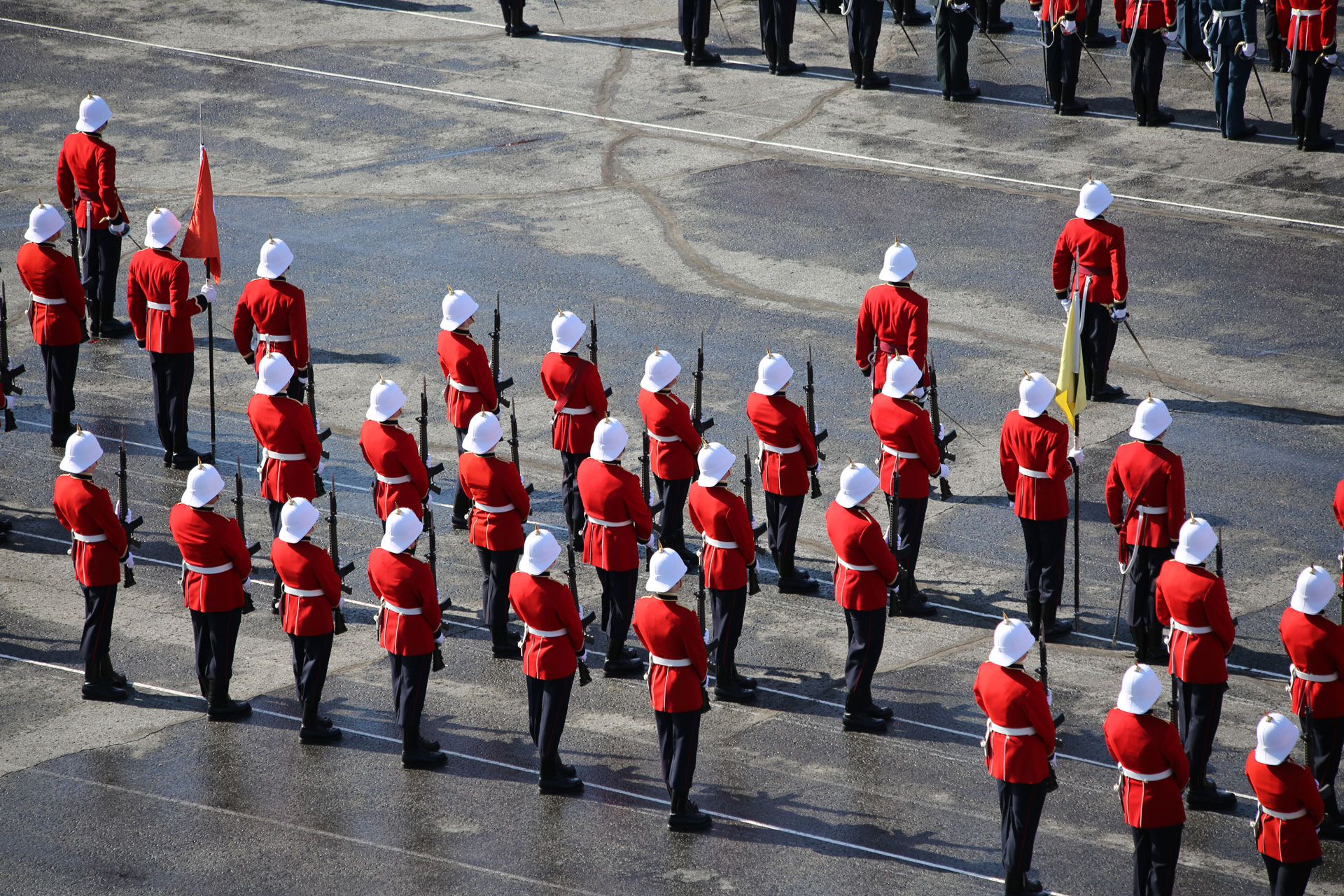 Le Capitaine de vaisseau Donovan au Collège militaire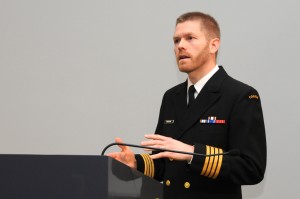 – un article du Capitaine Bob Firth-Tessier
Le 27 janvier dernier, le Collège militaire royal de Saint-Jean recevait le Capitaine de vaisseau C.P. Donovan dans le cadre d'une de ses conférences de perfectionnement professionnel. Le Directeur – Besoin Maritime (Mer) a fait un survol dynamique et rapide de l'évolution de la marine canadienne pour se concentrer sur les projets en développement, ainsi que sur les enjeux futurs auxquels la marine devra faire face dans les années à venir. Dans un contexte où la marine canadienne est en recherche de personnel, cette présentation incitera certainement quelques un de nos élèves-officiers à envisager une profession au sein de cet élément.
Cette présentation s'inscrit dans le cadre des activités de promotion du Collège entourant le centenaire de la marine canadienne. Nos élèves-officiers participeront également au Bal de la marine ainsi qu'à la parade de la bataille de l'Atlantique en avril et mai prochain. De plus, en collaboration avec le musée du Fort Saint-Jean, une torpille sera restaurée et mise en valeur sur le site du Collège au cours de l'année.
______________________________________
RMC Saint-Jean 2010 Broomball Tournament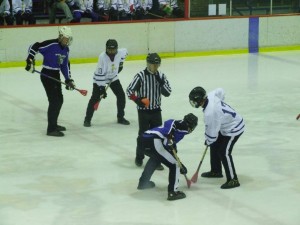 – by Officer Cadet Mathieu Falardeau 25583
It was with great enthusiasm that the Royal Military College (RMC) Saint-Jean hosted the 31st edition of its annual broomball tournament. From January 22 to 24, hundreds of athletes invaded the Campus Fort Saint-Jean to perform on the ice as much as to recall the good years spent at the College.
Each year, a broomball tournament is organized at RMC Saint-Jean to bring together in a friendly competition old timers of the military colleges and officer-cadets. The tournament is an RMC Club initiative jointly organized by the Officer-Cadet Division. This year, Richelieu Squadron expertly planned and conducted this massive family reunion.
The tournament was split into three categories: female, participation and competition. Twenty-six teams took part in this tournament. The unique condition to take part in this event was to possess a college number. In consequence, the teams were a happy mix of officer-cadets and past and present officers coming from across the country.
In the female category, the RMC of Canada "Chicks with Sticks" won the trophy. In the participation category, the "Fées" won the first place in their classification. The "Fées" entered the competition in 2006 and was created by old timers of the RMC Saint-Jean. Thereafter, the team won in their category in 2007 and 2008, making this year's win their third victory in four years.
In the competition category, the "Jeudis" won the competition by defeating the tenacious opposition of the RMC Saint-Jean "Remparts". The "Jeudis" are formed of old timers who graduated from the College between 1998 and 2000. From 2004 to 2006, they won every year in the competition category. After their defeat of 2007, the "Jeudis" took back their champion title with this second victory. "Of course we're going to reach our old record and we will even exceed it in the years to come," asserts Major Justin Thibert 21182, member of the "Jeudis" team.
This tournament is a tradition that RMC Saint-Jean is proud to keep alive as it allows officer cadets to learn about the esprit de corps of military colleges and the special bond that ties RMC alumi. For the old timers, coming back good years, bad years is the opportunity to spend good time with friends and to socialize with the officer cadets. For everyone, fun is guaranteed…as well as some stiffness.
Photos by:  OCdt Abel Mfumuangani 25530
Tournoi de ballon sur glace 2010 du CMR Saint-Jean
– un article de l'Élève-officier Mathieu Falardeau 25583
C'est avec grand enthousiasme que le Collège militaire royal (CMR) de Saint-Jean a accueilli pour la 31e année son tournoi annuel de ballon sur glace. Du vendredi 22 janvier au dimanche 24 janvier, des centaines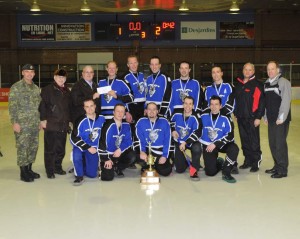 d'athlètes ont envahi le Campus du Fort Saint-Jean, autant pour performer sur la glace que pour se remémorer les années passées au Collège.
Chaque année, un tournoi de ballon sur glace est organisé au CMR Saint-Jean pour rassembler, lors d'une compétition amicale, les anciens et actuels membres des collèges militaires. Le tournoi est une initiative du Club des CMR conjointement organisée par la division des élèves-officiers. Cette année, l'escadron Richelieu a dirigé d'une main de maître la planification et l'orchestration de cette grande réunion que l'on peut qualifier de familiale.
Le tournoi comprenait trois catégories: féminine, de participation et compétitive. Vingt-six équipes se sont succédé sur la patinoire pour démontrer leur talent. L'unique condition d'admissibilité au tournoi étant de posséder un numéro de collège, les équipes étaient donc un heureux mélange d'élèves-officiers des deux collèges, d'officiers et anciens officiers provenant des quatre coins du pays.
Dans la catégorie féminine, ce sont les « Chicks with Sticks » du CMR du Canada qui ont gagné le trophée. Dans la catégorie participation, les «Fées» ont décroché la première place dans leur classement. Formée en 2006 par des anciens du CMR Saint-Jean, les « Fées » avait également remporté la victoire dans leur catégorie en 2007 et en 2008, ce qui leur fait une troisième victoire en quatre ans au tournoi de ballon sur glace.
Dans la catégorie compétition, l'équipe les « Jeudis » a gagné la compétition malgré une féroce opposition de la part des « Remparts » du CMR Saint-Jean. L'équipe des « Jeudis » est composée d'anciens élèves-officiers du CMR Saint-Jean ayant gradué entre 1998 et 2000. De 2004 à 2006, ils ont remporté le trophée dans la catégorie compétition. Après leur défaite de 2007, les « Jeudis » reprennent leur titre de champions de ballon sur glace avec cette deuxième victoire en deux ans. « C'est sûr qu'on va reprendre notre ancien record et on va même le dépasser dans les années à venir », affirme avec confiance le Major Justin Thibert 21182, membre de l'équipe des « Jeudis ».
Ce tournoi est une tradition que le CMR Saint-Jean est fier d'accueillir annuellement afin d'initier les élèves-officiers à l'esprit de corps des collèges militaires. Pour les moins jeunes qui s'y retrouvent bon an mal an, c'est l'occasion de passer de bons moments entre amis et d'échanger avec la relève. Pour tous, c'est du plaisir garanti…avec quelques courbatures en prime!
______________________________________