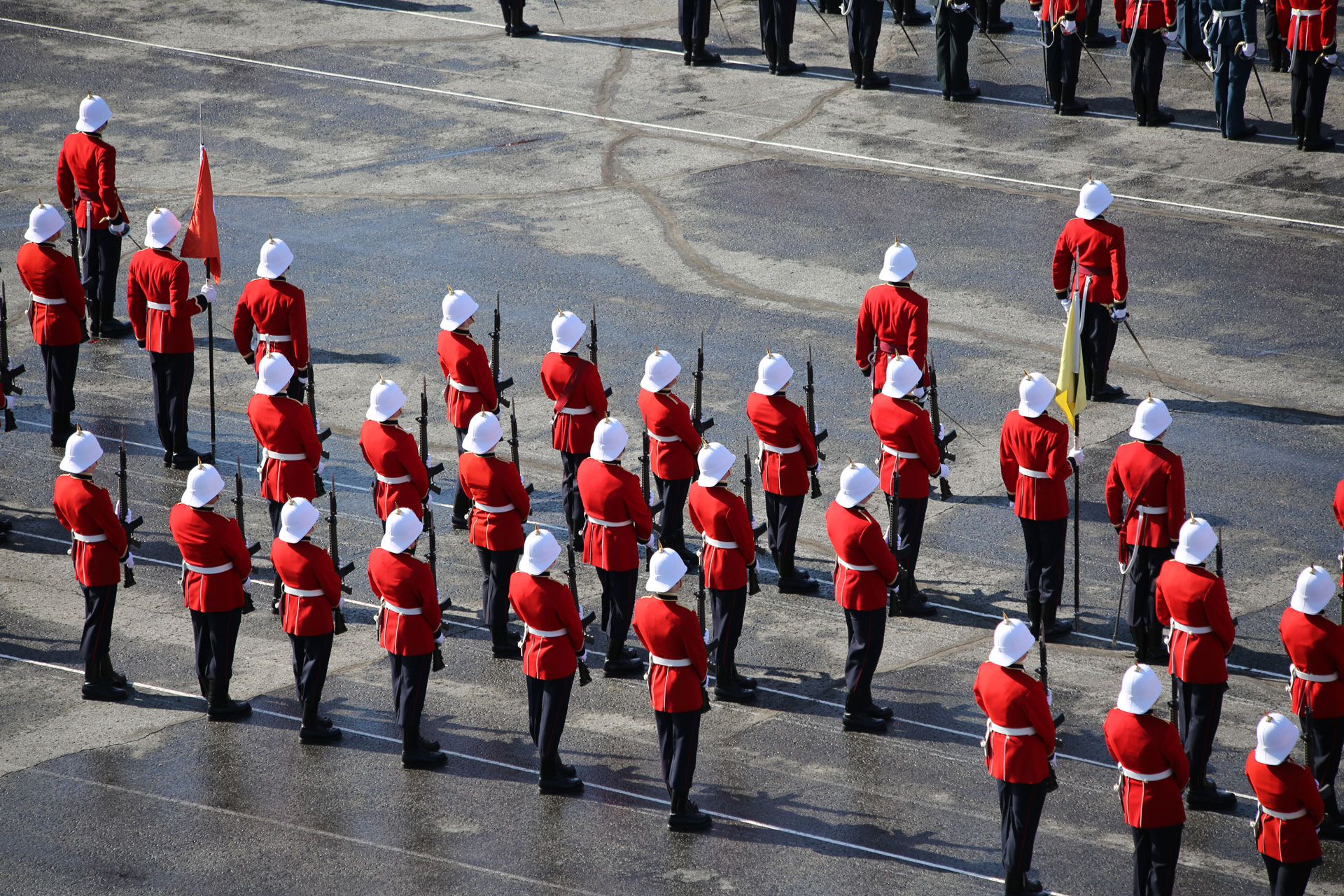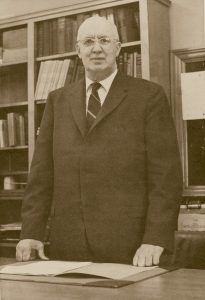 Professor Clarence Cook
Perhaps one of the best remembered early professors at Royal Roads, Clarence Cook taught physics at RMC for eighteen years before coming to the newly opened Royal Canadian Naval College in 1942 during the Second World War as a senior instructor. According to Peter Birch-Jones, 102, (RCNC 1945) he was a major at RMC and then became a "schoolie" lieutenant commander at Royal Roads, wearing a uniform until after the war when he became a civilian again. Soon after the war he became Director of Studies, a post he had until his retirement. In spite of teaching a difficult academic subject, cadets remembered him with affection. Following are some of their recollections as well as an excerpt from Dr. Cook's final letter to the cadets upon his retirement in 1961.
Bill Vallevand, 3329, (RRMC 1952) felt that Professor Cook rated very highly "because he knew every single member of every term by their last name, and he knew where they came from. He was a great one."
Mr. E.G. (Ted) Dillistone, 3118, (RRMC 1951, RMC 1953)
My very first college class was physics, taught by Prof. Cook in the large "tiered seating" classroom at the west end of the first floor of the "New Cadet Block." It was a real shock to a small-town Prairie boy like me, on his first day at college, to be sitting in a huge classroom with 79 other guys, all in uniform.
You should know that we had all come by train from every Canadian province. It took me about two full days from Brandon, Manitoba. Bill Smallwood, from the brand new province of Newfoundland, must have spent five days or so on the rails and in railway stations to get here on time.
You should also know that long-distant phone calls were of dubious quality, seemed to take forever to get through a series of operators and "peg and post" switchboards, and were quite costly. And when a "boy" arrived at your door with a telegram in his hand, it usually meant a death in the family.
Prof. Cook had taught at RMC, Kingston, before the war. He and a few other professors were co-opted from Kingston to help staff the "new" Royal Roads. Cook first welcomed us to the college. Then he immediately went into in a sort of grandfatherly spiel which we could sense he had been giving at his initial meeting with the brand new recruits every September for a couple of decades or more.
"Boys," he began, "the first thing I want to do is save the college administrative staff from having to waste their time answering telephone phone calls from concerned parents to let them know that their little boys had actually arrived here safely. SO! I have beside me on the desk a pile of pre-stamped postcards. Any cadet who will come up, take a card, address it to his parents telling them he has arrived safely, and leave the card here on the corner of my desk, may be excused for the rest of this class period. I will mail the cards for you. Any other cadets who wish to stay will receive their first lecture in Physics 101."
In no time, the cards were all gone, 80 cadets wrote furiously, and soon all the cadets were gone also. As I had just written a long letter home and had dropped it in the college's "outgoing mail" box earlier, I wrote on the back of my card: "Dear Mum and Dad. They are making us write home. Love, Ted."
Now Cook had used some pre-paid post cards left over from the previous year. In the meantime the cost of mailing a post card had just gone up from, maybe, 2 cents to 3 cents. In those days, in the case of insufficient postage, the post office used to put purple "postage due" stamps on the letter, demanding two cents be paid for every one cent short. Each postie had to knock on the door and ask the resident for enough cash to cover the postage due before he would deliver the letter.
As they do today, letter carriers got to know the people on their "walks." I can imagine my mother watching for the letter carrier each day, and perhaps meeting him on the porch, to see whether there was anything from "little Teddy at college."
As fate would have it, both the letter and the postcard arrived in the same mail. There were two "postage due" stamps on the card. I suspect the letter carrier may have glanced at the 12-word message on the back as he rang the doorbell. As my mother (often) told the story, the mailman smiled and said "I have a postcard for you from Victoria, but there's two cents postage due." Mum raced back into the house to find a couple of pennies to give him, then eagerly grasped the card, turned it over and read it. After a brief pause, the postie added, "And oh yes, I also have this letter for you from Victoria."
LGen (Ret'd) Scott Clements, 5868, (RRMC 1961, RMC 1963)
Our professors were in front of us daily. They were a major effect on the development of the young officer. You know we started with about 135 cadets from all across Canada, and by the end of the year with a fairly major attrition at Christmas time, we were down to 65. It was a tough test, and many people for many reasons didn't either meet the challenges or didn't want to try, because it just didn't seem to fit what they had in mind. But the 65 that did make it to the end of first year, all made it through the second year, and this was assisted by our director of studies, Dr. Cook, who bought a license plate, a BC license plate, and he had "65 4 61" on his license plate, and he had resolved that we were all going to make it and he motivated us to get to graduate from Royal Roads.
From the Foreword to The Log 1961
The sequence of my Services College education was reversed from the usual procedure. I spent my first eighteen years at R.M.C. and then nineteen years at Royal Roads – a "wrong way" Corrigan? Moreover, my Services College training was not "rounded" out as was yours, for in all that thirty-seven years I was not required to describe (run) a "circle". In spite of these irregularities, I feel I know the Canadian Services Colleges.
To you Juniors, this year has been a unique experience. You made the adjustment from civilian to Services College conditions with its many demands of self-discipline. Moreover, you are to be congratulated for having made this adjustment in "full stride"… As seniors, next year may you maintain and add to the high traditions you have inherited. "Good luck" to each of you as you go "Forward".
To you Seniors, I wish to thank each of you for your cooperation at all times and your interest in my section of Physics 23. May "65-4-61" be a fait accompli when The Log is published. Next September you will be "carrying on" at R.M.C. You will be joining with the C.M.R. graduates in meeting with the R.M.C. group. Living together, studying together, playing together does much to unify representatives from all provinces and from all services… However, might I urge you never to forget your two years at Royal Roads while you add to it another loyalty, one to R.M.C. The great tradition and record of former Royal Roads and R.M.C. graduates is yours to maintain and improve.
Your greatest challenge, however, is to meet the changing and unresolved problems of the future. In this space age, while we are busy developing guided missiles and satellites and at the same time equally busy talking disarmament, leadership is most critical…. Much is being done and has been done by others, but much more will be expected of you. Good luck to each of you as you go "Forward" to meet this challenge….
With our sincere thanks for the past happy associations, go our very best wishes for the future.
C. C. Cook
Do you have memories of Professor Cook or other Royal Roads instructors who were influential? Email your stories to Royal Roads University staff person, Karen Inkster at: Karen.Inkster@royalroads.ca