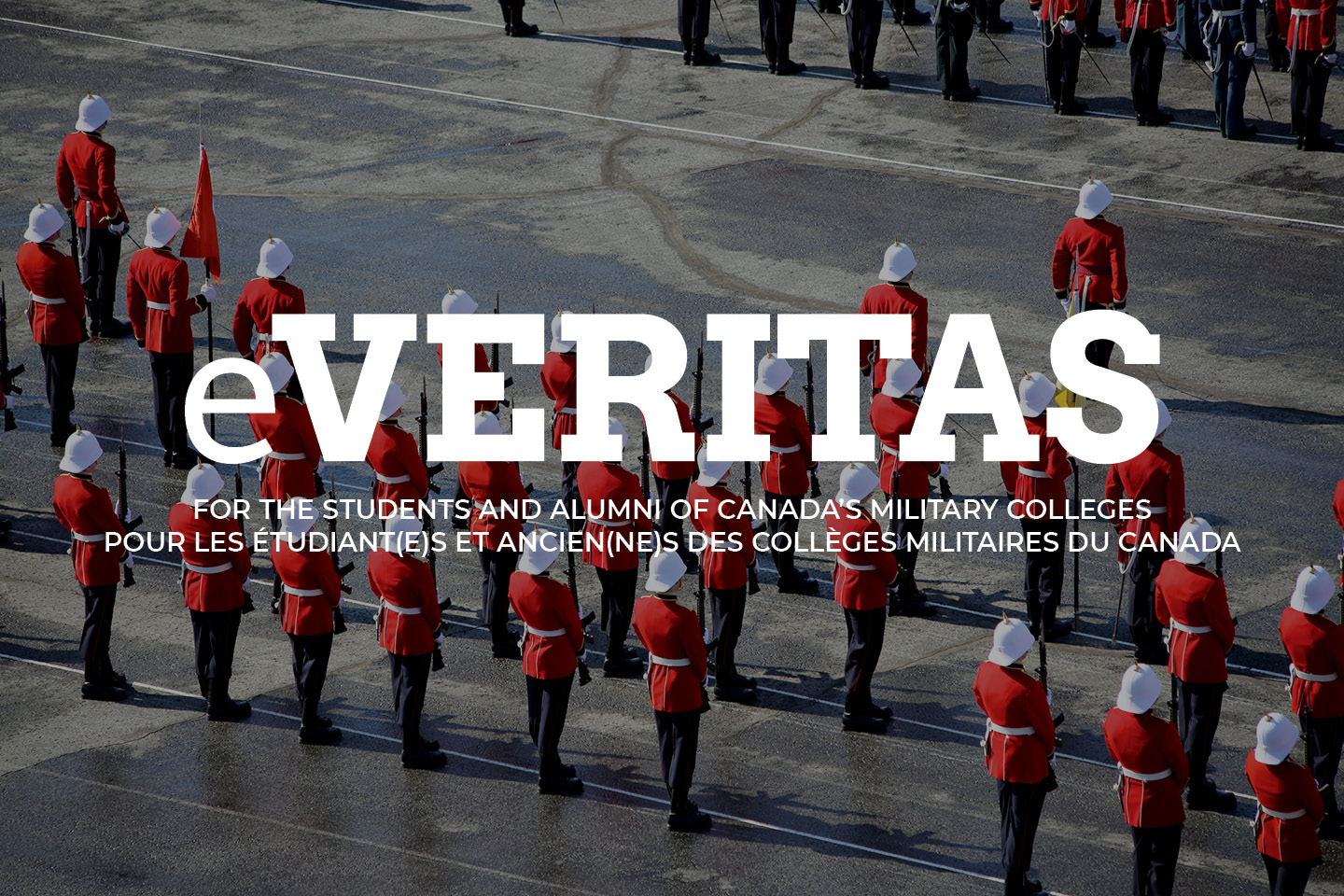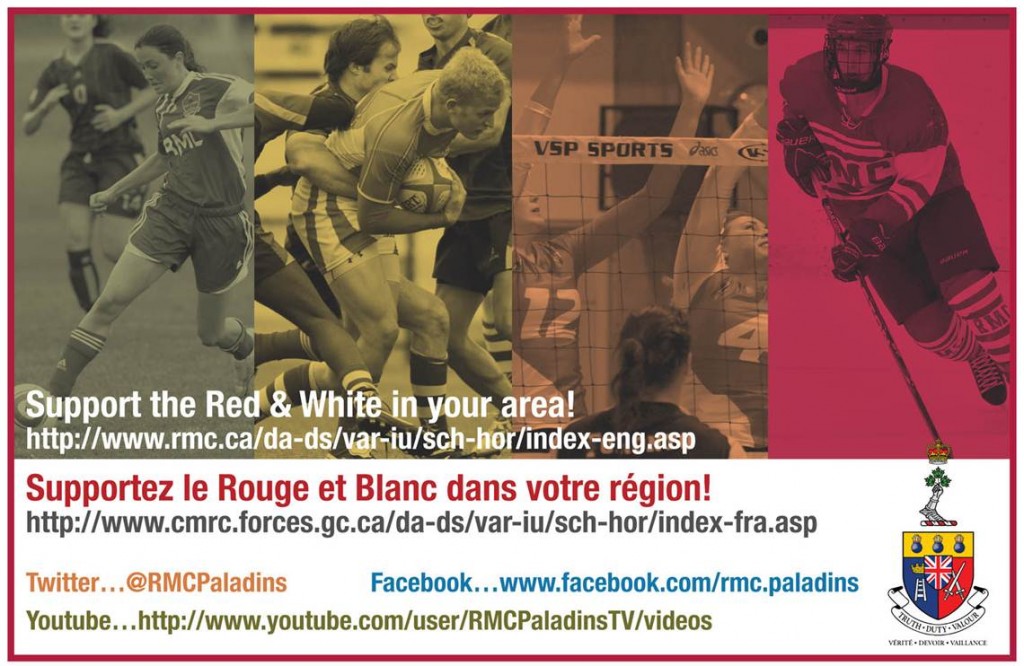 xxxx
___________________________
2013 Major Varsity Award Nominees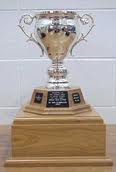 The Kelly Gawne Memorial Cup is awarded annually to the best all-round female athlete during the current college year.
Daniela Moyano – Fencing: OUA All-Star won bronze in individual foil at OUA Championship.
Michelle Hamilton – Soccer: Became first female RMC athlete to be named 1st Team OUA All-Star.
Norah Collins – Volleyball: Former OUA All-Rookie team member led team in kills and total points.
The Tommy Smart Cup is awarded annually to the RMC Male athlete of the year.

Riley Saliken – Rugby: Three-time OUA All-Star was named man of the match on five occasions in 2012, while leading the Paladins in tackles.
Curtis Brown – Soccer: Rookie scored three goals while creating countless opportunities for his teammates.
Tom McMullen – Volleyball: Led team in kills, blocks and points in his return to RMC.

The H.R.H. Prince of Wales Cup is awarded annually to a Fourth Year Cadet in recognition of athletic performance and excellence in the four components throughout their entire college years.
Nicholas Vachon – Hockey: Former Sandhurst Team member was presence on and off the ice while maintaining a high level of fitness.
Jason Song – Taekwondo: 2011-12 RMC Male Athlete of the Year while remaining at the top of his academic program as well as on the RMC PPT.
Eric Hawn – Men's Volleyball: Succeeding in all areas of the college while performing his team duties as team captain and starting setter.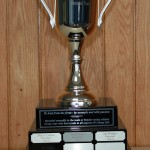 The Captain Matthew Dawe Memorial Cup is awarded annually to the outstanding male or female ROTP varsity athlete, of any year, who excels in all aspects of College life at RMC.
Alex Pym – Men`s Hockey: Team captain succeeding academically while also volunteering to assist with minor hockey practices.
Michelle Hamilton – Women's Soccer: Leader by example to her teammates and had a positive effect on First Years in her squadron.
Eric Hawn – Men's Volleyball: Starting setter and team captain sets high standard for teammates.
__________________
Click here for Season Reviews and Off-Season reports from Women's Volleyball and Men's Soccer

RMC Women's Volleyball in the Off-Season
The team is in a post-season recovery stage. They are focused on a 8 week training cycle since the end of the OUA league season. We are combining off court strength training and on court skill development sessions. There are 8 returning team members that will rejoin the team for 2013-14 season.
A new addition for the women's program this post-season is Kelsey Chang who will be working with the program as a Recruiter across the country.
The team's staff are attending tournaments, championships and player showcases across the nation over the next three months. Third year student-athlete Danielle Vortisch is attending the Best of the West Showcase in Calgary, Alberta at the end of March. Where there will be a 22 team closed tournament athlete high performance over two days for CIS and CCAA coaches to speak with athletes and parents. Kelsey Chang will be attending four tournaments and National championships across the country. She will be in Ontario, Quebec and British Columbia speaking with potential recruits. Coach Welden will also be visible across the nation ranging from Provincials in Ontario to Nationals in Alberta. The women's team will also look to host a high performance girls volleyball camp in August.
A Look Back at RMC Men's Soccer
25937 Michaël Lachance, Men's Soccer Captain
The RMC Men's Soccer team had their most successful season to date. Training camp started in mid-August and right from the start, you could tell this was a different team than years prior. With two-a-days of intense cardio and training, within 2 weeks the team was more than prepared to start off the 2012 soccer season. Although suffering several extremely close losses, including losing 2-1 and 1-0 to the nationally ranked Carleton Ravens, we managed to pick up a total of 5 points this year, which including a win at home against Trent, and two ties against both Nipissing and Laurentian. However, our greatest victory of the season was finishing above Trent in the standings, an outstanding achievement for RMC men's soccer.
Next year, after losing only 3 graduating players, we plan on coming back even stronger than ever, and our training will be even more rigorous next summer. We have finally discovered the amount of potential our team has, and this potential will absolutely be recognized next season as the RMC men's soccer program will establish itself as a strong playoff candidate in the 2013 season.
_____________________________________________________________________________________
L'équipe de soccer masculin de RMC a eu un grand montant de succès cette année. Le camp d'entraînement a débuté en mi-Août et dès le départ, c'était évident que c'était une équipe différente que celle de l'année passée. Avec des entraînements deux fois par jour de cardio intense et de soccer, en dedans de 2 semaines l'équipe était enfin prête pour affronter la compétition. Malgré avoir souffert plusieurs défaites par seulement 1 ou 2 buts, incluant avoir perdu 2-1 et 1-0 contre Carleton (un université à Ottawa qui sont classés au niveau national), l'équipe a ramassé 5 points total, consistant d'une victoire contre Trent, et 2 égalités contre Nipissing et Laurentian. Par contre, notre plus grosse victoire cette saison était d'avoir fini classé au-dessus de Trent dans notre conférence, une réalisation incroyable pour le soccer masculin de RMC.
L'année prochaine, ayant perdu seulement 3 joueurs de 4eme année, nous planifions encore plus de succès et de retourner plus fort que jamais. Notre entraînement et notre préparation va être encore plus rigoureux l'été prochain. Nous avons enfin découvert notre potentiel, et celui-ci sera reconnu l'année prochaine quand l'équipe s'établira comme un fort candidat des séries dans la saison 2013.