Sports and a candid Q&A concerning the PF test with PSP staff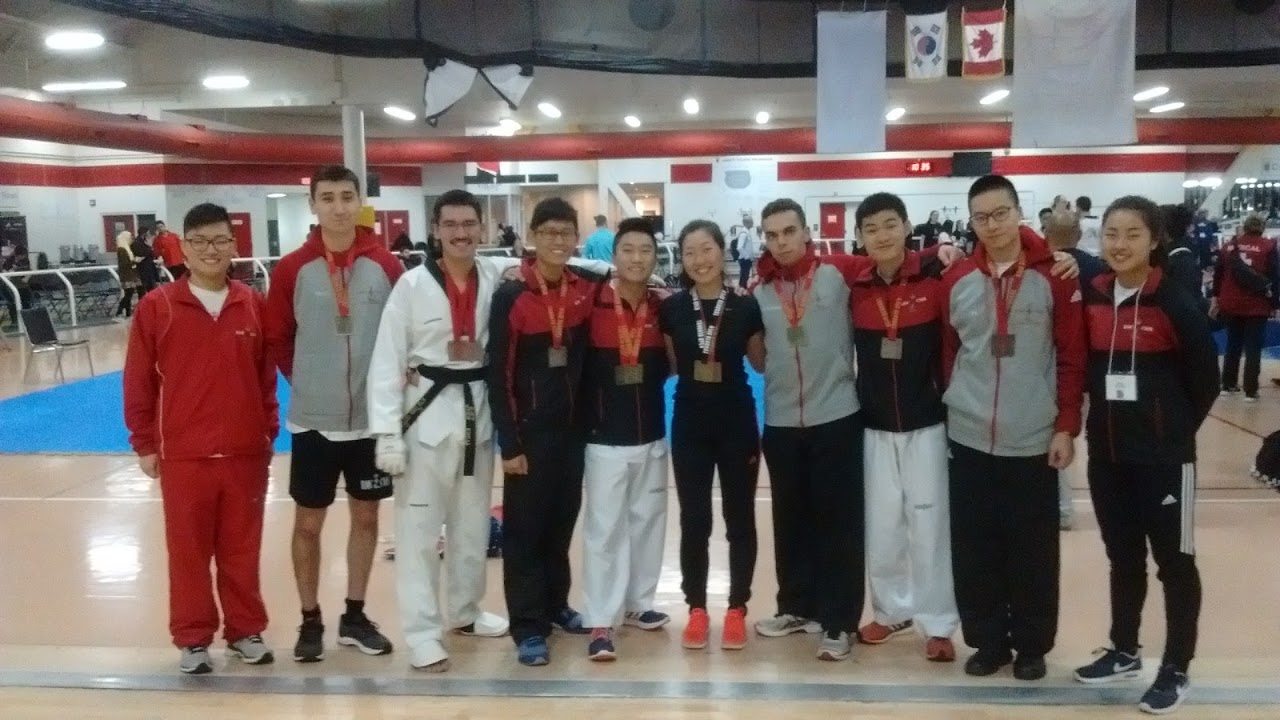 The Taekwondo team travelled to Toronto on the weekend to compete at the Toronto Open Taekwondo tournament.  It was a very big tournament with almost 1000 athletes competing from all over the world.
The competition was a two day even with the majority of the team competing on Saturday as colour belts and recreational black belts.
We had ten members of the RMC Taekwondo team competing very successfully on Saturday, coming away with 4 gold, 3 silver and 3 bronze medals and had two final matches with RMC vs RMC for the gold.
On Sunday, first year OCdt Mina Lee, competed in the female under 57kg high performance black belt division with equal success.
She defeated the AAU US national champion in the quarter finals, then went on to win the semi-final match in sudden death against an athlete from Quebec, then losing a tight final, which was tied going into the final round, against a member of the Tibet national team.
***
Competitive Swimming
The RMC Competitive Swimming team had its first competition at the 5th Annual Willy Lee Masters Meet, this past Saturday. 8 members from the team competed in an afternoon of close tight races.
The team took home many first, second and third place finishes in various events. Notably in the 100 meter freestyle RMC swimmers occupying the top 4 spots.
One of our swimmers, Adam Welsh, swam under 30.00 seconds for a 50 meter freestyle, a big accomplishment in the swimming world!
Article by 27739 OCdt (III) Dain Saulnier
***
Women's rugby
The women's rugby team left Friday morning for the annual New York 7s Tournament; the largest single day 7s tournament in the Western Hemisphere.
Throughout the day RMC took place in 5 games with Grace Loucks being the top scorer from RMC with 25pts during the day. Two of our associate members Antoinette Kennedy of Queens and Courtney Brewer of SLC also contributed multiple tries.
Overall the team came out with a big win and a trophy, coming second in the cup finals !!
All thanks goes to Coach Jocelyn Poirier who has successfully led the team to their first big victory in a long time.
It was a great weekend and the team hopes to continue to improve their skills so next year they can take first place in the Cup Finals.
All those involved with the (w) rugby team are most appreciative of the financial support provided by the Department of Athletics in providing this great combined sporting and cultural experience.
***
REMINDER / RAPPEL

ATHLETICS WALL OF DISTINCTION / MUR DE LA RENOMMÉE SPORTIVE
Nominations must be submitted by 30 November 2017 for consideration for the induction in March 2018.
Les candidatures pour l'intronisation de 2018 doivent être soumises au plus tard le 30 Novembre 2017.
***
(M) Hockey
Recent results:
Fri 24 Nov UWO 4   RMC 5 (OT)
Sat 25 Nov Windsor 3  RMC 4 (Shootout)

Upcoming games:
Wed 29 Nov Queen's @ RMC @ Constantine Arena 7:00 PM
Sat 2 Dec Carleton @ RMC  @ Constantine Arena 7:00 PM
(M) Volleyball
Recent results:
Fri 24 Nov RMC 1  Windsor 3
Sat 25 Nov RMC 0 UWO 3
Upcoming games:
Sat 13 Jan RMC @ Nipissing @ Robert J Surtees Student Athletics Centre 2:00 PM
Sun 14 Jan RMC @ York @ Tait MacKenzie Gymnasium 4:00 PM
(W) Volleyball
Recent results:
Fri 24 Nov RMC 0   Windsor 3
Sat 25 Nov RMC 0  UWO 3
Upcoming games:
Sat 13 Jan RMC @ Nipissing @ Robert J Surtees Student Athletics Centre 12:00 PM
Sun 14 Jan RMC @ York @ Tait MacKenzie Gymnasium 2:00 PM
***
Update on the physical fitness test
We had the opportunity recently to connect with Stephane Robert, PE Manager and Craig Palmer, PE Evaluation Program Coordinator from the RMC Athletics Department Staff. We appreciate their candid replies on some of the contentious issues involving the PF test.
How do the test results compare from recent years at this time?
The overall statistics have remained very similar to previous years but with the newly added resources dedicated to the Supplementary Physical Training program as well as the huge support from Chain of Command, we expect results as well as the culture of fitness at RMC to improve steadily.  This is a very exciting time for the college as a whole!
I, II, III, & IV Years.  Are there any trends?
Yes, one very positive trend is that every year, Naval/Officer Cadets generally show a steady improvement in their Personal Physical Test (PPT) results from their 1st year to their 3rd year at the college.  Interestingly enough this performance improve does not carry on in their 4th year.  With that being said, this is the first year that we've seen this 1st to 3rd year improvement now carryover to 4th year as well.
Whenever you see a change in the numbers, we always like to ask "why?".  For IV years, is there extra motivation going into this year compared to previous years due to the emphasis placed on fitness as a result of the Special Staff Assistance Visit. Is the current culture more positive toward physical fitness?  Does the 2.4km run elicit a stronger work ethic or more conducive environment towards maximal effort and performance than the 20 Meter Shuttle Run (MSR) as was the main reason for its re-entry into today's PPT?
What is your view of the switch to the mile and a half?  Both good & bad?
We believe that there are many positives – we haven't gone deep into the numbers as of yet, but we believe from first glance that the N/OCdts are actually scoring a bit higher on the run than on the 20MSR. There is somewhat less feedback during the 2.4km run so people just try their best to cover the required distance as fast as possible. With the 20MSR you know exactly when you have reached the minimum standard and because pushing yourself hard doesn't feel great as you are doing it, many people drop out of the test.
This all-out effort is what we like to see, and we don't know if you have been around for the 2.4km run as of yet, but there is a buzz and a nervous yet positive and energy filled atmosphere. It is a very different environment during a 20MSR. Tied into this is also the training culture. We think it helps to bring groups together as they train toward passing this test. Everyone knows the exact route and no special equipment is required, unlike the 20MSR where you need to get everyone into the gym and have the specific audio for the test. Most of the cadets have covered the exact route multiple times prior to the test so most of them should already know that they are ready before test day.
There are many more positives that we see from a testing standpoint, but at this point it appears that our scoring chart has matched well with the 20MSR scoring chart and people are pushing beyond the levels they are usually willing to go in the 20MSR.
From a negative side, we can't control the weather.  We got very lucky this year but if it had been one week later it would have been miserable!    Another negative is the OCdts are not as familiar with this test and some of them are still getting used to how to pace themselves.
At the end of the day we deliver a fair test and we want all of the students to have an opportunity to demonstrate that they have maintained the level of fitness expected of them, and we believe the 2.4km does this best for the aerobic portion of the test.
Do failures all years do remedial or is it just a couple of the years – I and ??
Leading up to PPT1, only the IV year cadets were taking part in the morning program with the supplementary physical training  coordinator. In previous years it has been I and II year cadets that were doing the morning program and III and IV years were provided a program to follow on their own time. The staff-student ratio would not previously allow for all those who were unsuccessful on the PPT to attend the morning training.
As of now however, we have 3 additional fitness coordinators along with Erin Thompson, our long time coordinator, and all years are getting the help that they deserve and require. Morning Supplementary Physical Ttraining (SPT) is grouped by division with A div falling under our long-time SPT Coordinator Erin Thompson. B div SPT is run by Kevin Wakelam with C div SPT falling under Jeremy Lum and the D div SPT Coordinator is Jackie Clark.
We are very happy to have these 3 joining our staff and now the SPT program can properly operate with staff-student ratios that will allow for much more individual attention.
One comment I hear often from cadets is the inconsistency of the testing staff in counting 'proper' push-ups'. Some cadets can identify their 'favourite' staff member. Any comment?
What we can say is that we (RMC) collectively need to improve on, and be accountable for our own push-up form and results. From day 1 at the college, OCdts end up doing way too many improper push-ups and they develop some bad habits. Also, when your friend looks at your push-ups they are often too nice, or unable to see the form issues. N/OCdts should ask Physical Education staff more often and earlier in the year to make sure they are on the right track with their push-up form.
Stephane Robert
"I would say with complete confidence that no evaluator has ever watched a proper protocol push-up and not counted it."
When someone has good form, it is very easy to sit back and simply count the number completed. Most of the people that have issues with push ups simply do not have either the required upper body strength, but more often than not do not have the necessary core strength and body control in order to maintain a proper stable body position.  It's important to understand this is not just a test of upper body muscular endurance but also core and shoulder stability, body control as well as the often overlooked aspect concerning your ability to follow directions.  Those who are unsuccessful as well as those who are borderline really need to take a step back and examine all of these important aspects of push ups in order to truly maximize their training time and focus.  Better yet, approach one of the Physical Education staff as they will be able to immediately identify the main issue and give you methods of correcting them.
As a department, we go over the numbers to make sure we are consistent but at the end of the day, everyone needs to be accountable for their own performance and maybe challenge their movement patterns as opposed to hoping someone gives a favorable score.
Add anything that you feel will help our readers understand the RMC PF test in 2017.
Stephane Robert wrapped it up with this:
"While I'm always looking at ways to improve how the test flows and operates, as we all do with our programs, the collective goal is to help the cadets improve their fitness levels, and in turn their PPT results. We look forward to PPT2 at the end of March."