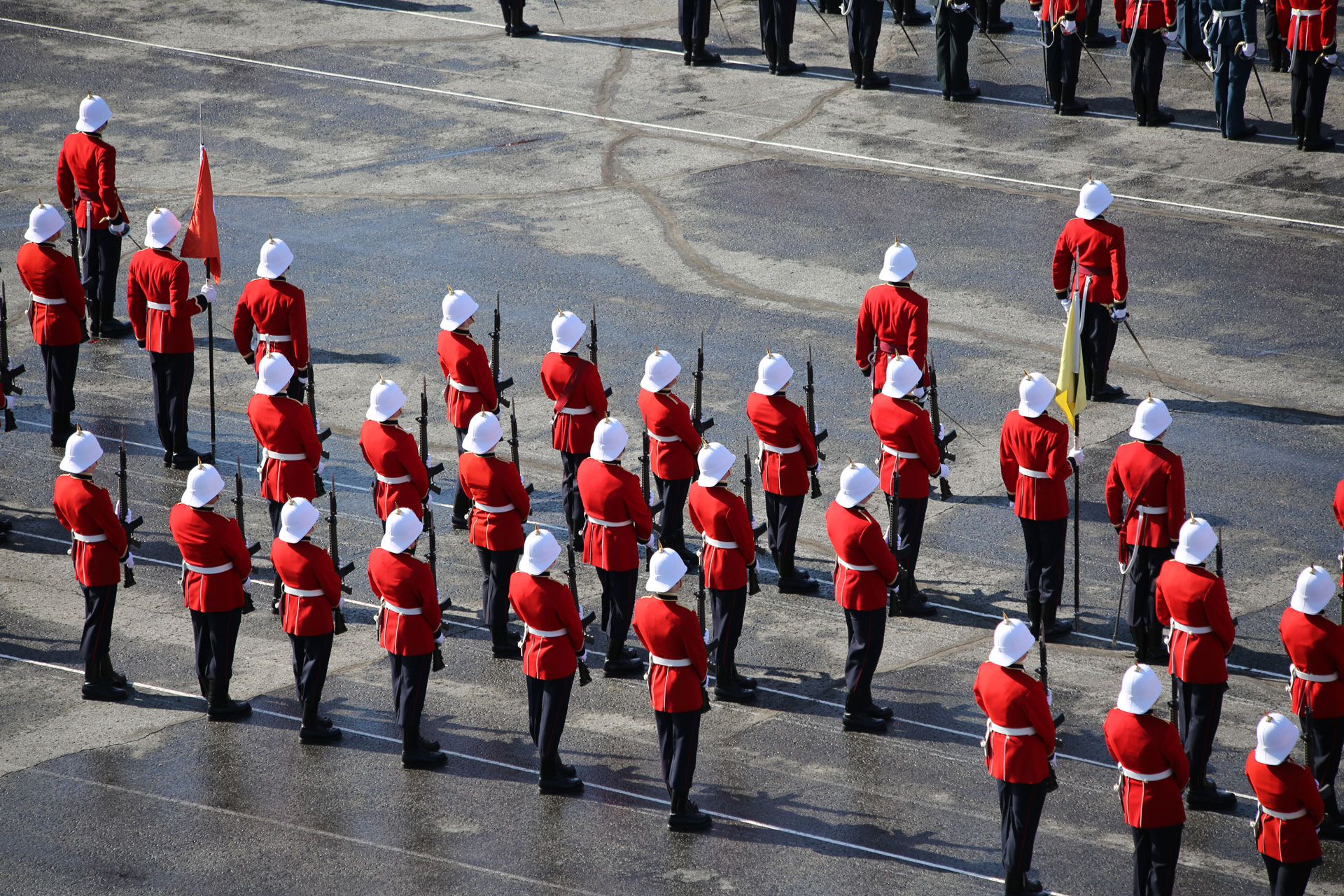 IV Year Attends, CISM Golf Tryouts
By: 24974 OCdt (IV) Richard Lim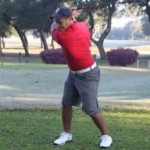 This March I was privileged to be selected to join the CISM Golf Selection camp in Pensacola, Florida. Along with 11 other CF members, including ex-cadet Lt. Mike Stark (24261), we arrived in Pensacola on Saturday and settled in at the Naval Air Station. We were greeted by 25 degrees of sunshine each day and 3 phenomenal golf courses. While the trip was a nice escape from the busy schedule of RMC, it was still tiring. Our days began at 0600, and even 0400 one day, at which time we would leave for the course for our first round. The long days were only part of the fatigue we felt; the mental part of the game is where the fatigue was really evident. As it was early in the season, each round was mentally gruelling to stay sharp and to continually try to hit good golf shots, especially in the afternoon rounds.
Sunday, Monday, and Tuesday we played 36 holes per day on the A.C. Read Golf Course at NAS Pensacola. The course, featuring 27 holes, was in magnificent shape and set right on the water. It was quite an experience as the air traffic above could have been mistaken for Chicago's O'Hare Airport. We were also lucky enough to see the Blue Angels fly above our heads while golfing. On Wednesday, we traveled 90 minutes west and played Kelly Plantation, a Fred Couples designed golf course. The course was phenomenal and one of the best courses I have had the privilege to play. On Thursday, we again travelled to play, this time to Alabama where we played all 27 holes at Timber creek Golf Club. It was yet another magnificent course that penalized any player that did not hit the ball well off the tee. The weekend saw the team play in a Gulf Coast Scratch Tour tournament. This tour has produced pros such as Boo Weekley, Heath Slocum, and Bubba Watson. Unfortunately, I was unable to participate, as I had to return home to Kingston for my Iron Ring ceremony.
The week in Florida was the first time since last golf season that most of the players had swung a club. The first few days saw the team shaking the rust off and not scoring well. By mid-week the scores began to resemble the expected scores of a CISM member. Players posting scores as low as 71 became a regular occurrence. Despite a knee injury suffered from my hockey season I managed to be competitive in all the rounds. I managed to shoot a low round of 73 and a couple of nine hole scores of 34 which helped me post other mid 70 scores. Unfortunately, golf is not yet back as an event in the World Military Games and the destination of this year's CISM golf tournament has not yet been decided. The trip was a great experience and I have met many friends that I hope to stay in contact with for a long time. I would like to thank Maj Cam Lowden and Jason Price for all their efforts in organizing this great event and Mr. Steve Bobe for hosting us at the A.C Read Golf Course.
But now I have to trade my golf bag in for a calculator and pencil for the final push to grad. 60 DTG!!!
___________________________________
RMC Rugby too much for Concordia
Game was played,  Sunday (13 March) at Concordia – under a large dome with a turf field
Playing arguable his most complete game of his career II Clarke O'Reilly (Kitchener ON) lead the way for the Paladins with a solid performance in the line out, hard hitting defence and scoring a pair of tries in the 25-15 victory over the Concordia Stingers.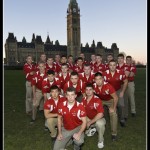 The Paladins pack turned in a dominate effort once again as they disrupting the Stingers lineout and sent the hosts scrum reeling, resulting in numerous turnovers that led to points.
Rounding out the scoring for the Paladins was II Riley Saliken (Abbottsford BC) II Colin Carswell (Toronto ON) II Brandon Black ( New Market ON) with a try each.
The road win over Concordia pushes the Paladins winning streak to 5 games with past victories over Syracuse, Ottawa U, Canadian Forces Staff College, and Laurier University. RMC's next action will see them travel to Annapolis to take on the Midshipmen of the US Naval Academy on May 1st.
Click on photo for better viewing
____________________________________
(W) Soccer trip to B.C. more than a game!
Hello Bill and Rolande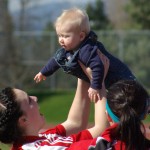 Today my husband and I had the opportunity to attend the RMC women's soccer game against UVic held at Centennial Stadium in Victoria, BC. Unfortunately RMC lost but as proud supporters of RMC we felt that the play improved over the course of the afternoon, perhaps the lovely sunshine that appeared helped. There was a small group of onlookers and judging by the number of RMC clothing in evidence we felt that 80% of this group was family, friends and supporters of RMC.
I have included a few of the over 150 pictures we took of this day including one of young Ty the nephew of Lyndsay Cross (class of 2013 and # 2 on the soccer field) who was supporting his "aunty" ! (Click on photo for better viewing)
Please feel free to use these pictures as you wish ( I do have verbal approval from Ty's parents for his picture to be used).
Renee Stieda
(mother of OCdt (III) Anthony Everitt)