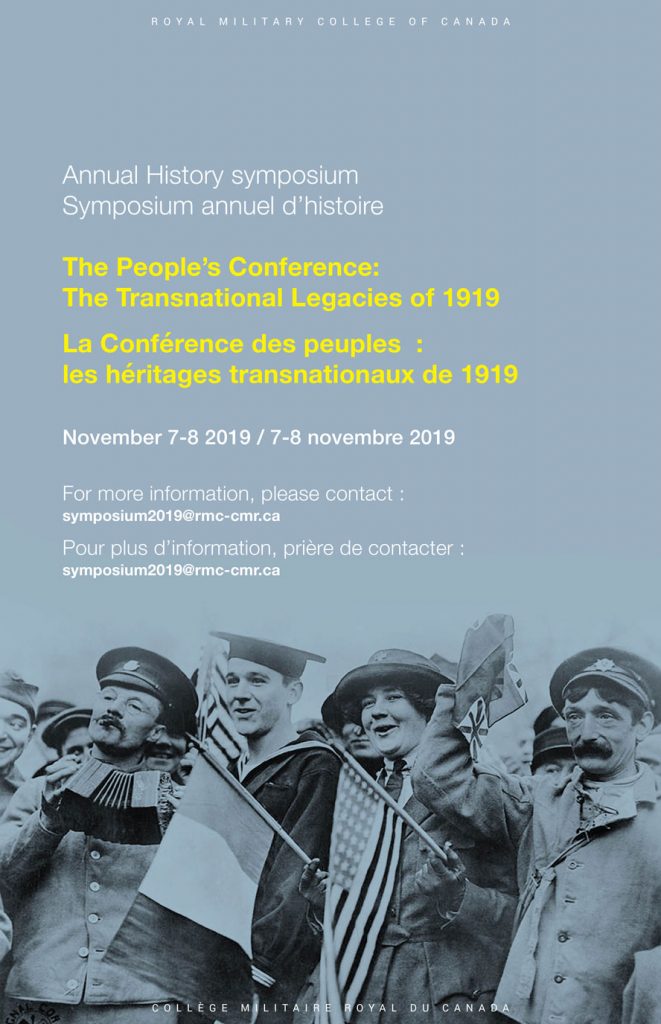 Please click the link below to register. / Veuillez cliquer sur le lien ci-dessous pour vous inscrire.
https://www.eventbrite.ca/e/annual-history-symposium-symposium-annuel-dhistoire-tickets-74881734283
The People's Conference: The Transnational Legacies of 1919.
Royal Military College of Canada, Kingston (Ontario)
November 7-8 2019
Annual History Symposium
On the hundredth anniversary of the world changing Paris Peace Conference and of the Treaty of Versailles, the Department of History of the Royal Military College of Canada is hosting a conference to examine their impact on transnational and international movements and institutions. Most scholarship to date has focussed on what happened in Paris in 1919 from the perspective of the coming of the Second World War, and on the inability of the Treaty of Versailles and of the League of Nations to prevent a second global conflagration. Only recently has more attention been paid to the explosion of international and transnational institutions and organizations created in aftermath of 1919. The Paris Peace Conference was the first international conference to draw upon the input of individuals and private groups, while others met in parallel conferences to discuss what was happening or should be happening within the halls of Versailles. In that sense, Paris 1919 opened the door to popular participation in global treaty making that continues to this day.
//
La Conférence des peuples : les héritages transnationaux de 1919.
Collège militaire royal du Canada, Kingston (Ontario)
7-8 novembre 2019
Symposium annuel du Département d'histoire
À l'occasion du centenaire de la Conférence de paix de Paris et du Traité de Versailles, le Département d'histoire du Collège militaire royal du Canada organise une conférence qui portera sur leur impact sur les mouvements et les institutions internationaux et transnationaux. Jusqu'à présent, les travaux qui ont porté sur la Conférence de paix s'y sont surtout intéressés dans la perspective de la Seconde Guerre mondiale et de l'incapacité du Traité de Versailles et de la Société des Nations à empêcher un deuxième conflit mondial. Plus récemment, les chercheurs ont tourné leur attention vers l'apparition d'institutions et d'organisations internationales et transnationales créées après 1919. La Conférence de paix de Paris a été la première conférence internationale à accorder une aussi grande place aux individus et aux groupes privés. Plusieurs groupes ont également tenu des conférences parallèles pour discuter de ce qui se passait ou de ce qui aurait dû se passer dans les corridors du château de Versailles. En ce sens, la Conférence de paix de Paris a ouvert la voie à la participation citoyenne dans les affaires internationales.