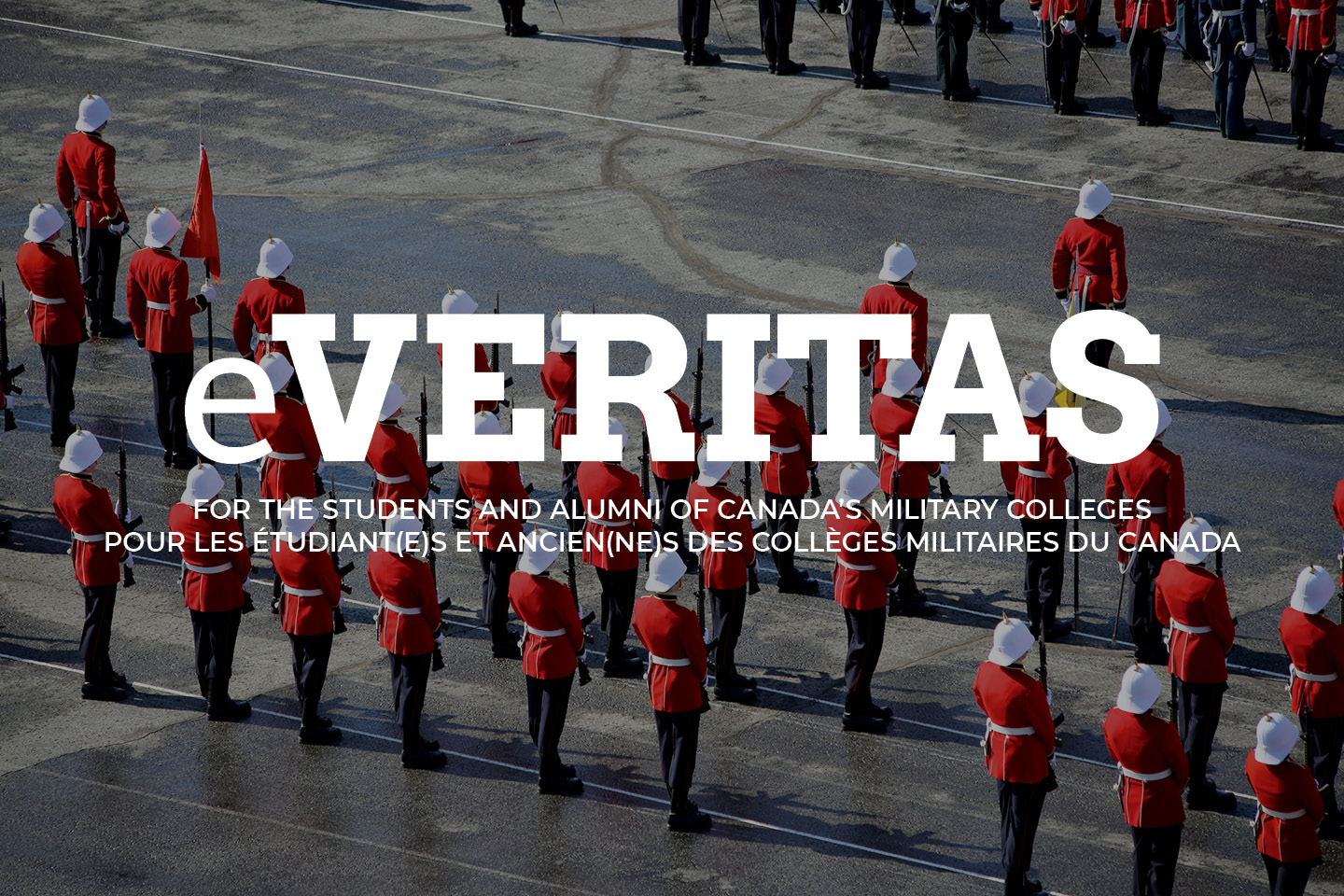 Gen (ret'd) Walt Natynczyk Guest of Honuor at Army Mess Dinner
Article by 25800 OCdt (IV) Paul-Charles Geoffrion-Lockhead
On Tuesday, March 5, the Army Mess Dinner of the class of 2013 took place.  The aim of this event was to allow fourth year Officer Cadets to discuss what awaits for them after graduation with officers from their respective branches.  The dinner took place in the Cadet Formal Mess on the second floor of Yeo Hall.
The head table was composed of the guest of honour, Gen (Ret'd) Natynczyk, the Commandant of RMCC, BGen Tremblay; the honorary colonel of the Princess of Wales' Own Regiment, Col Hutchings; the head of the AMS Department, Col Saulnier; the ACOS of LFDTS, LCol Dooley-Tremblay; the DCdts, LCol Lemyre; the CI of RMCC, Maj Parent; the Roman Catholic padre of RMCC, Maj Rochefort; the CWO of RMCC, CPO1 Davidson; and OCdts Neppel, Allain and MacDonald.
Gen (Ret'd) Natynczyk delivered a passionate speech to the Army members of the class of 2013 warning them of the dangers of ambition and encouraging to stay true to the values of truth, duty and valour.
Le mardi 5 mars a eu lieu le Dîner régimentaire de l'Armée de la classe de 2013.  Le but de cet évènement était de permettre aux élèves-officiers de l'Armée de pouvoir discuter de ce qui les attend après la graduation avec des officiers appartenant à leurs branches respectives.  Le dîner a eu lieu au Mess formel des élèves-officiers, au deuxième étage de Yeo Hall.
La table d'honneur était composée de l'invité d'honneur, le Gén (Ret) Natynczyk; du Commandant du CMRC, le BGén Tremblay; du colonel honoraire du Princess of Wales' Own Regiment, le Col Hutchings; du directeur du département de sciences militaires appliquées, le Col Saulnier; du chef d'état-major adjoint du SDIFT, le LCol Dooley-Tremblay; du DÉlofs, LCol Lemyre; de l'instructeur-chef du CMRC, le Maj Parent; du padre catholique du CMRC, le Maj Rochefort; de l'adjudant-chef du CMRC, le PM 1 Davidson; et des élofs Neppel, Allain et MacDonald.
Le Gén (Ret) Natynczyk a livré un discours passionné aux membres de l'Armée de la classe de 2013, les mettant en garde contre les dangers de l'ambition et les encourageant à rester fidèle aux valeurs de vérité, devoir et vaillance.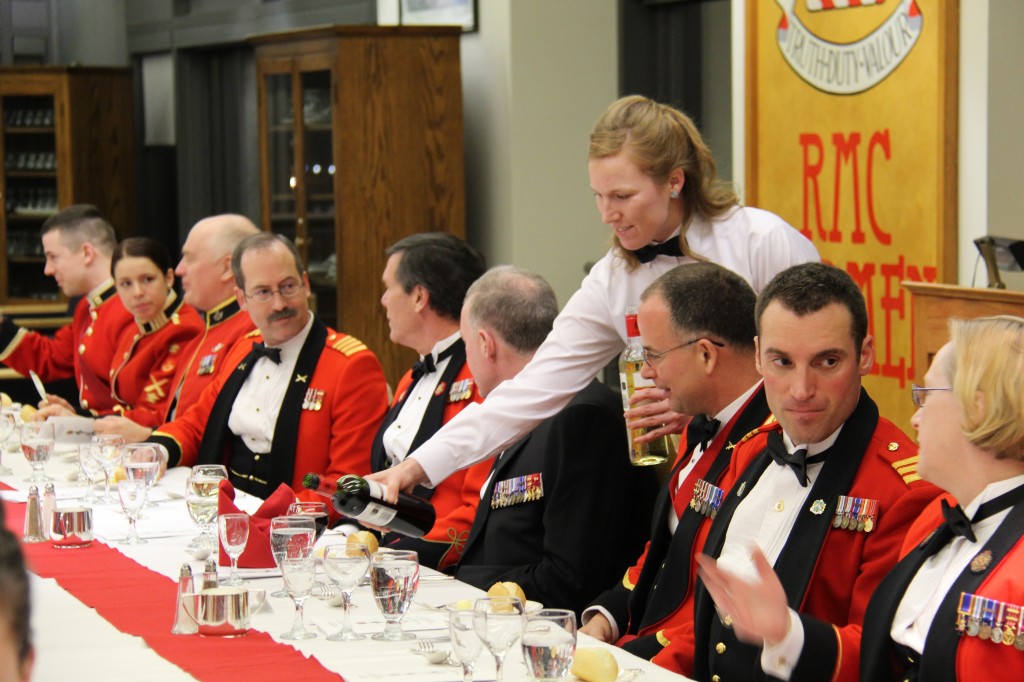 __________________________________

College Comes Through for Soldier On at 2013 Bike-a-thon
It's one of the high points of the Winter Semester. With Reading Week now a distant memory for Cadets, and with many of them now feeling the crunch of midterms and papers, the 2013 RMCC Bike-a-thon was a chance for them blow off some steam in support of a good cause. Cadets get a good work out and get to compete against other Squadrons, all while eating Tim Hortons and playing Xbox. What could be better, right…?
The event kicked off Friday night with the CSL race, which pitted the Cadet Squadron Leaders of each Squadron, and College Commandant BGen Eric Tremblay, against each other in a spirit of friendly competition. 9 Sqn was declared the victor before the focus turned to the main event. Squadron teams had to keep a bike manned from 1900 Friday to 1900 Saturday, while 2 person teams alternated and several intrepid cyclists set out to ride the whole 24 hours. Several College clubs, including the Sailing Team and the RMCC Band, turned out to race, as did a team from RMC Saint-Jean (they placed 5th overall). The Cadets kept themselves awake with Xbox, Tim Horton's, and pizza, and rode through the long night and into Saturday. Squadron supporters were on hand to see them over the finish line.
The event, which began five years ago as a Cadet-driven initiative for the Soldier On Foundation, typically raises several thousand dollars for the foundation, and this year was no different. As of press time, the total raised was over $7000, surpassing last year's total by almost $900. Col Gerard Blais, Director of the Casualty Support Program for the Canadian armed forces (DCSM), was on hand to receive the check for $7005, and to present BGen Tremblay with a token of the foundation's appreciation. "RMCC has been one of our best supports since the beginning," he said, "and we want to recognize that."
Once the numbers were crunched, overall results were as follows:
Squadron Standings
1st Place – 4 Sqn
2nd Place – 6 Sqn
3rd Place – 3 Sqn
Individual Race 
1st Place – 26500 OCdt (II) Richard Barnes
2nd Place – 26468 OCdt (II) Ian Mancini
3rd Place – 25574 OCdt (IV) Maxime Rivard
Doubles
1st Place – 25552 OCdt (IV) Luc Abel and 25812 OCdt (IV) Ariane Philippouci
2nd Place – 25873 OCdt (III) Alexandra Bissonnette and OCdt Bergeron
3rd Place – 25262 OCdt (IV) Victoria Pynn and 25843 OCdt (IV) Krisztina Rekeszki
Group
Winner – Sailing Team
Squadron Spirit 
Winner – 2 Sqn
Photos from the competition (click to enlarge):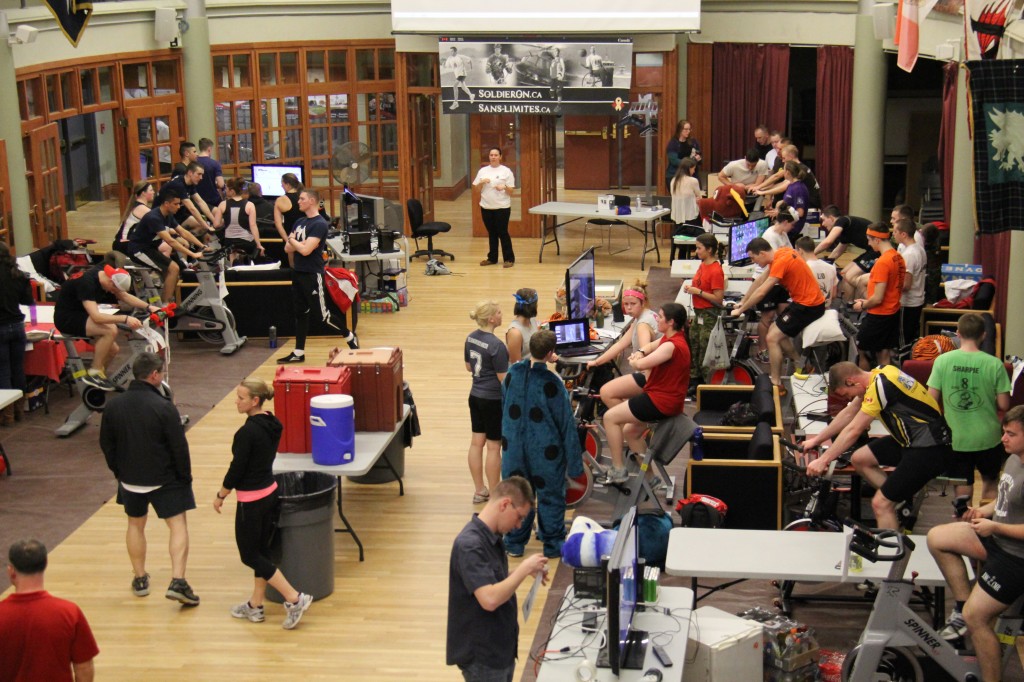 __________________________________
A Correction, and an Explanation
"Peer Assistance Group Hosts LGBT Panel"
By Dr. Jessica Ward-King
We have a correction to publish regarding the article "Peer Assistance Group Hosts LGBT Panel" which was published on February 10. In the article, we stated that "One of the panel members identifies as transgendered, which provided a great opportunity to learn about issues that many Cadets have never been exposed to." In fact, that panel member identifies more specifically as transsexual.
This is an issue that many Cadets have never been exposed to, and it is worth taking this opportunity to learn about this distinction within the LGBT community.
The term "Transgender" is a sort of "umbrella term" that includes within it many different ways of identifying one's gender. Gender is thought of as a social or political construct that feeds into a person's identity and has little to do with biology. By this definition, then, an individual may identify as transgender if they think of their gender as being outside of the normative "male/female" categories.
A person who identifies as "Transsexual" would traditionally fall under that umbrella term transgender, but is a more specific identity within that category. Unlike gender, sex is defined by biology and affects an individual's identity at the level of the physical, biological reality. By this definition, then, an individual may identify as transsexual if their physical, biological characteristics have transitioned from one sex to another. Typically, an individual who identifies as transsexual has a gender identity that did not match with the body they were born with, but that now matches with the body they have (typically through medical intervention or a "sex change").
For members of the LGBT community, as for everyone, how we think of ourselves and how we express ourselves is a very important and very personal part of being human. The important distinction that we discuss here is not unique to gender politics; throughout history wars have been fought, sacrifices made and mighty alliances forged based on distinctions that seem, to outsiders, trifling at best, but to those who live them those distinctions are worth standing up for.
PAG would like to applaud our panel member who stood up and asked that her true gender identity be recorded in these pages, and we sincerely apologize for our own mistake. Thank-you for sharing with us your knowledge, and affording us the opportunity to learn and grow in awareness and sensitivity.
Une correction, et une explication
par Dr. Jessica Ward-King
Nous avons une correction qui concerne l'article «Groupe d'entraide par les pairs accueille LGBT Groupe spécial" qui a été publié le 10 février. Dans cet article, nous avons déclaré que «L'un des membres de la commission identifie comme transgenres, qui a fourni une excellente occasion de s'informer sur les questions que les cadets de nombreuses n'ont jamais été exposés à." En fait, ce membre du comité identifie plus précisément comme transsexuelle.
C'est une question que de nombreux cadets n'ont jamais été exposés, et il vaut mieux prendre cette occasion pour en apprendre davantage sur cette distinction au sein de la communauté LGBT.
Le terme «transgenre» est une sorte de «terme générique» qui inclut en son sein de nombreuses façons d'identifier son sexe. Le genre est considéré comme une construction sociale ou politique qui alimente l'identité d'une personne et a peu à voir avec la biologie. Selon cette définition, alors, un individu peut identifier comme transgenre s'ils pensent de leur sexe comme étant en dehors des normatives «hommes / femmes» catégories.
Une personne qui s'identifie comme «Transsexuel» serait traditionnellement relèvent que terme générique transgenres, mais une identité plus spécifique dans cette catégorie. Contrairement genre, le sexe est défini par la biologie et affecte l'identité d'un individu au niveau de la réalité physique, biologique. Selon cette définition, alors, un individu peut identifier comme transsexuel si leurs caractéristiques physiques, biologiques sont passés d'un sexe à l'autre. En règle générale, une personne qui s'identifie comme transsexuel a une identité de genre qui ne correspond pas avec le corps qu'ils sont nés avec, mais qui correspond maintenant avec le corps qu'ils ont (généralement par une intervention médicale ou d'un «changement de sexe»).
Pour les membres de la communauté LGBT, comme pour tout le monde, comment nous pensons de nous-mêmes et la façon dont nous nous exprimons est une partie très importante et très personnelle de l'être humain. La distinction importante que nous discutons ici n'est pas unique à la politique des sexes; toute l'histoire des guerres ont été combattues, les sacrifices consentis et des alliances puissantes forgés fondée sur des distinctions qui semblent, à l'extérieur, peu de chose, au mieux, mais pour ceux qui les vivent ces distinctions méritent d'être défende.
PAG tiens à féliciter notre membre du jury qui s'est levé et a demandé que son identité de genre réelle soit consignée dans ces pages, et nous nous excusons sincèrement pour notre propre faute. Merci de partager avec nous vos connaissances, et de nous donner l'occasion d'apprendre et de grandir dans la conscience et de la sensibilité.
Unless otherwise indicated, photos and articles by 25366 Mike Shewfelt.