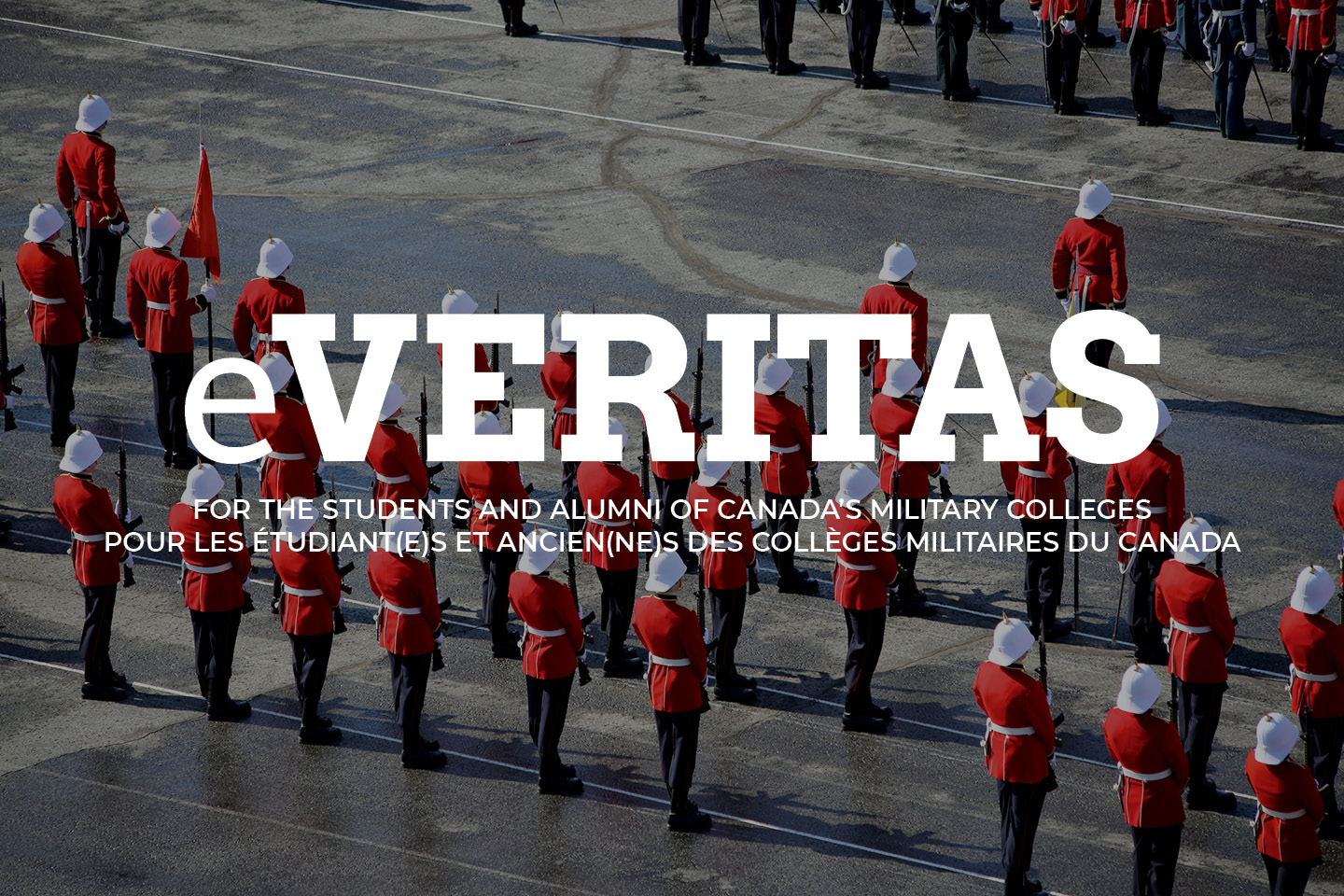 Fall 2013 Barslate Announced
At a parade held early this past Wednesday morning, LCol Patrick Lemyre, College Director of Cadets, announced the Barslate for the Fall 2013 Semester. The new senior leadership of the Cadet Wing will officially take over the reigns on 29 April.
The Senior Barslate is as follows:
CWC 25832 OCdt Kyle Nielsen, 5 Sqn; DCWC 26033 OCdt Stephanie Blais, 3 Sqn;
CWTO 25952 OCdt Alex Frey, 6 Sqn; CWOPsO 26816 OCdt Ross Nevile, 6 Sqn;
CWAdminO 25936 OCdt Sarah Labrecque, 4 Sqn; CDL A 25628 OCdt Jeremiah Eastwood, 2 Sqn;
CDL B 25669 OCdt Spencer Wiedeman, 5 Sqn; CDL C OCdt 25654 Marc Pelletier, 10 Sqn;
CDL D 26062 OCdt Elizabeth Poulin, 12 Sqn.
CSL 1 25639 OCdt Marc- André Jean; CSL 2 25912 NCdt John Kay; CSL 3 26196 OCdt Ellen Johnston; CSL 4 26164 OCdt Anne Kerr; CSL 5 25874 OCdt Francois Bouffard; CSL 6 25925 OCdt Emily Kwak; CSL 7 25861 NCdt Tristan Lapointe; CSL 8 25858 OCdt Ian Gutz; CSL 9 25917 OCdt Christopher MacKnight; CSL 10 25995 NCdt Marika Rueben; CSL 11 25636 NCdt Sully Heraud; CSL 12 25645 NCdt Guillaume Lessard; CSL Otter M1022 OCdt Joshua De Boer.
_____________________________________

Dernier souper régimentaire de la force aérienne 
Écrit par l'Élof 25842 Constance-Aurélie Ratelle, Élof des Services d'Information de l'Escadre
Mardi dernier, les élèves-officiers de quatrième année de la force aérienne ont eu leur dernier souper régimentaire, ici au Collège. L'invité d'honneur, le LGen Yvan Blondin, a fait un discours inspirant, partageant des souvenirs de ses premières années dans les forces canadiennes.  Le souper s'est bien déroulé. Quelques traditions ont été respectées, notamment celle des étiquettes où chaque invité est responsable de garder un œil son marque-place. Quelques élofs se sont montrés espiègles et ont fait parvenir au PMC de drôles de demande, notamment une partie de bras de fer entre le DCdt et l'Élof Lawrence Bourdon, une sérénade chantée en l'honneur du DCdt et un cours de danse de la part de l'Élof Tsang.
Chaque élof a eu la chance de discuter avec des officiers de plusieurs corps de métier différents. Cette soirée fut aussi informative qu'elle fut agréable. 
Photos du souper régimentaire (cliquez pour agrandir):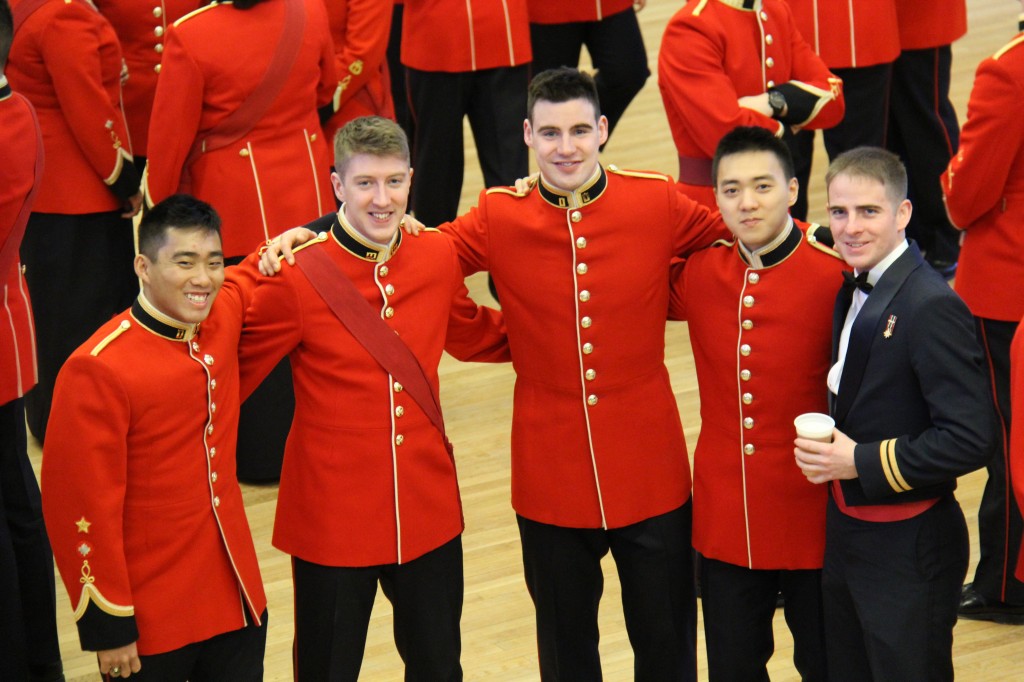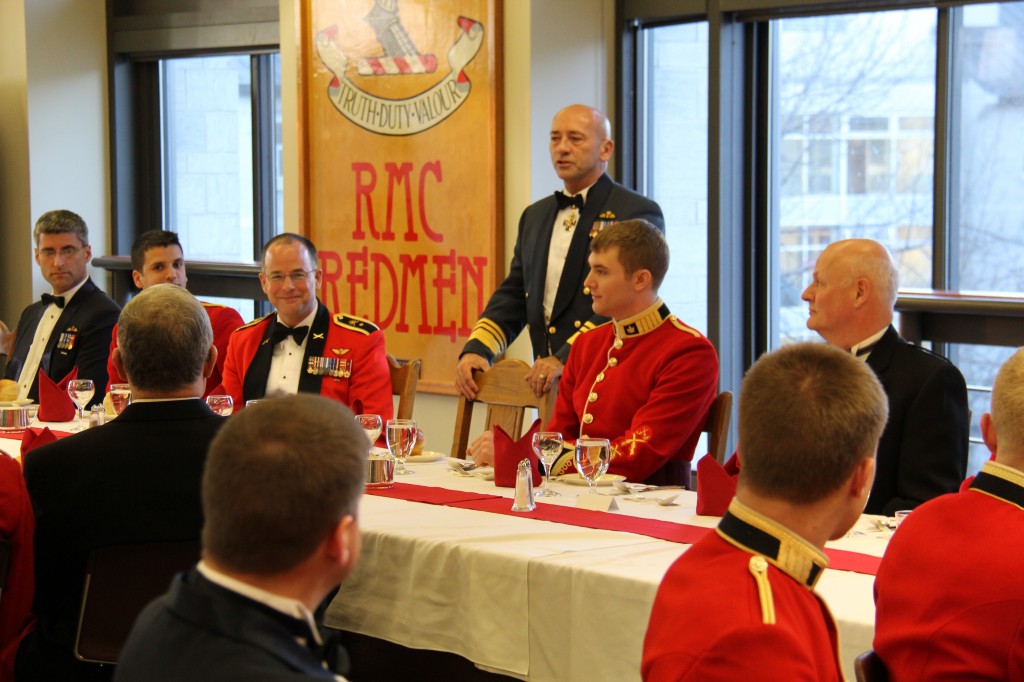 _____________________________________

Chilean Defence Attache Visit
Chilean Navy Captain Ramiro Navajas, Chilean Defence Attache to Canada, visited the College this past Wednesday as part of the Commandant's Professional Development series, which over the past academic year has brought in a number of members of allied militaries to speak to Cadets. The aim is to give Cadets exposure to military forces they may find themselves working with over the course of their careers. Capt Navajas signed the official College guest book and gave a presentation to the Third and Fourth Year classes.
_____________________________________
Weekly Professional Military Training
Each week, Cadets receive two hours of Professional Military Training, typically either briefings on a relevant subject or hands on practice (drill, for example).

1st Year
The Class of 2016 looked to the future this past week, as 18178 Capt (N) Michelaine Lahaie, Class of '92, Commandant of the Canadian Forces Leadership and Recruit School, paid them a visit. Capt (N) Lahaie and Capt Greg O'Neil, a Leadership Division Platoon Commander at CFLRS, introduced them to what they can expect this summer during their Basic Military Officer Qualification course, and then took questions from the eager First Years, most of whom can't wait to start that phase of their military training.
_____________________________________

2nd Year
The Second Year Class also looked to the future as they ran through a review of basic rifle drill in preparation for May's upcoming Grad Parade.
_____________________________________

3rd & 4th Years Articles –  M.I.A.
_____________________________________

West Point Politics Visit
The United States Military Academy at West Point visited RMC in force for the second time this semester when a group of Cadets came this past week as part of the 2013 USMA Military & Defence Study Tour: Ottawa & Kingston. This program allows West Point Cadets to learn about comparative foreign policy and military studies while at the same time strengthening the bond that exists between Canada and the United States.
The West Point Cadets involved visited the Department of Foreign Affairs and International Trade and Parliament Hill in Ottawa before coming to RMC. While at the College, they received several briefings and stayed over night to spend time with RMC Cadets and enjoy some of the many attractions of Kingston.
Unless otherwise indicated, articles and photos by 25366 Pte Mike Shewfelt