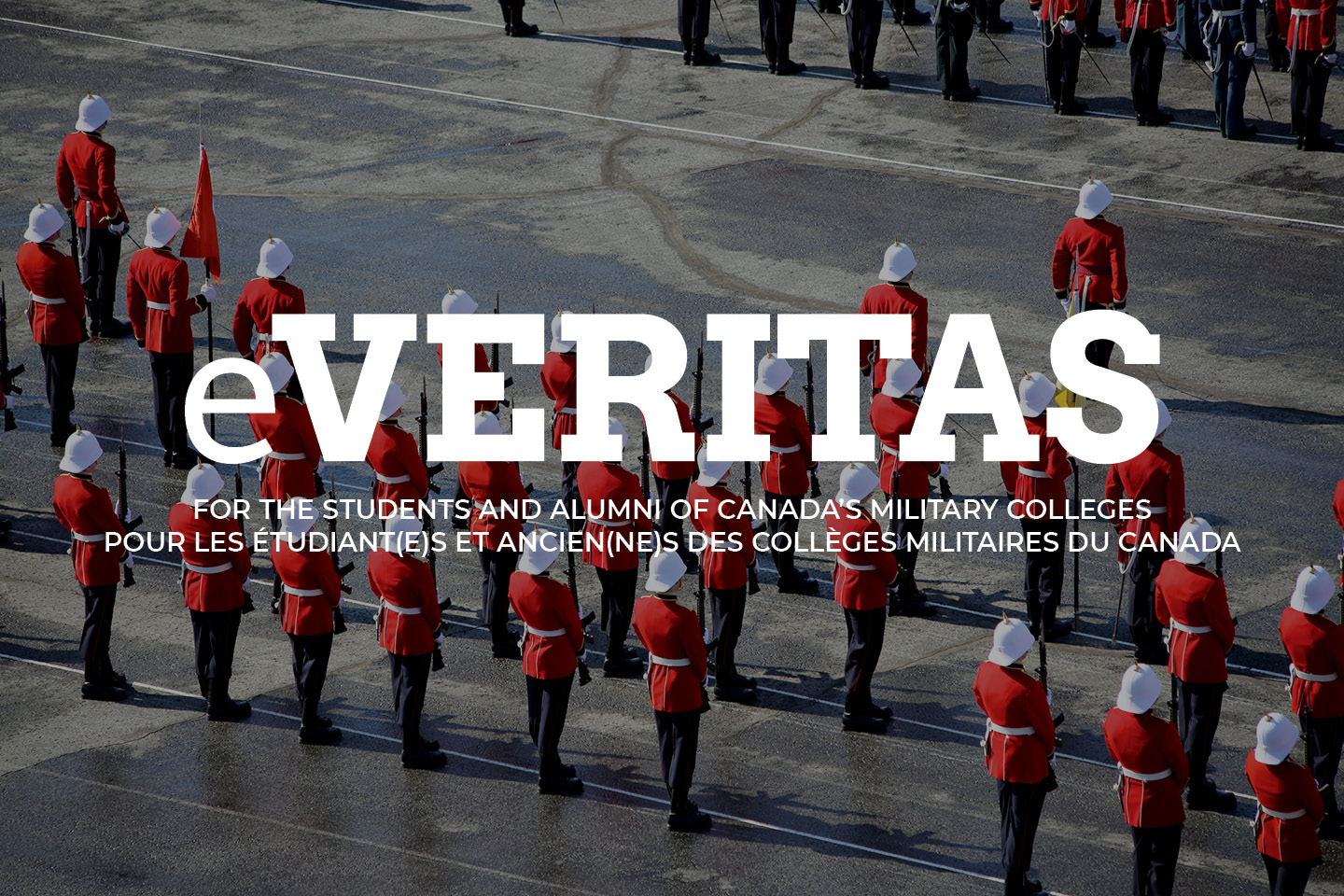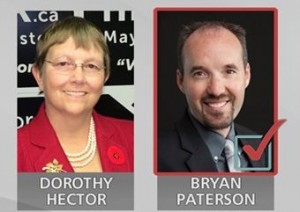 RMCC Professor, Bryan Paterson, Elected  Mayor of Kingston
14444 Dorthy Hector Runner-Up in Six Person Race
***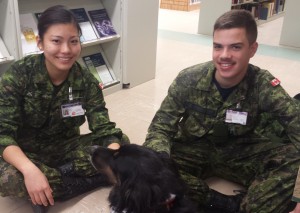 PAG Going to the Dogs
By 26596 NCdt Sophie Cormier
The Peer Assistance Group (PAG) continued its "Dogs for Morale" program on October 15th and October 22nd. The program involves bringing dogs from St. John Ambulance to the Royal Military College of Canada's library. Students get a chance to go pet the dogs and play with them, which is a great stress-reliever and helps the students deal with being away from their own pets.
On October 15th, Molly Koen and Jeannette Dyck brought their dogs Maverick and Dakota. Both dogs were extremely friendly and absolutely loved all the attention they could get. A total of 25 students showed up and had the chance to meet these lovely dogs and their owners.
On October 22nd, it was the turn of Cindy Berry and Margaret Wolfram to bring their dogs Tohe and Dali. The two dogs, like Maverick and Dakota, loved attention and were especially excited about treats Margaret had brought so students could get the dogs to do tricks. Both dogs were well trained by their owners to do a variety of tricks and to participate in agility competitions.
The dog program will return in December to help students de-stress during exams!
French heading
par 26596 Aspm Sophie Cormier
 Le groupe d'assistance aux pairs (GAP) a continué son programme « Les chiens pour le moral » le 15 et 22 octobre. Le programme implique d'emporter des chiens de l'Ambulance St Jean au Collège militaire royal du Canada, dans la bibliothèque. Les étudiants ont la chance d'aller caresser et jouer avec les chiens, ce qui est un très bon remède contre le stress et qui aide les étudiants à faire face au fait qu'ils sont loin de leurs propres animaux.
Le 15 octobre, Molly Koen et Jeannette Dyck sont venus avec leurs chiens Maverick et Dakota. Les deux chiens étaient très affectueux ; en fait, ils adoraient toute l'attention qu'ils pouvaient avoir. Un total de 25 étudiants se sont présentés et ont eu la chance de rencontrer ces chiens merveilleux et leurs propriétaires.
Le 22 octobre, c'était le tour de Cindy Berry et Margaret Wolfram, qui ont apporté leurs chiens, Tohe et Dali. Les deux chiens, comme Maverick et Dakota, adoraient l'attention et étaient particulièrement excités par les friandises apportées par Margaret afin que les étudiants puissent encourager les chiens à faire des tours. Les deux chiens étaient bien entrainés par leurs maitres à faire une grande variété de tours et pour participer à des compétitions d'agilité.
Le programme des chiens sera de retour en décembre pour aider les étudiants à relaxer pendant les examens !
***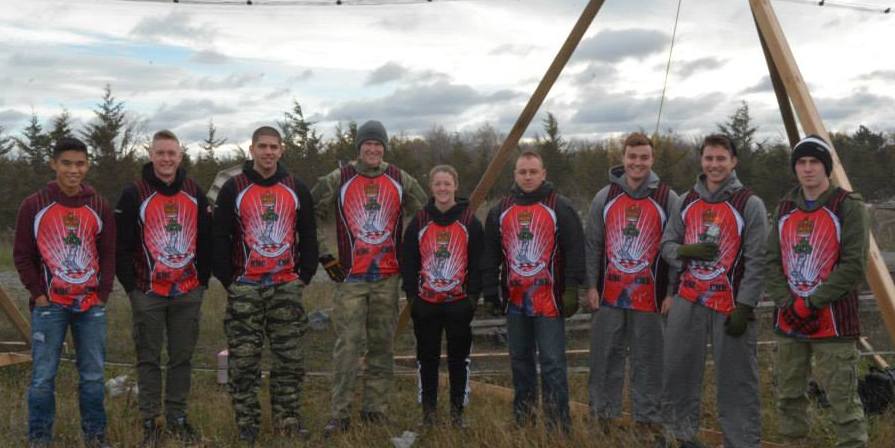 Caption: Cadets from RMCC having fun in Picton. From left to right – OCDT/NCDT: Tam, Tempest,Eracles, Mooney, Perry, Ratushniack, Kirby, Hammond, Sharp.  Photo by OCdt Howells.
Ten Cadets End Up In Former Picton Asylum
On Sunday October 26, 2014, the RMCC Airsoft/Paintball club (AS/PB Club) sent 10 of its members to Picton, Ontario to play in the Asylum Breakout Series paintball game at PRZ paintball. PRZ Paintball is built on the Craig Complex which used to be a mental asylum but was shut down. After its closure the current owners bought the facility and turned it into a paintball field. Players now have the opportunity to fight through the tight hallways, stairwells, and offices which used to make up the Craig Complex. OCdt's and NCdt's battle for five long hours pushing hard against the opposing team. There was intense close quarter's battle as cadets fought room to room on the interior of the complex, as well as fighting bunker to bunker on the exterior. The cadets were noted for their determination in the completion of objectives in the game as well as their tenacity and sportsmanlike conduct on and off the field. The cadets worked well in teams providing cover for one another as the moved throughout the different fields of play.
NCdt Matthew Mooney (26730), president of the Airsoft/Paintball club had this to say:
"It was an exciting game this year with so many cadets in attendance. This was our first event as a club for the year and I couldn't be more proud of the cadets that I played alongside. They were taking ground and working together as we swept the field looking for opportunities to demonstrate our skill and tenacity. I hope that in the future we are able to go to more games as a club because the smiles on the faces of my comrades at the end of the day was something I hope all cadets have the opportunity to experience"
OCdt Emma Perry (26682), the first female member of the AS/PB Club had an amazing time during the day and had this to say:
"My experience this weekend with the RMC Paintball and Airsoft club was my first ever paint balling competition I have had the opportunity to participate in. Stepping out onto the field for the first time I was excited, nervous and energized with adrenaline. After some time I learned some tricks and tips from the more experienced players on my team which allowed me to be more successful at both hitting the other team but avoiding getting hit as well. This paintball tournament was nothing like I had anticipated yet it was still everything I wanted it to be. It was an amazing experience and I would encourage everyone to try it at least once."
OCdt Scott Howells (27106), equipment manager for the AS/PB Club, was the designated photographer for the day. He risked both his body and his camera equipment in pursuit of the best possible paintball photos. Having the opportunity to stand back and watch the action unfold gave him a different perspective and he was able to give this report:
"From the point of view of an observer no group of paintball players operated more smoothly together then the RMC cadets. The captain of the team the RMCC cadets played for noted that the cadets worked together in a way that was not common to the other paintball teams present."
All in all, after a long day of hard fun the cadets returned to the college covered with many things in tow. They were covered in dirt, paint, sweat, and grime but there wasn't a single one who did not wear an ear to ear smile. The club is looking forward to their future games and is excited to get out and spread the RMCC name in the paintball and airsoft community.
***
RMC Intramurals Half Way Point
The past four weeks have been an exciting time for all the cadets at RMCC as the start of intramural season has kicked off. Intramurals always bring out the friendly competition between squadrons, and the cadets at RMCC have been showing great deal of sportsmanship and teamwork as they compete against one another.A Division is dominating in both Ice Hockey A with five wins, and Water polo with six wins. In Ice Hockey B, C Division is currently leading with 3 wins. In soccer, 2 Squadron leads with 6 Squadron following close behind. 7 Squadron is leading in Ultimate with a total of 7 wins.
In Ball Hockey, 8 Squadron is presently in the lead with 7 wins. Two Officer Cadets per squadron are participating in a new intramural program this year, sailing. Competition is fairly close between squadrons this year, as it is only midway through the season, any squadron has the chance to come out on top. Good luck to all!
***
200 Days To Grad, I years switched uniforms with the IV years
Caption left: OCdt. Danielle Fielding (I) of 2 squadron became the CSL for the day by switching with OCdt. Sarabjot Anand the real CSL of 2 Sqn.
Caption right: And just like last year, the Sikh RMCC Officer Cadets did it again with their Halloween costume. Last year they were the Teleturbans, this year they became Ninja turbans.
200 DTG: A Day to Remember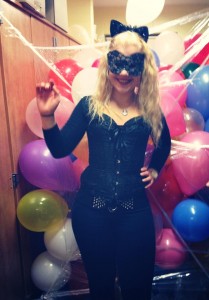 It's that time of year again! This Friday, October 31st the fourth years of the Royal Military College of Canada celebrated their final 200 Days to Grad with a couple festivities.
First the IV  years traded their 4's tunics (photo left above) with I years in the Wing and the cadets from the Class of 2018   had the opportunity to go to classes in their newly acquired 4's, pith hats, swords and all!
The I years had to answer questions and complete challenges for the IV years in order to win their tunics. At night the IV years then had the opportunity to trick or treat at the I years doors before going to the grad year party at the RMC Mess.
The final phase of the night occurred when the I years took time to prank the IV years' rooms and fill them with all sorts of different things. The night was a lot of fun for all concerned;  as the IV years celebrated their soon-to-be exit from the Wing and the I years embraced the remaining years they have to go!
We understand that there was great party at the residence of the commandant and his wife Joy. We experienced trouble downloading a few photos from this event but hope to include them at a later time.
All in all a great morale building evening on the peninsula.