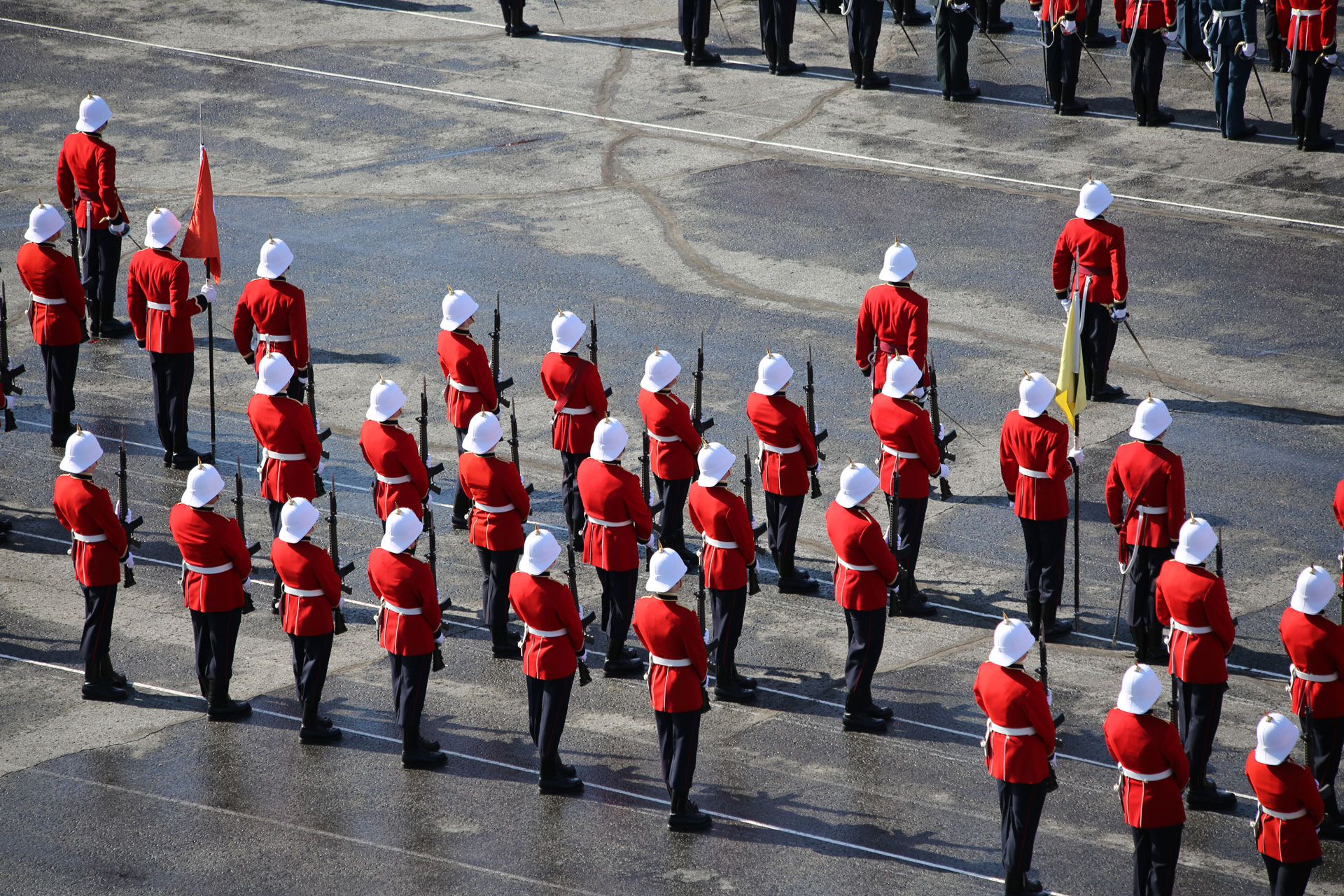 The United Way Campaign at RMC wrapped up with the Touch Down Breakfast in the Cadet Dining Hall on November 30th.
3 photos by Cynthia Kent RMCC – PAO
Captions:
United Way (left)
Pictured serving up some good eats are from left, CWO Tony Slack, College Chief Warrant Officer; OCdt Jeremy Whalen, Cadet Wing Commander; Darren Cates, Director of Athletics; and Cdr Darren Rich, Chief of Staff.
United Way (centre)
There was some high level help serving during the Touch Down breakfast. From left, MWO Andy Skinner, Military Wing Sergeant Major; Maj Donnie Monroe, Deputy Director of Cadets; LCdr Roman Anoniewicz, C Division Commander; and LCol Sue Wigg, Director of Cadets.
United Way (right) 14419 Johanne Durand (RMC 1984) one of the first 32 female officer cadets to attend RMC is shown being served by MWO Andy Skinner, Military Wing Sergeant Major. Also noted in the photo is Vice-Principal, Dr. B.J. Fugère.
Royal Military College of Canada raises nearly $ 93 thousand for the United Way
The Royal Military College of Canada raised $92, 764.06 for the United Way during the Government of Canada Charitable Workplace Campaign this fall. Fundraising efforts included "civy" or "dress down" Fridays, parking on the parade square, various auctions, sales, bake sales, breakfasts, lunches and raffles. The campaign concluded with the Touch Down breakfast on November 30th. Various RMC leaders helped dish out the great food prepared by the RMC kitchen staff.
__________________________________
Class of 1965 Teaching Excellence Award – More than a lecture for the members of the class.
By: WJO

Last Wed night (30 Nov), a couple of hours prior to the formal festivities at Currie Hall a number of "buds" from the Class of 1965 met at the Brew Pub in town – had a meal and a few cold ones.
6585 Richard Archer; 6364 Mike Braham; 6604 Jim Carruthers; 6446 Charlie Emond; 6533 Gord Forbes; – all from the Ottawa area met up with locals – 6588 Steve Arnold; 6630 Peter Glynn; and 6339 Phil Bury from Spencerville drove in with the Ottawa gang. 6475 Mike Houghton from Kingston wasn't at the Brew Pub but met up with his classmates at Currie Hall.
They were joined by John Plant, Glenn Allen both board members from the Foundation and the new EV-P for the Foundation, Rod McDonald.
Glenn Allen would be having the pleasure of speaking at Currie Hall to tell the audience some of the high-lights from the very special class. Consequently, he was listening pretty attentively on what this class was all about. Over the two hour social, Glenn picked up a lot – here are just some of their outstanding achievements:
-4 COMMANDANTS COVERING ALL 3 COLLEGES – Charlie Emond had been commandant of both CMR & RMC.
-11 FLAG/GENERAL OFFICERS-1 NAVY,5 AIR FORCE 5 ARMY
-GRADS HAVE BEEN HEADS OF ALL 3 SERVICES
THEIR SUPPORT OF THE FOUNDATION IS EQUALLY IMPRESSIVE-
-DONATED OVER $1.6 MILLION SINCE GRADUATION REPRESENTING 12 % OF TOTAL FOUNDATION DONATIONS
-HAVE 3 OF TOP TEN ALL TIME DONORS TO FOUNDATION
-THIS TEACHING AWARD OF EXCELLENCE NOW THE PROFESSORSHIP IN LEADERSHIP ESTABLISHED AND SUPPORTED BY THE CLASS
-RESEARCH EXCELLENCE AWARD ESTABLISHED BY DR JOHN COWAN AN HONORARY MEMBER OF CLASS OF '65
-CARRUTHERS RETP SCHOLARSHIP-17 SCHOLARSHIPS AWARDED IN 2009
-JOHN BART OBSTACLE RACE AWARD AND DINNER
The list is really longer but over the "cold ones" this was all Glenn was able to pick-up in the two hours.
They may invite him back in 2011 to get the rest of the list – which will likely take an another two hours!
THE MAIN EVENT…
"On behalf of the Cmdt, Cmdr Truelove, I would like to welcome you to this wonderful evening to celebrate excellence in education at RMC. I have had the pleasure of attending many of the previous award lectures, and am very much looking forward to tonight's thought provoking and stimulating presentation.
The discipline of pedagogy is certainly very dear to me personally. When I began teaching at RMC in 1988, I knew that there must be more to teaching than simply completing a PhD and then standing in front of a class. So I took the opportunity to study education at Queen's University, completing a Bachelor and Master's degrees in Education in order to better understand how to be a better teacher for our students. Since that time, I have discovered that an understanding of pedagogy is a life-long journey, and one that is indeed very enjoyable. I would like to congratulate Dr. Heather Evans once again for this prestigious award, and look forward to hearing from you."
13134 Colonel W.J. Lewis (RMC 1981) – Acting Commandant – 30 November 2010
"…THE FOUNDATION SALUTES THE CLASS OF '65 AND THE MEMBERS PRESENT TONIGHT…"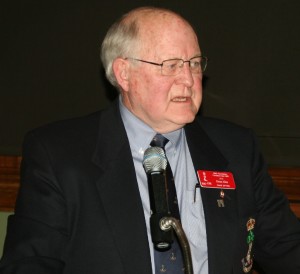 5533 J Glen Allen (RRMC RMC 1962) Member of the Foundation Board of Directors – on the occasion of the 2010 – Teaching Excellence Award Lecture.
More excerpts from the Glen Allen address…

"The Class of 1965 is the "poster class" of the RMC Foundation and its endeavours in support of the colleges. The Class of 1965 has donated over 1.6 million dollars to date and this teaching excellence award is an example of the commitment of the class members to ensuring the colleges continue to advance and indicates the gratitude of the class for what they achieved while cadets and in post graduation careers."
The third part of the evening was a post social at The Baronial Hall.  A good turnout of faculty, staff, cadets, Ex cadets, family and friends all had an opportunity to mingle and discuss the Dr. Evans lecture. All agreed – it was enjoyable, and informative; she displayed why she is a deserving winner of this award.
It is safe to say that – The Class of 1965 Teaching Excellence Award Public Lecture has become a signature event for the college.
Photos and slide show by Dan Fleming
__________________________________
Wednesday Morning PMT
Last Wednes morning bright and early saw I & II Years out on the parade square – rain and all for the last session of Professional Military Training (PMT) for the first term of the school year.  At the same time III & IV were in the friendly confines of Currie Hall soaking up a lecture.
Photos by: Francis Themens
__________________________________