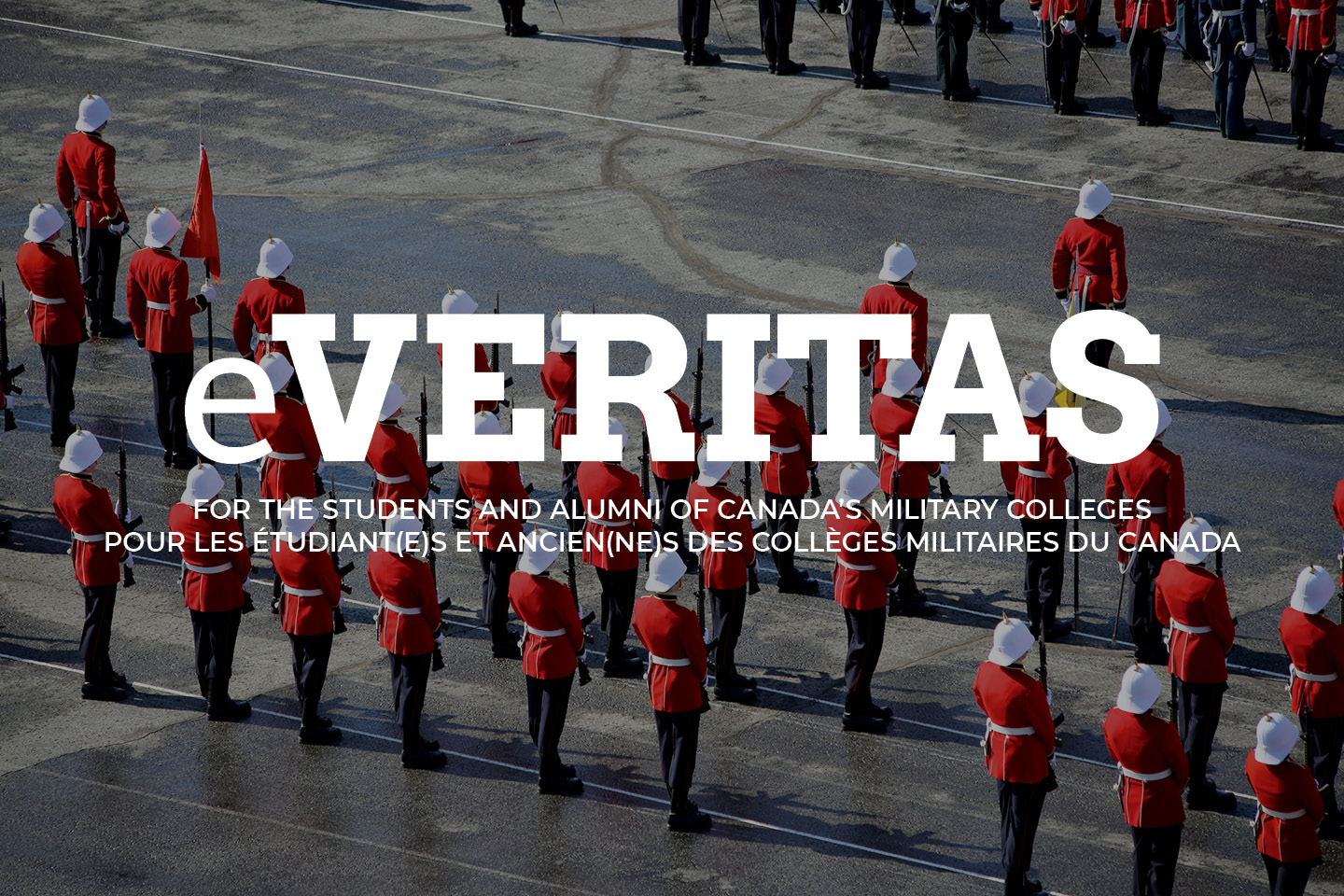 The College Remembers 9/11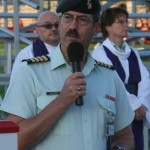 The Cadet Wing has gathered on the Parade Square many times in the last few weeks. It's the beginning of the year and Parades just seem to happen more often now than they do at other times, whatever the reason for them may be. This past Tuesday, Sept 11, though, it was different. Rather than to hear a speech directed at them, the Wing was formed up on behalf of others, both those who died 11 years ago and those who have died in the years since as a result of that day.
For the first time in recent memory, the Star and Stripes flew proudly beside the Maple Leaf on the College flag pole, and the American national anthem sounded out along with O'Canada. Our two countries were together that day, and 14899 Col Stephen Saunier, the Head of the Applied Military Science Department, addressed the Parade, it became obvious that we still are. "The 2400 Americans who died that day did not die alone," he said. "Twenty-four Canadians died with them. We have stood together since then. Today we remember not just those innocents who died, but our comrades in arms who we have lost."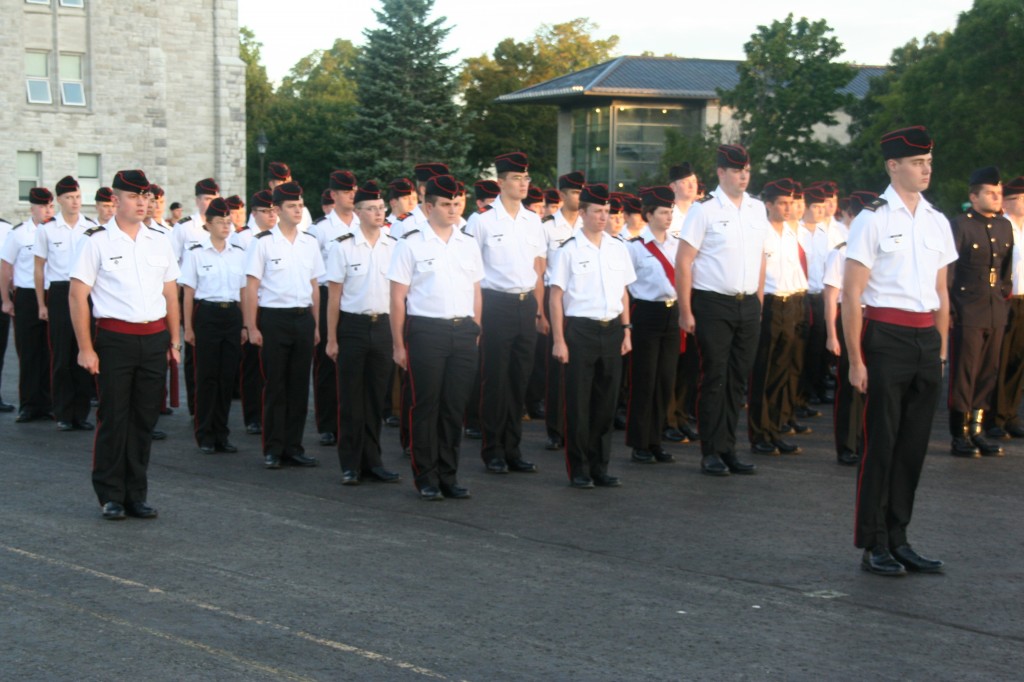 ____________________________________
Commandant's Garden Party
This past Thursday, 13 Sept, 14835 BGen Eric Tremblay, Commandant of the College, held his annual Garden Party. Distinguished guests from the community, including former Speaker of the House Peter Milliken and former Commandants and Principals of the College, were in attendance, as were members of the military from both RMCC and CFB Kingston, and the Senior Barslate of the Cadet Wing.
After the guests had had a chance to mingle over drinks and hors d'oeuvres, both the Commandant and 25586 OCdt (IV) Brenden Clark, Cadet Wing Commander, thanked them for coming. They were then treated to demonstrations by the College Pipes & Drums and Highland Dancers.
2816 BGen (ret)  WW Turner, former RMC Commandant (1973-77) –  received his Queen Elizabeth II Diamond Jubilee Medal from the Commandant while at the Garden Party, and the Commandant also exchanged gifts with the College's current group of exchange students. They presented the Commandant with gifts, and he in turn gave them each one of his Commandant's coins.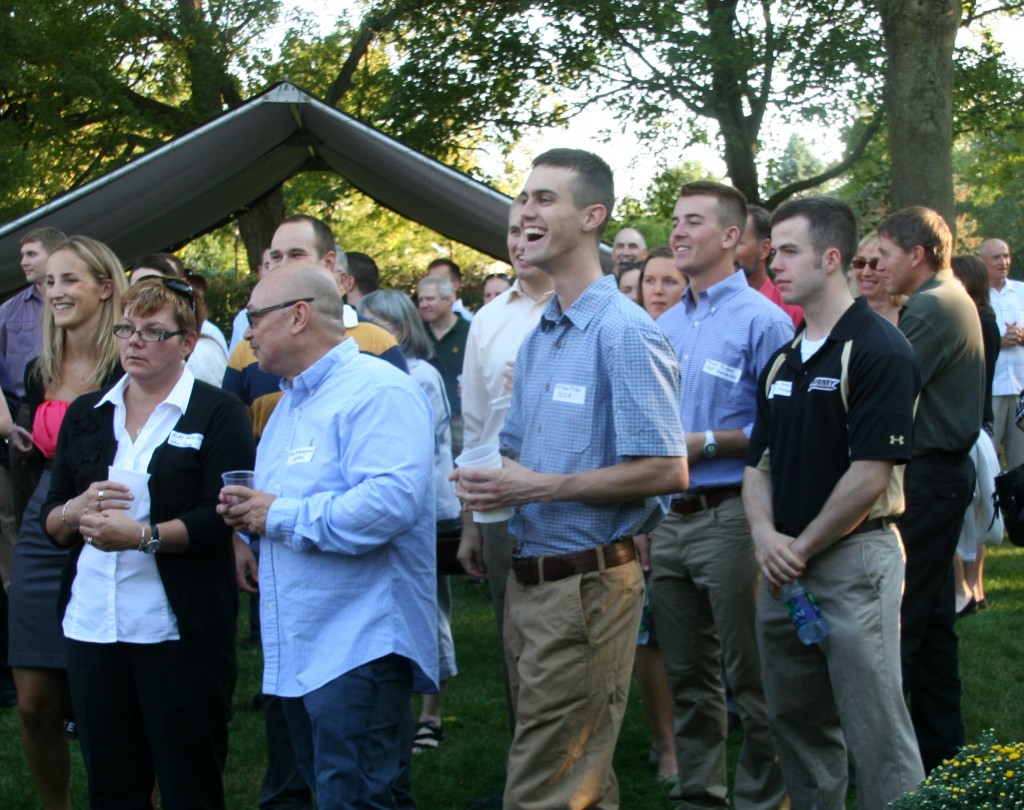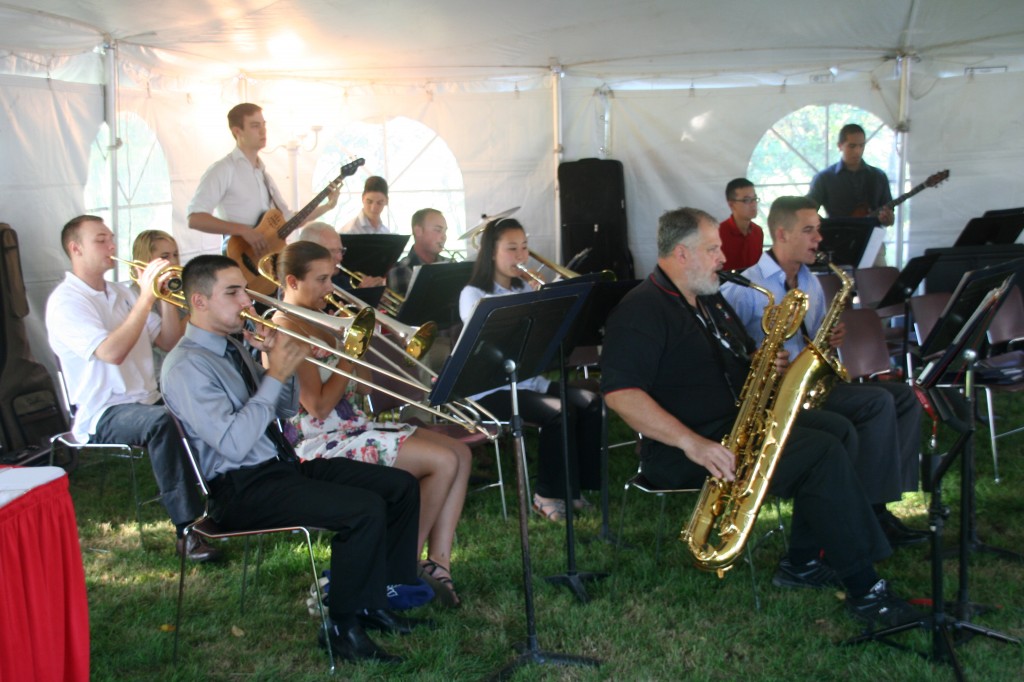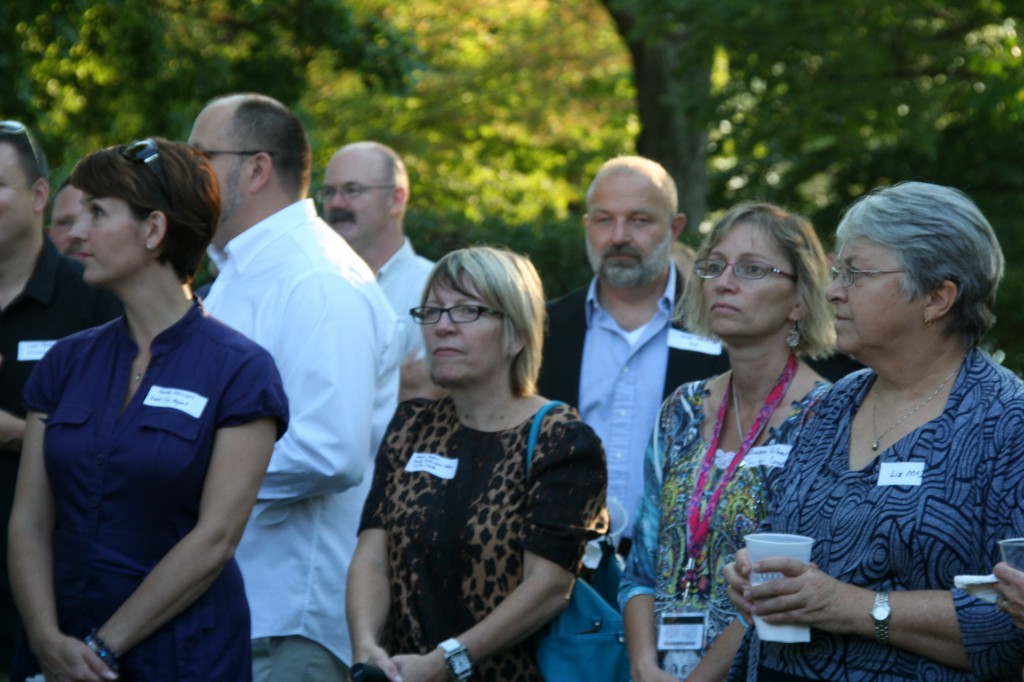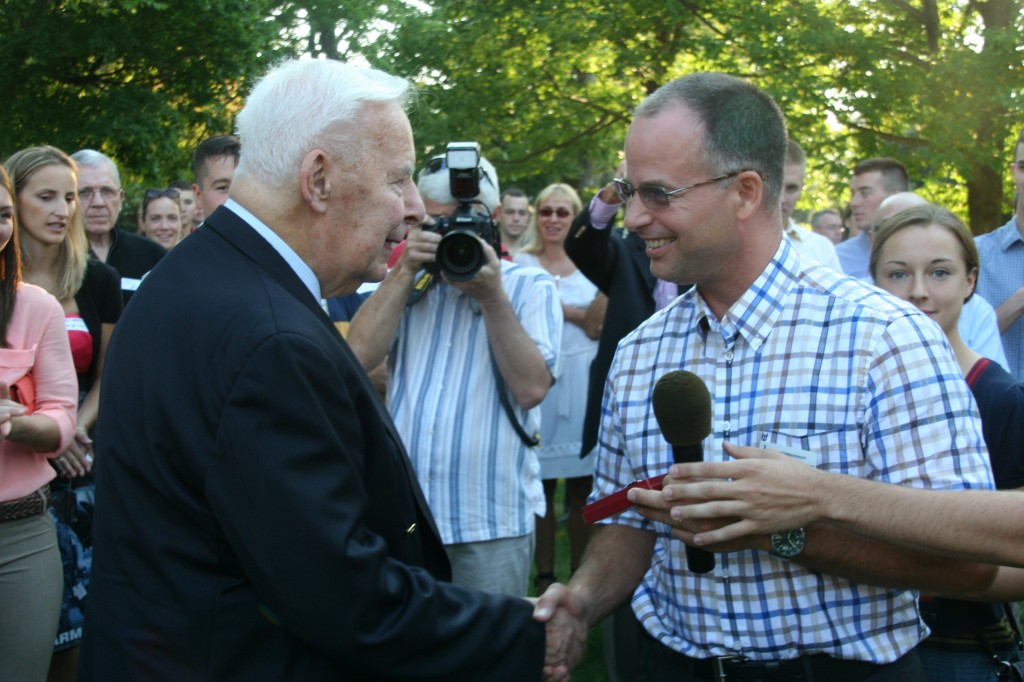 ____________________________________

History Department Marks Sept 11 with War of 1812 Lecture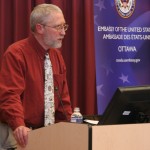 The RMCC History Department marked Sept 11, and the Bicentennial of the War of 1812, with a lecture from Dr. Alan Taylor, a distinguished history professor at the University of California-Davis. Rather than deal with the broader history of the conflict, Dr. Taylor's lecture, entitled "Joel Stone's Troubles: Loyalty and Disaffection in the War of 1812," focused on the narratives of real people, and connected local history of Joel Stone and Leed's County with the larger history of the period.
"The War of 1812 created a renewed sense of Canadian/American identity," Dr. Taylor said. Using Joel Stone's story as an example, Dr. Taylor proceeded to illustrate how many individuals living in British North America, who were recently arrived from the United States and still thought of themselves as Americans, came to see themselves, after the War, as Canadians.
"These were people who mainly just wanted to be left alone. When they weren't, when American troops came through and plundered their property, it helped to turn them against the United States, which in turn caused them to begin to think of themselves as Canadians. That experience," he went on to say, "created a renewed sense of national identity on both sides of the border. It also created the belief that we could coexist as Canadians and Americans, which is at the cornerstone of the close relationship that our two countries enjoy today."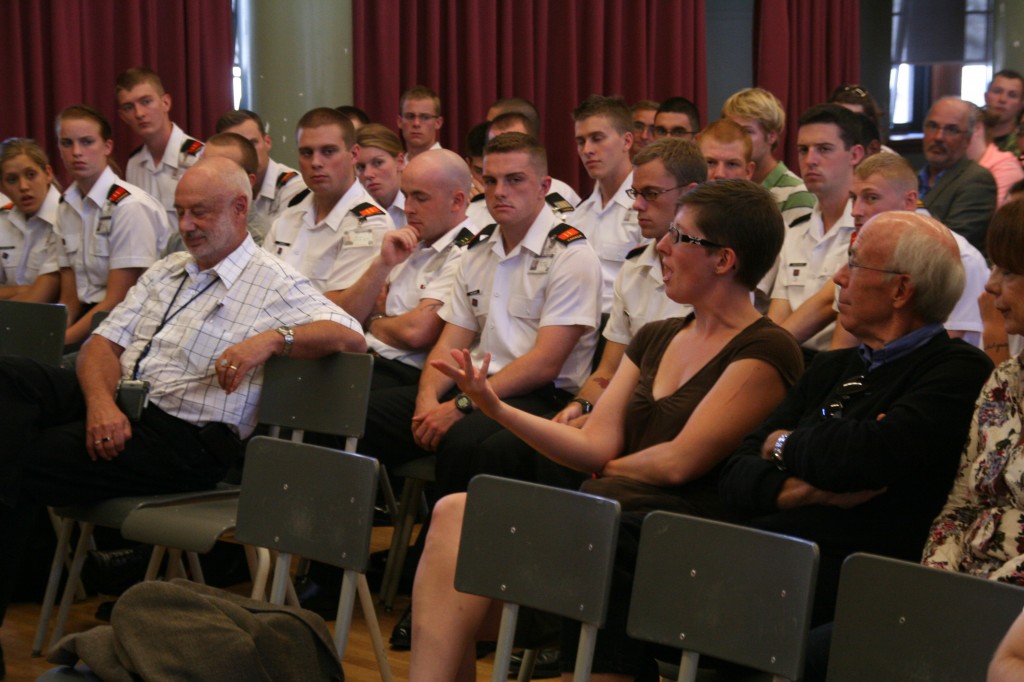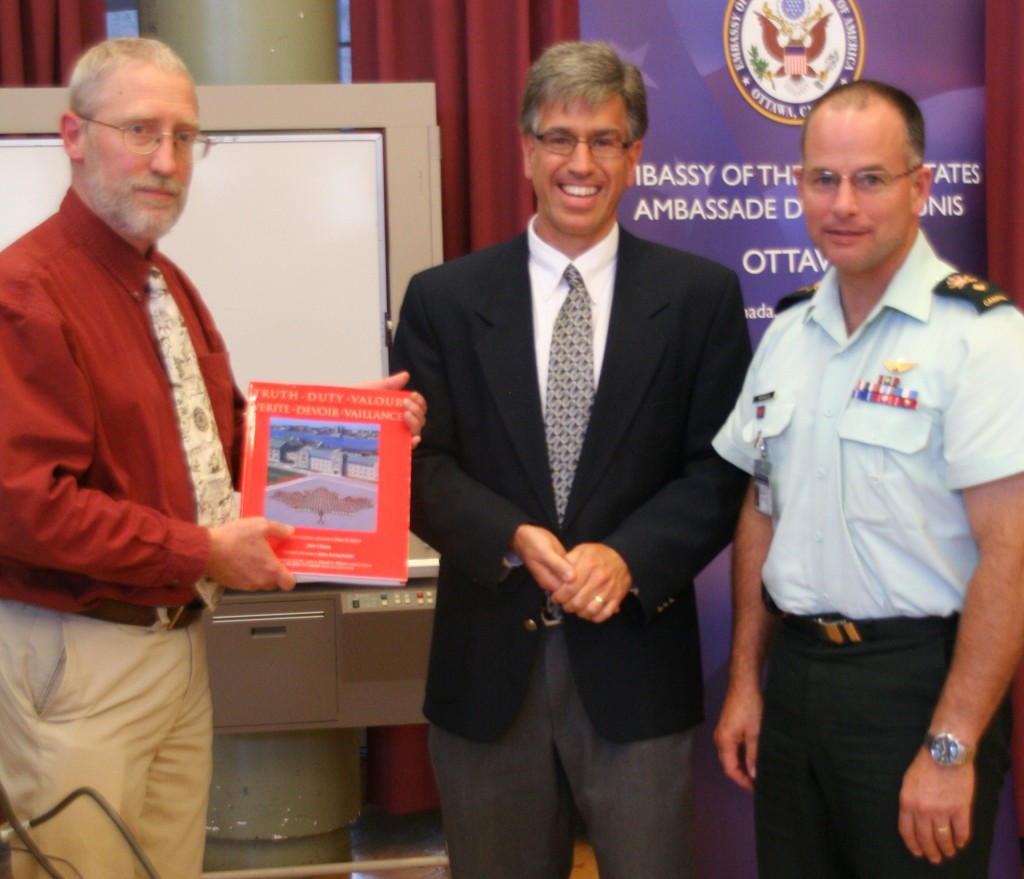 ____________________________________
Finally… Moving Day for the Cadet Wing
With Cadets living on the peninsula in virtually every nook and cranny where it is possible to fit a bed, squadrons split up between buildings, and Cadets living out of boxes these last few weeks, the opening of Fort Champlain is a subject that has been on everyone's mind. The wait, finally, is over, as the Wing got the green light to move into Champlain this past Saturday, 15 Sept. 2 Sqn, 3 Sqn, and Wing HQ made the move Saturday morning, as boxes covered the main entrance to Champlain and anything with wheels was quickly put into use by enterprising Cadets. One can only hope that his move will herald a return to some semblance of normal for the Wing, and that the Cadets will finally be able to settle in to the new semester.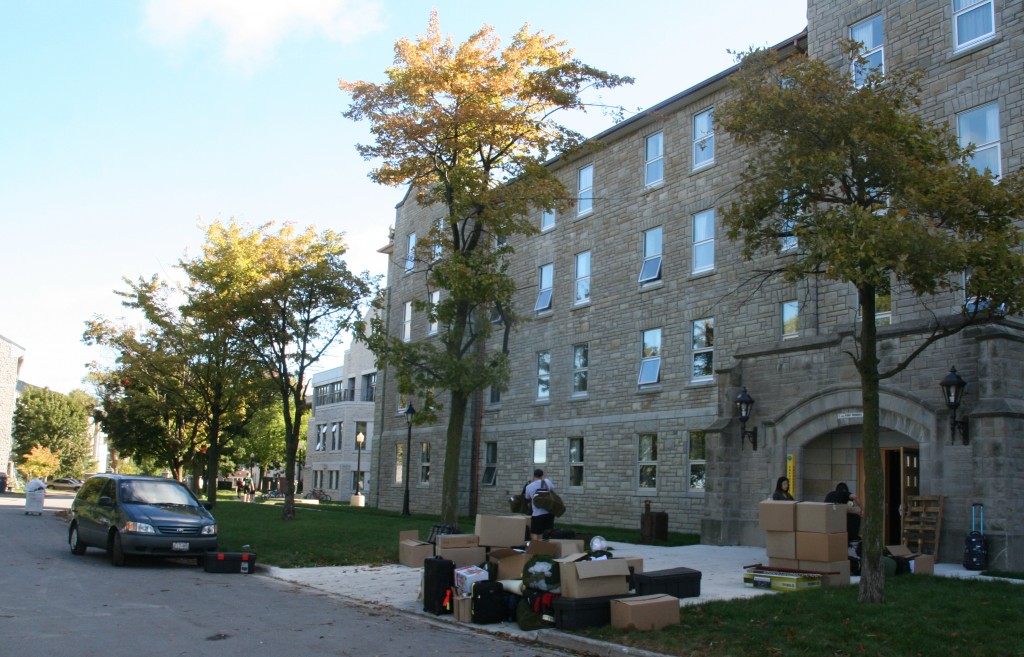 ____________________________________
RMC Club Gets New Members – Class of 2016 Steps Up!
Also this past Saturday, S125 Bill Oliver and three members of the Cadet Wing spoke to the Class of 2016 on the role the RMC Club plays at the College and how valuable membership in it can be for Cadets. Their goal was to meet with the recruits and get them to make the "leap of faith" to join the Club before they get well into their College career and other priorities take the place of Club membership. If the number of completed membership forms was any indication, Bill and his team of 25840 OCdt (IV) Tucker Densmore, 25739 OCdt (IV) Brittany Brown, 26219 OCdt (III) Colin Cook, and 24647 OCdt Paul Lystiuk, who provided technical support, succeeded.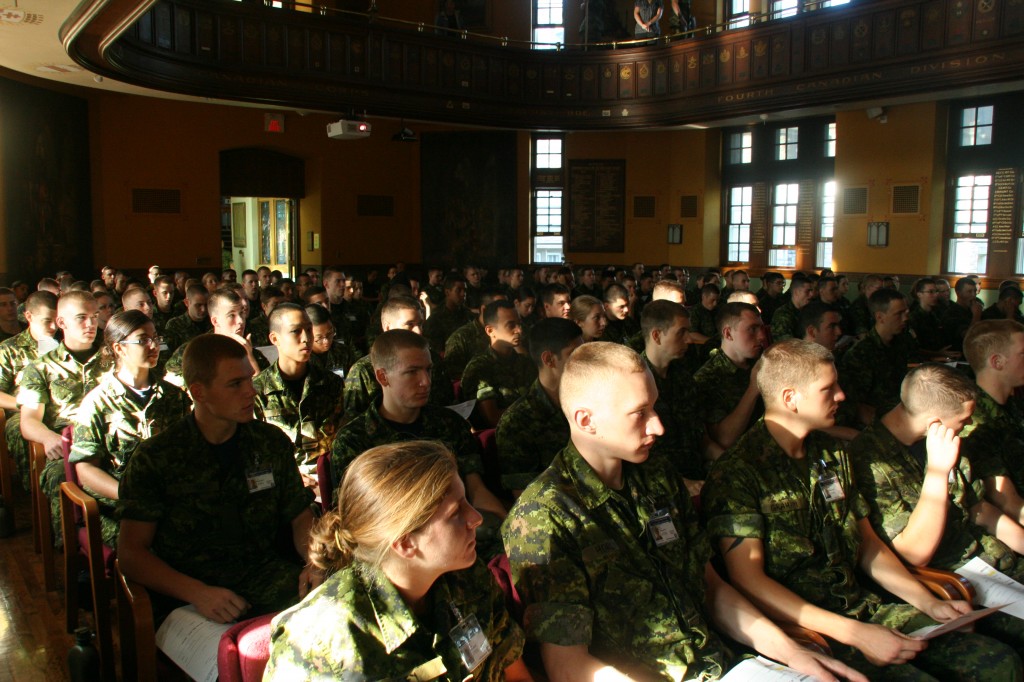 Articles and photos by 25366 Mike Shewfelt.
____________________________________

Photo: Test participant firing C7A2 assault rifle on the range while protection within the mask is monitored.
Photo: Un participant qui utilise un fusil d'assaut C7A2 au champ de tir pendant que la protection offerte par le masque est vérifiée.
RMCC CHEM ENG DEPT CONDUCTED SHOOTING TRIALS IN SUPPORT OF THE CBRN PROJECT OFFICE
By: Dr. Paul Bodurtha
In the middle of last summer, CHEM ENG DEPT staff kept very busy completing an important study through a series of shooting trials conducted here at CFB Kingston for the CBRN Project Office in Ottawa. Their findings would be considered an important part in the acquisition phase of new protective equipment used by our troops deployed around the world.
"The Canadian Forces has begun the process of procuring a new General Service Respirator (GSR) for replacement of the Canadian in-service gas mask, and understanding the performance in use of various respirator styles is an important activity. The trials performed by the CBRN Protection Group (Department of Chemistry and Chemical Engineering and the Defence and Security Research Institute) involved evaluating the respiratory protection achieved while wearing the full CBRN protective ensemble, when firing different guns in different positions. Both live fire and simulated weapons were compared. The data gathered during these trials will enable the Joint CBRN GSR procurement team to scientifically quantify characteristics required to meet the CBRN protection needs of the Canadian Forces. These trials are sponsored by Director of CBRN Defence (LCol. Alain Rollin) and funded through the Asymmetric Threat Initiative, and involved the assistance of various wings at RMC to provide logistics support and participant shooters. Special thanks go to the RMCC holding platoon, RMCC J3 planning staff, Range Safety Officers from the Training Wing, and the Dept. of Applied Military Science."
LE DÉPARTEMENT DE GÉNIE CHIMIQUE DU CMR A MENÉ DES ESSAIS DE TIR EN APPUI AU BUREAU DU PROJET DE LA DÉFENSE CHIMIQUE, BIOLOGIQUE, RADIOLOGIQUE ET NUCLÉAIRE
par Dr. Paul Bodurtha
Au milieu de l'été qui vient de s'écouler, le personnel du DÉPARTEMENT DE GÉNIE CHIMIQUE s'est consacré à une étude importante dans le cadre de laquelle une série d'essais de tir a été menée ici à la BFC Kingston pour le Bureau du projet de la défense CBRN, à Ottawa. Les résultats de l'étude devraient avoir des répercussions importantes sur la phase d'acquisition du nouvel équipement de protection utilisé par nos troupes en mission partout dans le monde.
« Les Forces canadiennes ont entamé le processus d'approvisionnement d'un nouveau respirateur de service général (RSG) afin de remplacer le masque à gaz utilisé actuellement, et il est important de bien comprendre le rendement de divers types de respirateur pendant leur utilisation. Les essais effectués par le Groupe de protection en cas d'incident CBRN (le Département de chimie et de génie chimie et l'Institut de recherche sur la sécurité) visaient à évaluer la protection respiratoire obtenue pendant que le militaire porte l'équipement de protection CBRN complet et qu'il tire au moyen de différentes armes dans différentes positions. Tant des armes réelles que des modèles simulés ont été utilisés aux fins de comparaison. Les données recueillies pendant ces essais permettront à l'équipe d'approvisionnement interarmées du RSG CBRN de quantifier de façon scientifique les caractéristiques exigées pour satisfaire aux besoins des Forces canadiennes en matière de protection CBRN. Ces essais sont parrainés par le directeur de la défense CBRN (le LCol Alain Rollin) et subventionnés par le biais de l'Initiative de la menace asymétrique. Diverses escadres du CMR ont contribué à fournir le soutien logistique et les tireurs participants. Nous remercions particulièrement le peloton du personnel en attente, le personnel de planification du J3 CMRC, les officiers de sécurité du tir de l'Escadre de l'instruction ainsi que le Département de science militaire appliquée. »