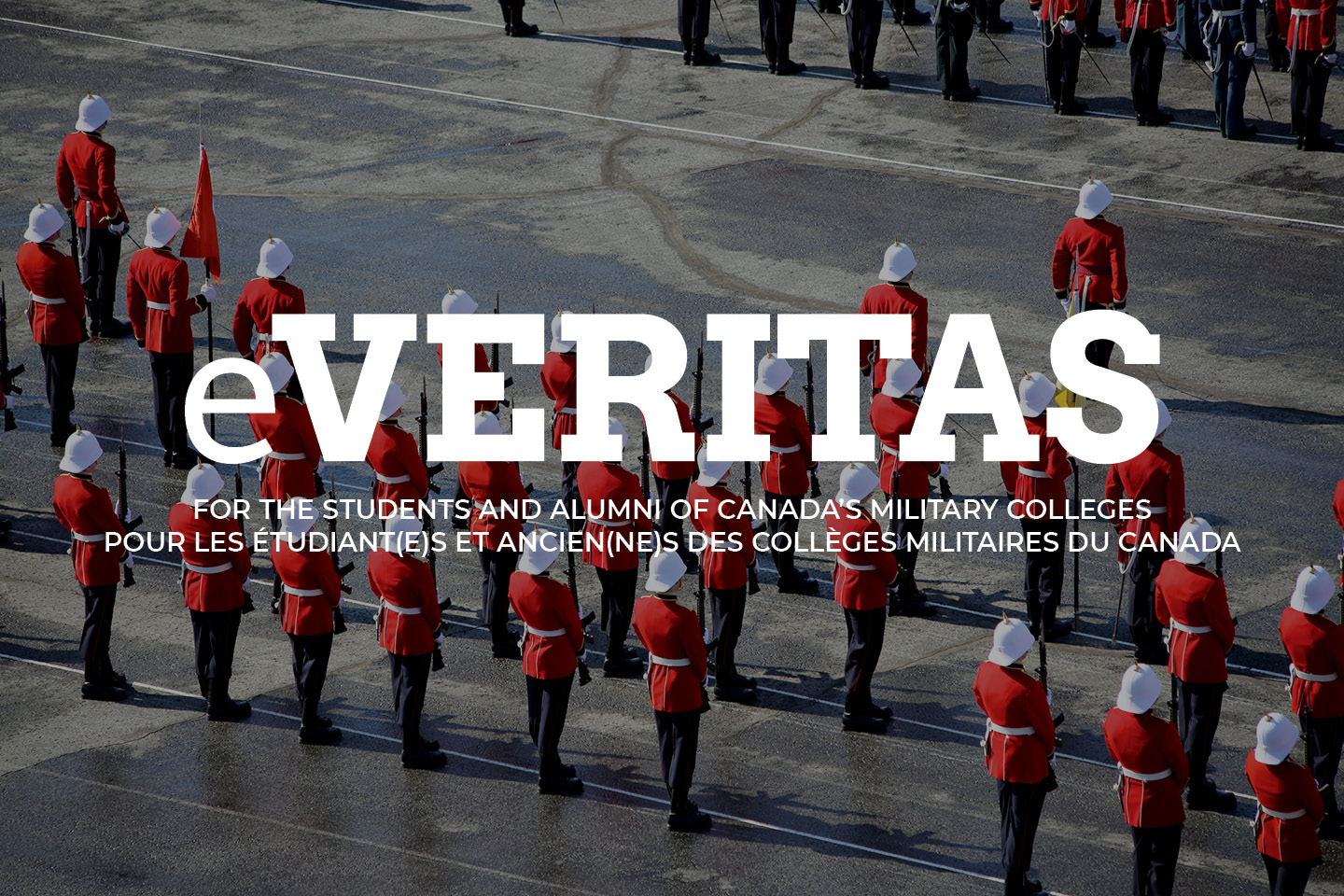 Commandant's Birthday Surprise
The tradition of Skylarks in offices continued this past week. In honor of College Commandant BGen Eric Tremblay's birthday, someone staff and Cadets redecorated his office overnight, leaving dozens of balloons for him to find on Monday morning.
The Commandant was all smiles when e-Veritas arrived to capture the result.
____________________________________

Cadets Have a Blast at Gatineau Air Show
Article and photos by 25840 OCdt (IV) Tucker Densmore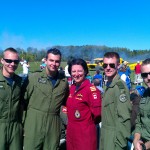 Last weekend several Officer Cadets from RMCC volunteered at the "Wings Over Gatineau" airshow, hosted by Vintage Wings of Canada. Vintage Wings, founded by RMC Grad 6757 Mike Potter, is a non-profit "Flying Museum" that acquires, restores and operates a fleet of vintage aircraft. Their aim is to educate and inspire future generations of Canadians by telling the heroic stories of Canada's aviation past… to the thunderous roar of Merlin engines.
At the show, the Cadets were amazed by the aerial feats of the Snowbirds, a Corsair demo, the F-86 'Golden Hawk,' and the CF-18 Demo Hornet. Even though the Cadets were working the airshow, they couldn't help but gaze up at the awesome aerial demos, especially as the CF-18 blasted past… inverted!
This was also a unique opportunity for those who attended, as they got to meet a few Ex-Cadets who were flying as part of the airshow or helping out alongside the planes. Overall, it was a great day, with a great show, certainly a proud day to be part of the CF and RMCC.
____________________________________

College Kicks Off United Way Campaign /
Le collège marque le début de la campagne Centraide
In the start of another annual College tradition, RMCC kicked off the 2012 United Way Fundraiser with breakfast in the Cadet Dining Hall. The Commandant, BGen Eric Tremblay; College Chief Warrant Officer, CPO1 Keith Davidson; and Principal, Dr. Joel Sokolsky, were on hand, among others, to serve breakfast. Cadets and members of the RMCC community could, if they so chose, pay $5 for the cost of the meal, all of which will go to the United Way.
Le départ d'une nouvelle tradition annuelle du Collège a été lancé : le CMRC a commencé ;a collecte de fonds 2012 pour Centraide, en offrant de servir le déjeuner dans la salle à manger des Élèves-officiers. Le Commandant, Brigadier Général Éric Tremblay, le l'Adjudant Chef du collège, le PM 1 Keith Davidson, et le Recteur, Dr. Joel Sokolsky, étaient sur place à servir le petit déjeuner. Les Élèves-officiers et les membres de la communauté du CMRC pouvaient, s'ils le souhaitaient, payer 5 $ pour le coût du repas. Bien entendu, tous les fonds amassés étaient donnés à Centraide.
 ____________________________________
History Lecturer Moves On After Four Decades of Service
Article and Photos by 25366 Mike Shewfelt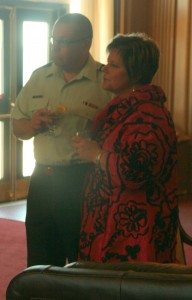 Major Bertram Frandsen, a lecturer in RMCC's History Department, retired this past week after 37 years of service to his country. A small ceremony marking the event was held in the Senior Staff Mess, and it was attended by an intimate group of friends who have known Maj Frandsen over the course of his long and varied career. Maj Frandsen joined the CF as an infantry officer candidate before moving over to the Logistics branch, where he served in a number of roles, including staff and academic positions at the Canadian Forces College.
"Maj Frandsen epitomized what it means to be a member of the academic staff at this College," said Col Steven Saulnier, head of the Applied Military Sciences Department. "It's unfortunate that he has to retire, as he certainly could continue to be useful in uniform."
Maj Frandsen, along with his wife Kim, will have a busy time in his retirement. He plans to complete his doctorate and possibly serve as a guide at the Canadian War Museum in Ottawa.
Photos from the event: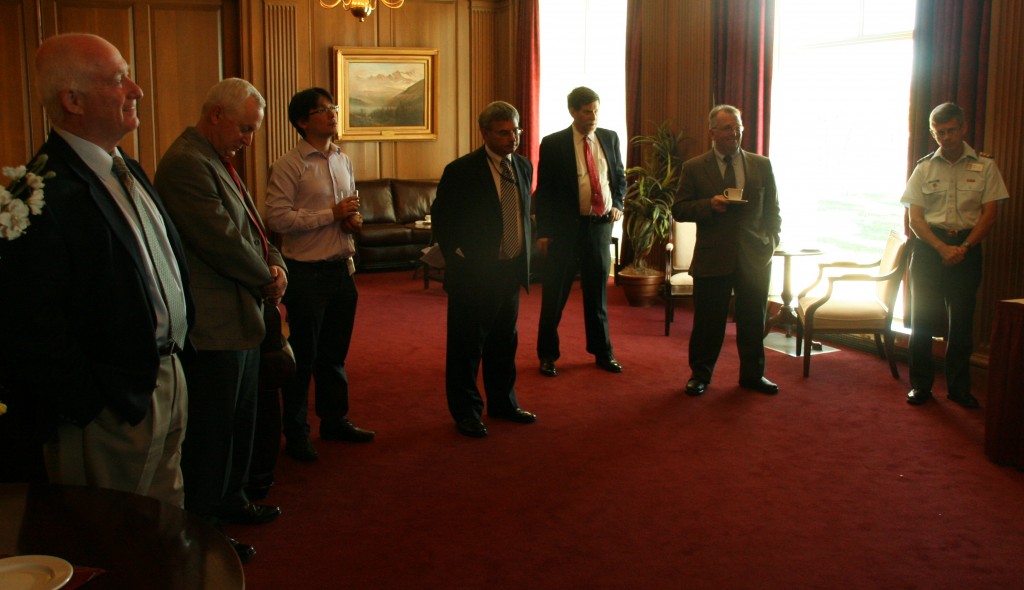 ____________________________________

NATO Allied Command Transformation Visits College
Members of the North Atlantic Treaty Organization's Allied Command Transformation spent last Friday on the peninsula in order to familiarize themselves with the College and its programs. The members, who came from Canada, the UK, Hungary, Italy, Norway, Slovakia, the US, and the Netherlands, received briefings from RMCC and the Canadian Defense Academy, as well as a tour of the College grounds.
____________________________________
La course de l'armée

– The army run

Écrit par – Written by 25533 Véronique Trépanier

Le dimanche 23 septembre, 40 élèves-officiers du Collège militaire royal du Canada ont participé à la course de l'armée avec le support de plusieurs membres de l'escadre d'entraînement.

L'Équipe compétitive de course du collège a pris part à la course de 5 km. Plusieurs excellentes performances ont été réalisées. Nous devons signaler du côté des hommes celles de Trevor Reid (8ème en 17 :07.2) et Pier-Alexandre Lacasse (10ème en 17 :14.7), deux jeunes recrues de première année. Les vétérans de l'équipe Jordan Vadala (12ème en 17 :36.9) et Colin Shannon (16ème en 17 :53.8) les suivait de près. Benjamin Simon (19ème en 17 :58.9) et Olivier Lafrenière-Abel (20ème en 18 :00.7) complétaient le groupe de tête de l'équipe. Du côté féminin, Véronique Trépanier (128ème en 21 :09.9) et Paula Findlater (134ème en 21 :13.3) ont mené la course. Elles étaient suivis d'Isabelle Allain (153ème en 21 :31.3) et de Michelle Bégin-Major (155ème en 21 :28.3).

Voici les résultats complets de l'équipe de course pour le 5 km :
MEN:
8. Trevor Reid 17:07.2
10. Pier-Alexandre Lacasse 17:14.7
12. Jordan Vadala 17:36.9
16. Colin Shannon 17:53.8 (previous best on this course 18:19.3)
19. Benjamin Simon 17:58.9
20. Olivier Lafreniere-Abel 18:00.7
24. Keegan Peckham 18:16.3
27. Shane Conrad 18:23.5
30. Matthew Walsh 18:26.7 (previous best on this course 19:43.1)
31. Adrian Thow 18:26.5
33. Gabriel Thibault 18:31.0
44. Graham Mater 18:50.3
WOMEN:
128. Veronique Trepanier 21:09.9 (previous best on this course 22:24.7)
134. Paula Findlater 21:13.3 (previous best on this course 21:25.1)
153. Isabelle Allain 21:31.3
155. Michelle Begin-Major 21:28.3
243. Yana Volodarets 22:40.5
272. Marina Aude 22:53.8
400. Alida Stockermans 24:04.5
445. Marie-Claude Otis 24:28.1
Unfortunately, we were not entered as a team to defend the titles won for three years in a row. They would have placed 1st and 2nd for (Military) Men's Teams, 1st for (Military) Women's Team, and 1st for (Military) Mixed Team Entries again this year if those Team Entries had been completed as we intended. They were very disappointed when they finally found out that their Team Entries had not been completed just before the awards ceremony.
En ce qui concerne le demi-marathon, plusieurs membres de l'équipe de l'Ironman de Petawawa, ainsi que d'autres élèves-officiers sélectionnés, ont participé à cette exigeante épreuve. Les meilleures performances ont été réalisées par les élèves-officiers Eastwood et Hanlon qui ont terminés respectivement en 419ème (1 :33 :03) et 431ème (1 :35 :08) place. Ils étaient suivis des élèves-officiers Neppel et Jarvis en 568ème position (1 :36 :58) et 569ème (1 :37 :55). Les élèves-officiers Goddard et Kilpatrick étaient près d'eux avec les 747 et 758ème positions en 1 :38 :42 et 1 :40 :30.
Unless otherwise stated, articles and photos by 25366 Mike Shewfelt.