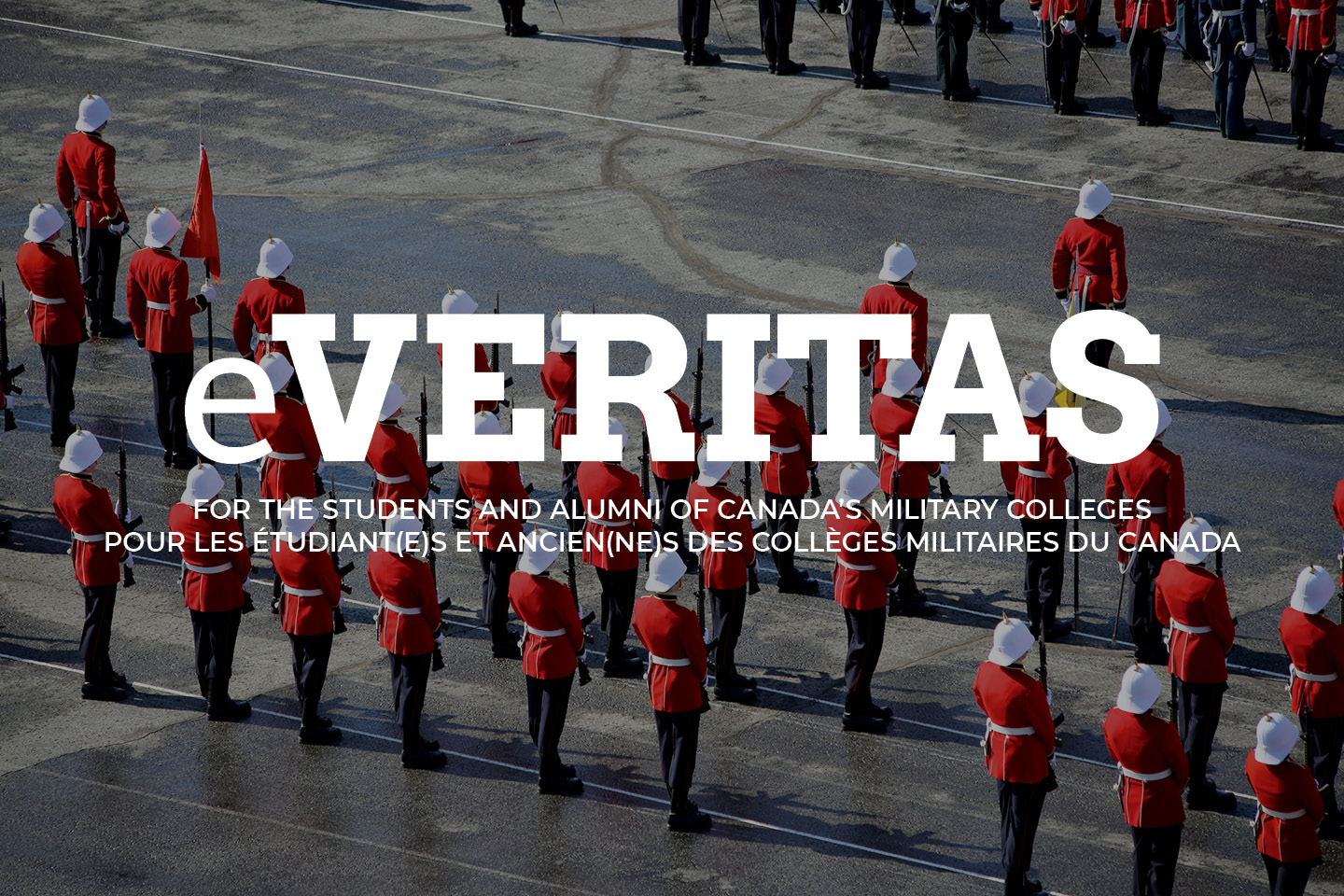 Ex. Rafale Blanche from the perspective of a cadet.
Article by 25726 OCdt (III) Max Peetsma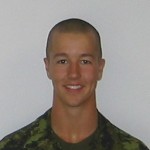 At 6am on the 3rd of February, we boarded a chartered bus to the location of this year's Exercise Rafale Blanche. This was the winter warfare training exercise for 5 Canadian Mechanized Brigade Group, and involved some 3000 soldiers and 700 military vehicles. Located a few hours away from Canadian Forces Base Valcartier, the Area Of Responsibility (AOR) was immense. The Officer in charge was 6 Squadron Commander, Capt Moise Morrissette.
There were 20 OCdts who took part in the event.
Once we arrived at the Brigade Headquarters, we were given a quick tour to show us what was required in order to command a brigade. With so many components that we had never heard of, we were quickly overwhelmed by all the complexities and we were certainly humbled by the experience.
Eventually we were subdivided into three groups, the 1st Battalion, Royal 22e Régiment, 3rd Battalion, Royal 22e Régiment, and the 12e Régiment blindé du Canada. Though I didn't see what the other two groups did, those who went with 3e, R22eR got to experience counter-sniper operations, while those who were with 12RBC drove throughout their AOR in Coyotes, conducting armored reconnaissance.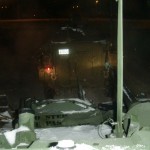 Our group was sent to 1er, R22eR where we met with the Battalion Commander, who briefed us on the situation and assigned us to the Company Commanders who would be in charge of us for our stay. After meeting with my Company Commander, Major Harvey, I immediately realized how great this experience was going to be.
When I had signed up for this exercise, I imagined that it would mostly involve long ruck marches, a few attacks, and freezing through the night. Not necessarily the most pleasant experiences, but an experience to learn from nonetheless. Though I was right about the excellent experience, I couldn't have been further from the truth when I thought it would be unpleasant.
As soon as we arrived to the assembly area, 25048 OCdt (IV) Yannik Trudeau and I were assigned to 6 Platoon, Bravo Company, and boarded a LAV to participate in a platoon attack on a nearby objective. Riding in the turret was exhilarating until we started to gain speed, making the wind-chill considerable. Being a mechanized platoon, we got to ride in the LAV's all weekend, and we gained a considerable appreciation for the green behemoths.
Riding around in giant armored vehicles, spending time with troops that we may one day command, and overall having a great time was so much more than I could have hoped for. Beyond my wildest dreams however, there was more. On Sunday we were sent to an airfield to practice helicopter drills for the upcoming company attack on an industrial building. Not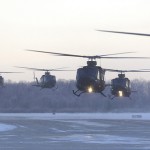 wanting to have any hopes crushed, I didn't expect that we would be a part of the attack, but after deliberation and a bit of good luck, we found ourselves in a CH-146 Griffon, flying in formation to the objective. Needless to say, I felt like a kid in a candy store.
One of the things that we have been hearing at RMC is the idea of "train to excite". This is a big understatement to how great of an experience we had. The worst part of it all was certainly having to come home to RMC afterwards when we all wanted to stay a few more days.
The professionalism demonstrated by the cadets was matched by our appreciation for this experience. Hopefully this will become an annual activity, as it was thoroughly enjoyed by both the cadets and the units we were assigned to.
_______________________
RMC Gets Parliamentary Visit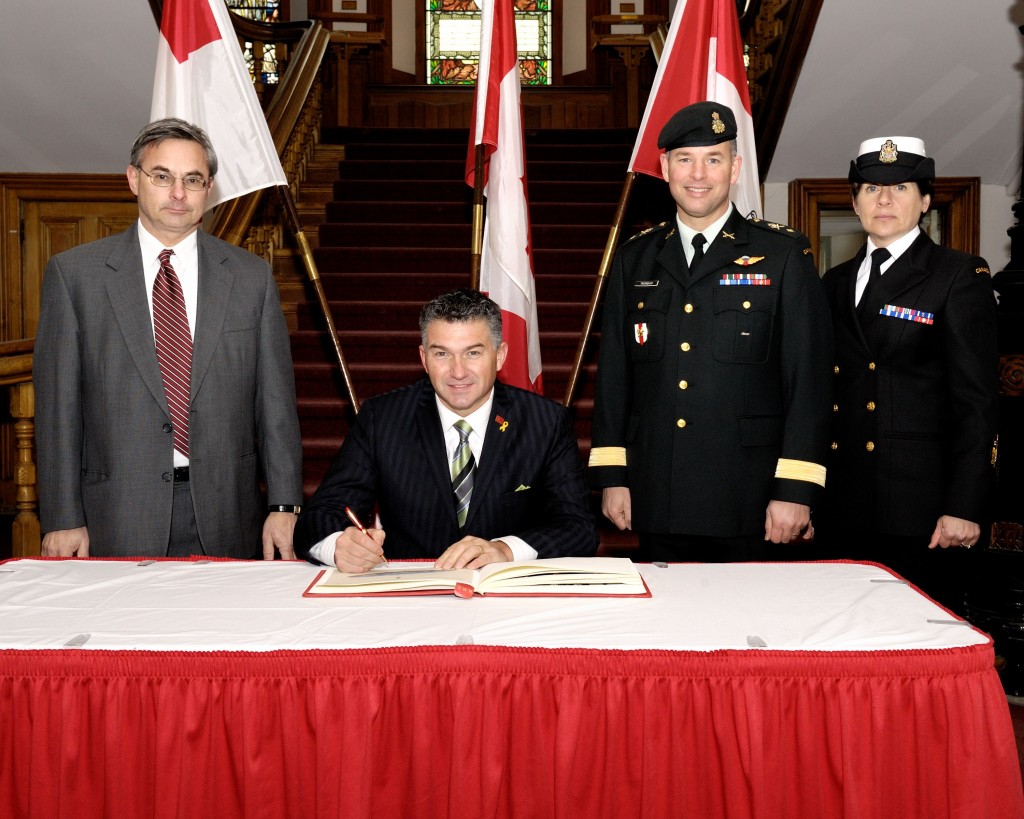 James Bezan, Chair of the Standing Committee on National Defence (SCOND), signs the RMC guest book on behalf of the committee.
Article by Capt Cynthia Kent, RMC Public Affairs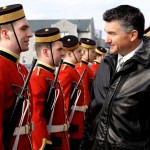 On Tuesday 14 Feb 2012, the Standing Committee On National Defence (SCOND), in Kingston for hearings on the Canadian Forces and military readiness, spent the morning touring CFB Kingston and RMC. The SCOND is composed of Members of Parliament from the Conservative, Liberal, and New Democratic Parties. Mr. James Bezan, Chair of the SCOND, reviewed the quarter guard and signed the official college guest book to commemorate the occasion.
The Committee spent their time on the peninsula learning who we are and what we do at RMC, as well as meeting with senior staff, including the Commandant, BGen J.G.E. Tremblay; Director of Cadets, LCol Sue Wigg; the Principal of RMC, Dr. Joel Sokolsky; and RMC's acting Chief of Staff, LCol Daniel Gosselin.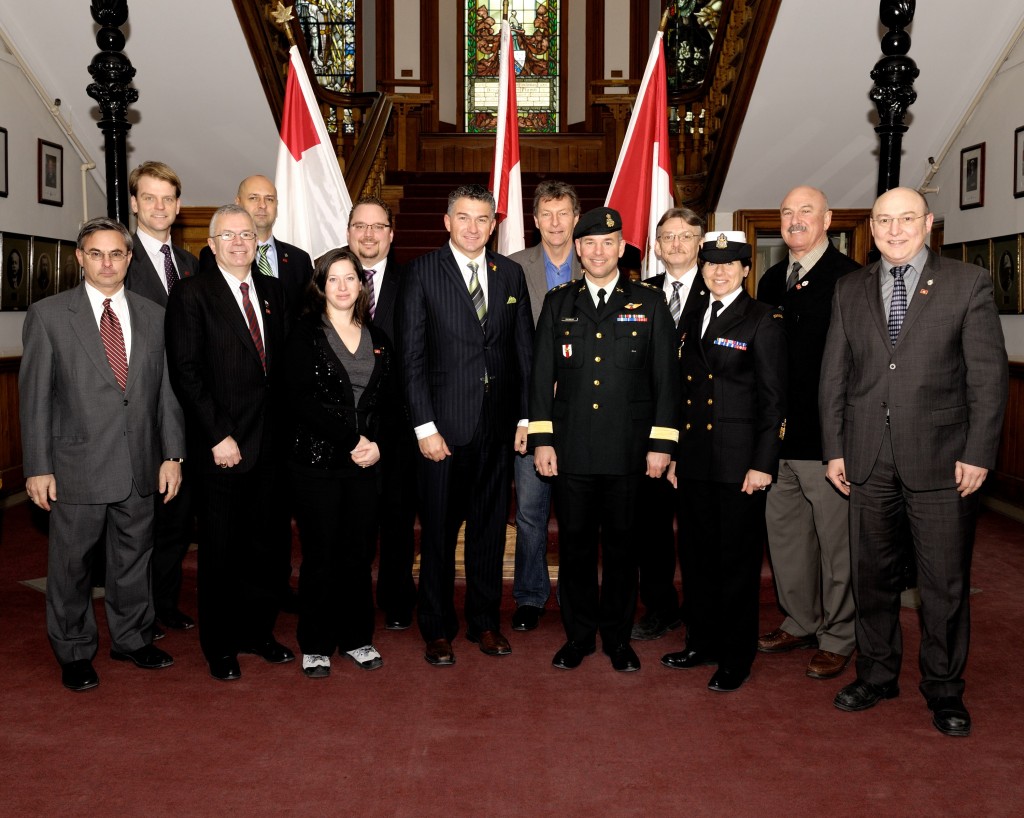 Members of the Standing Committee on National Defence pose for a photo with RMC Commandant BGen Tremblay and College CWO CPO1 Lindsay.
_______________________
1st CWC Parade of Winter Term Marks Flag Day

Article by 25366 NCdt (IV) Mike Shewfelt and 25752 OCdt (III) Christopher Lane, CWPIO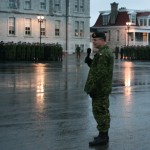 Flag Day, February 15, 1965, is remembered each year at RMC in one form or another. The event has special significance for the College, as it was the flag of RMC that inspired the National Colours. This year Flag Day fell on a Wednesday, and as such it was marked by the first CWC parade of the Winter Term. The Wing formed up on a rainy parade square as the history behind the day was explained and BGen Eric Tremblay, Commandant of RMC, spoke on the significance of the event to RMC today. Citing RMC's roll in the creation of the national flag, he told the Wing, "You are the real treasure of this place."
As the history was explained to the cadets, Dr. George Stanley, then the Dean of Arts at RMC, invited John Matheson, the parliamentary assistant to Prime Minister Lester Pearson, to lunch at the Senior Staff Mess on campus. Debates were just beginning to break out in parliament over the design of a new Canadian national flag.
The two men later walked across the parade square, and Dr. Stanley directed Matheson's attention to the RMC flag flying over Mackenzie Building. "There is your flag", Dr. Stanley said, and went on to suggest that the national flag be based totally on the RMC flag, simply replacing the college emblem with a single red maple leaf.
Dr. Stanley later wrote to Matheson:
"A flag speaks for the people of a nation or community. It expresses their sorrow when it flies at half-mast. It honours those who have given their services to the state when it is draped over coffins. It silently calls all men and women to the land in which they live. It inspires self-sacrifice, loyalty and devotion."
The flag was chosen by the parliamentary flag committee on October 22nd, 1964, and was officially raised over Parliament Hill for the first time on February 15th, 1965.
Today, the RMC community can look at our national flag with a sense of great pride; the inspiration of the flag's design is just one of many profound effects that our institution has had on our great country.
More photos from the parade:

What a show! RMC Soldiers On With Annual Talent Show
Article by 25663 OCdt (III) Dmitri Sapeguin
A memorable two-night event summed up weeks of preparation as the talented RMC cadets performed in front of their peers and staff in the Annual RMC Talent Show (10th and 11th of February). The skilled cadet-artists impressed the spectators present with all kinds of performances that kept the crowd animated and well-entertained. Again this year, this magic event was very successful as nearly 500 lucky individuals got the chance to witness the best of what RMC has to offer.
Furthermore, one of the goals that the organisation team strived for was to raise money for the unique and inspiring 'Soldier On' organisation. This organization contributes to optimizing the functional independence of ill and injured CF personnel. In the name of RMC cadets, the organisation team is proud to announce that through tickets' sales and donations, nearly $2400 were raised for this great cause. Those funds will be officially donated to Soldier On representatives during their traditional RMC visit for the annual Bike-a-thon that will take place on the 2nd and 3rd of March.
We would like to thank everyone that supported us and we hope to see you all again next year as our annual Talent Show will be back.
Quel spectacle!
Par 25663 Elof (III) Dmitri Sapeguin
Des semaines de préparation, se sont soldés par deux soirées mémorables lors desquels les talentueux Cadets du CMR ont démontré leur savoir faire à un public animé lors du Spectacle de Variétés annuel du CMRC (10 et 11 février). De nouveau cette année, l'événement peut être qualifié d'un grand succès alors que les spectateurs présents ont été éblouis par la performance magique des Cadets-artistes qui les ont gardés en haleine toute la soirée. Au total, près de 500 personnes ont eu la chance d'assister à ce spectacle renommé.
De plus, l'un des buts que l'équipe d'organisation s'est fixés, était de ramasser des fonds pour l'organisme Sans limites qui l'a inspiré par ses actions et ses objectifs. Cet organisme unique en son genre cherche à optimiser l'indépendance fonctionnelle des membres des Forces canadiennes blessés ou malades. Grâce aux profits générés par la vente de billets et grâce aux dons reçus, les Cadets du CMR ont pu amasser près de 2400$. Ces fonds seront officiellement remis aux représentants de l'organisme Sans Limites lors de leur visite annuelle au CMR pour le traditionnel Cycle-thon qui se déroulera du 2 au 3 mars.
À présent, nous tenons à vous remercier pour tout votre support et nous espérons de voir revoir dès l'an prochain pour notre traditionnel Spectacle de Variétés.
_______________________

West Point Cadets Examine US-Canada Relations
Article by 25366 NCdt (IV) Mike Shewfelt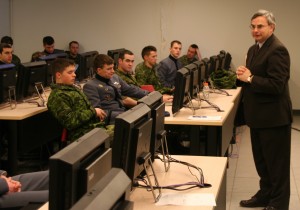 Twenty cadets from West Point's domestic affairs club came to RMC on Tuesday 14 Feb 2012 as part of a trip to Canada's capital, co-ordinated under the auspices of Karen Imas of the Canadian Consulate General in New York City. After three days in Ottawa, they spent a night at RMC. Along with counterparts from RMC's programme in political science who billetted the USMA cadets, they took in presentations on Canada-US border security issues from RMC political science professors Drs. Leuprecht and Hataley as well as from the Principal of RMC, Dr. Joel Sokolsky who spoke on Canada-US military/security co-operation. Special recognition goes out to OCdt (II) Ethan Strong and 13261 LCol Larry Paziuk for their assistance in sorting out logistics.
Captions:
Photo 1 – 25961 OCdt (II) Ethan Strong, cadet in charge of the accommodations for the West Point guests, greets the senior cadet from USMA, Cadet Nate Hartley, as LCol Larry Paziuk looks on.
Photo 2 – Principal of RMC, Dr Joel Sokolsky, delivers a lecture to cadets from both West Point and RMC.
Photo 3 – Cadets from West Point take in a briefing in Currie Hall.
Photo 4 – Cadets from West Point take in a briefing in Currie 100.
_______________________
MWO Huppe Retires After 32 Years of Service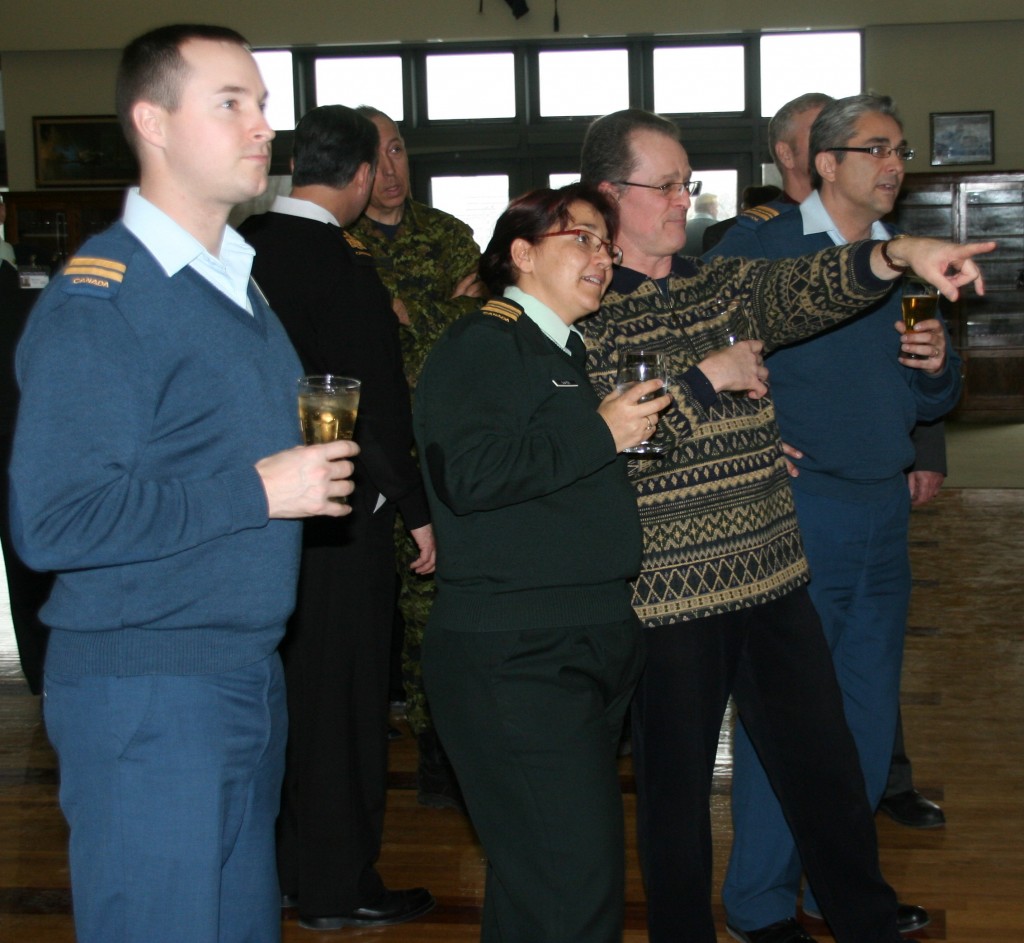 Article by 25366 NCdt (IV) Mike Shewfelt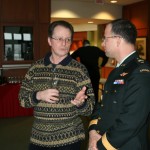 After a 32 year career which began he began as a reservist Leading Seaman with HMCS Montalm in Quebec City and ended as the Band Officer of RMC, MWO Martin J.F. Huppe officially retired from the Canadian Forces on 12 Feb 2012. Staff and friends of MWO Huppe marked this occasion on 16 Feb 2012 with an emotional ceremony held in the Cadet Formal Mess.
With his wife Chantal at his side and the Commandant of RMC in attendance, MWO Huppe was presented with certificates of appreciation from the Prime Minister of Canada, the Premier of Ontario, and the Mayor of Kingston, as well as certificates from the Chief of the RCAF and the Band Branch of the Canadian Forces. Mrs. Chantal Huppe's sacrifices through the course of her husband's career were also recognized during the ceremony.The ceremony was a fine send off for a man who has given so much not only to his country but to the cadets of RMC, and who was obviously much loved both by his peers and by the cadets.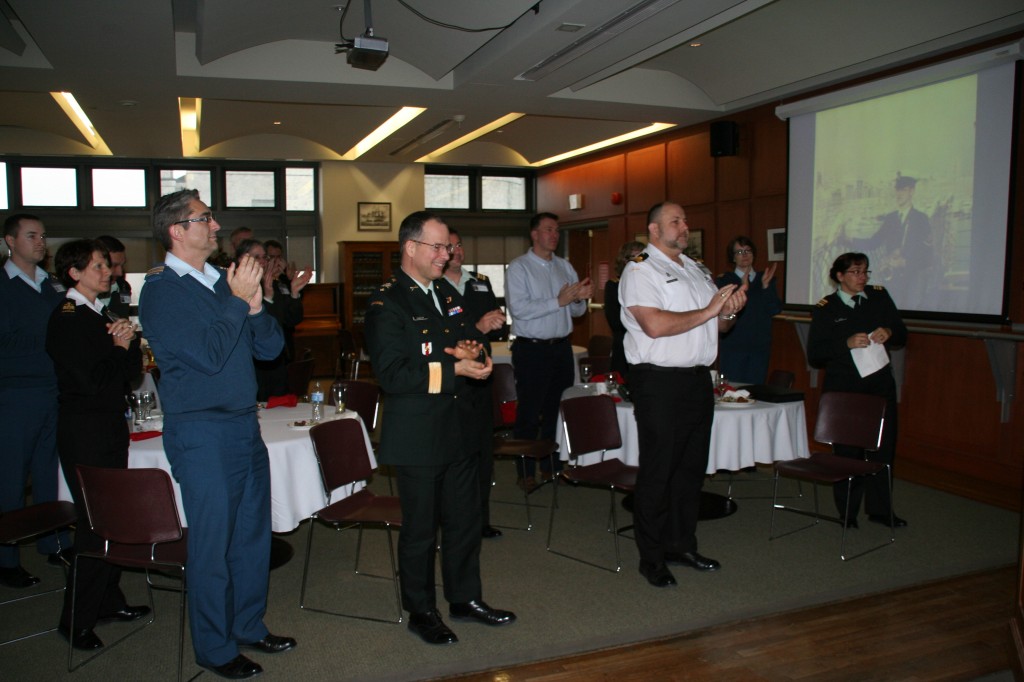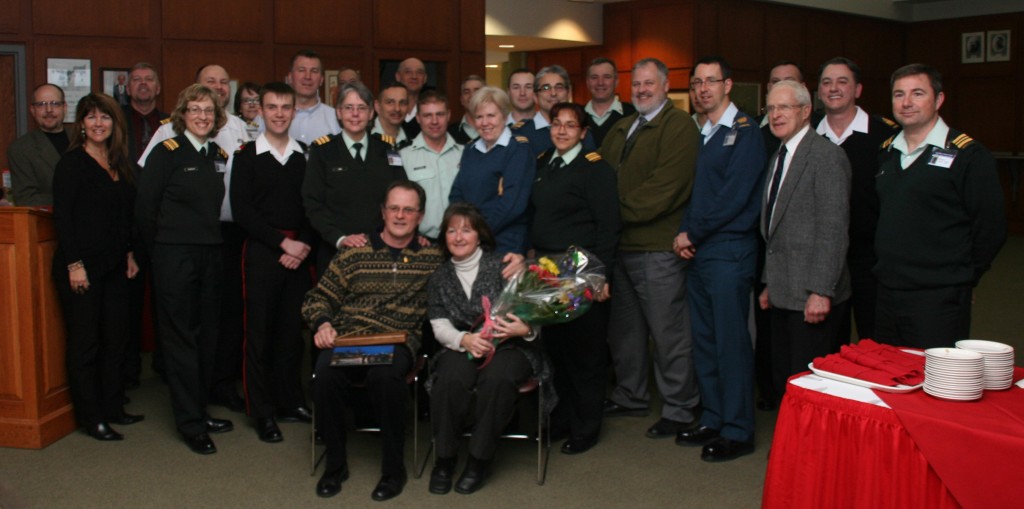 Layout by 25366 NCdt (IV) Mike Shewfelt
SPORTS
Recent Varsity Results:
Volleyball (W) – Play-offs –
Basketball (M) –
Basketball (W)
Next week: Requiem of a 4 year varsity athlete