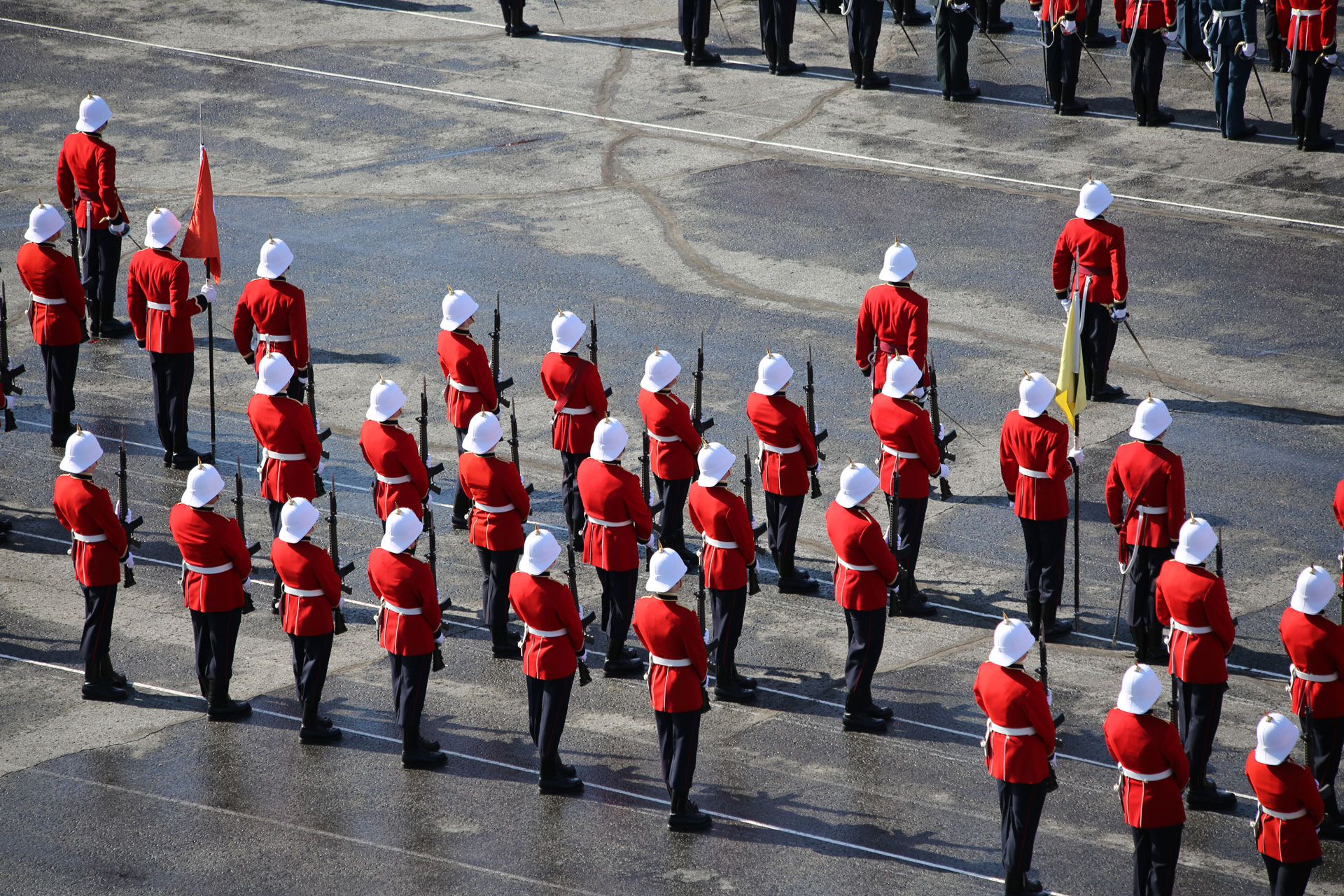 An Interview With One of The Top 4 Cadets – Fall 2009
Article & photos by 25275 OCdt Julia Anderson
(From Left): Cadet Wing Training Officer 24561 Marc-Andre F.Pelland, Cadet Wing Commander 24410 Nicholas Bouchard, Deputy Cadet Wing Commander 24649 Kayla MacMillan, Cadet Wing Administration Officer 24924 Maxime Bernier-Brideau.
IN CONVERSATION WITH 25275 JULIA ANDERSON – FIRST IN A SERIES

eVeritas – What have you all been up to this summer?
Cadet Wing Administration Officer 24924 Maxime Bernier-Brideau xxx – x – This summer, I was on OJT at NASA AMES Research Center in Mountain View, California. This year, NASA was the host site of the International Space University SSP09 for which I was part of the staff that supported the students to complete their space projects. I learned a lot about current space issues, which is certainly going to be a great asset for my Honours in Space Science, and maybe also for space opportunities in the future. It was also a fantastic learning experience for me because I got to see two completely different organizations: the International Space University and NASA. The ISU is a rather small program whereas NASA is a huge governmental organization, and I was able to observe some of the challenges encountered by both organizations.
eVeritas – What are your goals for FYOP?
Bernier-Brideau – The Top 4 have defined three simple goals for FYOP: 1. Respect and dignity; 2. Training value; 3. Health and security. My favourite one is the training value aspect, because I believe that RMC exists to train cadets to become better leaders so that we can reach our full leadership potential.
eVeritas – What would you like to see done the same this year, and what would you like to see done differently?
Bernier-Brideau – I want the cohesion aspect of RMC to stay the same. We are all part of the same great family, and we are all very close to our peers and friends. I would like to see cadets given more experience to test their leadership, make their own mistakes, and learn from their mistakes. I feel like we are slowly being empowered, but cadets are ready for more leadership opportunities.
eVeritas – How do you think the arrival of the RMCSJcadets will affect the wing?
Bernier-Brideau – I think we have a lot to learn from the RMCSJ cadets. They were fully functional at RMCSJ with their own CoC, and they might have some good ideas that they could share with the RMC cadet wing. I also have to add that it will be a challenge to accommodate such a large second year class now that we have added the RMCSJ cadets to the already large class of second years, but we will adapt our plans and make sure we integrate the RMCSJ cadets to the fullest extent possible.