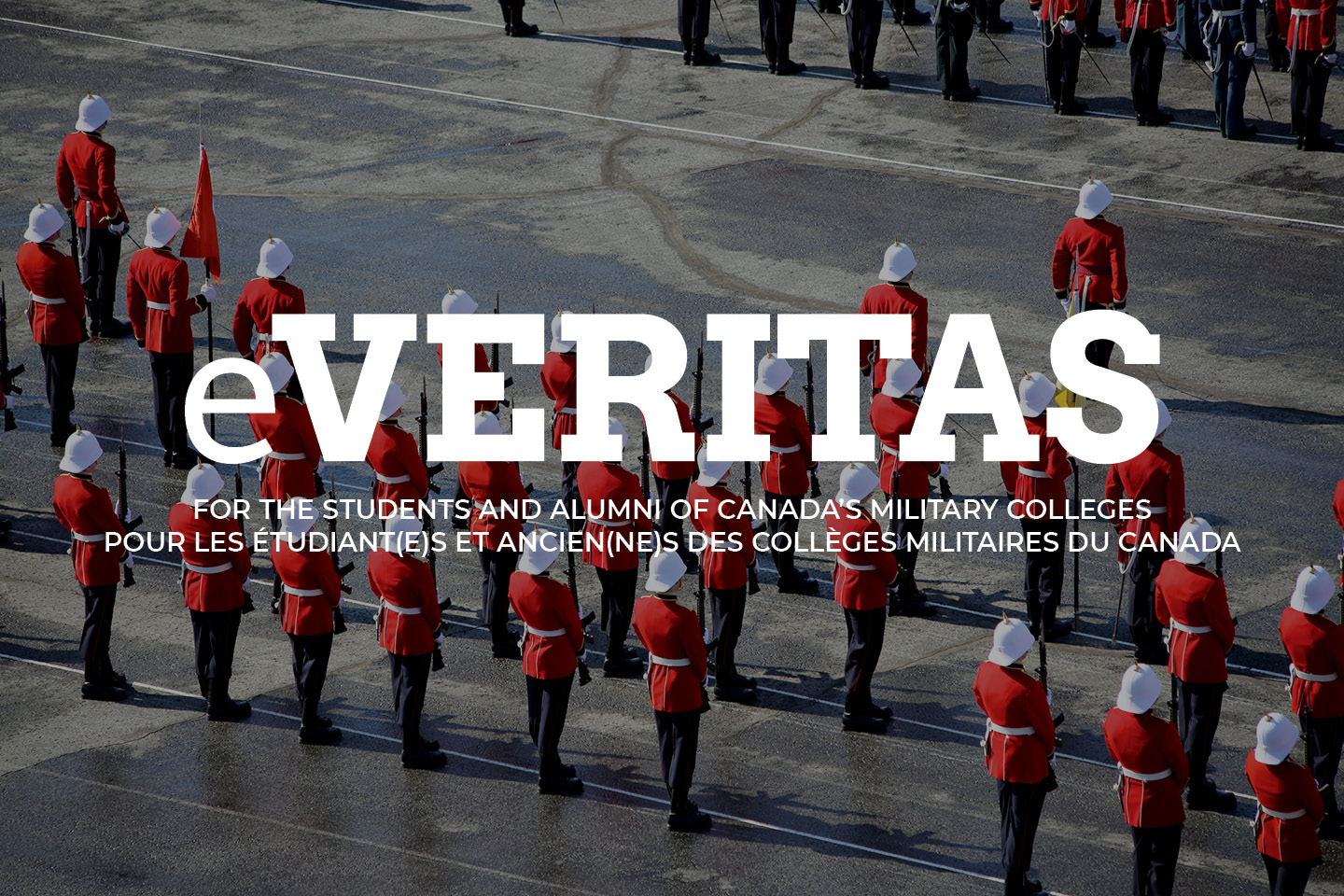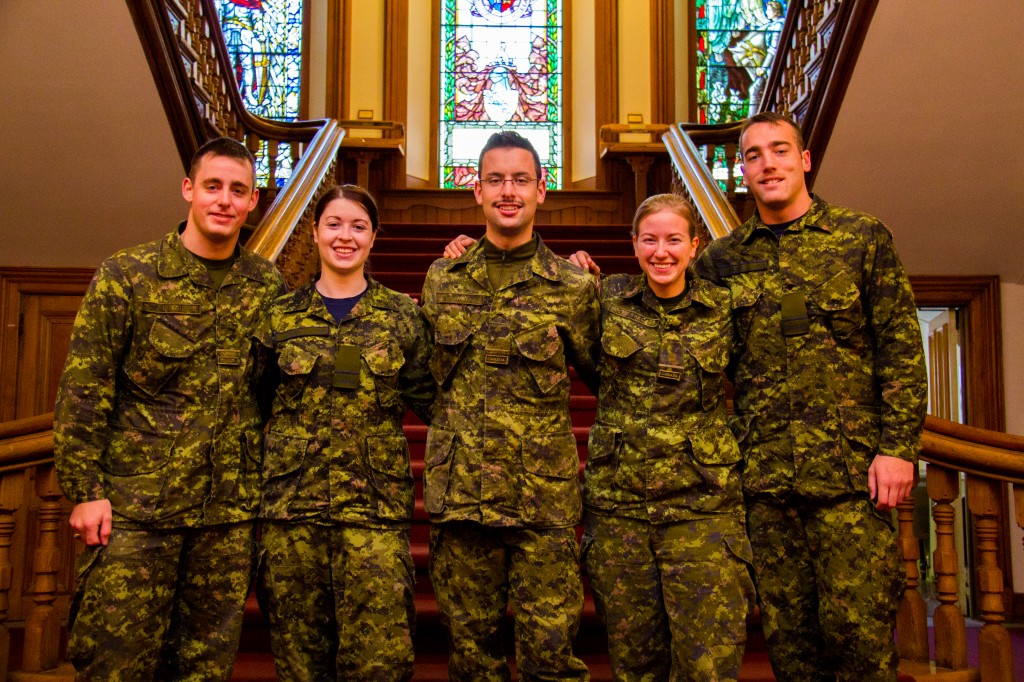 Caption: (L-R) Top 5 for Fall Term 2013 are all smiles as their term comes to an end. 25832 OCdt Kyle Nielsen – CWC; 26033 OCdt Stéphanie Blais – D/CWC; 25952 OCdt Alex Frey – CWTO; 25936 Élof Sarah Labrecque – ADA; and 26186 OCdt Ross Nevile – CWOpsO
Changing of the Guard Transition Well Underway
It's that time of year. Out with the old and In with the new! Over the past week, Top 5 Bar Slate selection screening and interviews for Winter 13/14 took place.
We hope to have details for next week.
In the mean-time, the outgoing cadet leadership has much to be proud, in what they have handled and accomplished over the past few months.
In their own words each provides a short summary of their experience.
25832 OCdt Kyle Nielsen – CWC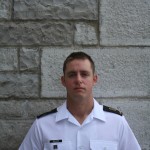 The past semester has been an incredible challenge, but one I am glad to have undertook. The Cadet Wing has developed a lot over the past semester facing a lot of changes. We have introduced a new drill completion encompassing the entire college that was well planned and executed by cadets yielding excellent results. The reintroduction of marching has been a change met with resistance, but has had a positive effect on enhancing the inherent leadership qualities RMCC teaches cadets. As the Cadet Wing Commander I am very proud of what the Wing has accomplished and the professionalism displayed by cadets representing the college at various functions and sporting events across Canada. Exams are right around the corner and Christmas leave soon to follow. I am looking forward to the next semester and am honoured to have had the privilege of being CWC.
26033 OCdt Stéphanie Blais – D/CWC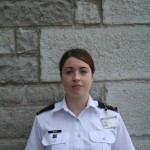 It is a known fact that being a member of Top 5 will take up a lot of your time, but what is not as often talked about is just how valuable this experience can be. Through the position of D/CWC I've been able to learn a lot about management, whether it be of time or people, and that there are really not enough hours in a day in order to accomplish all that we would like to. I stepped into this position with big plans, and though my end state has since changed, I am cognizant of the fact that it takes ripples to make waves, and am proud of what the Wing has accomplished. These past months have flown by, but I am thankful for all the people I had the chance to work with, and all the memorable events I was able to take part in. Truth – Duty – Valour
25936 Élof Sarah Labrecque – ADA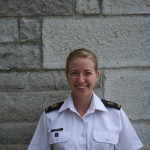 Faire partie du Top 5 – quelle expérience excitante et inoubliable! Jamais un semestre n'a passé aussi rapidement, mais je suis heureuse d'avoir profité pleinement de ma position. Ce fut un semestre occupé mais tout de même enrichissant. En fait, depuis ma première année ici, le progrès apporté à nos activités au Collège est évident. Les fins de semaine en devoir et les présentations lors des matins militaires, entre autres, sont mieux adaptées pour l'Escadre, ce qui nous permet de retirer davantage de ces activités. J'ai beaucoup appris ce semestre et je remercie tous ceux et celles qui ont contribué au succès que nous avons obtenu. Passez de joyeuses vacances de Noël bien méritées!
25952 OCdt Alex Frey – CWTO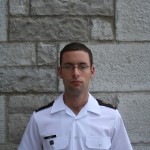 The past four months as the Cadet Wing Training Officer really gave me excellent insights into how a unit the size of the Cadet Wing needs to be managed. I was very fortunate to work with an excellent combined team of cadets and Training Wing mentors, all of whom worked very hard over the semester to bring the Wing to where it is today. Working with the Training Wing Sergeant-Major taught me just how intricate and important the NCO-Officer command team is, and how cadets as future junior officers will be able to rely on the experience of their NCOs to help them in their careers.
26186 OCdt Ross Nevile – CWOpsO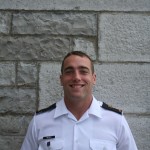 You always forget how fast a semester goes by until it is over. However, I can happily say that it has been a good one. Being Top 5 this semester was an experience filled with lessons and laughter. It put a real perspective on the work required to run the Cadet Wing and the lessons learned I feel will benefit me down the road. It was a pleasure working with this semester's senior barslate within the wing and I wish them luck on their future aspirations.
FYOP was a real highlight for me as a member of the Top 5; being checked and being able to impose a positive impression on the very impressionable first years was a privilege.
With this semester concluding, I look forward to taking what I have learned from my time as CWOpsO and applying it to whatever the future may hold.